I've known of this Sin City original for a long time now, spending as I do, far too much time in the Silver State handing over my hard earned dollars to messrs MGM and Wynn. Back when Carson Kitchen flung their Salt Lake doors open last year, a curbside order was all I was able to sample. Like many I was mainly ensconced at home, my 2020 dining experiences consisting of scuttling and scurrying around, keeping strangers at scowling distance.
This past week though I was finally able to swing by the restaurant in person, and operate the menu in the way it's designed; wantonly and with eager friends who like to share. If you're looking for the traditional structure of entree following app before yielding to dessert – this probably isn't for you.
While not a tapas restaurant by any stretch of the imagination, there's some overlap in the Venn diagrams. The kitchen propels dishes to your table at light speed. They'll arrive whenever they're ready, don't expect or demand a precise sequence. The dishes are also something of a stream of consciousness, a giddy mind that just wants to have some damned fun. I'm surely not alone in wanting a double order of that right about now.
Crispy chicken skins ($10) are served with a slick of smoked honey while "Devil's" Eggs ($11) are given a luxurious gilding of pancetta and caviar. It's a little bit silly and not without a lot of smiles. When was the last time you considered knocking back a quartet of creamy eggs before chasing them with a basket of fried chicken skin. If children acted like this, they'd be in trouble.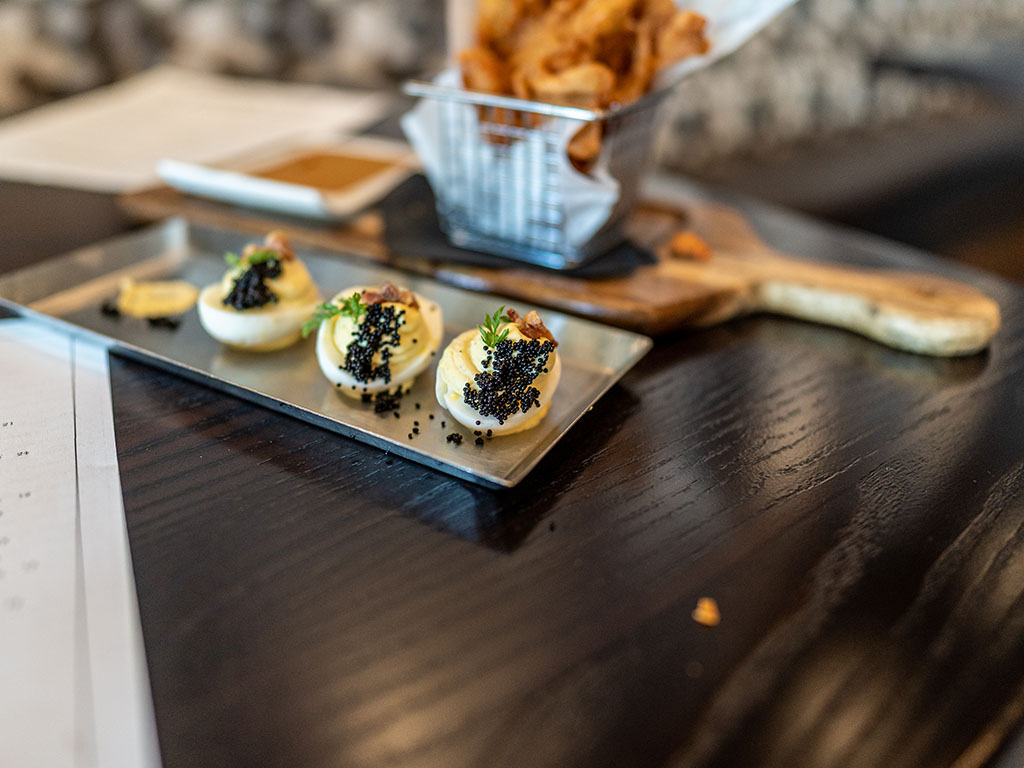 Broken lasagna ($15) is a more grown up dish, for those who need to be serious about life and vegetables and things. A plonk of ricotta sits atop a deconstruction of the famous layered pasta ingredients. Tempura green beans ($12) are the perfect finger food divided around the table and come served with a pinkish pepper jelly cream cheese; and hopefully you'll be clinking glasses about now too with something from a full bar menu that features names like Kiitos and Level Crossing.
Moving on through the menu then, chicken thighs coated in a thin veneer of Alabama white sauce (a mustard and acid spiked mayo base) are served with a redundant steak knife – giving way as they do, tenderly to the prod of a fork. Also be sure to order the Mac N Cheese ($14). My wife still reckons Carson Kitchen's is the best in town. I don't argue with my wife, neither should you.
It should also go without saying, light hearted food doesn't equate to anything less than professionalism from a serious kitchen and service team. Our table's dietary queries resulted in an off menu dish being whipped up on the spur of the moment, cauliflower quickly charred before being sharpened up with lemon juice and a blast of chili.
We rounded out our own meal with perhaps the only misstep of an entertaining evening. A Banoffee "Pie" with Baileys whipped cream (dunked with a digestive biscuit). The $11 price tag felt steep for a dessert that failed to reach the heights of the glazed donut bread pudding the restaurant still smartly serves.
Grab some friends – the ones with a sense of humor and adventure – and go have some fun.
241 W 200 S, Salt Lake City, UT 84101
(385) 252-3200
carsonkitchen.com/slc/index.html
Disclosure: I was an invited guest at Carson Kitchen.
Hi, I'm Stuart, nice to meet you!  I'm the founder, writer and wrangler at Gastronomic SLC; I'm also a former restaurant critic of more than five years, working for the Salt Lake Tribune.  I've worked extensively with multiple local publications from Visit Salt Lake to Salt Lake Magazine, not least helped to consult on national TV shows.
I'm a multiple-award winning journalist and have covered the Utah dining scene for the better part of fifteen years.   I'm largely fueled by a critical obsession with rice, alliteration and the use of big words I don't understand.   What they're saying about me: "Not inaccurate", "I thought he was older", "I don't share his feelings".  Want to know more? This is why I am the way I am.
This article may contain content provided by one of our paid partners. These are some of the best businesses in Utah. For a list of all our current and past relationships see our
partnership history page
.