Urban Hill
If you've stopped by the Post District of late, you've no doubt noticed the continued rapid pace of development, the ambitious redevelopment now coming into clearer focus. The first restaurant to open proper at the facility, Urban Hill, have also been slowly iterating their menu. I stopped in to try a newly released burger this month – but as is always the case – found myself side tracked by two additional dishes.
Wild-caught halibut (pictured top) is a new addition to menu since the restaurant opened; though many original items do remain – check out my Urban Hill intro piece here. The halibut comes artfully plated with a micro farmer's market bounty, with bright flashes from a preserved lemon demi. On top some salty caviar lustre and a nicely knifed radish salsa.
Another fine fish dish on the menu right now is a sable fish special. The dish runs with the soy umami thing, an eggplant purée and a tumble of finger limes. Think of 'em as the citrus version of tobiko. All pop and piercing citrus blast, grown up poppin' candy if you will.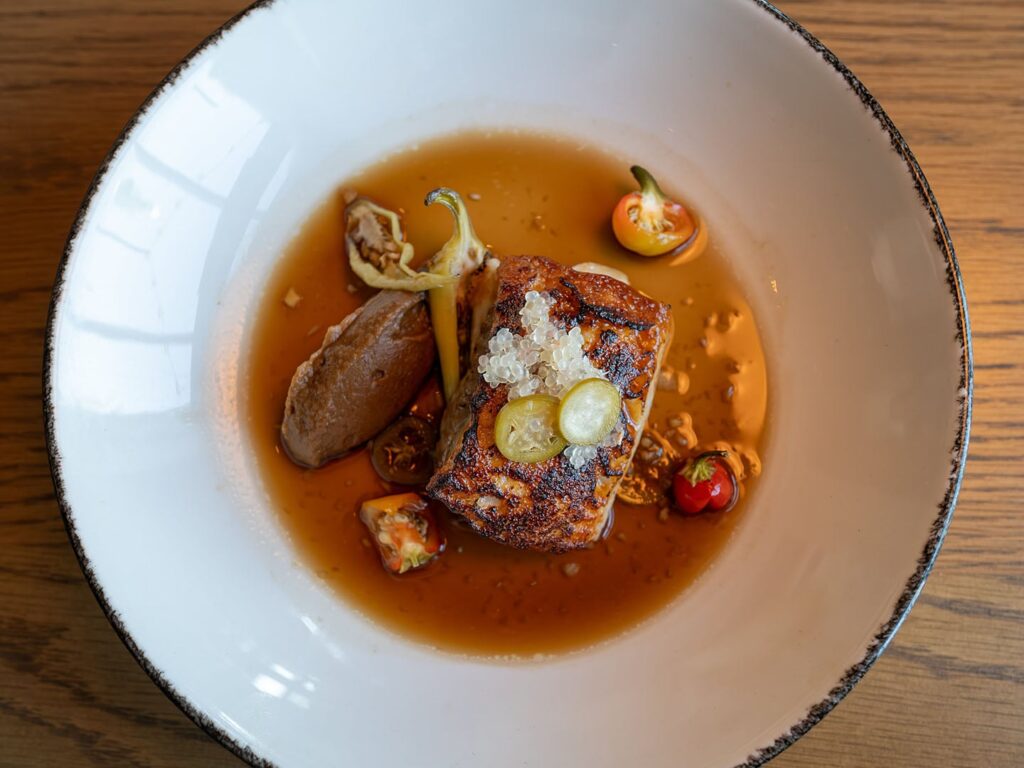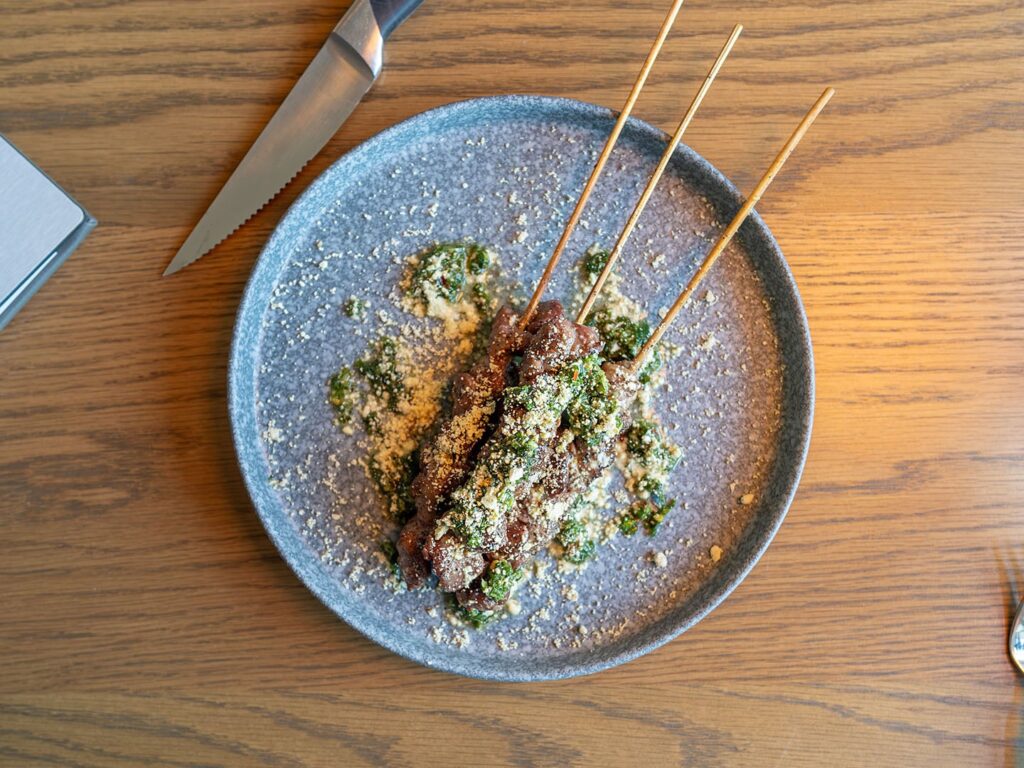 Another special, though it may rotate off the menu soon are Italian lamb skewers, covered with a house made Italian salsa verde and rosemary powder. The sticks have a canny interleaving of contrasting textural cuts. Really smart, really good.
Finally, the burger I came for, a solid smash burger construction. The patty relies on Niman Ranch beef, while local bakery Stoneground are tapped for the brioche bun. It's another dish that reveals chef Nick Zocco's center of gravity – Southwestern flair. A slathering of hatch chilis (tis the season!) ooze out while smokey bacon nails the "not too crisp, not too chewy" mark.
Flanker Kitchen + Sports Bar
Over in The Gateway, Flanker are gearing up for football season with a range of menu updates. Starting this week the 21+ only space are now open 7 days a week, and are kicking off football season with a slew of weeklong promotions to for sport's fans. If you're looking for a spot to hang out, catch the game and not break the bank, check out these deals. For the upscale digs, and array of high end screens available, they're some of the most competitive that I know of in the downtown area:
Monday – $15 pepperoni flat bread pizza, $5 domestic beers, $20 domestic beer pitcher
Tuesday – 2 for $5 tacos, $4 beer, $5 chips and salsa, $5 tequila shots, $7 Margaritas, $10 DeLeon Anejo shots
Wednesday – $5 downtown social menu, $6 wines, $5 domestic beer
Thursday – $5 beer, wine, shots, sliders, wings, tacos
Sunday – $5 mimosas and bloody Marys, $125 Veuve Clicquot
Also a quick reminder that the tiki popup bar at Flanker has been an incredible success. So much so that the ad hoc cocktail parlor are still taking reservations for a little while longer. Here's the original preview of what you can expect.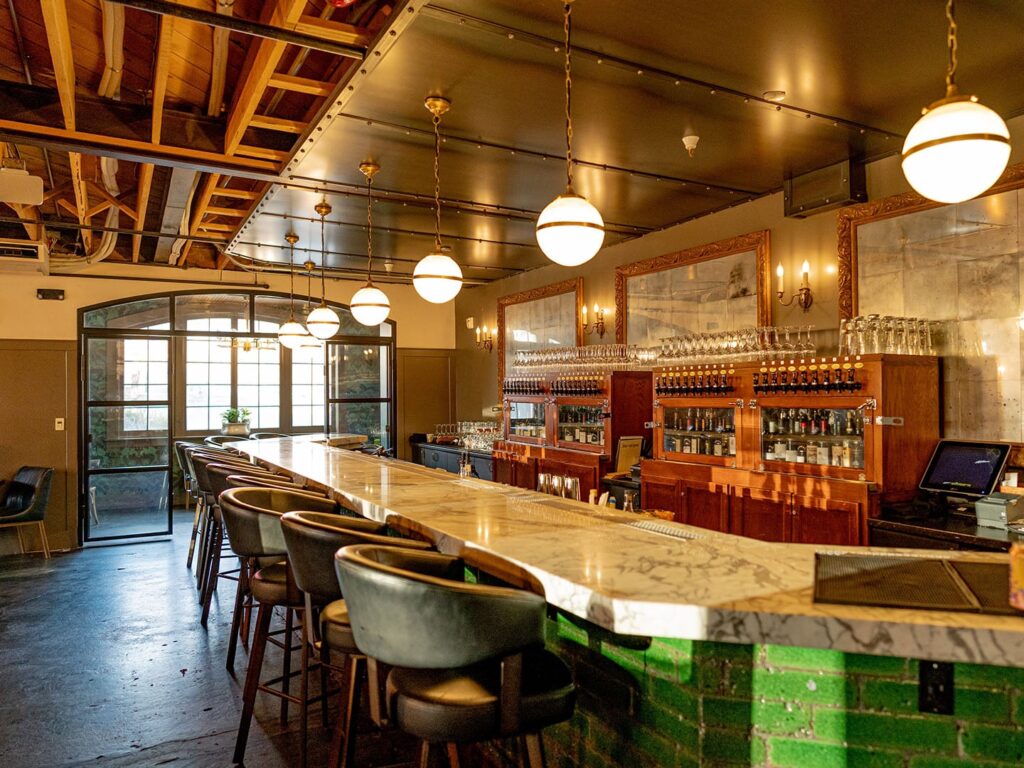 BTG Wine Bar
SLC's finest spot to sample an eclectic range of wines by the glass recently added several intriguing new pours. All of the following wines are special orders exclusive to BTG Wine Bar, here's some info courtesy of sommelier Louis Koppel:
"Recently Will Bucklin has let go of some of his tiny production (96 cases made) Upper 5th. We purchased as much as we could. Century-old, no-till, dry farmed Zinfandel, Peloursin, Petite Sirah, Carignan and French Colombard are interplanted with fruit and nut trees. The shade from the larger trees give the vines an added jolt to the delicious fruit that its sibling "Ancient" field blend has.
Pradorey "Sr. Nino" Tempranillo from Ribera del Duero also made our list for its freshness and verve, crafted via carbonic maceration which gives it aromatic lift.
Hungary Tokaj has been dubbed the "King of Wine and the Wine of Kings." The Alana Tokaj has joined other botrytis wines (Sauternes and an Aussie Semillon) for our "Sweet Dreams" dessert wine flight. A great way to put an exclamation point to our guests BTG Wine Bar experience."
Wine geeks. Go geek now.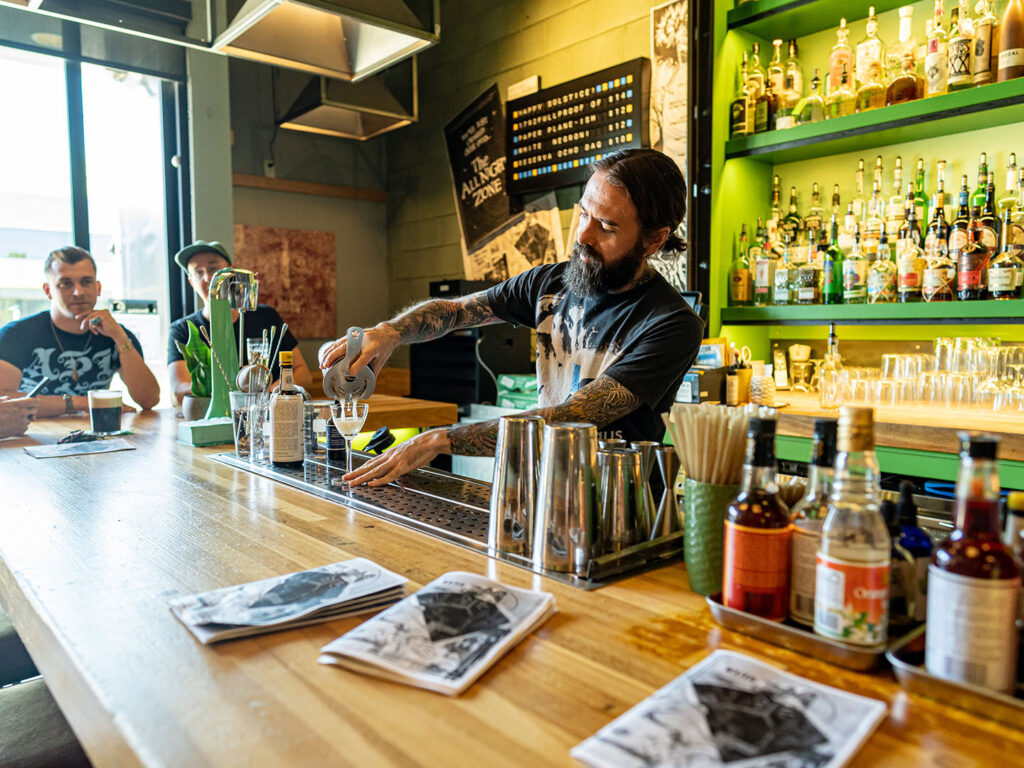 Salt Lake Mag cocktail contest
SL Mag's yearly farm to glass cocktail contest is back on menus; with unique cocktails now available at nearly twenty of the best bars and restaurants around town. The contest runs through till October 31st and the magazine wants your vote on Utah's most creative mixologist. Your mission, should you choose to accept it, visit the participating bars/restaurants listed below and vote for your favorite.
The voting link should also provide all the bartenders info, and their recipes, so you can scope things out in advance. Those participating this year include:
Good Grammar
Franklin Ave
Carson Kitchen
Quarter's Arcade Bar
Copper Common
Post Office Place
Casot Wine Bar
Log Haven
Drift Lounge at Woodbine
Spencer's For Steaks and Chops
The Local
Laurel Brasserie & Bar
Tupelo
Flanker Kitchen + Sporting Club
HSL
Water Witch
East Liberty Tap House
Caffe Molise & BTG
Urban Hill
Water Witch's Kenzi Anderson scooped the readers choice award last year with her creation – The Green Dragon. On that, SL Mag wrote, "One of our favorite aspects of our annual competition is passing the baton to our readers, who sip and vote again and again in favor of their favorite drink. This year, that favorite is The Green Dragon by Water Witch's Kenzi Anderson. Her fantastical take on a verde michelada was complex and fiery. On the nose: a spicy salad of tomatillos, hatch chillis and green bell peppers. To round out the vegetal ingredients, she added bright pineapple juice and soothing honey syrup. Paired with Wahaka mezcal and Ancho Reyes liqueur, The Green Dragon earned the top spot in the public's heart and was frequently sold out night after night."
Park City Brewing
This Summit county brewer have a few specials up their sleeves for September. Wednesday local's night will see 15% of food purchases with ID while Thursdays will be host to $10 tacos and $10 quesadilla. At the weekend, Friday night sees a BBQ pizza special, while Saturday and Sunday will offer $5 pints and $15 pitchers.
Windy Ridge Cafe
Another Park City spot, and another with their eye on a Taco Tuesday special. Every Thursday through the end of September will see Windy Ridge offer $3 tacos, $3.50 chips and guac, as well as $7 margaritas. A fulll menu of the specials can be found here.
What else?
Feldmans' Deli – with Rosh Hashanah approaching, dinner specials will be available from this Friday including sweet and sour brisket with kugel, gefilte fish, chopped chicken liver, matzo ball soup and latke.
Mozz Artisan Pizza – serving a peach pizza sepcial with local peaches, vanilla mascarpone, candied almonds, housemade bourbon caramel, and a sprinkle of powdered sugar
Katrina's Mexican Restaurant in Millcreek will begin a new brunch service as of September 17th
Craft By Proper – hosting a Prodigy Brewing tap takeover 6-9 p.m. on September 21st
Epic Brewing have released three new beers this month: Imperial Pumpkin Porter, Barrel-Aged Imperial Pumpkin Porter and Munich Mayhem Märzen Lager
Market Street – plating a seasonal 'simply salmon' menu until the end of September
Epicure Fine Food & Drink – $12 tacos and $6 margaritas on Tuesdays
Bewilder Brewing – Oktoberfest starts September 16th, with eight German style beers as well as well as special German dishes
Keep the conversation going
Want to stay on top of the SLC food scene, minute by minute, dish by dish? Here are a few other places you should follow along:
Hi, I'm Stuart, nice to meet you!  I'm the founder, writer and wrangler at Gastronomic SLC; I'm also a former restaurant critic of more than five years, working for the Salt Lake Tribune.  I've worked extensively with multiple local publications from Visit Salt Lake to Salt Lake Magazine, not least helped to consult on national TV shows.
I'm a multiple-award winning journalist and have covered the Utah dining scene for the better part of fifteen years.   I'm largely fueled by a critical obsession with rice, alliteration and the use of big words I don't understand.   What they're saying about me: "Not inaccurate", "I thought he was older", "I don't share his feelings".  Want to know more? This is why I am the way I am.
This article may contain content provided by one of our paid partners. These are some of the best businesses in Utah. For a list of all our current and past relationships see our
partnership history page
.