Alongside other random grilling brands, the name Traeger had been floating around my subconscious for a while. I hadn't apparently been paying attention. The first time I really encountered Traeger was in early 2019, at the launch event of the brand's latest and greatest range of wood pellet fired grills. I didn't expect much – how excited can you really get over a grill after all? Plenty actually.
Housed in the Sugar House "World HQ" facility (just opposite Spitz/SOMI), the event was a baptism of fire and smoke – an almost fervent religious rally – the whole affair rattled along at dizzying pace and deafening volume.
CEO Jeremy Andrus bounced around the ad hoc stage like an amped up Steve Jobs as the crowd whooped and hollered along with every word. Literal gasps filled the air as grown men could almost be heard weeping over projected pictures of BBQ and break throughs in smoking tech. Ever the meek-Brit, I cautiously smiled my way through the event alongside my raucous companions as not to arouse suspicion. What the actual hell was happening. I'm pretty sure I'd never seen anyone punch the air, scream and yell over someone opening the lid of Char-Broil before.
Anyway, skip forward four months and it was at this very same location that I returned to check out one of the companies Shop Classes. The stage gone, the shiny modern facility was now bedecked with long tables, chairs and handily placed TV screens for close up viewing. Handing me a Traeger emblazoned mug as I entered, our co-ordinator pointed into the room, "grab yourself a beer, check out our signature cocktail for the night, get some jerky and take a seat". I suspect I'd have been a more eager learner at college with such an enlightened setup.
Traeger Shop Classes are effectively part butcher school, part cooking class and part evening cookout over a few beers with friends. The classes are headed up by an expert from the the Traeger Pro Team; a mix of BBQ and outdoorsy authorities that embody the brand's smoky ideals and values.
Our lead on this particular evening was was Texan Doug Scheiding, former rocket scientist(!) and current champion pit master with several accolades under his belt; which in turn sported a buckle bigger than my head; the clasp said listen up, which over the course of a four hour marathon, we did.
We learn about smoke rings, bark, pellicles and reverse searing. We learn that sous vide makes for the perfect way to reheat good BBQ and meat from the freezer works just fine. We learn that meat falling off the bone *IS* a good thing thing (ignore those Kansas City style wimps and their so called rules) when you're cooking Texas style. Some attendees scribbled notes at furious pace, while others like myself just soaked up the wisdom slowly (insert your own hardwood smoking metaphor here).
Reassuringly, it quickly became apparent that BBQ was less science and more constant learning and iterative evolution. Scheiding metaphorically tore up the rules as he deviated from the issued textbook of the evening (all classes come with handy recipe book you take home with you) – giving students a few tips of his own making. All the while attendees gleefully fed back to our teacher with their own tips and particular Utah secrets, "Mountain Dew with chicken huh, I'll have to try that", Scheiding gamely noted with a wry smile.
All this book learnin' is only half the point of the class though. During this particular seminar, class broke on the mark of each hour to sample the efforts of our pit-prof. Some like the reverse seared steaks had been prepared and cooked as we watched, while some had been cooking low and slow since the previous day. Everything explained was sampled: ribs, brisket, burnt ends, ribeye and salmon – all prepped and plated. Even the jerky and evening's cocktail (using smoked grapefruit no less) were recreated on stage. Beer, soda, jerky and cocktail refills remained on hand to keep the grey matter working throughout the night.
Class ended with a giveaway of the various meats butchered in the evening (no waste here). Heaving racks of ribs and slabs of salmon not to mention a particularly envy inducing hunk of brisket. Lord knows how my wife would have greeted me returning home with that under my arm and apologetic smile on my face. Prize-less, I still returned with a swag bag of goodies and a head full of inspiration.
For what it's worth, I'll happily attend the opening of a can of coke, but it's rare that I'll subsequently write anything of merit; which should tell you something about these events. I initially doubted the four hour run time as something that would be padded out with social time – it wasn't. If anything the class threatened to spill over, such was the learning, eating and clinking.
For amateurs and pro's alike, whether you're looking to up your existing game or just see what the heck smoking is all about (and Traeger therein) these classes get my thumbs up.
You can checkout upcoming classes and their content over at: https://www.traegergrills.com/shopclass
Disclosure: Traeger kindly invited me to this class gratis.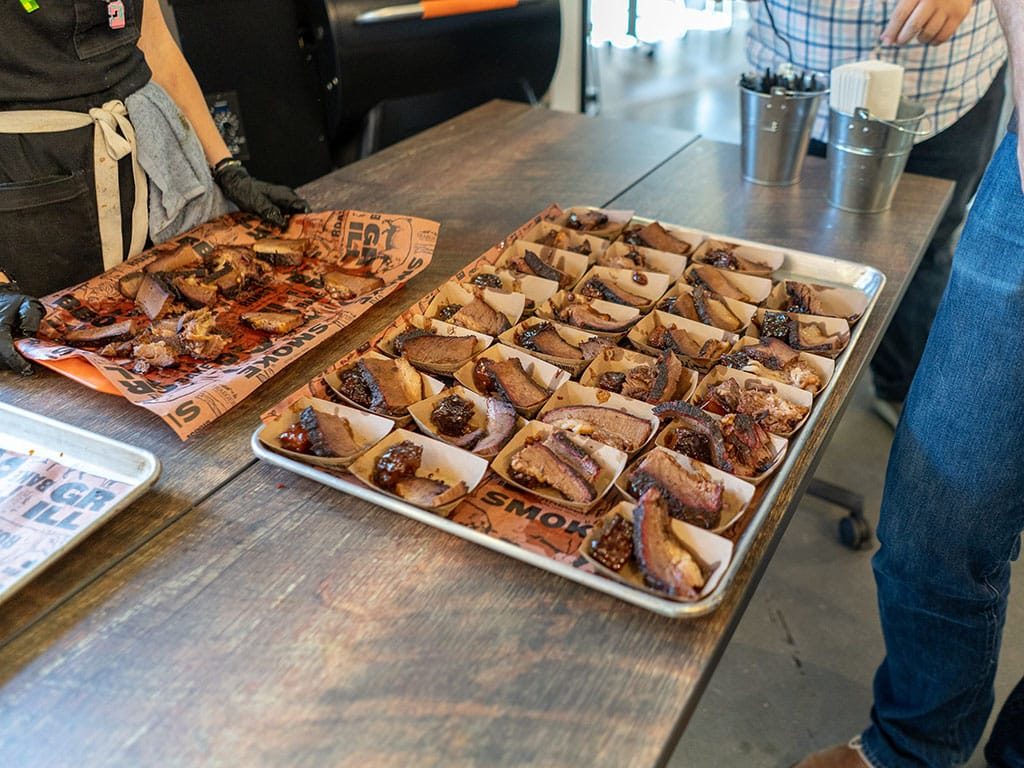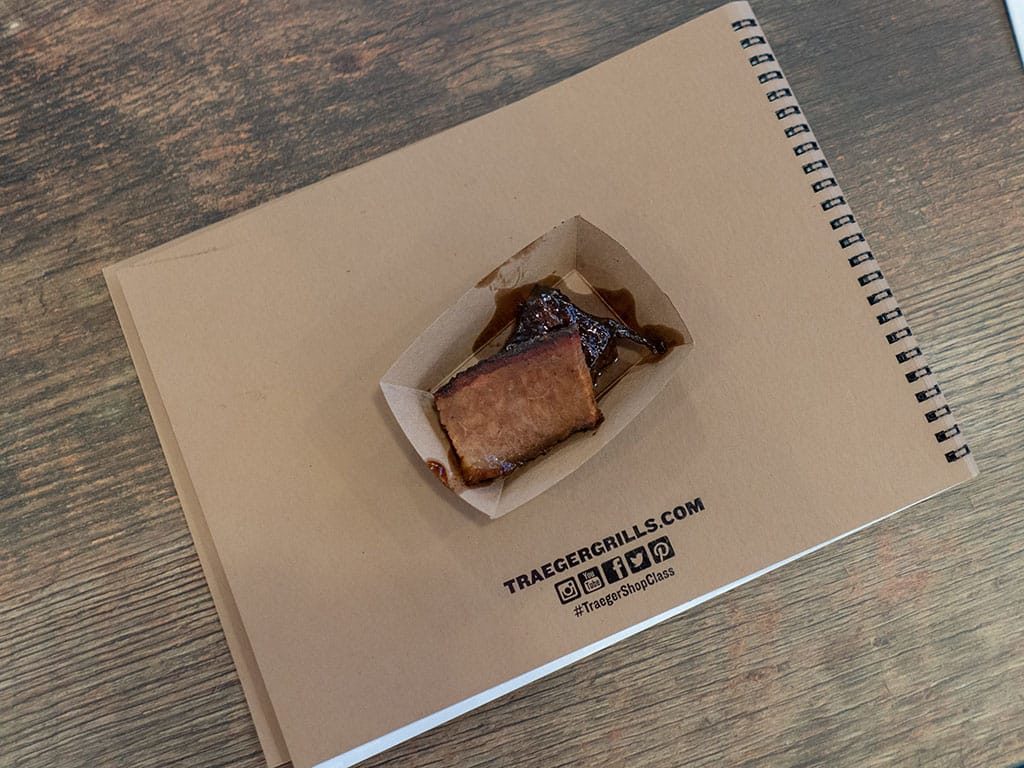 Hi, I'm Stuart, nice to meet you!  I'm the founder, writer and wrangler at Gastronomic SLC.  I'm a multiple-award winning journalist and have written in myopic detail about the Salt Lake City  dining scene for the better part of seventeen years.
I've worked extensively with multiple local publications from Visit Salt Lake to Salt Lake Magazine, not least helped to consult on national TV.   Pause those credits, yep, that's me! I'm also a former restaurant critic of more than five years, working for the Salt Lake Tribune.    I'm largely fueled by a critical obsession with rice, alliteration and the use of big words I don't understand.   What they're saying about me: "Not inaccurate", "I thought he was older", "I don't share his feelings".
Want to know more? This is why I am the way I am.
This article may contain content provided by one of our paid partners. These are some of the best businesses in Utah. For a list of all our current and past relationships see our
partnership history page
.