For those with even the slightest of interest in Utah's craft brew scene, this Saturday (June 10th) sees an unmissable get together – one I suggest you don't miss. Back after 2022's inaugural event, the Utah Brewer's Collab Fest is upon us again – and it's bigger and better in every way – beginning with the location itself.
Moving on from the cozy McCarthy Plaza on Regent Street, this year's event saddles up at Woodbine Food Hall (it'll be on the rear patio, so dress accordingly); which means a roster of fabulous food options to help you sample safely through all the pours out back. Pictured below is my favorite, Deadpan Sandwich, don't miss this one either.
So what's so unique about the event – Summertime is packed with sudsy shindigs right? Not like this one it ain't. At the Collab Fest, participating brewers are paired up, the resulting team tasked with creating a one-off for attendees to sample at the event. The results are quirky, idiosyncratic and down right fun.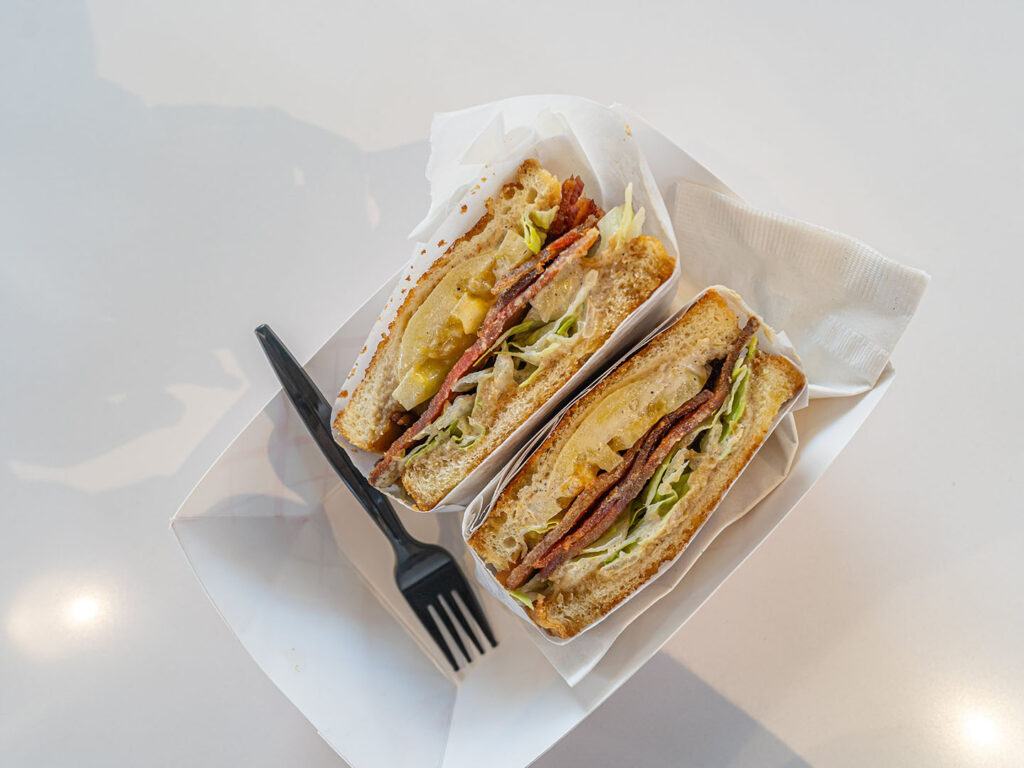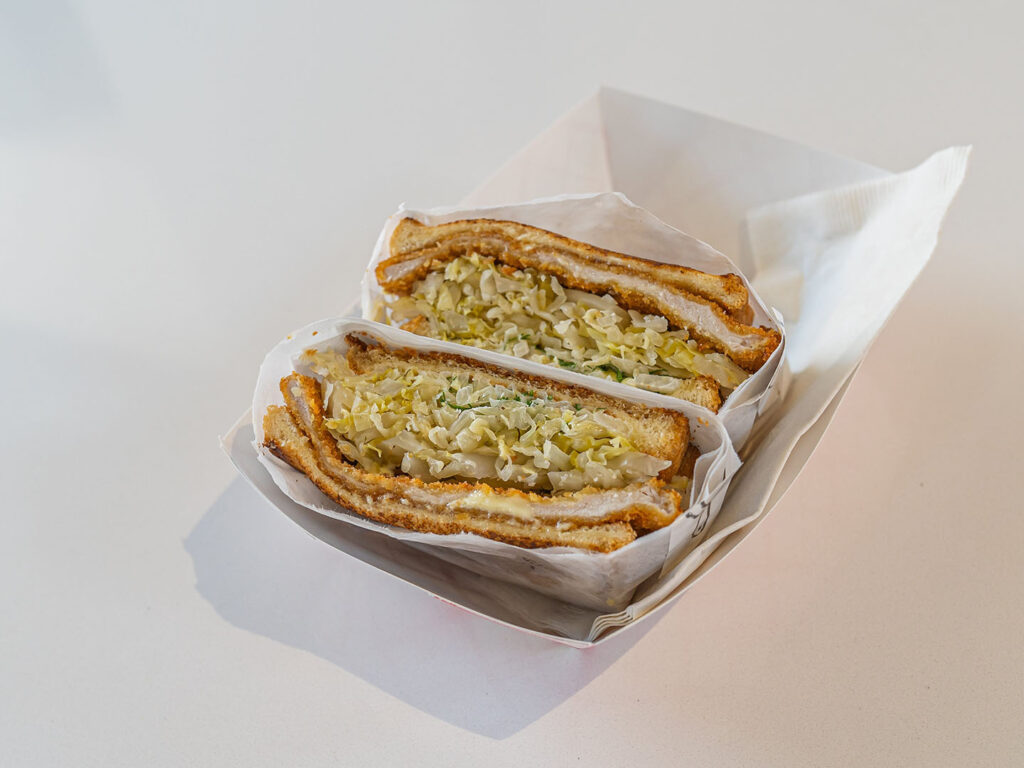 The poured creations are completely unique, most will likely be one time brews, available for this day only. Speaking of the day itself, this year's year builds on the success of last year's get together with 36 breweries taking place. On offer from their collaborative efforts some nineteen different concoctions. Those team ups and tipples are as follows – details provided by UBG:
Hopkins Brewing Company & Ogden Beer Company
Crispy the kid rice lager – a dry, refreshing, and crushable rice lager with a crisp and clean character.
Fisher brewing & salt flats brewing co.
Salt fisher wit – prickly pear witbier – a unique witbier with prickly pear fruit, combining refreshing flavors of a traditional witbier with a succulent sweetness and mild tang.
Proper Brewing Co & Bewilder Brewing Co
Steeplejack English IPA – a tribute to skilled workers, this English IPA showcases a balanced blend of hop flavors with earthy, floral, citrus, and spice notes.
Policy Kings Brewery & UTOG Brewing Co
Love me oolong pale ale – a pale ale brewed with oolong black tea and lemon puree, offering a crisp, clean, and full-bodied experience with balanced bitterness.
Oskar Blues Brewery & Wasatch Brewery
Kernza calypso crescendo ipl – a single-hopped lager brewed with kernza, a type of wheatgrass, resulting in a light-bodied beer with medium bitterness and unique flavors.
Chappell Brewing & Zion Brewery
Finish your froot loops cream ale – a cream ale brewed with Vienna malt, flaked corn, toasted oats, lactose sugar, lemongrass, and kaffir lime leaves, providing a crisp and clean beer reminiscent of froot loops cereal.
Utah Ale Trail & Level Crossing Brewing
Mix tape vol.1 fruit IPA – inspired by Summer memories, this fruit IPA is brewed with a mix of hops and infused with either raspberries or peaches, offering a refreshing and nostalgic taste.
Offset Bier & Level Crossing Brewing
No budgie IPA – an IPA hopped with three distinctive Australian hops, resulting in a mesmerizing blend of tropical fruit, citrus, and resinous notes.
Grid City Beer Works & Strap Tank Brewery
Spirit world sour saison / wine/hybrid sour saison – a beer that blends wine and beer realms, featuring french pilsner malt, triticale, spelt, sauvignon blanc juice, and unique yeast, creating a crisp and refreshing sour saison.
Salt Lake Brewing Co & Mountain West Cider
Tiger's blood cider fruited cider – a cider co-fermented with watermelon, strawberries, and coconut, offering a vibrant red color and a sweet yet slightly tart flavor profile.
Salt City Suds & Park City Brewing
Salt city haze hazy pale ale – a collaborative beer with the Salt City Suds podcast, brewed with a creamy malt base and a massive charge of nectaron, citra, and mosaic hops, resulting in citrus and melon notes.
Kiitos Brewing & Squatters Craft Beers
Ginger lime rye sour – a genetically engineered yeast-based beer resembling a tart Moscow mule, featuring lime, ginger, and spicy rye flavors, accompanied by floral and spicy hop notes.
T.F. Brewing & Helper Beer
Two family pilsner German pilsner – a classic German-style pilsner that embodies a clean and crisp profile, paying tribute to two brewing families and their shared passion for the craft.
Lovelady Brewing & Silver Reef Brewing Co
Silver lady desert orchard farmhouse ale – infused with pomegranate and cherry, this farmhouse ale celebrates Nevada and Utah's flavors and agricultural heritage.
Bad Joker Brewing & Vernal Brewing Co
The boys berries white stout – a white stout combining rich and smooth stout character with boysenberries' tart and juicy flavors.
Moab Brewery & Roha Brewing Project
Humpback chub river water IPA lactose IPA – a creamy and hoppy IPA that offers tropical flavors and a smooth texture, aiming to lead the way through the hazy IPA craze.
Epic Brewing Company & Prodigy Brewing
Tranquili-tea chamomile hefeweizen – a hefeweizen infused with chamomile, delivering a smooth and crisp texture alongside a delightful hoppy and fruity profile.
Chappell Brewing & Park City Brewing
Red rocket NW amber rye – a NW amber ale brewed with mosaic hops, featuring dank hop and stone fruit aromas, crisp rye notes, and a clean bitter finish.
Uinta Brewing & Odell brewing
Handshake deal: a cutthroat collaboration pale ale – a hoppy pale ale collaboration. This beer combines the bold flavors of roy farms hops with the adventurous spirit of the desert.
Tickets can be purchase in advance online here. Tickets are priced $25 for general access, with VIP priced at $55. Day of tickets are priced $30 and $65 respectively should they remain. Each ticket grants a tasting passport good for twelve samples – additional samples are priced extra. Doors open at noon for VIP, with general access starting at 1.00 p.m., last call will be 7.45 p.m.
Need more convincing? I'll be there doing my best impression of a man acting like his rapidly accruing years have no leverage over his unslakeable thirst for beer. Grab me and say hi.
Beer not your thing? Keep reading…
Scion Cider
The 1st Annual Arts in the Alleyway – a Central 9th community arts & culture event will be held at Scion -Sunday, June 11th, noon through 8.00 p.m. The bar will host lunch specials (noon to 4.00 p.m. ) and a full menu available from Laziz Kitchen next door.
Music and entertainment will be provided by Bandah Events / Social Antidote Live as well as interactive art stations by local artists. These include Salt Lake Pottery Studio live wheel demos, ,ake your own resin pendants with Skyler Wefer. You can also customize your own Scion Cider tee shirt from the hand-carved block made by the Hex Press Printing.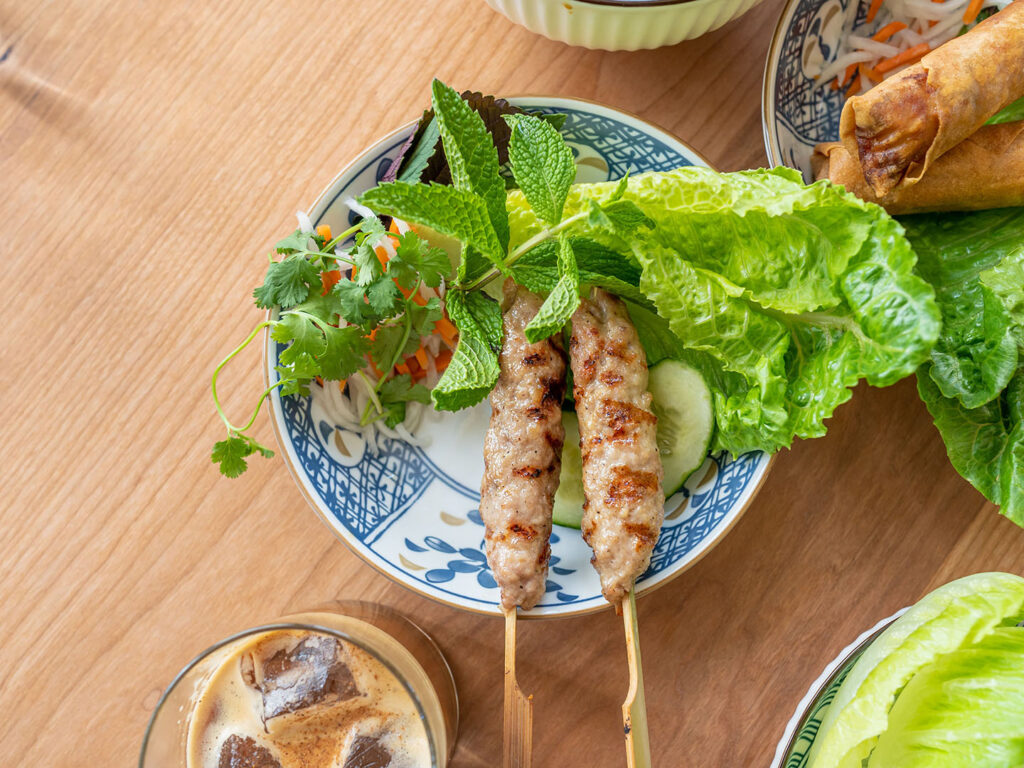 Food Fight 2.0
Don't forget FF2.0 is being held on the evening of July 11th. Read the full details in this initial story. The headline news is more than twenty of SLC's finest will be gathering at Publik Coffee to raise funds. Each will have a sample bite. The names include the likes of The Pearl, Central 9th Market, Takashi and more. The best bit? It's $25 folks.
Casot
Pintxos and vino is back at Scott Evans' wine bar. This Tim around the focus on on De La Boue Wines of Oregon's Willamette Valley. The pairing event will be held Sunday, June 25th from 6.00 p.m. Cost is $32 for food and $65 for wine. Winemaker Travis Todd & Christopher Andrew will also be on hand to talk to guests. Menu for the limited event (20 seats max) is as follows:
Ceviche – shrimp, citrus, jalapeño, herbs, avocado, tomatoes
De La Boue 'Gregory Ranch' '21 Chardonnay
Ensalada primavera y salmon – smoked salmon, arugula, asparagus, radish, basil vinaigrette, goat cheese
De La Boue 'Willamette Valley' '21, Pinot Noir
Setas – grilled trumpet mushrooms a la plancha, herbs, olive oil, garlic, white wine, shaved raw mushrooms
De La Boue 'Gregory Ranch' '21, Pinot Noir
Cerdo – crispy pork belly, pomegranate, arugula
De La Boue 'The Pines' '21, Syrah
Takibi
Headed our way from Portland is this interesting popup concept from award winning Takibi. Here's the full press release for a duo of experiences briefly available at Sundance's Owl Bar and Tree Room.
. . .
Takibi, an award-winning Japanese restaurant from Portland (OR), is heading to Sundance Mountain Resort, June 16 through 25. The innovative restaurant developed by Snow Peak, a Japanese camping brand, was named one of America's best new bars in 2022 by Esquire Magazine, won a Sunset Travel Award 2022, and secured a spot on Portland Monthly's Top 50 restaurants list. The summer pop-up presents a rare opportunity for Utah residents to enjoy the food and drinks from the Takibi team.
The Takibi pop-up at the Owl Bar will provide guests with an extended opportunity to savor a selection of Takibi Executive Chef Cody Auger's most popular dishes including the albacore warayaki with tosazu, ginger and negi; chicken karaage with shio koji and lemon; black cod, charcoal grilled with chickpea miso; saba shioyaki, grilled mackerel with lemon and daikon oroshi; and tofu donuts.
Alongside the delectable menu, Takibi Bar Manager Alexandra Anderson's skillfully crafted cocktail menu will feature drinks incorporating ingredients from both Utah and Japan, plus Takibi Classics like the Nori Green Tea Punch and Takibi Highball. Furthermore, Anderson will be bartending during the opening weekend, adding her expertise and flair to the dining experience.
At the Takibi Omakase dinner (held in the Tree Room, June 18th), guests will have the chance to indulge in ten special courses by Takibi Executive Chef Cody Auger. Dishes include abalone with spruce tips and black truffle; scallop with ramp miso and crispy spring onion; chawanmushi with oyster, caviar and chive; and Wagyu with morel and asparagus. Additionally, Takibi's Bar Manager Alexandra Anderson will offer an elevated beverage pairing menu to accompany the omakase. To commemorate the event, each guest will receive a special gift of a pair of Snow Peak chopsticks presented in a limited edition Sundance leather case. Cost is $250 per person (optional beverage pairing available for $75)
Midway Mercantile
Meanwhile. up in Midway this one. Here are the details via press release:
. . .
Wednesday, June 29, 6 p.m. Jaffurs Winery, Santa Barbara CaliforniaWinemaker Stephen Searle and our local expert Cam Mercer will take us through the wines while John pairs with elegant California cuisine.  A great range of varietals including Chardonnay, Roussanne and Viognier, Syrah and Grenache, and a tasty late harvest wine to finish.  Yup, that's seven full courses.  $175 per person, includes tax and gratuity.
Keep the conversation going
Want to stay on top of the SLC food scene, minute by minute, dish by dish? Here are a few other places you should follow along:
Hi, I'm Stuart, nice to meet you!  I'm the founder, writer and wrangler at Gastronomic SLC; I'm also a former restaurant critic of more than five years, working for the Salt Lake Tribune.  I've worked extensively with multiple local publications from Visit Salt Lake to Salt Lake Magazine, not least helped to consult on national TV shows.
I'm a multiple-award winning journalist and have covered the Utah dining scene for the better part of fifteen years.   I'm largely fueled by a critical obsession with rice, alliteration and the use of big words I don't understand.   What they're saying about me: "Not inaccurate", "I thought he was older", "I don't share his feelings".  Want to know more? This is why I am the way I am.
This article may contain content provided by one of our paid partners. These are some of the best businesses in Utah. For a list of all our current and past relationships see our
partnership history page
.