Get there before noon on Saturday morning they said. It'll be fun they said. They – the Downtown Alliance – clearly didn't know I spend my weekends in a neanderthal state of dishevelment; a cave dwelling troglodyte, rarely venturing out without the safety of a setting sun and martini glass. But still they insisted I go to the Winter's farmer market and report back. Off I trudged, re-usable grocery bag in hand.
Credit where credit is due, their insistence resulted in one of the most delicious weekends I can recall. Not least one filled with education and insight. Within minutes of crossing the threshold I'd held my first zutano avocado in curious perplexion, before learning they're far more shelf stable than their hass counterpart; peeling is the best way to tackle their leathery skin. An oro blanco grapefruit was an almost cryptozoological find, whereupon I was quickly educated on the dangers of rapid grapefruit bloom, a sort of fuzzy white fungus that can destroy a fruit literally overnight. Farmers to ranchers to producers – all eager to myopically geek out on their efforts.
This then, the Winter edition of the downtown farmer's market. An indoor event that kicked off in November, and runs through to April. It's a more compact affair compared to the sprawling Summer extravaganza that takes over Pioneer Park. Held at North end of the The Gateway, right under Flanker Kitchen, the healthy numbers of the gathered crowd (and variety of product on offer) surprised me.
Precise vendors can be found weekly via this map, but be warned, given the cat herding like nature of corralling the plans of dozens of vendors – it's a manually updated affair. The team at the Downtown Alliance assure me that should you check on any given Friday, the map is largely accurate for the following day's assembly.
I journeyed out with a solitary reusable grocery bag, maybe I'll fill half I thought. I came back with two, full to the brim. It turns out there's way more to these things than cases full of sunshine kissed tomatoes. I realize many of you are sat there already know this too; I'm sure it's news for others. As Carly Gillespie of the Alliance explained to me, "there are still plenty of farmers in attendance at the Winter market, but the shorter daylight hours curtails growing times, and that does limit the overall availability of farmed product for sale. At the Winter market we see many more prepared goods, and craft makers too." That's not to say there's no crop at all though.
This past weekend I saw several Utah farms offering everything from carrots to beets to onions; even bags of fresh salads and microgreens. I stopped to talk Winter grow times with the hydroponically powered R&A Farms and looked lovingly at Intermountain Gourmet Mushrooms near twenty foot display; a boggling line up of mad mushrooms, bronzed wild chanterelles through lions mane and more. To one side, Aziza (who we've covered before) offered a table of exquisitely prepared Middle Eastern sweets. Easily the best kunafa in town.
Crumb Brother's bread out of Logan was my first stop while the hand crafted sausages of Gerome's Market was my last (traditional hot Italian fennel, English bangers and Utah honey and habanero greedily secured). Butter, eggs, cheese, bread, pork, beef, it's all here and sold at prices similar or less than the store. And it goes without saying, the quality is next level. From my brace of bags I cobbled together perhaps the best lamb burger I've had in my life. I'm prone to hyperbole at the best of times, but this was genuinely exceptional. For once I enjoyed lunch not slumped in front of my computer, but at the table, re-imagining how I might spend future weekends.
The random spotlighting on the vendors above is of course completely unfair on the myriad other vendors in attendance (see a full list below) all of who had woken far earlier than I had managed. A brief discussion with Lau's Family Farms out of Soda Springs Idaho, a 350 mile round trip, made me feel even less proud of my more common weekend routine.
Other notes?
Bring cash if you can. The physical stuff is king for small vendors where saving even 5% on card processing fees can be a massive boon. When grabbing a couple of pounds of onions, it feels churlish to suggest your AMEX is swiped for a meagre two bucks. There's a handy on site ATM if you forget to load up – and from my own experiences, every vendor had card capabilities if all else fails.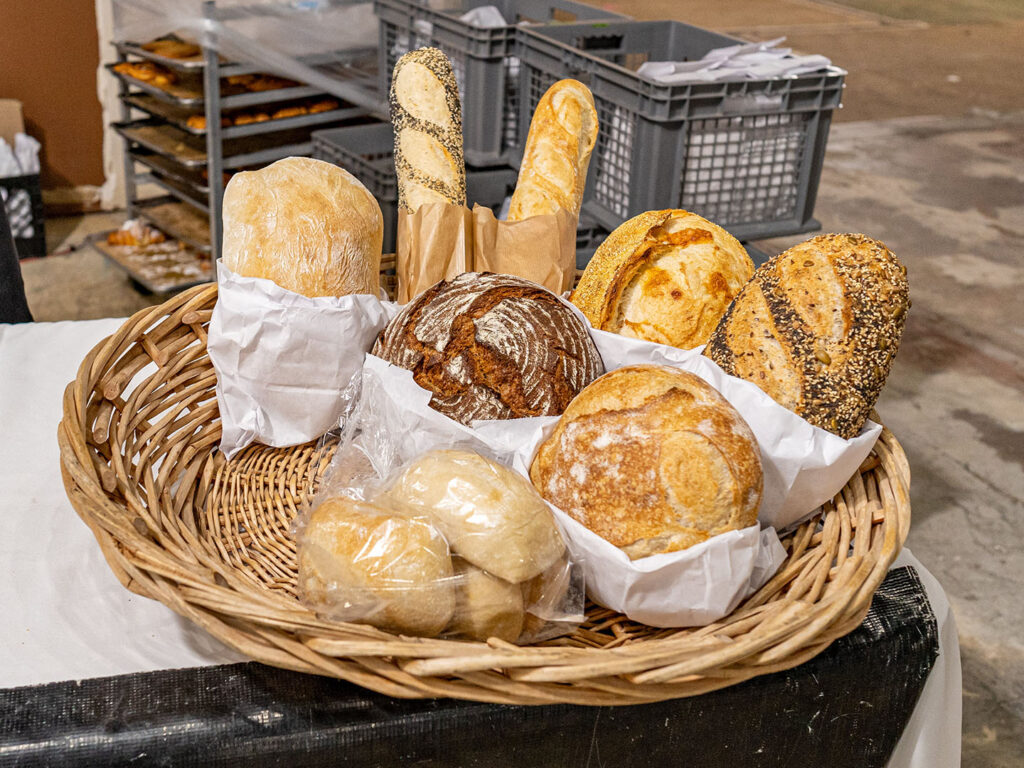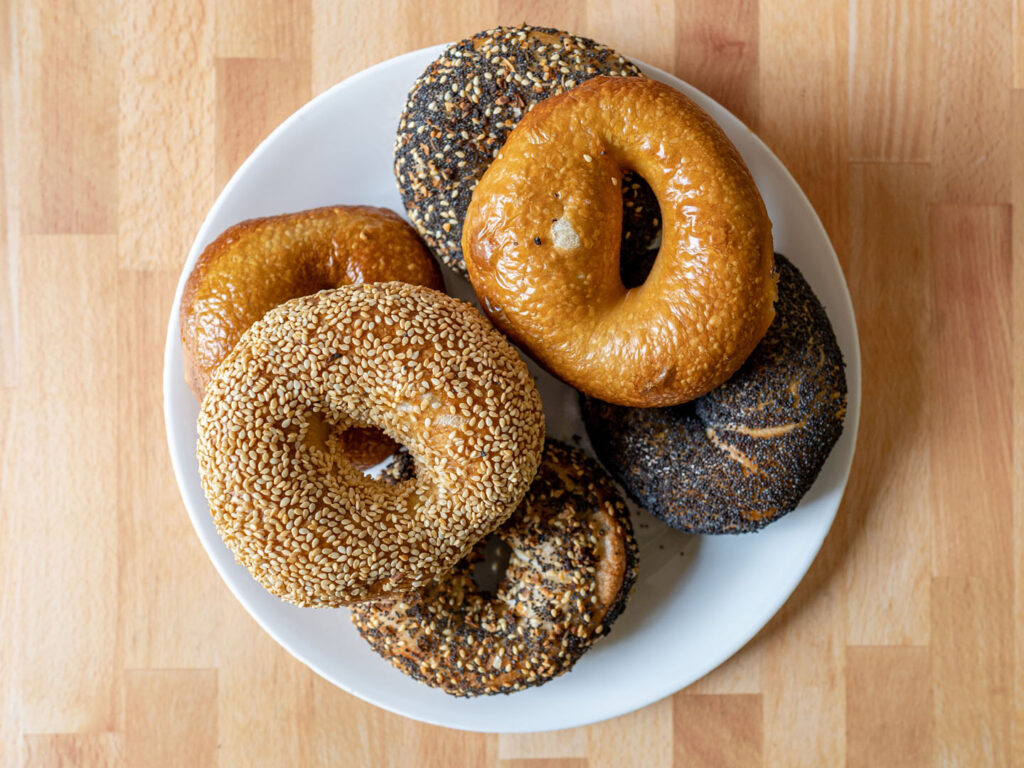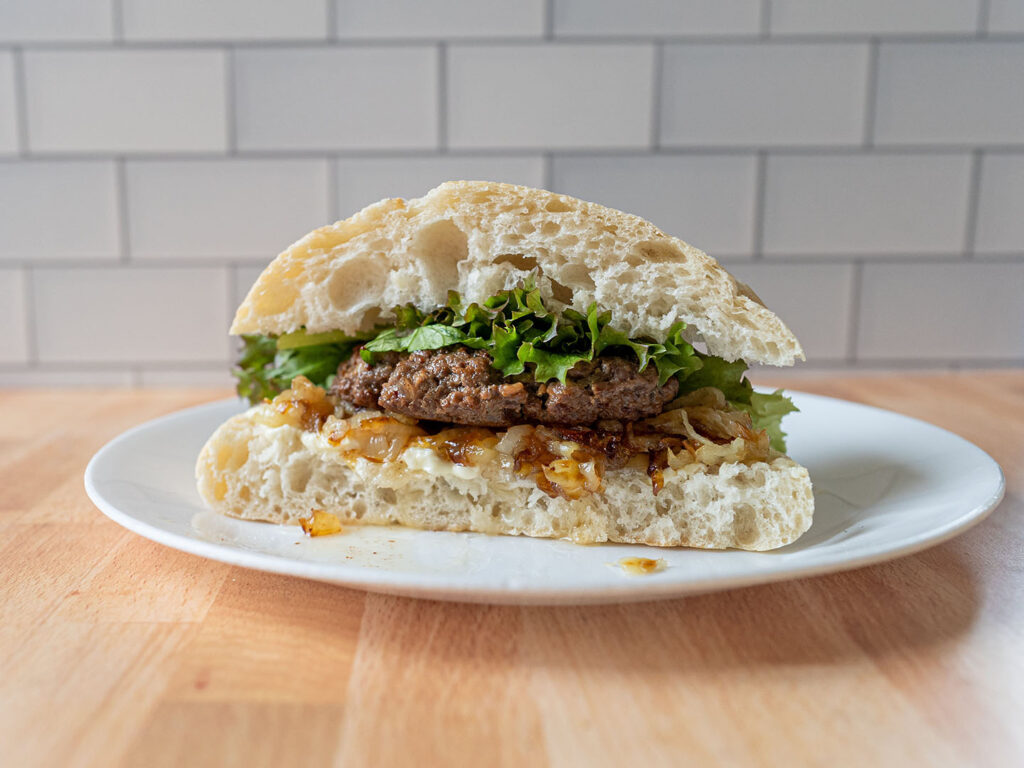 Pets aren't allowed indoors, so do bear that in mind, and based off my experience bring an extra bag more than you think you'll need. The market runs every Saturday morning 10.00 a.m. through 2.00 p.m. Get there as early as you're able. As I lollygagged my lazy weekend self through the doors at 11.45 or so, the wonderful Baby's Bagels already had a sold out sign up. Lesson learned and then some.
A complete list of vendors you might see (remember it changes each week) includes:
44 Magnum Farm and Ranch
Abigail's Oven
Amour Spreads
Amrita Honey Co (apprenticed under Bee Condominiums)
Awe Sweet
Azizaslc
Baby's Bagels, LLC
Bitters Lab
Blue Spring Farm
Canyon Meadows Ranch
Chili Beak
Clifford family farm
Cru Kombucha
Don Aramburu Salsa Co.
Drake Family Farms
Elevated Foods, LLC
Farm Yard Fresh
Fine Tilth Farm
Firebirds Chile Co. (will be High Mesa Chile Co.)
Flaming Homer's Hot Sauce
Gerome's Market
Good Grains Gluten Free Bakery
Grandma Sandino's
Hadfield House
Home Grown Greens
Intermountain Gourmet
Lau Family Farm, LLC
Life Giving Foods, LLC
Logos Coffee Company
Madsnacks Produce
Milk Honey Yogurt
Mountain Born Creamery
Park City Creamery
Pie Party
Proof PAWSitive
Pure Mystics
Pyne Farms
R&A Hydroponics
Raw Eddy'sRico
Rolo Enterprises/Crumb Brothers
Salsa Del Diablo
Seasons Plant Based Bistro
Smith Orchards
Steen's Greens
Tankinz Fresh Pasta
Tequenos Factory LLC
The Chocolate Conspiracy
The Old Home Place LLC
Tree Hugger Granola
Van Kwartel Flavor Science
White Lake Farms/Wasatch Organics LLC
Woodyatt Cherry Farm
Zoe's garden
[This story brought to you as part of Downtown Alliance's sponsorship of our site]
Keep the conversation going
Want to stay on top of the SLC food scene, minute by minute, dish by dish? Here are a few other places you should follow along:
Hi, I'm Stuart, nice to meet you!  I'm the founder, writer and wrangler at Gastronomic SLC.  I'm a multiple-award winning journalist and have written in myopic detail about the Salt Lake City  dining scene for the better part of seventeen years.
I've worked extensively with multiple local publications from Visit Salt Lake to Salt Lake Magazine, not least helped to consult on national TV.   Pause those credits, yep, that's me! I'm also a former restaurant critic of more than five years, working for the Salt Lake Tribune.    I'm largely fueled by a critical obsession with rice, alliteration and the use of big words I don't understand.   What they're saying about me: "Not inaccurate", "I thought he was older", "I don't share his feelings".
Want to know more? This is why I am the way I am.
This article may contain content provided by one of our paid partners. These are some of the best businesses in Utah. For a list of all our current and past relationships see our
partnership history page
.