If you've been following along with morbid curiosity this year, you're no doubt aware of the storied drought of bar licenses in Utah. Want to open a bar in the Beehive? You better have a cash runway like Elon coupled with the patience of Job (the biblical one, not the Appley one).
What many haven't been tracking however is the impending exhaustion of full service restaurant licenses in Utah. I started mentioning this back in April, but based off this months DABS meeting – commissioners are also now starting to take serious note of the impending economic pitfall. Jesters might call it a pratfall.
Twelve restaurants secured a full service license this month; a permit that affords the pouring of beer, wine and (clutch those pearls tightly) liquor. Provided said patrons order food. Oh, and definitely provided the restaurant doesn't bag more than 30% of their profits from alcohol either. Natch. Anyway, this months winners were as follows:
Ramblin Roads Restaurant, Ogden
Cortona Italian Caf , Park City
Homecoming Southern Kitchen & Bar, Salt Lake City (pictured)
The Break Sports Grill, Salt Lake City
La Frontera Mexican Restaurant #6
Hearth And Hill, Salt Lake City
Sweet Lake Biscuits & Limeade, Salt Lake City
Gosu Korean BBQ, Salt Lake City
Root'd Caf , Salt Lake City
Libertango Steakhouse, Sandy
Tapa Sushi Japanese Cuisine, Saratoga Springs
Whiptail Grill, Springdale
As the commission pointed out this leaves the state with 24 full service restaurant licenses available before next July. At the current rate of burn and return, commissioners estimated that full service restaurants would be in the same woeful state as bars come the Spring. Oops. Commissioner Jacobsen pointedly noted, "in less than a year we've cut in half the number of available licenses."
Limited service restaurant licenses (that allow beer and wine to be poured) are still fine for the time being. At this months meeting the following restaurants were approved:
China Star Chinese Restaurant, Bountiful
Hana Ramen Bar, Park City
Toastique, Riverton
Royal Hot Pot & BBQ, Salt Lake City
Krua Thai Restaurant, Salt Lake City
Tsubame Sushi, Vineyard
Tokai Sushi Restaurant, West Jordan
Lastly El Gallo Giro (Provo) and Lemonshark Poke (SLC) both were approved for beer only restaurant licenses. And then back to bars…
Bar licenses
To recap the state of play, last month saw two bar licenses punted forward to this month's meeting. Fact fans will rightly note eleven bars are currently on the wait list (and let's not even talk about the many more that are coming). A third unexpected license also became available during the October meeting as the commission revoked the license held by Ogden's Sand Trap.
The meeting also revealed that due to revised population estimates the state would be making three more bar licenses available before the end of the current fiscal year – July 1st through June 30th. If you're new to this population fuss, Utah allocates one bar license per 10,200 Utahns. For reference, over in the Caligula-fuelled Cali, it's one per 2K. Utah currently also has two Winter seasonal bar licenses on offer, but let's not talk about those; what sane business owner wants a license that affords them opening for six months of the year?
Cutting a long…oh so long…story short (start at 1:04), Michael Repp of new LGBTQ bar The Verse walked away the only successful applicant this month – reckoning he'd have things up and running by this Friday. Commissioners also indicated they'd hold a special session in the coming weeks, potentially ready to hand out a bar license to Ogden's Lit Arcade Bar and Edison House in downtown SLC – should they have their t's crossed. Watch this space.
And now, more liquor news…
A few weeks ago I begrudgingly gave up a Friday afternoon to help with the onerous task of assisting the team over at Flanker, judging the merits of several new seasonal cocktails crafted by their Salt Lake based bar team. The winner by unanimous verdict was the pictured Apple Of My Eye, packed with Fall-forward flavors. The cocktail comes with Four Roses Bourbon, simple syrup, lemon juice, maple syrup and apple cider. Apple and bourbon, who knew? O.k. everyone else but me. I'd heartily recommend you stop by and partake responsibly.
If you do, you might want to keep an eye on Flanker's Halloween plans. For those in the spooky spirit dressing up for Halloween weekend, there is a chance to win $1000 for the best costume on October 29th. The bar will also be holding parties either side on he 28th and 30th too, with plenty of live music and specials.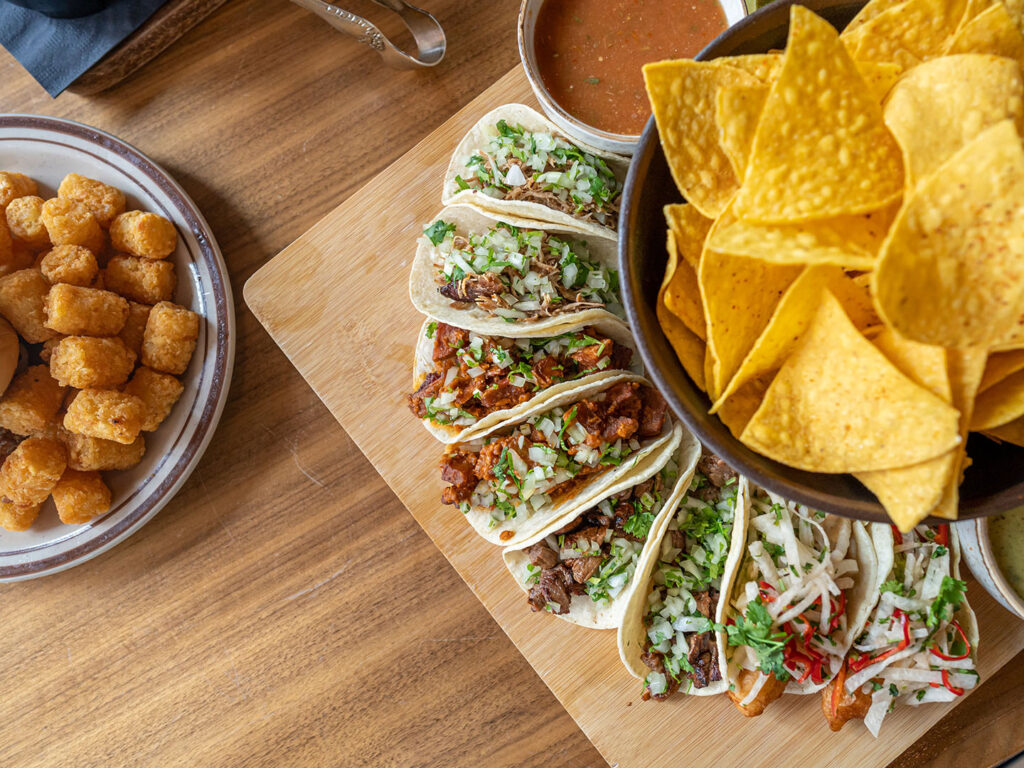 After Halloween, the NBA schedule beckons and I'd be remiss to not remind you of the recent menu update under Roman Contreras, which is aimed at making this THE place to watch the game. That pictured plate of tacos will take some of the sting (SOME!) out of the inevitable head in hands moments.
Drink In Utah November report
From their monthly newsletter…
It's fall! And you know what that means: we're on rare-drawing watch. If history repeats itself, we should see a drawing happen in October. Another month with fewer price increases–more so with wine this month. One notable exception is a few High West products will be going up in price. You have a week to stock up before they do, so if you like their Rendezvous Rye, Double Rye, or Bourbon, plan on heading to the liquor store! Check out the report to see what else has gone up/down in price, what's new, and what's discontinued.
High West Distillery unveils 10th rendition of Midwinter Night's Dram
Via press release
High West Distillery today announces the tenth rendition of A Midwinter Night's Dram. A Midwinter Night's Dram Act 10 showcases their flagship Rendezvous Rye finished in a combination of ruby and tawny port barrels sourced from Portugal. In celebration of a decade of releases that have cemented A Midwinter Night's Dram as a "cult classic," the distillery is also unveiling a tenth anniversary limited release blend, A Midwinter Night's Dram: The Encore.
The Encore also uses Rendezvous Rye as its base, however ages the straight blend of rye whiskey in white port barrels. The result is a subtle, delicate balance of white stone fruits and herbals that works in harmony with the whiskeys. The Encore serves as a unique counterpoint to Act 10, showing how High West continues to push the boundaries of blending and experimenting to create one-of-a-kind whiskeys.
"It goes without saying that A Midwinter Night's Dram is our most anticipated launch each year," said Brendan Coyle, Master Distiller at High West. "We really started to notice it taking off in the past five or six years, and the line that now forms at the Distillery bright and early on release day speaks for itself. Blending, discovering, and innovating is in High West's DNA, as exhibited this year by both Act 10 and the debut of The Encore, and we're constantly looking for unique expressions to bring consumers."
A Midwinter Night's Dram: Act 10 – 98.6 Proof. Tasting notes: Blood orange peel, Saigon cinnamon, blackcurrant jam, candied ginger, smoked apple wood, raspberry shortcake with whipped cream
Keep the conversation going
Want to stay on top of the SLC food scene, minute by minute, dish by dish? Here are a few other places you should follow along:
● A Midwinter Night's Dram: The Encore – 101.6 Proof
○ Tasting notes: Soft licorice, Earl Grey tea, peach marmalade, grapefruit zest, vanilla meringue pie, marzipan and chocolate mint leaves
Both A Midwinter Night's Dram: Act 10 and The Encore will be available beginning October 2. Act 10 will be available in very limited quantities nationwide for $150. The Encore is uniquely available only at the High West General Store in Park City, Utah or the High West Distillery in Wanship, Utah for $150, where consumers can also purchase Act 10. For more information and where to buy High West products near you, visit highwest.com.
Hi, I'm Stuart, nice to meet you!  I'm the founder, writer and wrangler at Gastronomic SLC; I'm also a former restaurant critic of more than five years, working for the Salt Lake Tribune.  I've worked extensively with multiple local publications from Visit Salt Lake to Salt Lake Magazine, not least helped to consult on national TV shows.
I'm a multiple-award winning journalist and have covered the Utah dining scene for the better part of fifteen years.   I'm largely fueled by a critical obsession with rice, alliteration and the use of big words I don't understand.   What they're saying about me: "Not inaccurate", "I thought he was older", "I don't share his feelings".  Want to know more? This is why I am the way I am.
This article may contain content provided by one of our paid partners. These are some of the best businesses in Utah. For a list of all our current and past relationships see our
partnership history page
.