If the current heat wave has you reaching for liquid refreshment for the suds, I'm guessing this unique event might be for for you. The inaugural Utah Brewers Guild Collab Fest is a one of a kind opportunity to taste some seriously intriguing collabs between some of Utah's best brewers. As Teri Mumm of the UBG writes, "Chances are the collab brew kegs won't outlast the festival."
So if any of the following brewmances sound like your kind of match made in heaven, make sure you grab a ticket stat. Something tells me this one might sell out. At the time of press 32 brewers have committed to pouring the following sixteen one off creations. Remember, here for the day and probably gone thereafter:
Kiitos Brewing Co. & Grid City Beer Works – Deconstructed Barrel Rye Ale with Rye whiskey barrels
Apex Brewing & SaltFire Brewing Company – War Pig Cascadian Dark Ale
Moab Brewery & Proper Brewing Co. – Mo'Cold IPA
Epic Brewing Company & TF Brewing Co. – Protect Yo Necta Hoppy Pilsner
Prodigy Brewing & UTOG Brewing Company – Hip Hop Lemon Drop Shandy IPA
Strap Tank Brewery & Hopkins Brewing Company – Hop Tank Lichtenhainer
Roosters Brewing Co. & Fisher Brewing Company – Melon Days Watermelon Ale
Park City Brewing & Level Crossing Brewing Company – It's Always Sour in Philadelphia Sour IPA
Heber Valley Brewing Company & Vernal Brewing Company – HWY 40 Smoked Dunkel
Bewilder Brewing Co. & Bohemian Brewery – Goldy McBiscuits UK Golden Lager
Uinta Brewing & Offset Bier Co. – What the Helles you Smoking?
Desert Edge Brewery & RoHa Brewing Project – RoHave Desert Helles
Zion Brewery & Silver Reef Brewing Co. – Peach Sour Ale
Salt Flats Brewing Co. & Hoppers Brewing Co. – Stone Kite Pale Ale
Wasatch Brewery & Helper Beer – Cold Rhythm IPA
Squatters & Ogden River Brewing – Speed Bump Citra Pale Ale
The event will be held on September 17th, 3.00 – 7.00 p.m. and will function as a fundraiser for the UBG. The festival will be held on McCarthy Plaza, the area just South of Pretty Bird in downtown SLC on Regent Street. The event is 21+ only and tickets start at $35 – you can buy em here: https://www.eventbrite.com/e/utah-brewers-guild-collab-fest-tickets-393827537767
Also coming up this month…
September 15 – Casot
An "Eco-Positive" pintxos and bino wine dinner is promised at Scott Evan's 15th and 15th wine bar this month. Of the event Casot write:
We are excited to bring our friend and Master of Wine, Melissa Saunders, back to host another event with Pago Restaurant Group. We flipped the script a bit for this dinner and we asked Melissa to curate the wines and theme for the event. The result is quite compelling and will feature "Eco-Positive" food and wine. (Which seems only natural as the focus of her Master of Wine studies related to packaging and sustainability!) All of the featured wines come from "Eco-positive" packages with sustainable winemaking practices. In addition, every pintxo is sourced from local, in-season ingredients.
Cost is $45 food and $45 wine pairing, with the evening beginning at 6.00 p.m. Tickets are available here.
September 17th and 18th – Festa Italiana
September 17, noon-10:00 p.m.
September 18, noon-7:00 p.m.
Via ABC4, here's a quick reminder, that this massive two day Italian celebration is back in just a couple of weeks time, "Salt Lake City's ever-popular Italian festival will be held on historic Rio Grande Street from 100 S to the Olympic Fountain Plaza. Celebrate and discover the culture, entertainment, and culinary diversity of Italy during the festival's seventh year. This is a non-profit, family-friendly event with proceeds supporting charities, including Catholic Community Services." The website report you'll be able to enjoy all of the following:
Live Italian entertainment
Food booths highlighting the regions of Italian cuisine
Italian beer and wine garden
Arts & crafts
Historical displays
Bocce tournament
Live raffles
Exotic Italian cars
1508 S 1500 E, Salt Lake City, UT 84105
(801) 441-2873
casotwinework.com
September 26th – Franck's
Meanwhile, over in Cottonwood Heights, a four course beer dinner with Shades Brewery will begin at 6.00 p.m. on the 26th. The cost for Franck's latest pairing beer dinner is $125 for food and drinks or $85 for only food. Menu as follows:
Amuse, stout beer bread, malted mustard butter
Torched ocean trout belly, fermented coconut cream, pink peppercorn, lemongrass
vinaigrette, pistachio-lime relish, kefir oil – Hoppy Pilsner
Roasted dry aged duck, Utah sweet corn sponge, duck fat butter, pineapple "leather",
caramelized shallot, jalapeño, bourbon pineapple emulsion – Pineapple Pickled Jalapeño
Grilled wagyu beef sausage, garlic dandelion leaves, charcoal potato salad, spicy grapefruit bbq sauce, preserved garlic scapes, potato crisps – Slick City IPA
Kabocha squash & salted caramel hand pie, brown sugar-brown butter, curry ice cream, Thai basil – Pumpkin Pie
6263 Holladay Blvd E, Holladay, UT 84121
(801) 274-6264
francksfood.com
September 27th – Veneto
Amy and Marco Stevanoni's Italian is one of the best in town, and their wine dinners are always watched by wine lovers. Their latest dinner will come on Sep 27th and starts at 6.00 p.m. Cost is $300 per person, with Marco writing:
The marvelous and always intriguing region of Veneto is my native home, and where my heart will always be. We've put together a unique and spectacular way to travel with you through my home the region, sharing seven regional dishes and seven regional wines that have a special place in my heart.
Discover "My Veneto" — my personal perspective shared through all of the senses, stories, traditions, dishes, and of course the wines. This is going to be a special dinner for Amy and I, and I know it will be a special for you too. Truly a one-of-a-kind dinner for us to experience together.
370 E 900 S, Salt Lake City, UT 84111
(801) 359-0708
venetoslc.com
September 28th – Midway Mercantile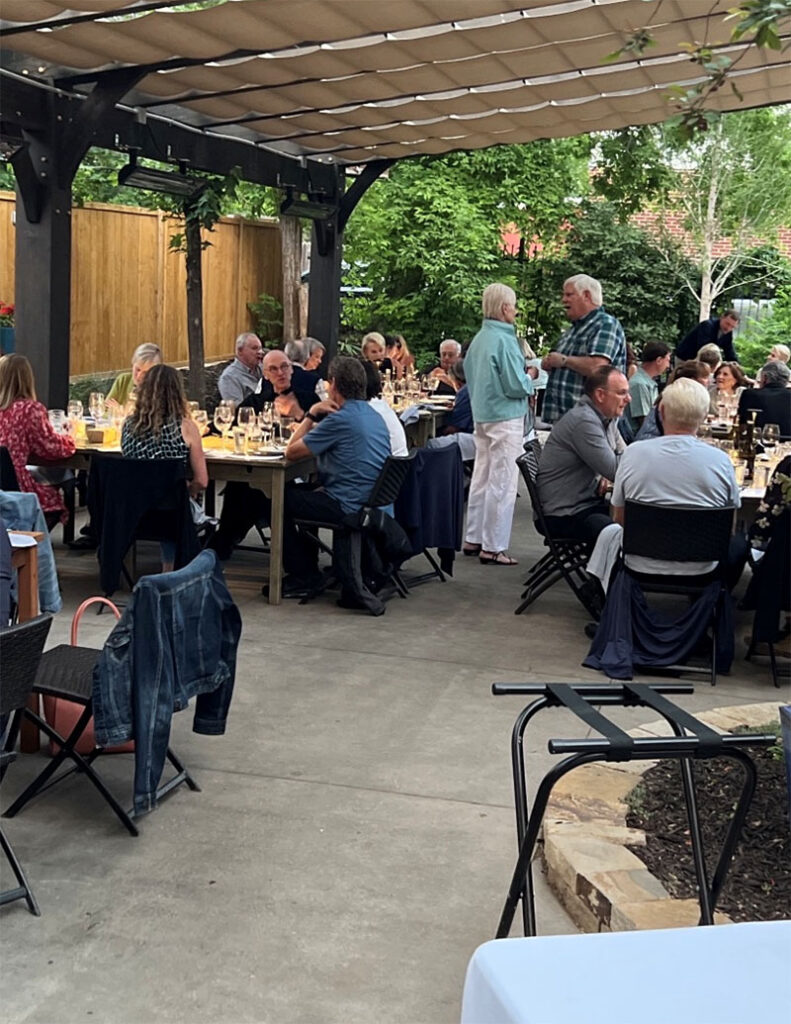 Barlow Vineyards will be the focus of this wine dinner at the end of the month, over at the Midway chef-driven restaurant. Details from the restaurant as follows:
This Napa family-owned gem of a vineyard offers us a robust range of wines, including Rose, Pinot Grigio, Merlot, and Cab Franc, along with three versions of their Cabernet, including their extraordinary Family Selection Cab. And we will be guided on this Calistoga-grown campaign by Owner/Farmer/Winemaker, Barr Smith along with his Park City brother Brian Smith.
John will match these delicious and varied wines with late summer/early autumn fare- 7 courses this time around. The all-in price is $170. Please use the RSVP link below and make sure to join us for what is sure to be a exceptional evening.
99 E Main St, Midway, UT 84049
(435) 315-4151
midwaymercantile.com
Keep the conversation going
Want to stay on top of the SLC food scene, minute by minute, dish by dish? Here are a few other places you should follow along:
Hi, I'm Stuart, nice to meet you!  I'm the founder, writer and wrangler at Gastronomic SLC.  I'm a multiple-award winning journalist and have written in myopic detail about the Salt Lake City  dining scene for the better part of seventeen years.
I've worked extensively with multiple local publications from Visit Salt Lake to Salt Lake Magazine, not least helped to consult on national TV.   Pause those credits, yep, that's me! I'm also a former restaurant critic of more than five years, working for the Salt Lake Tribune.    I'm largely fueled by a critical obsession with rice, alliteration and the use of big words I don't understand.   What they're saying about me: "Not inaccurate", "I thought he was older", "I don't share his feelings".
Want to know more? This is why I am the way I am.
This article may contain content provided by one of our paid partners. These are some of the best businesses in Utah. For a list of all our current and past relationships see our
partnership history page
.