Before you sigh in resignation at a list featuring 100s of items, a way for me hock and shill you endless affiliate links, stay with me. Of course I'm going to give you affiliate links, I have bills to pay – but I'm also going to keep this list as mercifully short as possible. The items listed here are my favorites, I use them every week personally. Check out that background picture if you need proof, all of these are photographed by yours truly at my place. I really mean it, I love all of these.
As for list length I hate kitchen clutter, I'm not going to try and sell you on banana straighteners or strawberry de-seeders. There's no clutter here, just a concise list of non negotiable chef musts as far as I am concerned. First and foremost, if you're gonna cook up a storm in the kitchen, you're going to want…
A fantastic knife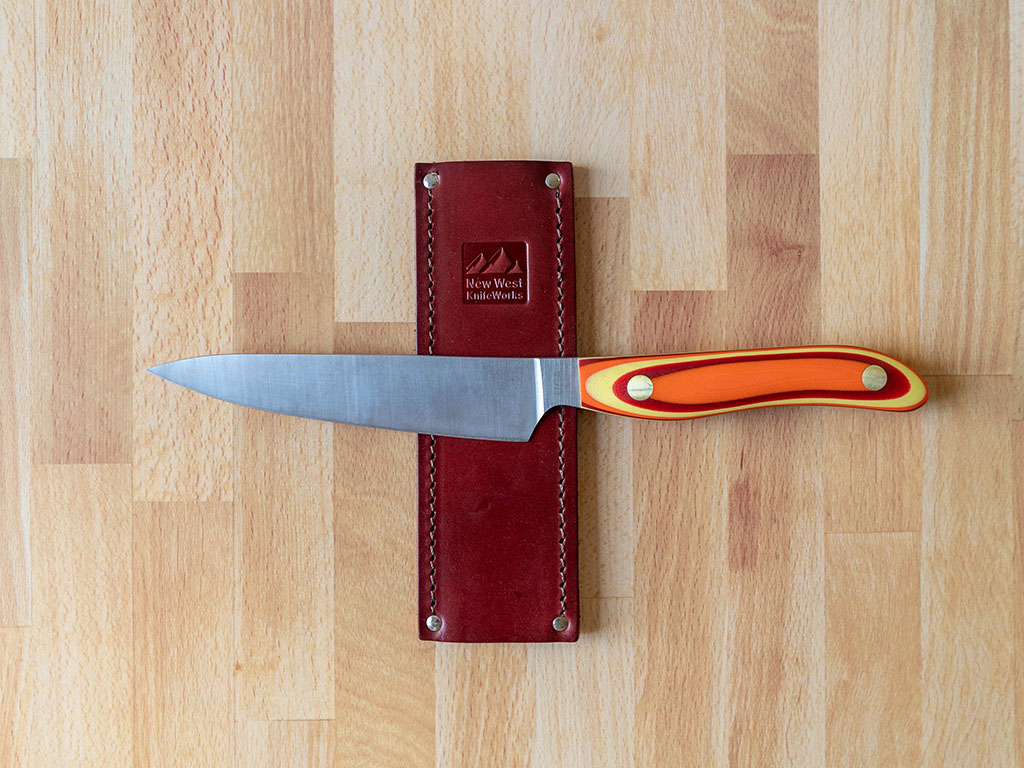 If you want one that'll last you a lifetime as well, probably skip those in your local mega-mart or home supply store. Sure, they'll cut, and chop and shred, but they're not gonna be in your arsenal ten years from now. They'll be chipped, dull and rusted.
A great kitchen knife has a well balanced mix of carbon and steel, malleability and resilience combined. If you're also in the market for something local let me point you to New West Knife Works. The Wyoming based company has a location on Park City's Main Street; not only do they craft sublime kitchen tools, but do so with a meticulous artisan's touch.
You can purchase everything from full sets to single knives – every last one is impeccable and a conversation starter to boot. Bonus points: the Park City location offers lifetime sharpening on any of their knife ware. If you've ever been worried about keeping your prized knives in tip top condition, they'll hold your hands. Well your knives. Treated right, these are craftsman tools you'll be able to hand down to your kids.
A copy of The Flavor Bible
If you look closely behind the line at your favorite restaurant or bar, you're likely to find a copy of this tome. If you only buy one food related book in your kitchen career – buy this. It's an encyclopedic affair, bigger than a phone book (remember those?). It lists ingredient after painstaking ingredient in diligent A-Z manner; every last item is then presented with the perfect flavor profile pairings.
Looking for that final ingredient to make your dinner, cookie, cocktail or sandwich come to life – reach for this. I guarantee you will find unexpected and delightful flavor combinations in the 100s upon 100s of pages. Chef after chef has told me they rely on this mighty compendium, and I do too. Buy on Amazon here.
It even has James Beard's face stamped on the cover, what more convincing do you need?
An air fryer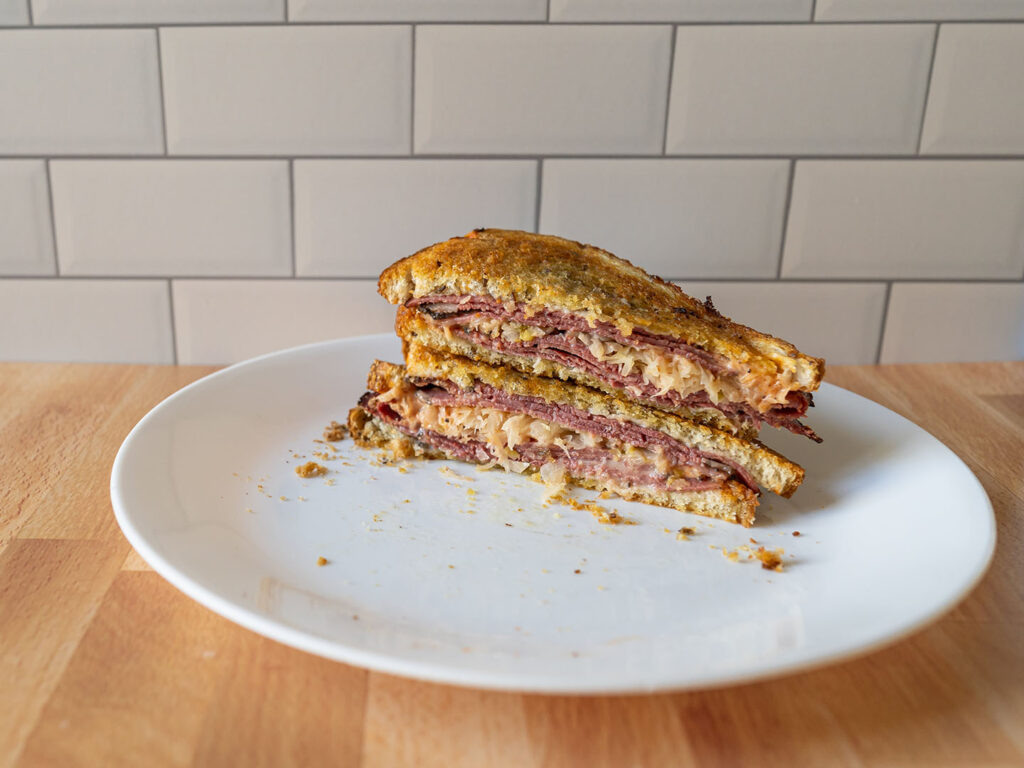 Oh god, you're one of those people. You're one of those air fryer people. Stay away from my brains. No! Wait! Wait, please! I'm here to tell you that the air fryer is the most misunderstood gadget on the market, and well, yes, make you click an affiliate link too.
Forget the notion of the air fryer as a way to replace your deep fat fryer (if you're still one of those brave souls that owns one). The air fryer in my kitchen stretches it's legs on an almost daily basis, for a multitude of reasons. Here are just a few unique and random ways I use mine:
Charring veggies in minutes ready to blend for a restaurant style salsa
Perfect Yorkshire puddings every single time through the precise heating and timing control
Tandoor style roasting with bags of smoke and char
Precision cooking of soft, medium and hard cooked eggs, exact every time
Grilled sandwiches – cheese, and tuna, and reuben
It does all of this with masses more alacrity than that huge oven range in your kitchen; not least doing so while using gobs less energy and producing far less heat. A godsend in the Summer months when your AC unit struggles to keep up. I use the COSORI air fryer, 5.8 quart model.
Trust me, air fryers.
A well stocked spice and herb cupboard
The stuff on the shelf at your local grocery store has been there too long. It's sat under punishing light and month after month of slowly decaying age. Don't reach for it, please don't. Instead head to a specialty provider like the Spice House located in Chicago.
Not only does it work out cheaper anyway (shipping is free when you spend enough) but the results are night and day. The first time you come to your senses from vibrant fish oregano or tingly Sichuan peppercorn – it's a game changer. You'll have guests asking, "what's in this dish that makes it so special". I guarantee it. You can then smugly say the difference was the imported product from your spice merchant in Chicago. Feels good every time.
Anything OXO
I have never once been let down by the OXO brand when it comes to kitchen tools. From their non stick pans through to hand held veggie spiralizers through the pictured good grips tongs. Their products are built to last, and withstand your most aggressive Ramsay impression in the kitchen.
They are of course also priced commensurately higher, but I am here to tell you they're absolutely worth it. When you've discarded your tenth budget can opener, please, please reach for the OXO one. You'll thank me later.
A reliable kitchen thermometer
I mocked kitchen thermometers for the longest of times. The crutch of the weak and unskilled, then as happens, a few arrived in the mail from would be companies hoping I'd write these words to you. And here we are. I now use this one Chef's Temp multiple times a week and realize the errors of my ways. Using a thermometer I can push the boundaries of dishes I ordinarily might cook a little too far, think delicate fish and expensive steaks.
The Chef's Temp X10 above is solidly built and feels reassuringly weighty in the hand. It's fast reading and has a 0.7F degree of accuracy that'll help you check temps from -22F through to 572F. If you're cooking outside of that range you've made some very poor decisions in the kitchen today. Use the following link and get 8 USD off the Final Touch X10.
Hi, I'm Stuart, nice to meet you!  I'm the founder, writer and wrangler at Gastronomic SLC; I'm also a former restaurant critic of more than five years, working for the Salt Lake Tribune.  I've worked extensively with multiple local publications from Visit Salt Lake to Salt Lake Magazine, not least helped to consult on national TV shows.
I'm a multiple-award winning journalist and have covered the Utah dining scene for the better part of fifteen years.   I'm largely fueled by a critical obsession with rice, alliteration and the use of big words I don't understand.   What they're saying about me: "Not inaccurate", "I thought he was older", "I don't share his feelings".  Want to know more? This is why I am the way I am.