It's been a lively year of headlines as far as drinking in Utah is concerned. What with the management of Utah bar licenses sharing more in common with an Abbot and Costello routine rather than say, a pro-business environment for (and whisper this very quietly) a legal product.
It's not all been double-worthy news mind you. In recently refreshing weeks, the likes of the The Pearl and Franklin Ave have opened their doors, raising the bar, for err, bars. Both feature brand-spanking new menus that put the chicken-finger stained menus of old to shame.
Next up to the oche (there's one for true bar flys…), here's some more stellar news to toast – South Salt Lake's Beehive Distillery has an all new food menu. Developed and deployed by chef Bictor Tirado, it's a brisk journey through South American and Asian flavors. In a world awash with twenty dollar cocktails and burgers, it's also a surprisingly affordable. I see you downtown Salt Lake. I see you wishing you were Las Vegas Boulevard.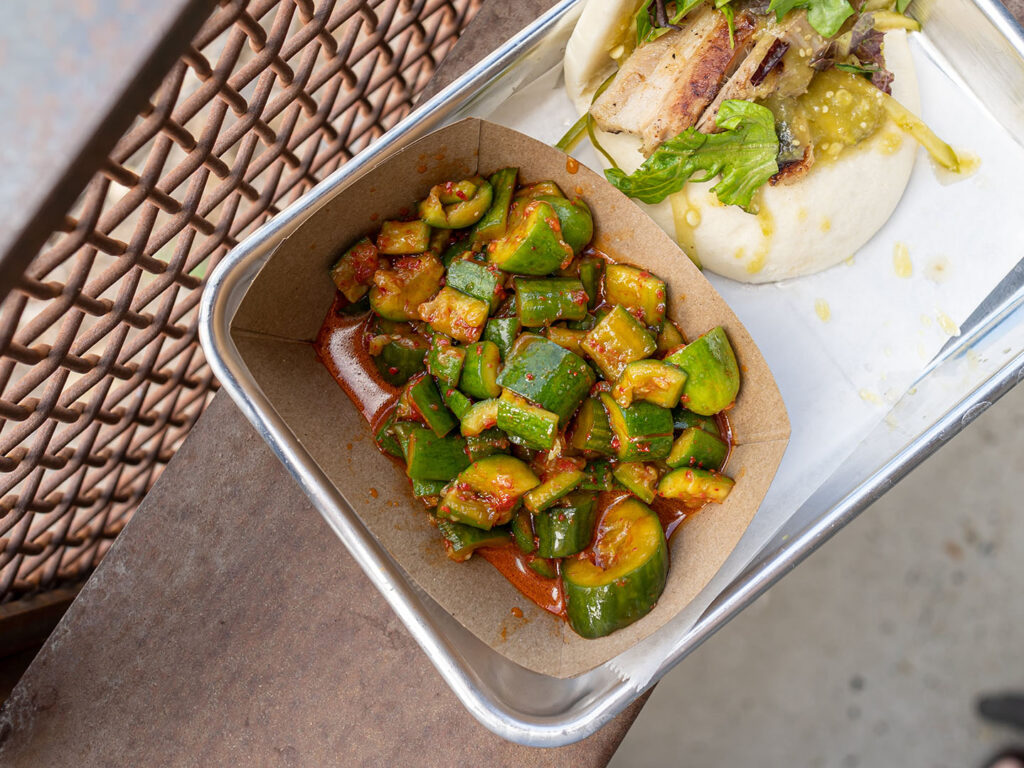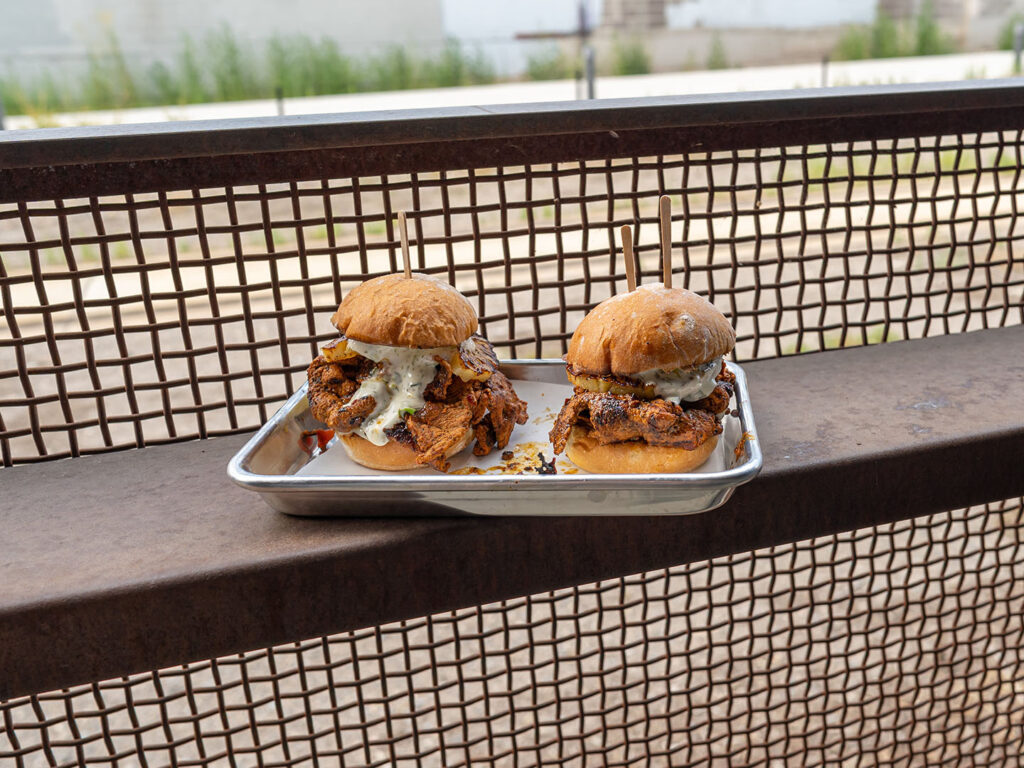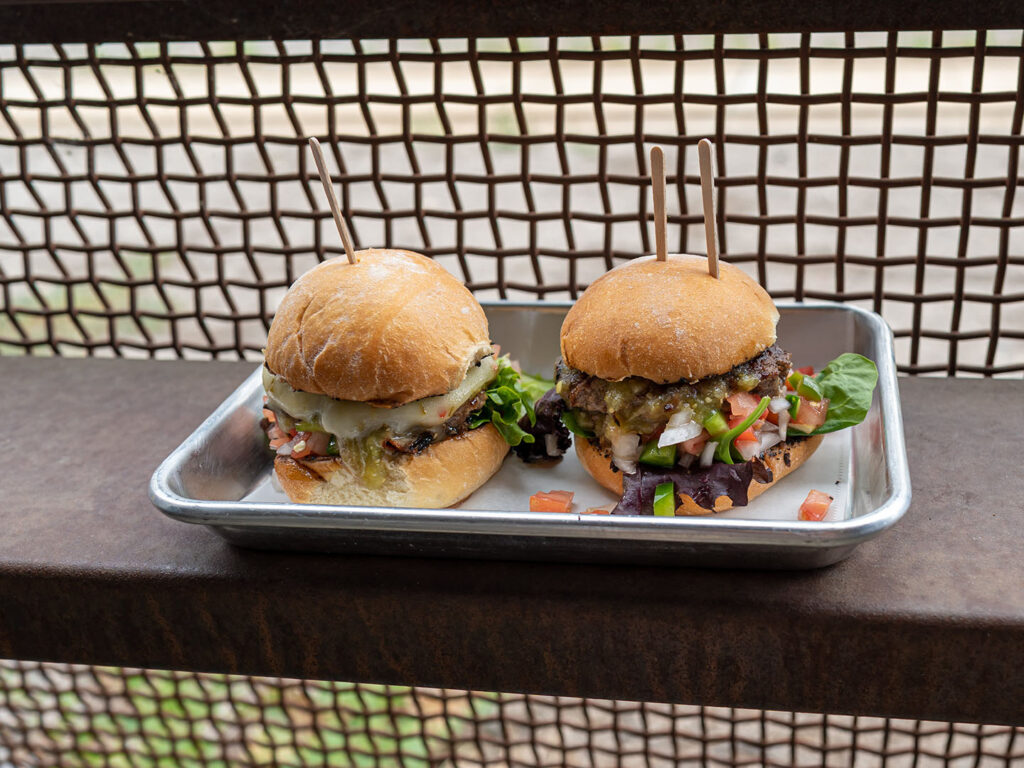 Like any good chef, Tirado leans into the indelible memories of childhood, "al pastor has always been my favorite thing to get at a taco stand", he explains. "Choosing between several different spots to get the right one It really brings me back to the special occasions we'd go to a truck or even the corner restaurant near my Dad's house in California, the warm juicy sauce and light tang of the pineapple combined with the cheese crust and ranch just bring it up to something I totally wish I tasted as a kid."
The al pastor sliders were the highlight of the compact eight plate menu I recently stopped by to soak up a couple of beers over. Priced just six bucks a pop, they feature handsomely marinated pork, cilantro ranch and Oaxaco cheese. The final touch, a glowing golden sun of charred pineapple beaming down on the stack. It serves as the perfect excuse to stay for another round.
Other notables include a tomatillo topped pork belly bao ($6), that's best ordered with a side of the smacked cucumbers ($4) – sliced Persian-style cukes with a lashing of visually vibrant vinegar and gochuaru – a powdered version of Korean gochujang, who knew? The sharp and sour are a great one-two contrast punch to the fatty pork belly.
Of course, its a bar, and they'd be remiss to not fry something. And fry they do. The four dollar French fries are cutely spiralized and tossed with truffle salt, while dessert sees churro fries served with caramel dipping sauce.
It's unpretentious, it's fun, and did I mention house cocktails start around $8-$10 dollars?
2245 S W Temple St, South Salt Lake, UT 84115
(385) 259-0252
beehivedistilling.com
Hi, I'm Stuart, nice to meet you!  I'm the founder, writer and wrangler at Gastronomic SLC; I'm also a former restaurant critic of more than five years, working for the Salt Lake Tribune.  I've worked extensively with multiple local publications from Visit Salt Lake to Salt Lake Magazine, not least helped to consult on national TV shows.
I'm a multiple-award winning journalist and have covered the Utah dining scene for the better part of fifteen years.   I'm largely fueled by a critical obsession with rice, alliteration and the use of big words I don't understand.   What they're saying about me: "Not inaccurate", "I thought he was older", "I don't share his feelings".  Want to know more? This is why I am the way I am.
This article may contain content provided by one of our paid partners. These are some of the best businesses in Utah. For a list of all our current and past relationships see our
partnership history page
.