Well there you have it. Two months into the year and bar licenses are pretty much toast. Want to open a bar in Utah? Come back in May, because that's when a single license will be up for grabs next. And after that, who knows…
With various news outlets reporting on a state legislature unconvinced that an issue actually exists, don't expect anything to change quickly. This year's legislative session had far more pressing concerns to deal with, you know, the re-introduction of mini bottles, the micro-managing of legal code to remove some 50% of hard seltzers from Utah shelves; oh and a name change for the DABC, dropping the C for S – services not control you see. Let's take a bemused step back and watch the state simultaneously trying to woo Outdoor Retailer and the Winter Olympics back to Utah. Wait, wait, come back, we're not weird, honest.
Anyway, at the February DABC meeting, one license was dangled before no less than SIXTEEN suitors, eight of which were all perfectly capable of opening their doors today. Eight business capable of generating gobs of brand new tax revenue for a – whisper this quietly now – perfectly legal product. Anyway, those eight included:
Fenice Mediterranean Bistro, Salt Lake City (convert from existing restaurant)
Wasatch Loft & Tap Room Bar, Park City (convert from existing winter seasonal)
Saddlebag Saloon, Eden (convert from existing Tavern license)
RoHa Brewing Project, Salt Lake City
The Pearl, Salt Lake City
Trolley Wing Co, Salt Lake City
Shades Tap Room, Salt Lake City
Durango Bar, Salt Lake City (convert from existing Tavern license)
with a following further eight expecting to be ready to open their doors down through the next 12 months:
The Green Room, Salt Lake City, March 2022
Quarters Sugar House, Salt Lake City, March 2022
The Spoke, Moab, April 2022
Edison House, Salt Lake City, June 2022
Proper Brewing Moab Taphouse, Moab, June 2022
Bout Time Pub & Grub, Bluffdale, October 2022
Bout Time Pub & Grub, Saratoga Springs, October 2022
Fife Brewing Company, Salt Lake City, February 2023
The eventual winner was The Pearl located in the Central ninth area. This new bar from the team behind downtown SLC's successful Alibi looks set to expand on the original's tiny format. Owner Jacob Hall explained the new bar would seat 75, expanding to a healthy 180 Summer patio seating bolted on. The bar now opens at 919 South 200 West, alongside neighbors Nohm, Water Witch, Scion Cider, Laziz and Central Ninth Market.
Also worthy of note was the The Green Room who secured a bar license via private sale, for the princely sum of $30K. Given the legislature's additional moves to make this form of transaction illegal, it's probably The Green Room is likely the last business to snag a license in such a fashion. In other news, the following businesses picked up a variety of other license types.
Full service restaurant licenses (beer, wine liquor)
Chak Balam Mexican Restaurant, Torrey

Las Botellas of Riverton, Herriman
Those keep score should note 48 full service restaurant license remain in the state of Utah after this meeting.
Limited service restaurant license (beer, wine)
Gourmandise, American Fork
Iron Horse Restaurant, Kanab
Recharge Pub & Grub, South Jordan
Red Fort Layton Cuisine of India, Layton
Sugar House Coffee, Salt Lake City
Beer only restaurant license
Roctaco, Salt Lake City
Gordos Tacos & Beer, Salt Lake City
DUB's BBQ, St George, conditional
Beer Tavern license
Shades Tap Room, Salt Lake City
Lastly, Park City Brewing grabbed a Type 5 package agency license (you know those that let you shop for liquor on Sundays) while Maxwells had an extended closure request approved through to April. The popular bar and restaurant was approved to move away from Main Street back in December 2021 – expect them to land in the old George space at 328 W. 200 S. in the next few months.
Oh – and before we move on – Drink In Utah's monthly look at what's on sale at liquor stores just dropped. Check the March report here.
Update February 26th: Ben Winslow's has subsequently tweeted that a possible tweak to hotel/resorts licenses may free up 10 licenses.
New local releases
Here are all the new beverage releases that have come across my desk over the last month.
Beehive Distilling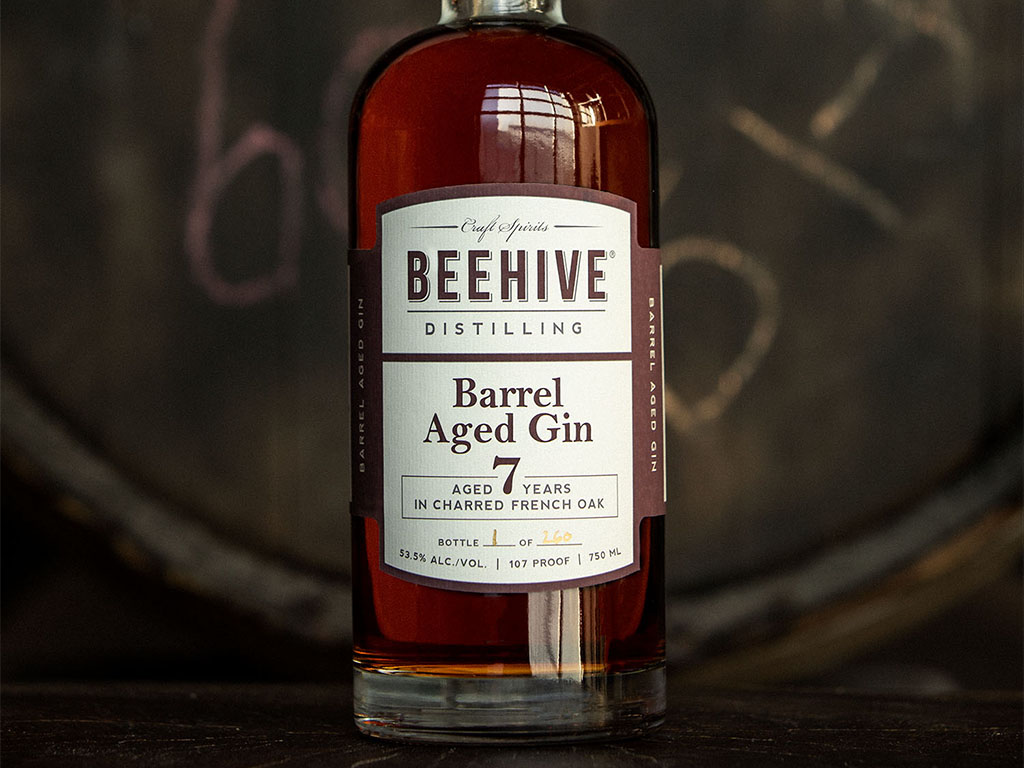 Via press release
Beehive Distilling is releasing a new limited product this week, their 7 Year Barrel Aged Gin. One of the oldest barrel-aged gins in the world, this Utah-made spirit is an innovative example of craft distillation at its finest. The 7 Year Gin features a rich amber color with notes of caramel, vanilla, and juniper. The spirit will be available for the first time in 1oz pours at the Beehive Distilling bar on Wednesday February 9, and bottle sales will start Thursday February 10 at 4PM at the Beehive package store.
Beehive's 7 Year Barrel Aged Gin began as a clear Jack Rabbit Gin, featuring a blend of seven botanicals including rose petals, juniper berries, lemon zest, and sage leaves. The gin was set to rest in a hand-charred French Oak barrel starting January 31 2015. The spirit was uncorked for the first time on January 31 2022. During the aging process, the 7 Year Gin has taken on a rich color and flavor profile that presents beautifully on a base of floral, botanical gin.
"We are very proud of this release and excited to share it with the community" said Chris Barlow, co-founder and distiller, "People don't often think of gin as a barrel-aged spirit, but Utah knows better – our original Barrel Reserve has been around for years. This version really takes it to the next level."
Beehive's 7 Year Barrel Aged Gin will be sold in just 260 bottles at 107 proof. Bottles will only be available for sale at the Beehive Distilling package store at 2245 S W Temple. Sales will have a limit of 2 bottles per customer.
Beehive Distilling was founded in 2014 as the first gin distillery in Utah since the mid-1800s. Their products are handcrafted with careful attention to flavor and detail. Other Beehive products include their Jack Rabbit Gin, Barrel Reserve Gin, Paradox Amaro, and Organic Sugarcane Vodka. They also produce ready-to-drink canned cocktails with their gin and vodka under the Desolation Distilling label, as well as a sourced rye whiskey. Beehive Distilling's full cocktail bar is located at 2245 S W Temple and open for cocktails Tuesday – Thursday 4PM – 10PM, Friday 4PM – 11PM, and Saturday 2PM – 11PM. For more information, please visit beehivedistilling.com
Level Crossing Brewing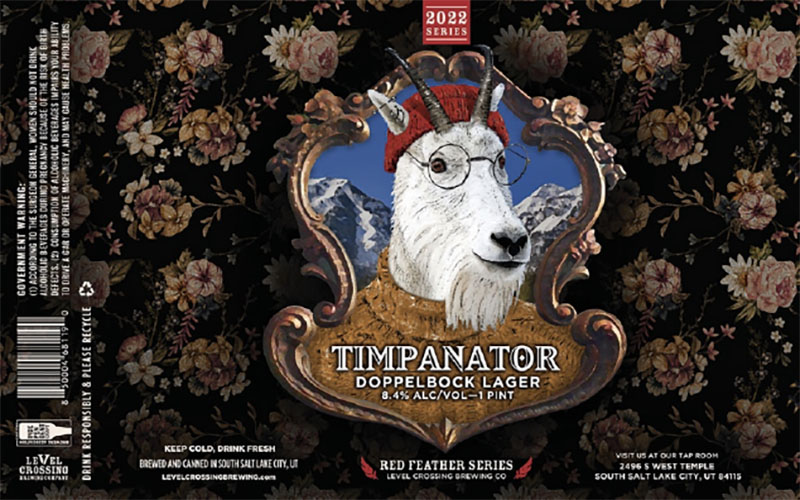 Via press release
Award winning Level Crossing Brewing Company releases their 11th Red Feather Series limited release this month; called Timpanator Doppelbock Lager, Level Crossing's Timpanator is a traditional German Doppelbock lager measuring in at 8.4% ABV. Technical specs:
Style: German Doppelbock Lager
ABV: 8.4%
IBU: 22
Color: Deep Amber 16.9 SRM
Malt: Great Western Pure Idaho Pilsner, Great Western Munich, Dextrapils, Briess Extra Special Malt, Briess Chocolate Malt
Hops: Magnum, Saaz
Timpanator Doppelbock Lager is a charming beer that has been lagered for 8 weeks. This traditional German lager was brewed with an intricate malt bill finishing with a traditional hop profile for this style. Deep amber in color, this beer has a bold malt-forward essence of sweet pilsner malt, toffee and background notes of raisin and dark cherries. Timpanator provides a smooth mouthfeel and moderate body, finishing with a pleasing warming alcohol.
Epic Brewing
Via press release
Two new additions to the monthly beer series:
Yelling At Clouds Cold IPA

Malt Bill: 2-Row Brewers Malt, Corn
Hops: Simcoe, Sabro, Idaho7
6.5% ABV
16oz cans
Flower Power Sour

Malt Bill: Pilsner, White Wheat Malt, Spelt, and Flaked Oats.
Hops: Tettnang
Adjuncts: Oak Foedre-Aged, Hibiscus & Passion Fruit Puree
6.5% ABV
16oz cans
Including a new addition to their permanent lineup:
Space Debris IPA

Malt Bill: 2-Row, Caramel 20 & Honey Malts
Hops: Amarillo, Centennial, Citra, Nugget
Sizes: 12oz cans, kegs
6.2% ABV
12oz cans
RoHa Brewing Project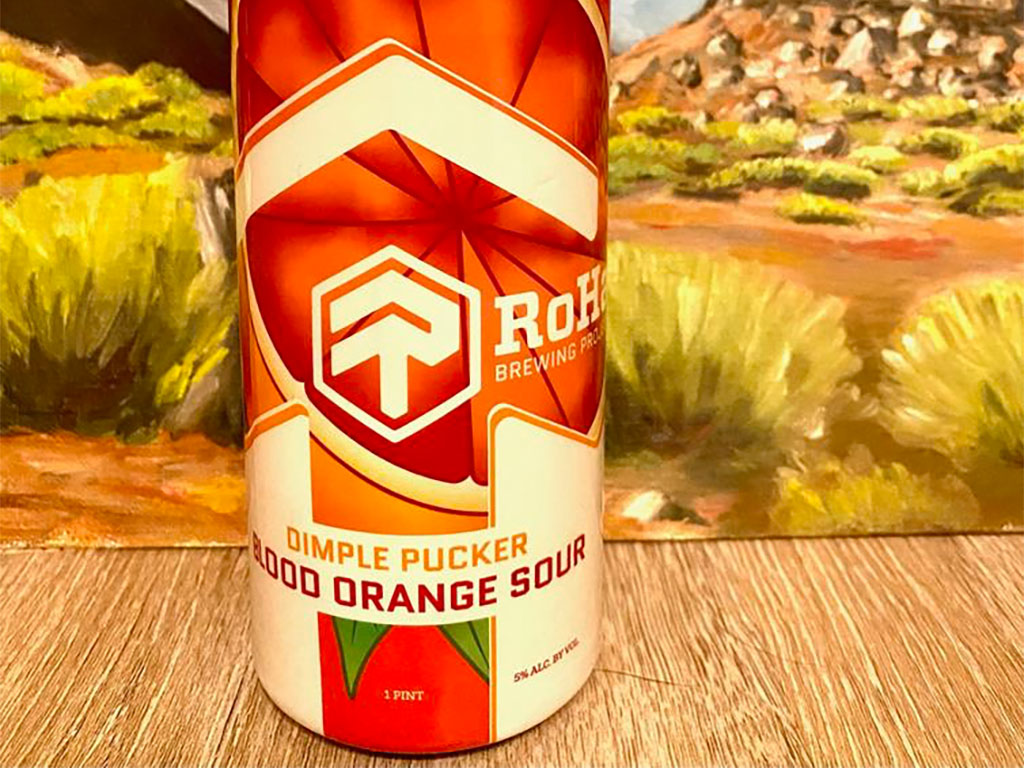 Everyone welcome the newest beer to the RoHa lineup! The DIMPLE PUCKER is a delicious Blood Orange Sour with beautiful notes of citrus that cut the bitterness but still packs a punch!
In other news
Keep the conversation going
Want to stay on top of the SLC food scene, minute by minute, dish by dish? Here are a few other places you should follow along:
Hi, I'm Stuart, nice to meet you!  I'm the founder, writer and wrangler at Gastronomic SLC.  I'm a multiple-award winning journalist and have written in myopic detail about the Salt Lake City  dining scene for the better part of seventeen years.
I've worked extensively with multiple local publications from Visit Salt Lake to Salt Lake Magazine, not least helped to consult on national TV.   Pause those credits, yep, that's me! I'm also a former restaurant critic of more than five years, working for the Salt Lake Tribune.    I'm largely fueled by a critical obsession with rice, alliteration and the use of big words I don't understand.   What they're saying about me: "Not inaccurate", "I thought he was older", "I don't share his feelings".
Want to know more? This is why I am the way I am.
This article may contain content provided by one of our paid partners. These are some of the best businesses in Utah. For a list of all our current and past relationships see our
partnership history page
.