After tabulating hundreds and hundreds of responses, and correcting oh so many spelling errors (you guys already started on the Christmas egg nog and brandies huh) the results of our very first reader's choice awards are now in!
The results are a mix of surprising, frustrating and expected. I'll let you decide which. Lets dive in…
Best American restaurant
Receiving the most total entries is the first award on our list and a three way tie between three very respectable eateries; each scoring 7.3% of the vote for best American. Just behind that threesome in runners up place, Andrew and Angelena Fuller's Oquirrh in downtown SLC scored 6.3% of the vote.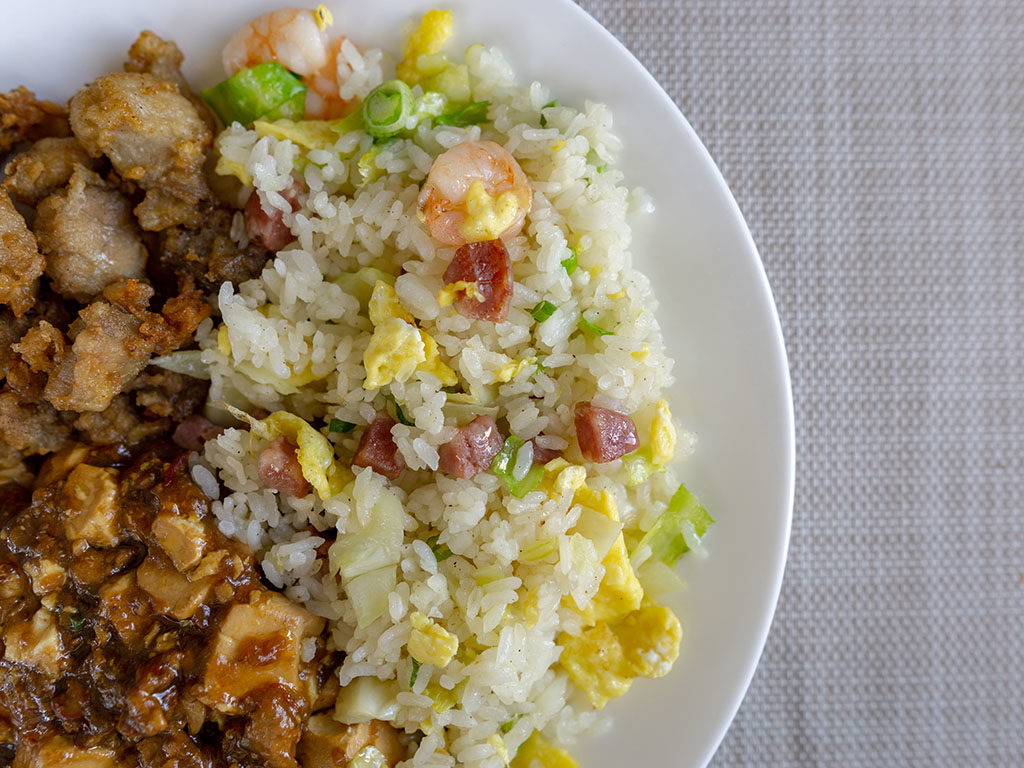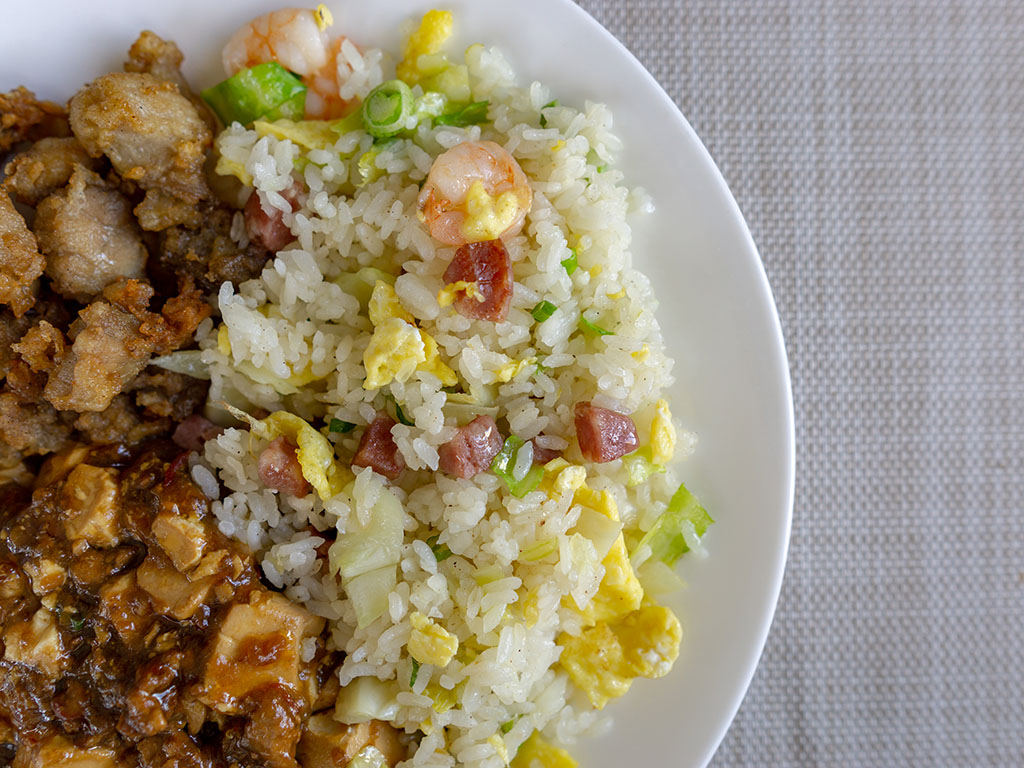 Best Chinese restaurant
The Bountiful institution that is the Mandarin swept all other contenders aside to secure first place with a hefty 17.5% of the vote. The restaurant's staying power, a tremendous testament no doubt. In recent years some of the best names in town (Ho Mei, Chef Gao, Ho Mei, Cafe Anh Hong) have all fell by the wayside, so it gives me huge pleasure to see second place, the Taiwanese cuisine of Mom's Kitchen in the runner up spot. The South Salt Lake spot garnered 10% of the votes, and I'm terrible fond fond of this little gem along State Street.
Best European restaurant
Salt Lake isn't really home to much in the way of Euro-goodies, and the voting reflected that. This category received one of the fewest overall entries. Franck's of Cottonwood Heights won with 10.5% of the vote. Siegfried's Deli and Bohemian Brewery shared a Germanic joint second place with 9% each. I still maintain there's a huge gap in the market for a classic French brasserie cooking for anyone listening.
Best Greek restaurant
I know, I know, Greece is in Europe. I get it. With such a special place in Utahn's lives and bellies though, it seemed appropriate to give this one it's own category. Romping home as winner was Manoli's with a commanding 48.7% of the vote. Side note: this was also the most decisive win in any category! Runner up for best Greek was Greek Souvlaki at 9.2%.
Best Indian restaurant
Another home run for a Utah classic. Bombay House brushed aside everyone with ease taking 31% of the vote. The runner up award went to the ever popular Saffron Valley with 15%. Saffron's continuing growth and excellent cuisine may yet unseat Bombay House sooner than later…watch this spot I'd say.
Best Italian restaurant
A category I genuinely had no idea what the outcome might be. Sicilia Mia take home gold with 13.6% of sites but Caffe Molise were a close runner up on 12.7%. Given the relatively spread of the vote I'd say the contest for this one is wide open next year.
Best Japanese restaurant
On 45% Takashi saw off all contenders with ease. In fairness, there isn't a tremendous amount of competition in this area. One of my particular favorites Kyoto came in second place with 18.5%. Next year things might be a little different with a surprising swathe of new Japanese restaurants opening up of late (Kaze, Blue Marlin, Mint, Nohm, Hamachi changing hands).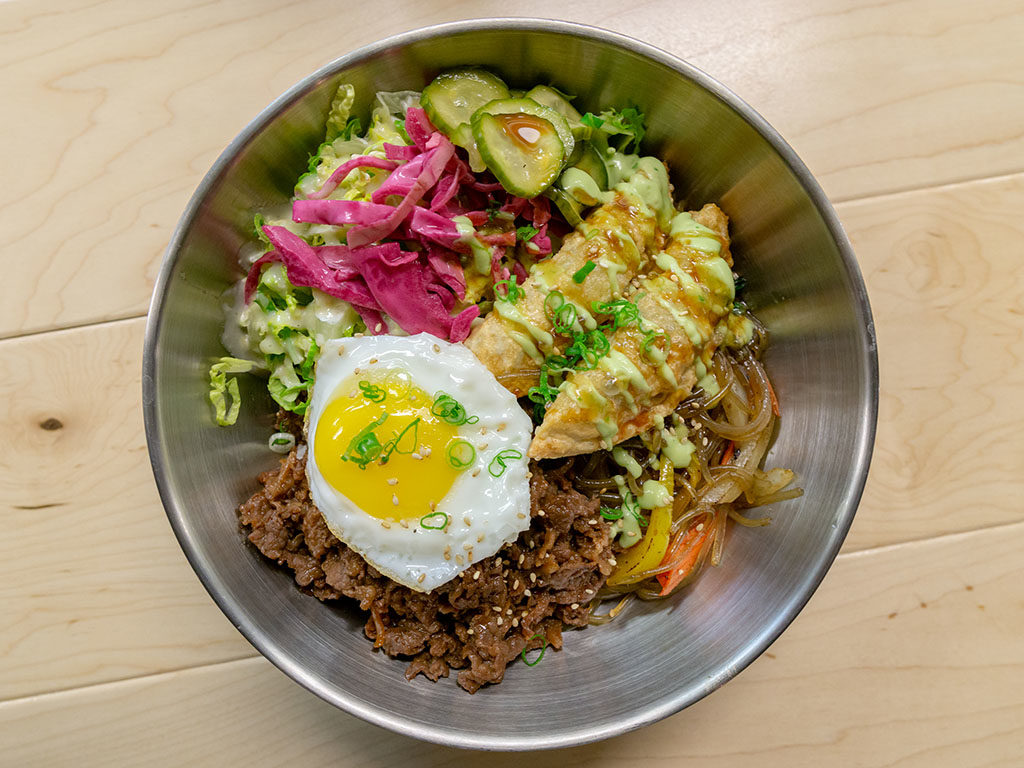 Best Korean restaurant
Myung Ga won with 15.7% of the vote but the newcomer Angry Korean came a close runner up with 11.8%; the latter barely being in business for a year. The Korean category was also the joint second least entered category – showing that Utahns still aren't too familiar with this cuisine. I wouldn't be surprised to see the talented guys of Angry Korean to keep raising their profile over the coming 12 months, one to watch!
Best Mexican restaurant
Anyone who didn't guess Red Iguana as the winner here, I'll have some of what you were smoking please. That said, the restaurant didn't dominate quite as much as I'd expected ahead of time, with plenty of votes for smaller mom and pop operations littering the voting. Chile Tepin clocked in with 9% of the vote in second place.
Best Middle Eastern restaurant
Again, it shouldn't come as any surprise to see Mazza picking up a huge 40% of the votes to win this category. Ali Sabbeh's Lebanese cuisine has won just about every award in the book at this point, and not without good reason. Laziz Kitchen placed in second with a respectable 21%.
Best South American restaurant
The joint fewest number of answers received, with little more than 15% of respondents answering. No one restaurant managed to stand head and shoulder above the pack. The results was a three way tie for Asado (Orem), Rodizio Grill (SLC) and Rubi's Peruvian Taste (Millcreek) all three getting a little more than 11%. The new downtown Venezuelan spot Arempa's came in second place with 8.9% of the vote.
Best Thai restaurant
Chanon Thai scooped the number on spot with 18% of the vote. Skewered Thai and Sawadee placed as joint runners up on 12%.
Best Vietnamese restaurant
Oh Mai blasted their way to number one with their banh mi. Their 17.1% vote shared nudged Sugar House's SOMI into second place on 13.2%.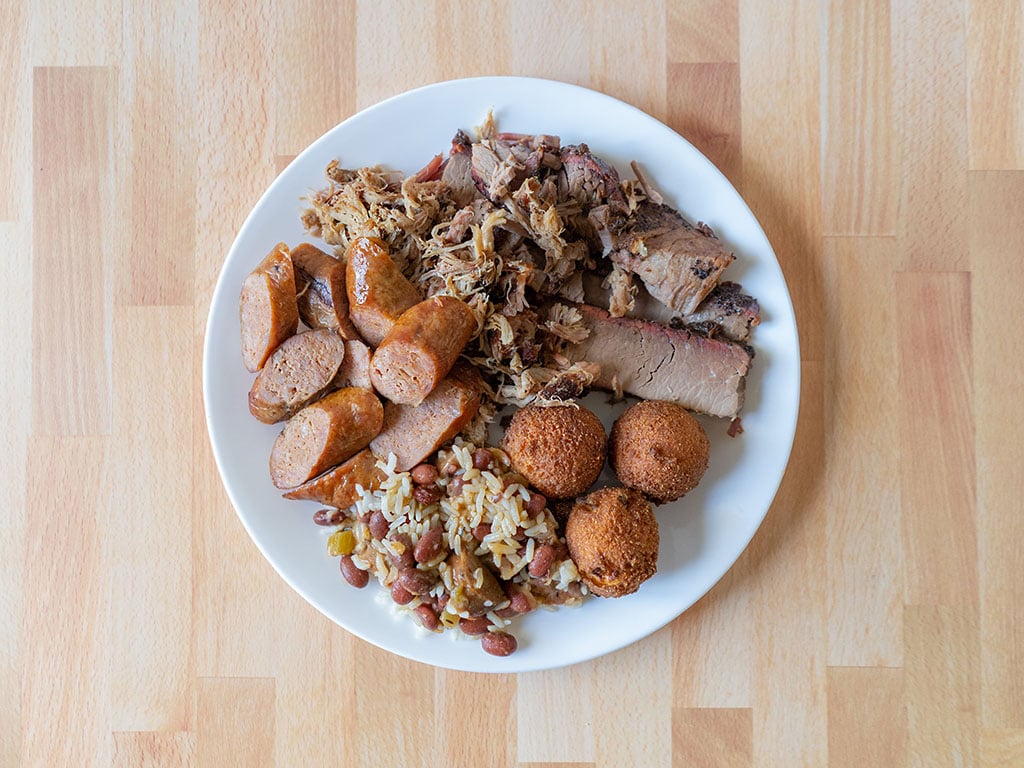 Best BBQ restaurant
R&R BBQ blew the rest of the pack away on 38.6% of the vote. The brothers Livingstone's downtown BBQ outpost has undergone significant franchise via the Four Food Groups brand of late, and the word is most certainly out. The chain now has eight locations on their roster. Pats BBQ, one the defacto name in Utah BBQ came in as runner up on 14.9%.
Best burgers
A slightly surprising result, with former winner of the world's best burger coming in at number one with 22.4% of the vote. I say surprising as I thought L13 would have taken a larger share of the vote. Hot on their heels with 11.2% of the vote was Sugar House based BGR.
Best desserts
Quite a few businesses bustled to secure this particular prize. In the end Gourmandise just nudged ahead with 12.5% of the vote. Alexa Norlin's Normal Ice Cream shared second place with Hearth and Hill on 10.2%.
Best pizza
I'd imagine it would take something pretty special to unseat this perennial favorite. I confess to being an erstwhile fan myself when the mood strikes. Coming second to The Pie's 23.8% vote was downtown Settebello and 9th and 9th's Pizza Nono with 14.6%.
Best ramen
Another grand slam of a result. Toshio Sekikawa's ramen restaurant won with a whopping 42.7%. Since parting ways with Naked Fish way back when, Sekikawa hasn't looked back; his duo of restaurant's are routinely cited as some of the best ramen in the state. National chain Jinya, with two locations (Murray and Sugar House) came second with 16.7%.
Best salads
I threw this category out there not least for a little personal interest, you know, on the off chance I might eat something healthy come the near year (hush there in the back). With answers such as "Wouldn't know. Heh. Maybe Trader Joe's occasionally?", and "Salads are bullshit", I can tell you're people after my own calorific-heart. The result was a terribly split affair with Hearth And Hill coming first with 6.8% and Zupas second with 5.4%.
Best sandwiches
If Michael and Janet (responsible for all those delicious dishes don't you know) Feldman's East side homage to their New Jersey upbringing didn't win this one, I'd have to quit the whole food writing business. Thankfully Feldman's Deli and their monstrously good sandwiches took home 12.5% of the vote and secured winning spot. Mind you Caputo's and Hearth And Hill we're eagerly snapping at their heels in joint second place with 11.6%.
Best seafood
One of the biggest wins of this years awards – Current Fish & Oyster amassing an impressive 46.7% of the vote to win Utah's best seafood restaurant; chef Alan Brines was also name check more than once in the best chef category too. Their nearest competitor in second place was Harbor Seafood And Steak on a mere 13.3%.
Best steak
"I know its not local but", started one entrant's explanation for their Ruth's Chris vote, who placed top of the pile with 16.7%. Hey when a chain offers a fabulously consistent and quality product, I'm not going to argue. Local's Hoof And Vine weren't too far off the pace though and came in as runners up at 13.1%
Best sushi
Was there any doubt on this one? Have you ever battled the crowds for a seat at at this downtown must go? Ever since Takashi Gibo ditched Main Street's Shogun to go it alone, his namesake sushi spot has been one of SLC's hottest tickets. In our poll Takashi swept the board with 46.6% of the vote to easily cement their number one spot . Despite their greater number of locations, the runner up Tsunami managed merely 13.8%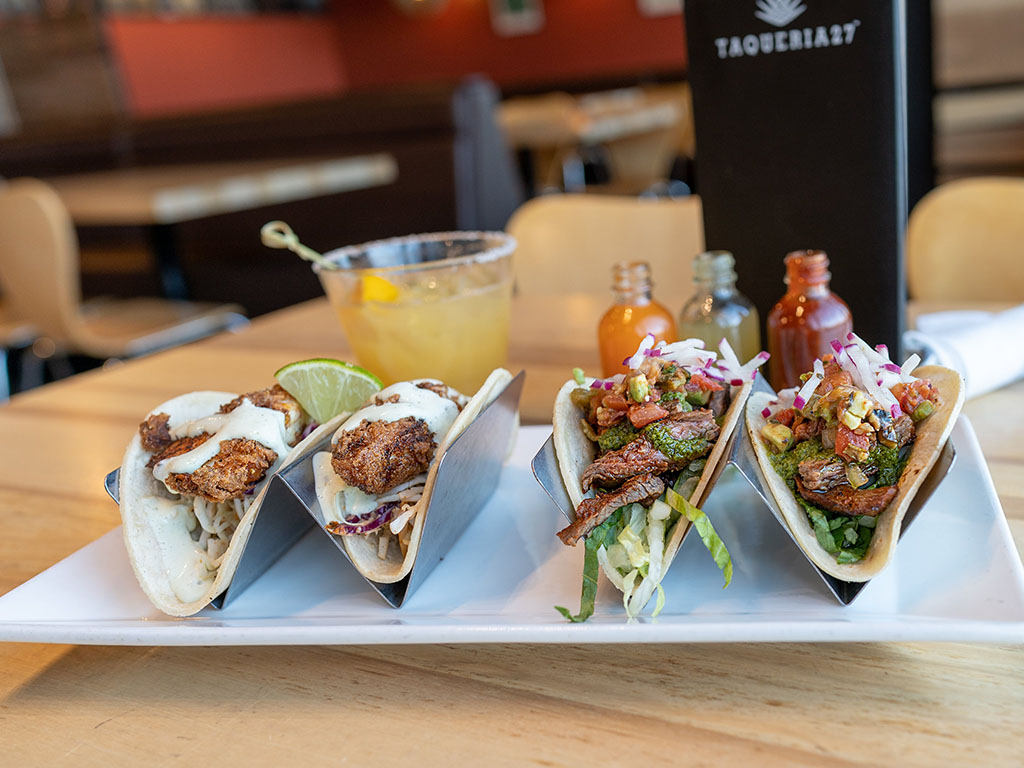 Best tacos
Todd and Kristen Gardiner's elevated taco spot 21.6%. Beyond the Gardiner's multi-location operation, the site was quite split. Tacos Mi Caramelo were runners up on 8.8% of the vote.
Best vegan restaurant
Winning top spot with 21.7% of the vote was this Gallivants Avenue eatery. Zest placed second with 13.3%.
Best place for brunch
Sweeping mountain vista's and a first rate kitchen help Stein Eriksen/Glitretind secure 12.8% of the vote in a fairly diverse field. Hearth And Hill came in at second with a little more than 10% of the vote.
Best place for lunch
Again another fairly split field. This new Park City opening (roughly this time last year) won 13.3% of the vote with the runner up spot a tie between Cafe Niche, Pretty Bird on 4.8%.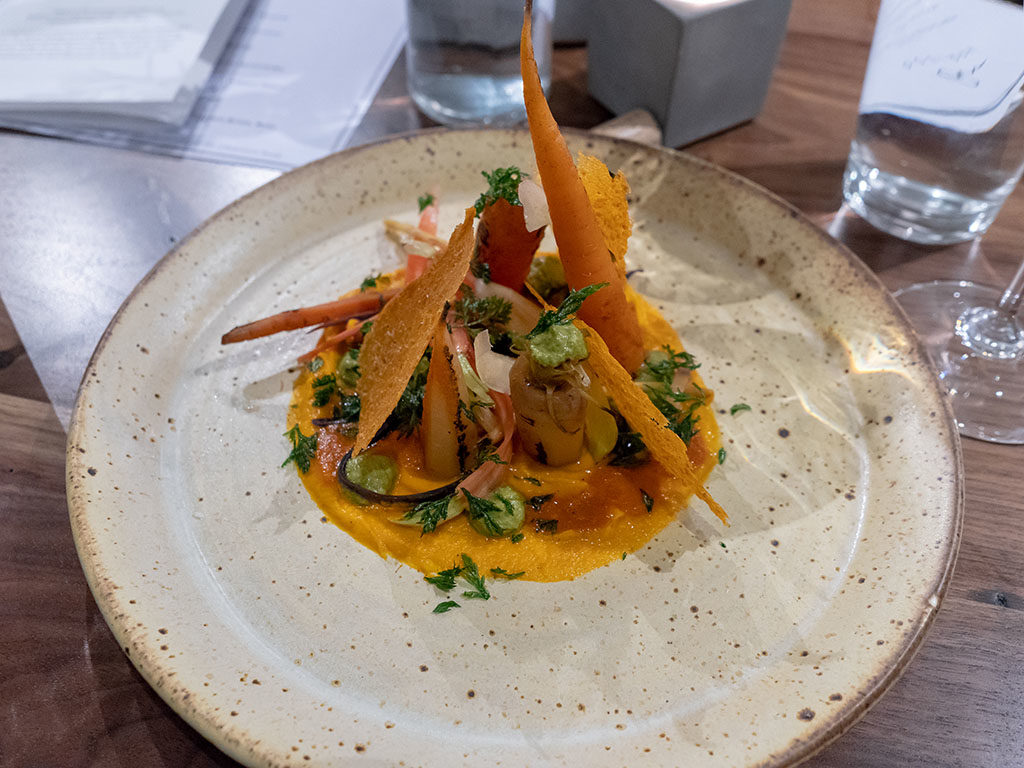 Best place for date night
A very close call indeed. Drew and Angelena Fuller's downtown sneaked past second placed SLC Eatery with 6.9% of the vote. Chef's Paul Chamberlain and Logen Crew's restaurant were a fraction being on 6.1%
Best late night eats
Cheap slices of pie and late nigh opening hours – a winning combination for this downtown dive. The Pie Hole secured 10% of the vote with Whiskey Street coming in second at 5.7%; bonus points for sister restaurant White Horse also on 4.3% of the vote.
Best new restaurant
With so many fantastic entries for title of best new restaurant, I was excited to see who would snag this one. With a smidge more than 21% Oquirrh managed to wrestle the win from SLC Eatery and Hearth And Hill – who had to settle on a shared runner up spot with 16.3%
Best chef or baker
Adalberto Diaz
Currently on your TV screens and chef/owner of Fillings And Emulsions, Diaz takes No 1. with 15.8% of the vote. Chefs from SLC Eatery, Hearth And Hill, Oquirrh and Table X all featured prominently behind him.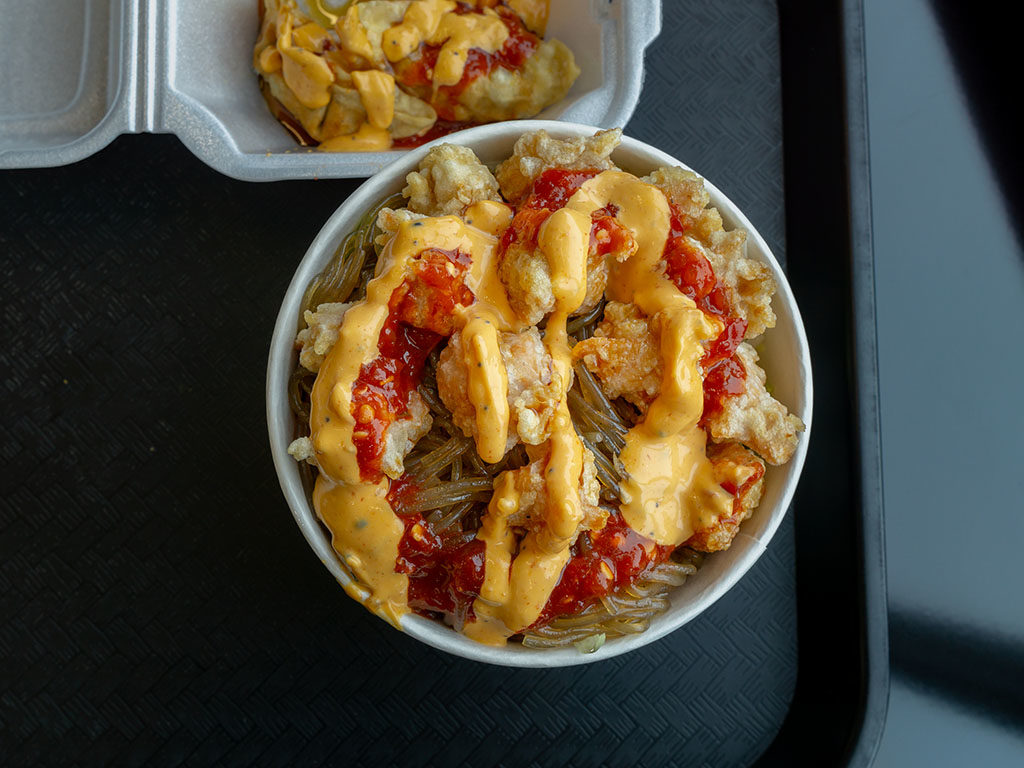 Best food truck
A dead heat between these two food trucks, each garnering 11.1% of the vote. The Swiss inspired Raclette Machine came second with 7.4% of
Best overall restaurant 2019
While no one restaurant truly dominated here, these two managed to take home joint honors as the best restaurant in town. Each secured 8.7% of the vote. Stein Eriksen/Glitretind and Current down in SLC shared a join second place with 7.4%
Special awards
Hardest to spell – Oquirrh
Hands down the most perplexing amalgamation of letters to assemble in the correct order goes to Oquirrh. A handful of interpretations included: quireah, Oquirrah, Oqquirrh, Oquirh. Actually I've read it so many times now, I'm not even sure myself.
Most dominating win – Manoli's
The following restaurants all scored more than a third of the vote in their respective categories, thoroughly beating out any and all contenders. Impressive work.
Manoli's 48.7% (Greek)
Current 46.7% (Seafood)
Takashi 46.6% (Sushi)
Takashi 45% (Japanese)
Tosh's Ramen 42.7% (Ramen)
Mazza 40.0% (Midle Eastern)
Red Iguana 39.4 (Mexican)
R&R BBQ 38.6% (BBQ)
Bombay House 31% (Indian)
Special mentions
The last question on our survey was a freeform shout out. Here are some mentions for folks/businesses not otherwise called out in the results above:
MakanMakan
Cafe Niche, Oasis – outdoor spaces
The really sweet and kind folks at Taqueria Los Lee. Excellent pozole
Uinta Brewing
Curry fried chicken, hectors, literally every hole in the wall place on state street that everyone in Utah is too scared to eat at
Best wine list: Veneto
Curry Fried Chicken
Don't forget Cedar City! French Spot, Centro, Pastry Pub, and Bunnisa Thai all within a block.
Tlayudas at El Jaripeo or Fernandos Cafe Guanaco (not at 2700 S state)
Wings at Spedelies are the bomb
Best new brewery? Hopkins
Collins Grill, Watson Shelter, Alta
I love "Spice to Go" for takeout
Grappa
Pink Elephant Coffee
Greg Skedros….founder of Mandarin and still comes to work everyday at 91 years old
Korean Barbecues and Kung Fu Soup
Best bartending team: Alibi
Spice Kitchen Incubator does great work for refugees here in SLC and deserve a shout out
Hells' Backbone Grill needs an extra big shoutout for being environmental advocates/activists and amazing restaurateurs, both of which are very taxing jobs
Viva Chicken in St George (Peruvian)
Water Witch
Ruby snap
Sweet lake Biscuits and Lime-aid
Beltex Meats for an amazing butcher and rotating sandwiches to go
Breadriot bake house
Lil Lotus
Best teahouse – Tea Zaant
Laid Back Poke Shack
Myung Ga
Adam Walker
Paige Williams Tupelo Wine Director
Best Co-Owners Brooks Kirchheimer & David Kirchheimer at Hearth and Hill
Best Coffee – 3 Cups
Angie Fulmer
Soberanis brothers
Curry N Kabob
Best traditional fish and chips: A little taste of Britain, Layton. Best eclairs: Eclair on 13th S. Best 'mash up' of two cuisines: Sushi Burrito. Best bread: Bread Riot. Best NZ/South Pacific: Sagato
Best cocktails – Under Current Bar
Caffe d'bolla
Vessel Kitchen- best fast food
7880 club at stein Eriksen residences
Waffle Love
For full transparency here's the complete breakdown of all the results.
Keep the conversation going
Want to stay on top of the SLC food scene, minute by minute, dish by dish? Here are a few other places you should follow along:
Current hot dining coupons
The following coupons are some of the most interesting / best coupons right now. Disclosure: some links may be affiliate links, eg Groupon, Restaurant.com, and we earn a small commission from each sale.
Beirut Cafe – $6 for $15 coupon at this great Lebanese eatery.
Chedda Burger – Enjoy a delicious burger with this $6 for a $15 coupon.
City Brew Tour – Nearly 30% off thus four hour guided tasting and tour of Utah brews.
Este Pizza – 40% off the popular Salt Lake pizza restaurant.
Itto Sushi downtown SLC – 38% off via Groupon. Fun sushi spot.
Kaze Sushi – 30% off this brand new Japanese restaurant in downtown SLC.
Maize Tacos – 30% off this downtown SLC taco restaurant on to go orders.
Per Noi – Italian food with a fun discount – $10 for a $25 certificate.
Ramen Legend – Sugar House Japanese spot, coupon valid for take out or dine in.
Santo Tacos – $6 for a $15 coupon.
Hi, I'm Stuart, nice to meet you!  I'm the founder, writer and wrangler at Gastronomic SLC; I'm also a former restaurant critic of more than five years, working for the Salt Lake Tribune.  I've worked extensively with multiple local publications from Visit Salt Lake to Salt Lake Magazine, not least helped to consult on national TV shows.
I'm a multiple-award winning journalist and have covered the Utah dining scene for the better part of fifteen years.   I'm largely fueled by a critical obsession with rice, alliteration and the use of big words I don't understand.   What they're saying about me: "Not inaccurate", "I thought he was older", "I don't share his feelings".  Want to know more? This is why I am the way I am.
This article may contain content provided by one of our paid partners. These are some of the best businesses in Utah. For a list of all our current and past relationships see our
partnership history page
.