I don't mean to depress anyone, really I don't. Those expecting this one to magically clear up overnight though, the writing on the wall really needs scrutinizing in detail. Following on from our last piece here on staffing challenges facing the industry – the future remains inhospitable.
Recently released data from the Bureau Of Labor Statistics this week shows that the hospitality sector continues to be pummeled by a worker drain at a national level. In the BLS' October posting, August separations in the "accommodation and food services" sector totaled 203,000 workers nationally. That eye watering number is the highest recorded in any single category.
Separations it should be noted are listed as "quits, layoffs and discharges, and other separations", with the BLS writing that "quits rate can serve as a measure of workers' willingness or ability to leave jobs." In a nutshell, people walking away – because they can.
It's stark reading all over frankly. This survey of more than 25,000 job seekers found that the hospitality sector is likely to trend even worse still. One third of hospitality respondents remarked of feeling "dissatisfied" or "very dissatisfied" with their current jobs. In case you were wondering, that equates to double what was seen pre-pandemic; who'd have thunk dealing with unruly adults incapable of peace and love during a generational pandemic might turn some away from the profession huh. The survey organizers also reckon 58% of hospitality workers plan to quit their jobs before the end of 2021. The reasons cited for their departure? You guessed it em all – low pay tops an understandable list of complaints.
Those still clinging to the notion that the talent drain is nothing more than benefit layabouts gleefully lazing away their days, should also note that the same survey also spoke to former hospitality workers. Only 16% of once upon a time hospitality workers indicated still being out of work – the majority have moved onto pastures new.
Also just to double down on that point – because some still trot out the benefit nonsense without emptying a scintilla of brainpower – remember that Utah ended stimulus unemployment wayyy back in June. O.k. let me triple down on this for you. This information really needs to be trepan'ed into some particularly thick skulls. Data from the Utah Department of Workforce now puts the number of Utahns currently collecting unemployment at levels on parity with those pre-pandemic. Get it?
As I say, forecasting the runes of other reports, surveys and press mags doesn't seem better. Restaurants top this report by Alignable, which has shown a steady increase in the number of businesses facing problems paying rent. In their September data, restaurants passed into a worrying echelon with more than half of those surveyed now reporting issues with pay rent.
And on that sobering note, lets take a look in the mail box and see what else is afoot.
Wasatch Brewery celebrates 35 Years the biz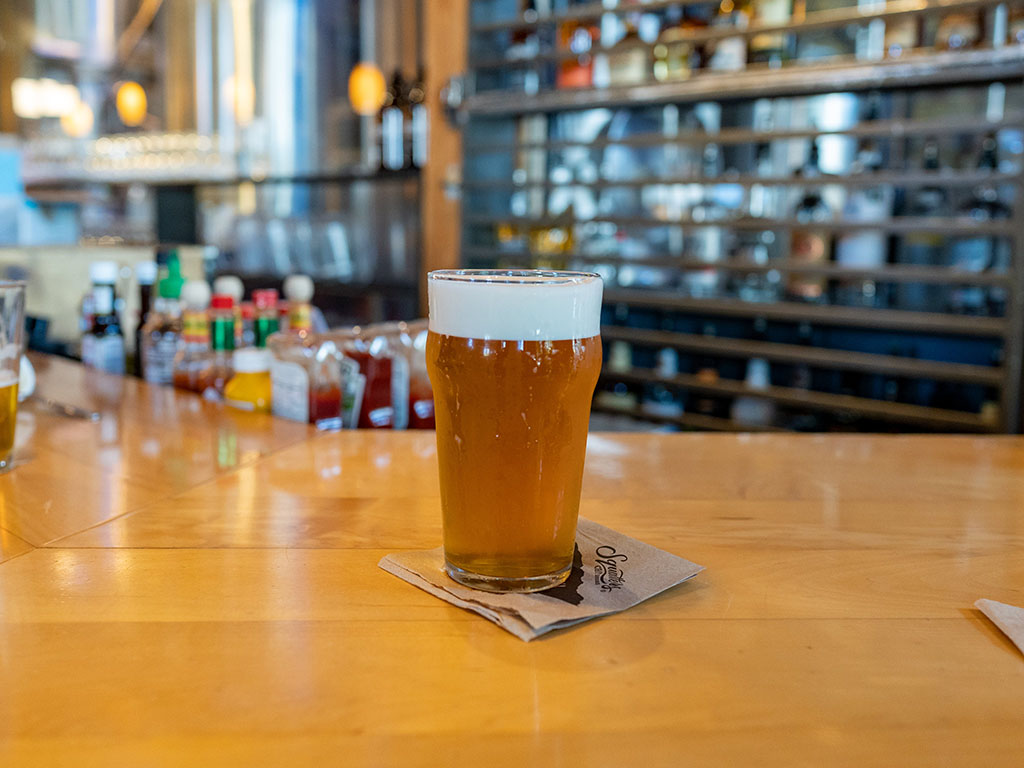 Via press release
Wasatch Brewery is celebrating 35 years as Utah's original craft brewery! Throwback specials and giveaways will run at the Wasatch locations in Park City and Salt Lake City during the month of October, leading up to the official anniversary date of October 22.  Visit Wasatch Brewery for custom merch, specialty beers and huge prize giveaways sponsored by Ski Utah.
Wasatch Brewery opened its doors in Park City in 1986 with a promise to "drink our share and sell the rest." The first craft brewery to open in Utah post-prohibition, Wasatch has kept that pledge, blazing a trail for the state's craft community for over 35 years; and ultimately making a name for itself with its irreverent marketing, classic pub fare, and award-winning beers such as Polygamy Porter, Apricot Hefeweizen, Devastator Double Bock and Evo Amber Ale.
While Wasatch loves looking back over their years of crafting bold beers, the brewery is also looking forward to upcoming innovation, including the Top of Main Rotating Series, beginning with Raspberry Ale, which will debut in Spring 2022.
Tupelo to open back up in new PC location
Via press release
The search is over for tupelo's newest opportunity to provide their world-class dining experience in the Park City community. Formerly located on Historic Main Street, the award-winning fine dining restaurant will open its doors in its new home at 1500 Kearns Blvd. (formerly Adolph's) to serve eager locals and guests later this fall.
"We've been waiting for the perfect time and opportunity to reestablish ourselves in Park City, and we are thrilled that time is now," said tupelo Partner Maggie Alvarez. "We are honored to once again be among Park City's passionate local businesses, and we look forward to offering our renowned dining experience in our new, reimagined space."
Further details on tupelo's official opening and menu will be available soon. Afterword, the most recent passion project of tupelo partners, Maggie Alvarez and Chef Matt Harris, continues to thrive in downtown Heber City, and will continue to do so after tupelo's Park City arrival. Seafood lovers can enjoy Harris' other inspired entities, including RIME at the St. Regis Deer Valley open year-round, and RIME Raw Bar, located at the top of the Jordanelle Gondola at Deer Valley Resort opening for its winter guests for the 2021-2022 ski season.
Rockhill Creamery has a new owner
Via press release
Cache Valley's Rockhill Creamery has been handed over to a new owner. The micro creamery will carry on producing hand-crafted artisan cheese in Northern Utah. 
Parker Measom, a Cache Valley native, will be taking over the reins from partners Pete Schropp, Jennifer Hines, and Sara Hunt. Rockhill Creamery is operated on a historic farm in Richmond, Utah,  and was founded in 2005 by Schropp and Hines. After working as an apprentice and then an employee for a number of years, Hunt joined the ownership team in 2018. 
"I am looking forward to this amazing opportunity to continue the legacy of Rockhill cheese, and build upon the strong foundation laid by Pete, Jen and Sara," said Measom. Rockhill Creamery makes hand-crafted natural rind cheeses. Using traditional methods that best suit their Northern Utah environment, they produce a variety of cheeses, all of which are aged in their underground aging cave. 
"We are very happy to have found Parker, who shares our passion for old-world artisan craft and brings a fresh vision for expanding Rockhill cheese while maintaining the quality that makes Rockhill so special," said Hines. Measom says he's "excited to continue making a treasured Cache Valley product, and has high hopes to open the farm back up to the public for events."
Stein Collection increases wages company-wide
Via press release
Stein Collection, including the first Forbes 5-Star property in the state of Utah, Stein Eriksen Lodge, announces a significant investment in its employees by increasing their minimum hourly wage to $18 an hour, effective immediately. All salaried employees will also receive increases to their compensation.
"Our team members are family. They are at the core of our ability to deliver perfect, legendary experiences to our guests," said Russ Olsen, CEO of Stein Collection. "We have always prided ourselves in providing the best working environment and the best benefits while paying highly competitive wages. We feel these increases will allow us to continue to attract and retain the best team of employees in the marketplace while maintaining the high industry ratings for which we've been known."
Stein Collection's legendary properties: Stein Eriksen Lodge, Stein Eriksen Residences, The Chateaux Deer Valley, and The Chateaux Residence Club, are the global standard for luxury accommodations and unprecedented guest service. This new wage structure and the meaningful commitment they are making to their team ensures they will continue to deliver exceptional experiences to their guests in a competitive market while offering industry-leading services and amenities.
In addition to boosting wages, Stein Collection plans to add favorable adjustments to its already robust benefits program. By prioritizing its invaluable staff, the organization is able to meet and exceed the evolving needs and expectations of the discriminating Stein Collection guest.
Park City Restaurants announced shoulder season
Via press release
Restaurants of the Park City Area Restaurant Association (PCARA) will continue to serve loyal Park City locals and visitors as we transition to the shoulder season, but some will modify their hours to accommodate the quieter months and regroup before an anticipated busy winter ahead.
"While some of our restaurants will be taking a brief respite after our busy summer, many establishments will maintain their normal hours through shoulder season to meet the welcomed demand of loyal diners," Park City Area Restaurant Association executive director Ginger Wicks said. "Whether it's a new spot they've been meaning to try or a never-disappoint stand-by, we encourage patrons to dine in or order out from our world-class restaurants to show their support all season long."
For the most up-to-date information on shoulder season hours, visit parkcityrestaurants.com. Currently, PCARA member fall hours are as follows:
350 Main
Open Wednesday – Saturday, 5 p.m. – Close
Baja Cantina
Open daily, 11:30 a.m. – 9 p.m. with the following exceptions:
– Closed Tuesdays
– Closed Monday – Friday, 2:30 – 5 p.m. between lunch and dinner
The Brass Tag
Closing Nov. 9 – Dec. 3, reopening Dec. 4
The Bridge Café and Grill
Open daily, 8 a.m. – 4 p.m.
Courchevel Bistro
Closing Oct. 24 – Nov 24, reopening Thanksgiving Day
Deer Valley Grocery~Café
Closing Oct. 25 – Nov. 16, reopening Wednesday, Nov. 17
Flanagan's on Main
Closing Nov. 1 – 16, reopening Wednesday, Nov. 17
Flying Sumo
Tuesday – Saturday: 5:30 – 9:30 p.m.
Locals Night every Wednesday offering 35% off sushi rolls
Grub Steak Restaurant
Open nightly, 5 – 9 p.m.
Closed Nov. 14
High West Saloon
Closed November 14 – December 1
High West Distillery
Closed November 14 – December 4
Luna's Kitchen
Closing Oct. 11 – 17, reopening Monday, Oct. 18
OP Rockwell
Closing Oct. 16 and reopening the first weekend of December
Powder Restaurant at Waldorf Astoria Park City
Open daily
Breakfast: 7 – 11 a.m.
Lunch: 11:30 a.m. – 5:30 p.m.
Dinner: 5:30 – 10 p.m.
Red Banjo
Closed Thanksgiving Day
Monday – Friday: Noon – 9 p.m.
Saturday – Sunday: 11:30 a.m. – 10 p.m.
Red Rock Junction
Closed Thanksgiving Day
Restaurant
Sunday – Thursday: Noon – 8 p.m.
Friday & Saturday: Noon – 9 p.m.
Saturday: 11 a.m. – 9:30 p.m.
The Tap Haus (bar)
Monday & Thursday: 4 – 8 p.m.
Thursday Trivia Game Night: 6 – 8 p.m.
Friday: 4 – 9 p.m.
Saturday: Noon – 9 p.m.
Sunday: Noon – 8 p.m.
Ruth's Chris
Closed October 25 – 29
Shabu
Closed Mondays & Tuesdays until Nov. 17
The Spur Bar & Grill
Open daily, 11 a.m. – 1 a.m.
Squatters Roadhouse Grill
Open daily
Monday – Friday: 10 a.m. – 8 p.m.
Saturday: 8 a.m. – 8 p.m.
Sunday: 8 a.m. – 3 p.m.
Yuki Yama Sushi
Closing Oct. 26 – Nov. 1; Nov. 25; Nov. 29 – Dec. 2
NOTE: Featured image at the top of the page is from a recent trip I took to Beehive Distilling. The picture was used here simply as its kinda moody and cool looking.
In other news
Helps us choose the best Utah restaurants!
Right now our 2023 Reader's Choice Awards are underway. We want your help in deciding the very best food and drink spots in Utah. This year we're taking a completely different approach as well. All we need is three names and 60 seconds of your time -> find out more and how to vote.
Keep the conversation going
Want to stay on top of the SLC food scene, minute by minute, dish by dish? Here are a few other places you should follow along:
Hi, I'm Stuart, nice to meet you!  I'm the founder, writer and wrangler at Gastronomic SLC; I'm also a former restaurant critic of more than five years, working for the Salt Lake Tribune.  I've worked extensively with multiple local publications from Visit Salt Lake to Salt Lake Magazine, not least helped to consult on national TV shows.
I'm a multiple-award winning journalist and have covered the Utah dining scene for the better part of fifteen years.   I'm largely fueled by a critical obsession with rice, alliteration and the use of big words I don't understand.   What they're saying about me: "Not inaccurate", "I thought he was older", "I don't share his feelings".  Want to know more? This is why I am the way I am.
This article may contain content provided by one of our paid partners. These are some of the best businesses in Utah. For a list of all our current and past relationships see our
partnership history page
.