Pago On Main
Probably the most notable new update for Salt Lake foodies is the impending arrival of Scott Evans' farm-to-table Pago in downtown SLC. Pictured above a recent scallop dish from their 9th and 9th location.
The new Pago On Main is set to open in the Felt Building (341 S. Main Street) sometime mid to late July. The restaurant will open seven days a week once it finds it feet, aiming to eventually serve up lunch, dinner and a weekend brunch service. I briefly spoke to Evans who confirmed, "We have a lounge area as well, that will be great for late night apps and wine."
As I literally rattle these words off, the May DABC get together is in full swing, with Pago On Main awaiting a full service restaurant license for beer, wine and spirits. I'll report in full on the meeting in the coming days.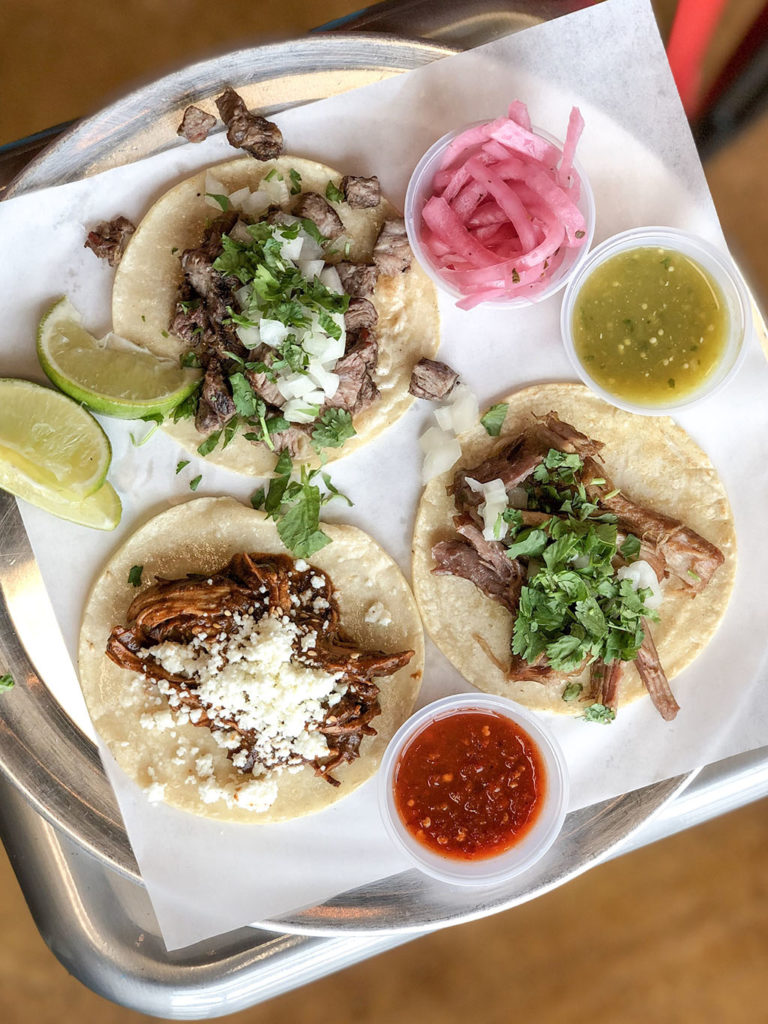 Santo Tacos
Also coming to downtown SLC later this year – no ETA just yet though. Santo owners Alfonso and Claudia Brito recently spoke with Kathy Stephenson of the Tribune confirming their intent to open their trendy taco spot in the former Alamexo spot on State Street (268 S.)
This will mark the third location for the operators who already run the well regarded Santo Tacos (picture above courtesy of SLC Eats) in Rose Park as well as the recently opened bar and grill concept in Logan.
Limon
Remember how I was banging on about the changing face of food last year? Limon is one of those plucky new startups, serving a simple menu of big bold burritos. For their part Limon write,
"Delivery food sucks (most of the time). That's why we set out to build a new Mexican food brand that gives quality food for delivery. We're heavily involved in helping local independent businesses and use our business as the vehicle to provide awesome Mexican food while giving back to our community. Thanks for checking us out! We hope you love our food as much as we do."
The restaurant operates Monday – Saturday 11 am through 10 pm and I seem to recall it operates out of Chunga's – though I can no longer find the reference that verifies that. You can order here, burritos start at $9.50.
No Manches Ways
Another new Mexican option, this one coming to Ogden (1580 Washington Blvd) as of mid April. Of particular note, I spied a dish described as the Quesabirria – a crispy shredded beef taco with mozzarella – ready for dipping into rich broth. I hear they also make their own tortillas in store too.
Wildside Bowls
Healthier types (really who are you people) should check out this new Draper business (12243 S. Draper Gate Drive). Offering "Açaí and Pitaya bowls" in a variety of formats it's eye catching stuff.
RJ Grill
Bountiful (571 W. 2600 S.) recently said howdy to this new old school cafe/diner joint. City Weekly's Alex Springer writes, "a nostalgic little burger joint that also whips up wings and breakfast burritos. You'll see bacon mac 'n' cheeseburgers, fried chicken sandwiches, stacked breakfast sandos and the Fluffy Burger." See the menu here.
Tandoori Taqueria
State Street's old La Puente building at 3540 S. is the latest location for this Panguitch Utah based business that fuses Mexican and Indian cuisine. There's pozole, there's traditional beef an chorizo tacos and there's phulkopir – a "bengali-inspired cauliflower and garbanzo beans seasoned with a smoky array of mexican spices". Check out the full menu here.
Doughboy's Pizza Opens
There was a time a couple years back that everyone and their dog was opening a Lehi-location. The heat has somewhat cooled off in recent times mind you. Doughboy's Pizza is the most recent opening I'm aware of, offering pies, slices and wings. The location also serves up BYU Creamery to complete to calories rolling for those types of day.
Super Chix
The national chains continue to arrive in Utah, to satiate an almost unslakable thirst, especially for fried chicken. Read more here on the arrival of more Super Chix in Utah. Super join the likes of Raising Canes rushing to tempt Utahns.
Taste Of Thai
New for Park Citizens is this brand spanking new Thai joint. Opening at 1241 Center Dr you can check out the full menu here which is a by the numbers run down of Thai curries, stir fries, salads and the like. They also have the following IG page to check out those dishes.
Onyx Cafe
Now open in St George this new pizza parlor. The Southern Utah spot offers up wood-fired pies as well as a raft of cooling sweets treats such as gelato, floats and shakes, no doubt to help deal with those temps.
Helps us choose the best Utah restaurants!
Right now our 2023 Reader's Choice Awards are underway. We want your help in deciding the very best food and drink spots in Utah. This year we're taking a completely different approach as well. All we need is three names and 60 seconds of your time -> find out more and how to vote.
Keep the conversation going
Want to stay on top of the SLC food scene, minute by minute, dish by dish? Here are a few other places you should follow along:
Hi, I'm Stuart, nice to meet you!  I'm the founder, writer and wrangler at Gastronomic SLC; I'm also a former restaurant critic of more than five years, working for the Salt Lake Tribune.  I've worked extensively with multiple local publications from Visit Salt Lake to Salt Lake Magazine, not least helped to consult on national TV shows.
I'm a multiple-award winning journalist and have covered the Utah dining scene for the better part of fifteen years.   I'm largely fueled by a critical obsession with rice, alliteration and the use of big words I don't understand.   What they're saying about me: "Not inaccurate", "I thought he was older", "I don't share his feelings".  Want to know more? This is why I am the way I am.
This article may contain content provided by one of our paid partners. These are some of the best businesses in Utah. For a list of all our current and past relationships see our
partnership history page
.