Oquirrh fans start fundraiser
Times are undoubtedly tough for everyone right now. In the maelstrom that is the hospitality sector (oh hai there Rubio's bankruptcy filing), of particularly tumult – fine dining. While I'm a vocal advocate for changing times demanding a changing business plan, it's admittedly simpler for fast casual to pivot than it is a chef-driven concept.
Enter stage left then, Amelia Christian Mietchen – fan of Oquirrh restaurant. Fearing the loss of this great local restaurant Mietchen has put together a GoFundMe page to raise much needed capital for a business that is bleeding badly.
Of the fabulous owners (Angelena and Drew Fuller), Mietchen writes, "they have done everything they can to stay afloat, even feeding others, with a genuine smile, when they couldn't do the same for themselves because they love and believe in this restaurant. They have yet to get help from anyone, nor will they ask because they are so worried about others needing the help more. So I'm stepping in because I know how loved these two are and I know others would want to help knowing it would be life changing for them. There aren't two more deserving humans to receive a little help in keeping this dream alive. They are constantly finding ways to give to back to the community. "
Amen to that. If you're able to, you could do worse things this week than throw a few dollars at this GoFundMe.
Deals and specials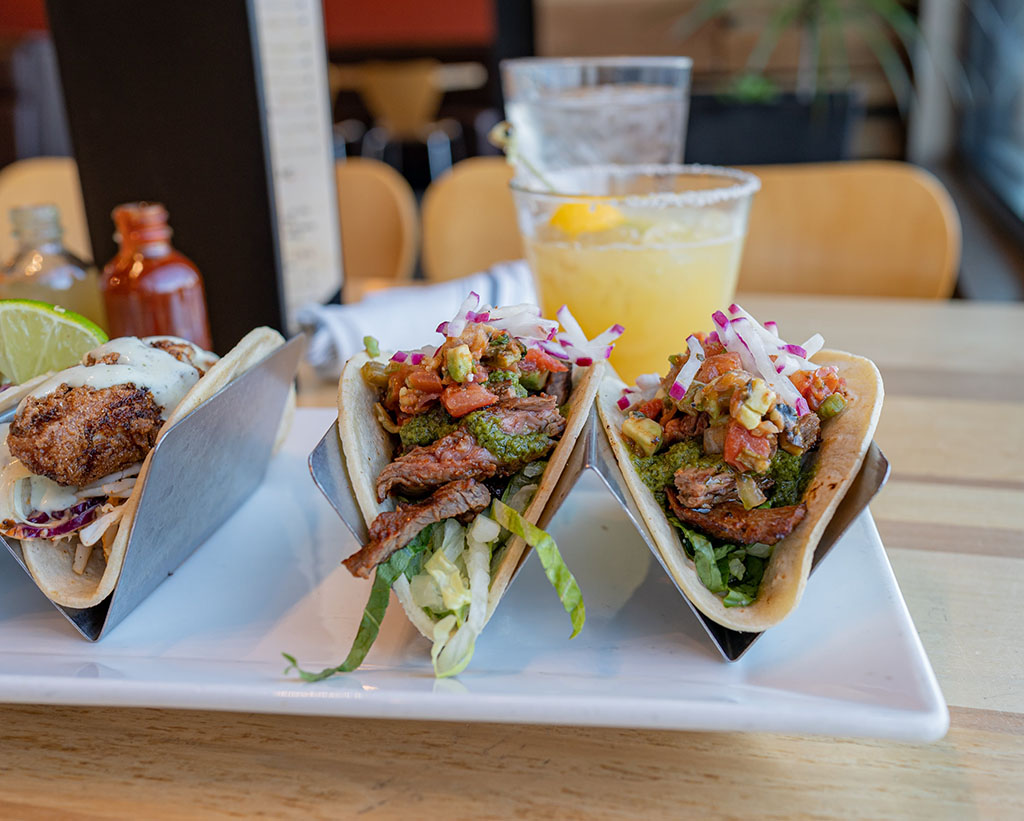 The "Shop In Utah" promo powered by Utah state coffers continues to offer some fantastic deals right now. A few select offers include:
Taqueria 27 – Buy one order of tacos, get one free! When you order any of the Taqueria 27 tacos, you get one of equal or lesser value for free! Offer is valid at all locations, all hours, for dine-in only. No code necessary.
BTG Wine Bar – On request, 25% off food and non-alcoholic drinks, Sunday through Thursday.
Hub & Spoke – Get a 50% discount on dine-in or curbside take-out, Monday – Friday. Just mention the "shop in Utah" discount to your server or use the promo code "shopinutah" for online orders.
Silver Fork Lodge – For a limited time only, Monday through Friday to receive 50% off on all menu items, all day. Offer only valid on weekdays
Bout Time Pub and Grub – Free entrees to first responders (hospital, fire, and police) and teachers with valid I.D. Menu items are $1 for all other customers. Offerings include nachos, quesadillas, salads, and burgers.
Note that all the deals listed above are based on available funds, when the Shop In Utah grants run out, so do those deals. A few more specials and deals to note around town:
BGR – Starting today, free fries with any burger order at this Sugar House restaurant. Deal runs through November 30th.
Hearth and Hill – First ever Halloween family meal special. Feeds 8, priced $145. Available for convenient curbside pick-up, includes:
Deviled eggs (1 dozen)
Warm spinach dip with garlic crostini and tortilla chips (1 pint)
Wagyu beef sliders (1 dozen)
Elk and white bean chili (2 quarts) and Cornbread muffins (6)
Carmel apples
Manoli's – A new Fall bar menu has rolled out at the SLC fine dining Greek spot; new additions include flights of Greek wines, seasonal craft cocktails and beer. Also of note, brunch is now being served once again too.
Current Fish & Oyster – A brand new menu addition really caught my eye. The all new Niman Ranch short rib & scallops comes with Doenjang potatoes, kimchi, gochujang citrus beurre blanc, mizuna, sesame chive tuile and cilantro lime foam. Wow. Take that steak and spuds.
Nacho Daddy – Celebrating National Nacho Day on, Friday, November 6th the new downtown SLC restaurant is offering a duo of 'nacho flights' – each comes with a trio of samplings from the larger menu.
Stanza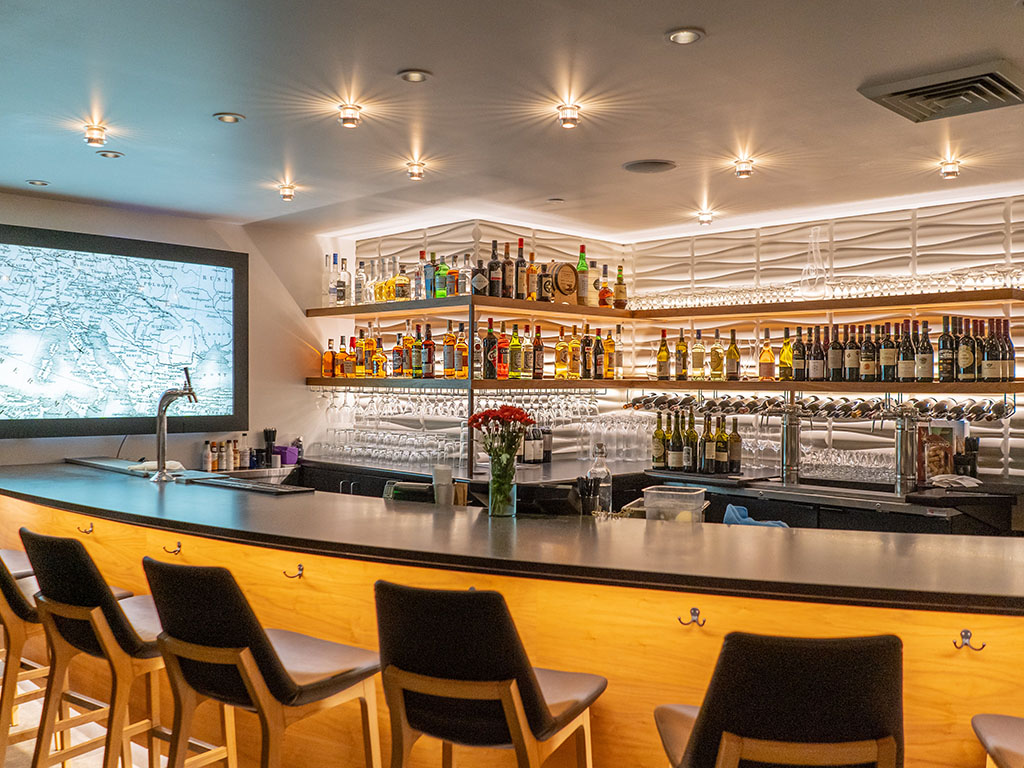 Pumpkin, pecans and Prosecco (just go with me on that third one for the sake of alliteration) – all the fall flavors are part of this upcoming wine dinner at Stanza. The Autumn Harvest wine dinner will be held on Wednesday, November 11th stating at 6.30 p.m.
The menu is the work of the uber-skilled Jonathan LeBlanc and Amber Billingsley; Vine Lore's Alaina Rahimzadegan will be on hand to talk plonk. Price is $75 per person ($50 food) and the evening will be conducted in accordance with SL County Health Department guidelines. Menu as follow:
Roasted pear & chevre mousse, caramelized fennel vinaigrette, wilted watercress
Indigenous Prosecco
Chai spice pumpkin veloute, walnut-sage oil, roasted pumpkin seeds, maple sabayon
Dr. Konstantine Frank Dry Riesling
Pecan smoked quail, pancetta blue cheese risotto, melted leeks, black mission fig gastrique
Albert Bichot Vieilles Vignes Pinot Noir
Black currant sorbet

Juniper crusted elk medallions, wild mushroom ragout, rosemary polenta cake, baby vegetable barquette, wild huckleberry port reduction
Tamrima Monastrell
Brown butter glazed pumpkin cake, pomegranate poached pears, hazelnut sage streusel,
orange mascarpone cream, candied sage
Stanza Winter Old Fashion
Franck's Halloween dinner
Adult Halloween at Franck's this year comprises a four course "Trick Or Treat" menu. The October 31st meal is priced $55 per person, menu as follows:
Burnt strawberry-tomato emulsion, brioche ham & cheese, cilantro relish, pepper corn cream, virgin cilantro oil
White bass black tempura, malt vinegar aioli, dill pickle barley, salt & vinegar chips, allium relish
Hoisin glazed beef rib, "buffalo" yolk, cured egg, Jack O Lantern pot de crème, brown butter fennel honey butter buffalo sauce, fennel- jack o lantern salad
Blood orange crème brulee, blood orange bitter, variations of vanilla, sweet & salty bag of treats
Caputo's 9th annual chocolate fest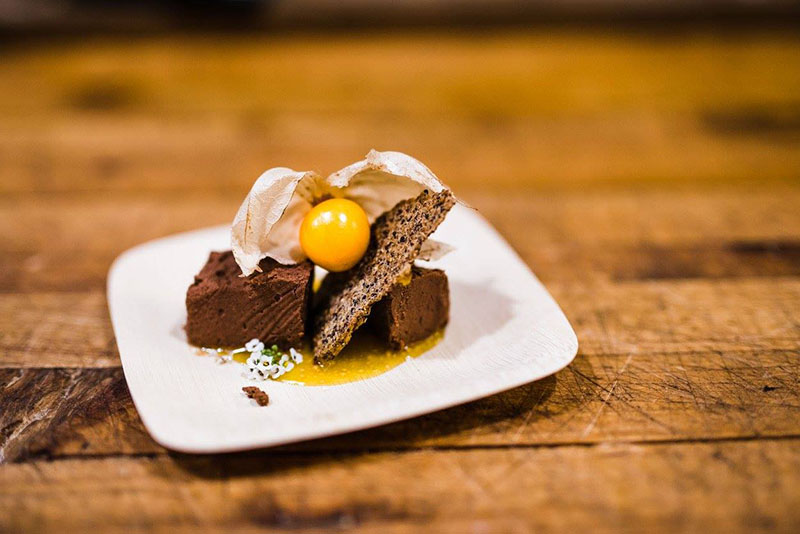 The novennium (thanks Google) edition of the Caputo's annual choco-bash is upon us – this time from the comfort of your favorite sofa with Covus in mind. Here's the full press release for the popular event:
This November, Caputo's will spotlight Pump Street Chocolate from Suffolk, UK at the 9th Annual Caputo's Chocolate Festival. Utah's trend setting chefs and beverage experts will craft chocolate-based creations to benefit the Heirloom Cacao Preservation Fund. For the first time, this year's event brings participants together through the magic of Zoom, to enjoy the festival from the comfort of their own home!
The evening's culinary lineup includes talented chefs from Utah's local establishments Normal Ice Cream and Nomad Eatery. Pump Street's exceptional bean to bar chocolate will be showcased in both sweet and savory applications, accompanied by an inspired cocktail mix from Water Witch Bar. All goodies, including one of Pump Street's delectable pastries, the Eccles cake, will be shipped directly to attendees to enjoy together with the chefs and chocolate makers over Zoom.
Table X to ditch ala carte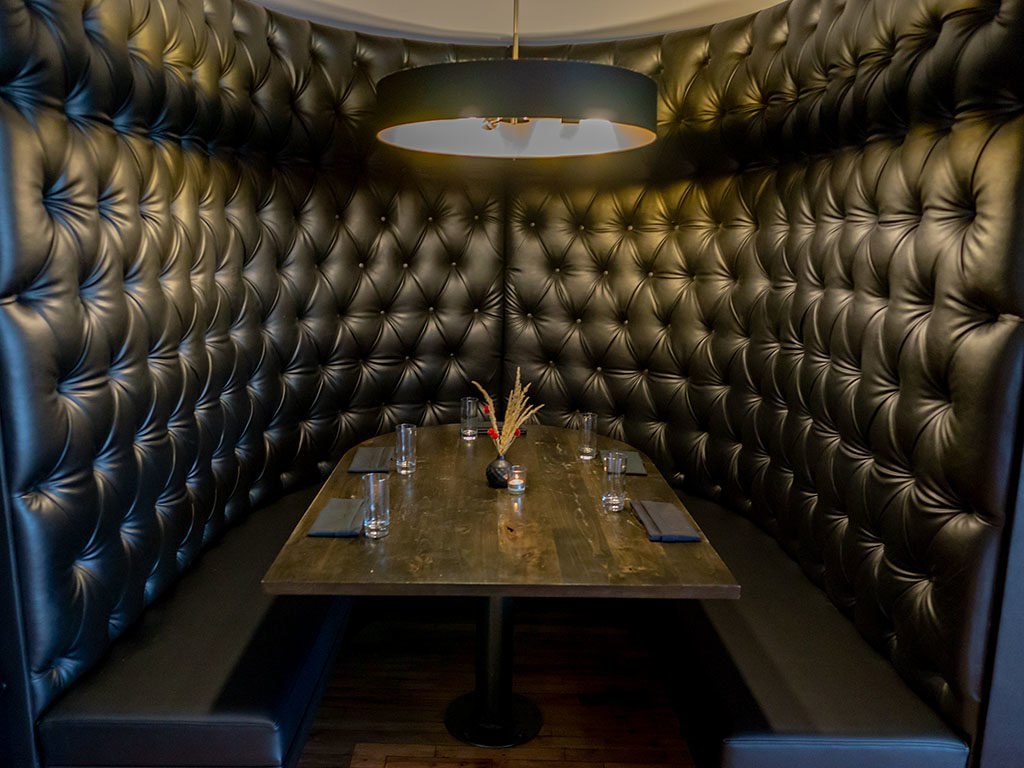 If you need another reminder about the challenges faced by fine dining, look no further than Millcreek's Table X and their latest update. Writing on Facebook, the business have announced the imminent death of their ala carte menu. Starting November 4th the restaurant will move to a nightly set menu only.
The business writes:
Beginning November 4th, we will be moving to a tasting menu only format at Table X. We will feature two different tasting menu options: our traditional chefs tasting menu, and an extended tasting menu to showcase everything we've got. We are excited to open this new chapter and it is important to us to still be an approachable neighborhood restaurant. This decision was made due to the economic climate that we have found ourselves in as our best chance to stay viable as a business and continue to grow through this winter. We, like many will loose a large amount of our seating. Our chefs tasting menu has always been the most popular option for guests and the decision to make this our only option was not a quick one. We have actually toyed with this idea for a couple years and this winter feels like the right time to make the leap. For special menu requests, or if you feel the tasting menu is not for you, please reach out as it is important to us to continue to welcome and accommodate all. We will still offer a Togo menu that can be ordered any night we are open, as well as a full selection of breads from @table.x.bread.
11th annual pumpkin tasting menu
Also back this year, Pago's decade-plus pumpkin bonanza. The business writes, "2020 has been a tough year and most of our annual events just didn't feel right to host. The Rose Advocacy Dinner (R.A.D.) and the Ruth Lewandowski & Frog Bench Farms Fall Harvest Dinner will have to wait until 2021. One tradition that is social distancing friendly is the 11th installment of our 3-course Pumpkin & Orange Wine Tasting.
Fall is officially here. Which for our team at Pago signifies so many milestones – the end of the summer produce and our Fall CSA, one more glass – er bottle – of rosé, and of course our longest standing seasonal tradition, the 11th Annual Pumpkin Tasting Menu. Each gourd driven course is thoughtfully paired with orange wine (skin fermented white wine) for maximum fall pleasure. Our full menu + the Pumpkin Tasting Menu is available 10/29-10/31."
You can view the full menu online here.
Grid City snags bronze at GABF
Via press release:
Grid City Beer Works was awarded a bronze medal at the 2020 Great American Beer Festival (GABF) competition, presented by the Brewers Association . The best beers in 91 beer categories covering 170 different beer styles (including all subcategories) were awarded gold, silver, and bronze medals during a virtual ceremony Friday, October 16, hosted on The Brewing Network.
Grid City Beer Works was recognized in the Honey Beer category for its Honey Cream
Ale, a British American style hybrid cream ale featuring Belgian and British malts, intense orange blossom honey and floral hop aromas, and a dry, crisp, refreshing finish.
Grid City Beer Works is a new brewpub located at 333 West 2100 South in South Salt
Lake City, Utah that prides itself on delivering one of the most unique beer tasting experiences in the country. Their 5 flagship beers are available in unique draft formats
at the pub, including the Honey Cream, Pale, and Brown Ales which are served on
Cask, Nitro, and conventional CO2; and their Bohemian style Pilsner and Hoppy Pilsner
that are both served in the traditional Czech way from sidepull faucets.
Slated to open on March 19 th 2020, Grid City Beer Works delayed its opening for 45
days due to the onset of Covid-19. It was one of 337 first time breweries to enter the
GABF and one of only 19 first time medal winners. Grid City Beer Works is also taking
craft seltzer to a new level with its recent release of an 8.2% Rosé Hard Seltzer made
with all natural fruit ingredients.
"Our motto when we create a beer is Taste, Balance, Finish. This medal winning Honey
Cream Ale was the first version that our brewmaster Jeremy brewed on our commercial
system. We spent six years in the lead up to opening defining our flagship offerings and
brewed them dozens of times before arriving at final versions. The effort we put into
developing recipes led us to discover unique flavor profiles for "old school" styles of
beer, some with a new twist like the Honey Cream Ale. This one took us a lot longer
than others to get right in the R&D phase, and we are so thrilled that Jeremy nailed it
with the first batch. We couldn't be more excited for the recognition of that time and
hard work", said Drew Reynolds, CEO at Grid City Beer Works.
Judges for the 34 th edition of the celebrated competition evaluated 8,806 entries from
1,720 breweries from all 50 states plus Washington, D.C. Socially distanced judging
took place in 35 sessions over 18 days with strict safety measures in place.
"This year's GABF competition may have looked a little different, but the beers entered
into the competition were as impressive and innovative as ever," said Chris Swersey,
competition manager, Great American Beer Festival. "This has arguably been one of
the most challenging years breweries have ever faced, so we hope these awards serve
as a symbol not only of brewing excellence but also the resiliency of the craft brewing
community as a whole."
Ogden restaurant week
Via press release:
Like everything, Ogden Restaurant Week will look different this year, expanding its dates to include the entire month of November. Ogden Restaurant Week will be offering a special Gift Card for this year's event where the public can purchase a $20.00 Gift Card for $10.00, while supplies last. This Gift Card is possible thanks to a Shop IN Utah grant. Gift Cards are available at www.ogdenrestaurantweek.com starting Oct 26th, 2020.
The event will be November 1ST through November 30th, 2020, making the event date shift from its traditional spring season to a fall community event. Ogden Restaurant Week 2020 will allow the community to purchase this Gift Card and use it at any participating restaurant. List provided.
Traditionally, Ogden Restaurant Week offered a special restaurant week menu with several different choices. This year, participating restaurants will accept the Shop IN Utah Ogden Restaurant Week Gift Card for regular menu items, but patrons will be able to take advantage of the 50% savings and our restaurants will be supported by the Shop IN Utah grant funds.
The Gift Card costs $10.00 to the customer who will receive the $20.00 value Gift Card. This promotion is a first for Ogden Restaurant Week. Sale of the Gift Card opens October 26th. This Gift Card can be used at participating restaurants from November 1st through November 30th, 2020. Purchase limit 2 per customer. Gift Cards may not be exchanged for cash. No change will be given for purchases under $20.00. While supplies last.
Ogden restaurants are excited to offer this special promotion and extended experiential event to our community's fall events calendar for the first time. This will be the eighth year celebrating Ogden's vibrant restaurants and local eateries. During Ogden Restaurant Week foodies will be able to use this Gift Card to eat their hearts out at any of the twenty participating independently owned, local restaurants. Diners can indulge in a large variety of local food and drink.
Restaurants will be open for regular business during the promotional time frame. However, a pre-purchase of an Ogden Restaurant Week Gift Card will be necessary to take advantage of this offer.
"Historically, Ogden Restaurant Week has allowed participating restaurants to showcase that locally grown and prepared food is available in locally owned and operated restaurants with unique history, architecture and décor," said Steve Ballard, owner of Sonora Grill and Thai Curry Kitchen. "This year we thank the Shop IN Utah Grant and Visit Ogden for helping our community and restaurants continue the celebration."
Participating Restaurants
Angry Goat
Bangkok Garden
Hearth on 25th
Lucky Slice Pizza
New Sun
Ogden River Brewing
Pig & a Jelly Jar
Roosters Brewing Co.
Rovali's Ristorante
Slackwater
Sonora Grill
Thai Curry Kitchen
Tona Sushi
Union Grill
UTOG
Waffle Love
Warren's Craft Burger
Beer Zombies Halloween beers
Via press release
Utah's first food hall concept, HallPass, is celebrating the Halloween spirit with two new releases from Beer Zombies Brewing Co. – Wizards & Zombies and Galaxy Revenge. The Las Vegas craft beer brewer now has these full-strength, canned beers available at Beer Zombies SLC inside HallPass at The Gateway. HallPass is the only location in Utah where both beers can be enjoyed.
Wizards & Zombies is a Triple Hazy IPA of undead proportions brewed with Citra hops, Oats and splashed with Milk Sugar, resulting in a silky soft, hazy IPA complemented by juicy peach, passion fruit, cherimoya and fresh citrus.
Galaxy Revenge is the tasty result of a collaboration between Beer Zombies and the artisan Mason Ale Works of San Marcos, CA. The single hop varietal features 100% Galaxy hops, delivered in an 8% abv Hazy Double IPA. This beer is overflowing with bright citrus, overripe peach and flavicarpa. Tropical island aromas come crashing out like waves, whisking beer drinkers away to a far off destination of flavor, like the coast of Australia where the Galaxy hops are grown.
"We are very excited to offer Beer Zombies Brewing Co. beers at Beer Zombies SLC. This will be the first of many beers that will be headed to the Utah market to spread the love of the craft and further the Zombie invasion," says Brewmaster Chris Jacobs. "We also are equally passionate about supporting local craft brewers and feature a rotating selection of them."
Renowned Chef Marc Marrone, who recently became a partner in HallPass, plans to introduce a new menu to complement Beer Zombies' artisan brews.
Jacklyn Briggs of The Gateway says, "The release of these new beers further solidifies HallPass and The Gateway as a hub for cutting-edge eats and drinks. It's perfectly timed to coincide with the new Graffiti Bao and Hibachican concepts that Chef Marc Marrone is introducing at HallPass this month."
In other news
Keep the conversation going
Want to stay on top of the SLC food scene, minute by minute, dish by dish? Here are a few other places you should follow along:
Hi, I'm Stuart, nice to meet you!  I'm the founder, writer and wrangler at Gastronomic SLC; I'm also a former restaurant critic of more than five years, working for the Salt Lake Tribune.  I've worked extensively with multiple local publications from Visit Salt Lake to Salt Lake Magazine, not least helped to consult on national TV shows.
I'm a multiple-award winning journalist and have covered the Utah dining scene for the better part of fifteen years.   I'm largely fueled by a critical obsession with rice, alliteration and the use of big words I don't understand.   What they're saying about me: "Not inaccurate", "I thought he was older", "I don't share his feelings".  Want to know more? This is why I am the way I am.
This article may contain content provided by one of our paid partners. These are some of the best businesses in Utah. For a list of all our current and past relationships see our
partnership history page
.