Caffe Molise beer brunch
Looking for a way to toast the weekend? Check out the neat little beer brunch this Saturday (September 26th) on the Caffe Molise patio. The four course menu will be paired with some pretty perfect picks from SaltFire, not to mention, the event will be hosted by the breweries own Tim Wilson. The event starts at noon and the menu is as follows:
Cambazola and house made guanciale crepe with local apple chutney
Master Control Program
Fried polenta, eggplant meatballs, shallot pomodori cream sauce
Nzed Pilsner
Al pastor tacos with house made blue corn tortillas, crunchy cabbage slaw, grilled corn salad
12 Monkeys Double IPA
Spiced pizelle & espresso ice cream sandwich
Dirty Chai Stout
You'll be pining for these perfect patio days any day soon now, so you probably don't want to miss this one. Reservations are a must, call the restaurant to confirm (801) 364-8833.
Manoli's celebrates five years
Also this weekend, Sunday September 27th to be precise, one of SLC's best restaurants celebrates five years in the biz. Marking their half decade, Manoli's will be roasting a whole lamb over open charcoal (one of their specialties) as well as offering a range of seasonal sides and flights of Greek wine.
You can make reservations online through any of the businesses social media profiles or their website at manolison9th.com.
Midway Mercantile wine dinners
Just a few days later, Bon Vivant's Brad Jensen will host a wine dinner at this Midway fine dining restaurant on September 30th. The restaurant hopes to offer the dinner al fresco on the patio, but that of course depends on the weather. What is for certain is a Fall-friendly menu and the following unique wines – Langhe Favorita, Ailale Ailalelo, Alzania Finca la Moneda, Rufian Rufete and Sexto Elemental Bobol.
The restaurant is focusing heavily on Covid-safe seating which requires that tables be spaced 6 feet apart. Tables will be sold as groups as follows:
8 seats for $960
4 seats for $480
Price includes tax and tip – call for reservations.
Menu watch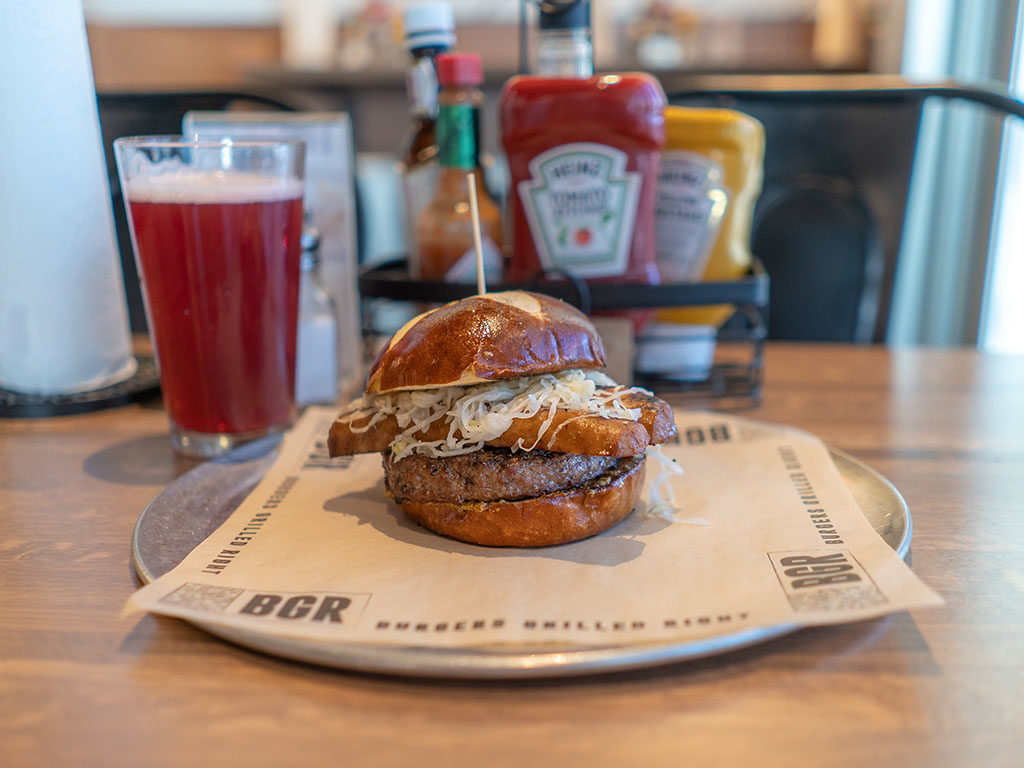 BGR – Back on the menu for the season is the Oktoberfest burger; the burger packs on sauerkraut, grilled bratwurst, muenster cheese, dark ale mustard and a hefty 1/3 lb. made to order burger on a pretzel bun. Also worthy of a side note, the Bacon Apple brie is also joining the menu as a full time cast member too.
Curry Up Now – This newcomer to Salt Lake are celebrating their birthday this weekend with free burritos (with purchase of another). All weekend (26th and 27th) guests can order BOGOF burritos from any location via the app or website. Burrito choices include options such as tikka masala, Indian dishes like saag paneer, ghee makhni butter sauce, lamb, heck even whole samosas.
Feldman's Deli – Now back in business for dine in, one of our most beloved places in the whole of Utah. Feldman's Deli – Utah's only Jewish Deli and famous for their unbeatable corned beef and pastrami – is now offering dine-in and patio dining as well as takeout and curbside pickup.
La Trattoria di Francesco – Every Monday is now $15 pasta night at the Italian eatery in the 15th/15th neighborhood. At the start of each week, the restaurant seeks to solve the Monday blues with four different homemade pastas every week – each $15.
Scaled back Oktoberfest options
With Snowbird's grand beer bash now cancelled for 2020 amidst C19 woes, you run the risk of finding yourself weeping into an empty stein. Fear ye not though, check out this great post over on Utah Beer News.
Tim Haran goes over all the local options for a different type of Oktoberfest for this year, detailing options at the likes of Bewilder Brewing, Angry Goat, T.F Brewing and more.
Eat this now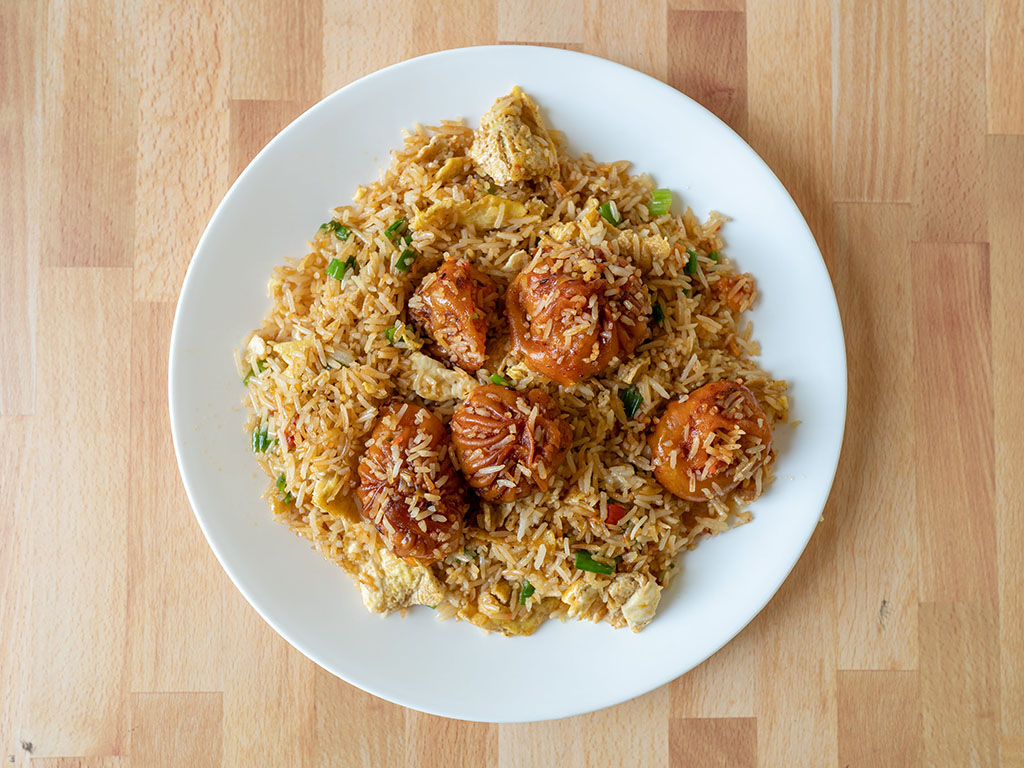 This particular dish – you can't actually order – you'll need to get handy in the kitchen. The dish in question is the chicken chili momos from Bhutan House remixed (with some of their leftover basmati) into a buzzing fried rice dish.
The reason? Well, I recently ordered this one up on the Chefpanzee app for delivery, and quite frankly, I got way in over my head on the Scoville-scale. The business offers heat on a range of 1-8, and me expecting Utah heat levels went with a 6/8. Boy oh boy was that a mistake.
Chili heads take note, these guys aren't messing around. For those who don't enjoy their tongues set aflame with the heat of a thousand suns, the food here is still great! These momos were some of the best I've had in some time; tightly wrapped and pinched purses of delicately seasoned ground chicken. Wonderful stuff.
Utah Cheese Awards goes delivery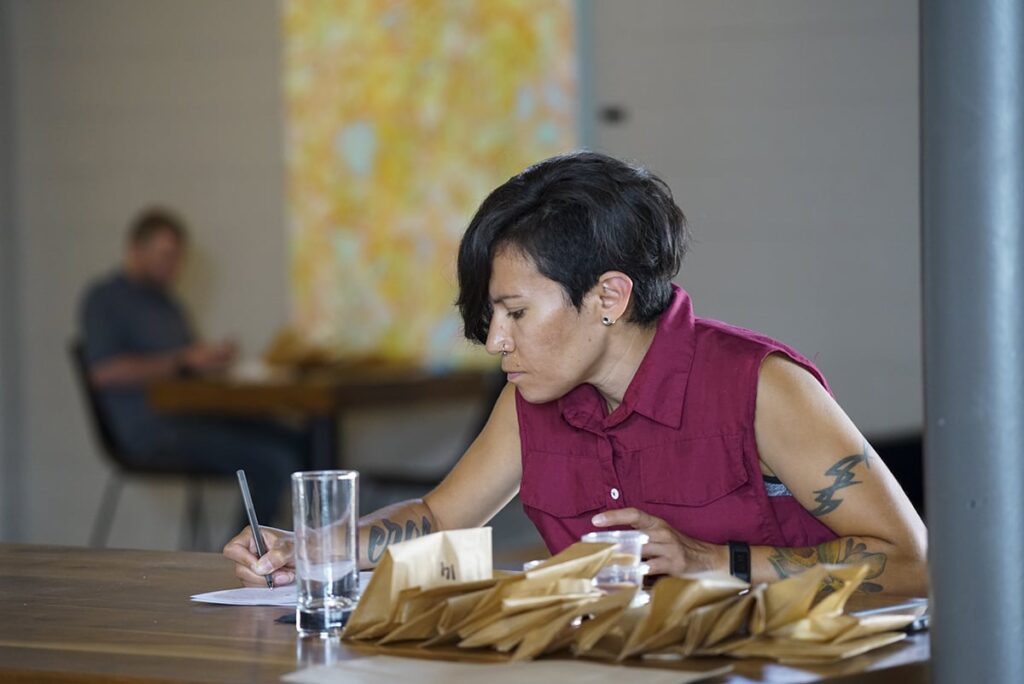 If you read my recent feature story on how the industry is changing – you'll know my thoughts on imploring restaurants to consider adapting. Hats off then to the Utah Cheese Awards who have slightly pivoted in light of Covis.
Instead of celebrating the winners in person (this year the contest received 54 entries from 13 companies and awarded 18 gold medals, 12 silver medals and 10 bronze medals) cheese addicts can now signup to have the winners shipped right to their door. And lets be honest with each other, that means you can REALLY indulge, just close the blinds, grab your cheese eating pants and sit back.
Highlighting the winners then, two different gift packs are now available which can be delivered anywhere in the United States. An additional holiday shipment will go out on December 15th too. Options include:
The Core package, $44.95. Includes the gold medal winners from the categories traditionally receiving the greatest number of entries; cheddar, adjuncts inside, adjuncts outside, and curd. Added to this will be the winner of the Swiss category. These are hearty, flavorful cheeses which reflect Utah' legacy of cheesemaking.
The Deluxe Plate package, $89.95. Includes the core package cheeses with the addition of exquisite, internationally-inspired hard cheese and goat cheese medalists. Also, bottles of the winning sweet sauce and savory sauce, judged in the show's division 2, "Rest of the Plate".
The packages are available on line at https://utahcheeseawards.wordpress.com/buy-winning-cheese 
Downtown Open Streets
Via press release
Downtown SLC Open Streets will animate the spacious Main Street corridor with expanded patio service areas for restaurants accompanied by buskers and artist activations in various locations from Exchange Place to City Creek Center. This is not a street festival or a block party, but rather an expansion of Main Street pedestrian options to allow residents and visitors the space to enjoy the energy of downtown.
Parts of Main Street will be closed to automobile traffic and open to physically distanced urban fun. Open Streets will run from 6-10 p.m. each Thursday, Friday and Saturday from September 17th to October 10th.
"We are excited to welcome people downtown for safe shopping, dining, buskers and pop-up performances," said Derek Miller, president and CEO of the Salt Lake Chamber and Downtown Alliance. "This move will provide an expansion of Main Street pedestrian options to allow residents and visitors the space to enjoy the energy of downtown. We hope this expansion will lead to an economic stimulus for our local businesses in the commercial area."
"Downtown Salt Lake City is the heart and soul of Utah and has been dealt tremendous challenges this year through the pandemic, the earthquake, a windstorm and more," said Salt Lake City Mayor Erin Mendenhall. "I'm excited to have 'Open Streets' coming to Main Street and I hope residents from around the state will join us downtown as we safely begin to reactivate our vibrant and culturally diverse downtown core."
133 restaurants and bars and over 100 local and downtown-only retailers are open for business. Open Streets is not only an invitation to enjoy Main Street but downtown at large. "Squatters Brewing is enthusiastic about Open Streets in Salt Lake City," said Maxwell Christen, marketing manager for Squatters and Wasatch beers. "These activations welcome residents and visitors downtown safely, and the influx of people will reverberate to surrounding businesses like Squatters and other local establishments."
Physical distancing, face coverings, frequent disinfecting and other safety guidelines are requested. Restaurants and shops require facemasks upon entry. $2 parking is available in the parking garage located on Gallivan Avenue thanks to the Wasatch Group. City Creek Center offers complimentary parking for the first two hours.
Open Streets is a partnership between Salt Lake City, the Downtown Alliance and THE BLOCKS to sustain downtown restaurants and retailers.
Dine About brings deals to Park City
Via press release
From Thursday, October 1 – Sunday, October 18, the Park City Area Restaurant Association (PCARA) hosts the 8th Annual Dine About Park City, inviting locals and visitors to enjoy world-class cuisine at an incredible value. For only $10-$15 per person for 2-course lunches and $20-$40 per person for 3-course dinners, Dine About Park City offers an approachable way to enjoy the best of the community's renowned dining scene.
"Dine About is always a great opportunity for our restaurants to thank our community members for their year-round patronage," PCARA executive director Ginger Wicks said. "Guests can relish in seasonal menus featuring ingredients from the freshest fall harvest at a number of Park City's finest dining establishments."
Twenty-four distinguished restaurants are participating in Dine About Park City including: Billy Blanco's, Baja Cantina, Bangkok Thai on Main, Blind Dog, Café Terigo, Chimayo, Deer Valley Grocery Café, Estes Pizza, Flanagan's on Main, Ghidotti's, Goldener Hirsch Inn, Grappa, Handle, Park City Provisions by Riverhorse, Purple Sage, Riverhorse on Main, Shabu, Squatters, Sushi Blue, Twisted Fern, Versante, Wahso, Wasatch Brew Pub and Windy Ridge Café.
Stay Park City, the official lodging partner of PCARA, will be offering exclusive lodging packages for Dine About guests. From picturesque alpine resorts, hotels in the heart of bustling downtown, to cozy neighborhood stays, these well-curated accommodations have something for everyone in search of a unique overnight experience at the guaranteed lowest rates. Visit here to book your special Dine About stay.
In other news…
Keep the conversation going
Want to stay on top of the SLC food scene, minute by minute, dish by dish? Here are a few other places you should follow along:
Hi, I'm Stuart, nice to meet you!  I'm the founder, writer and wrangler at Gastronomic SLC.  I'm a multiple-award winning journalist and have written in myopic detail about the Salt Lake City  dining scene for the better part of seventeen years.
I've worked extensively with multiple local publications from Visit Salt Lake to Salt Lake Magazine, not least helped to consult on national TV.   Pause those credits, yep, that's me! I'm also a former restaurant critic of more than five years, working for the Salt Lake Tribune.    I'm largely fueled by a critical obsession with rice, alliteration and the use of big words I don't understand.   What they're saying about me: "Not inaccurate", "I thought he was older", "I don't share his feelings".
Want to know more? This is why I am the way I am.
This article may contain content provided by one of our paid partners. These are some of the best businesses in Utah. For a list of all our current and past relationships see our
partnership history page
.