Desert Edge returns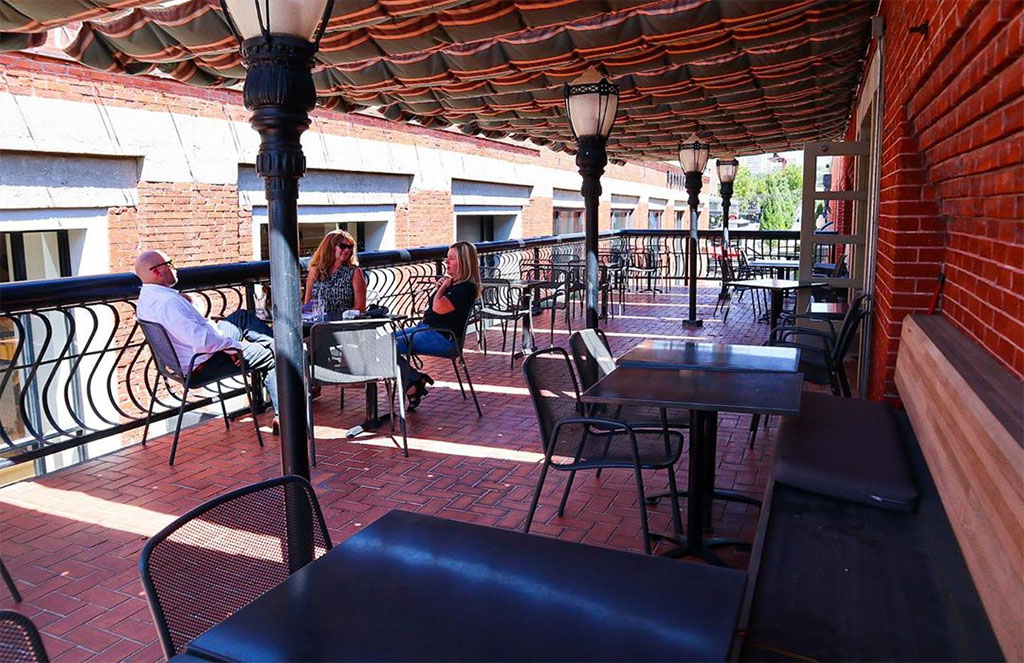 Several readers have contacted me over the past few months to ask about the current state of this popular pub and brewery. I can now happily report the business is starting to ramp back up. I'm told it's still a work in progress, but the team are working hard to get back to some form of normality now.
For the time being the menu is a pared down affair offering customer favorites only. Most notably beer is now priced at "drain the tank prices" so the brewery can turnaround stock on hand and get back to brewing. That means 20oz pints for $3, 14oz glasses for $2 and pitcher/growler refills for $8.
Also, don't forget Desert Edge has a great shaded patio for distanced dining and drinking too.
New news
Carson Kitchen – Hot out of Vegas, the much lauded Carson Kitchen is set to open its doors here in SLC any day now. The restaurant offers, " playful interpretations of American comfort food and thoughtfully crafted cocktails." You can see how that translates into their launch menu here.
Granary Bakehouse – New to the 9th and 9th area is this from scratch bakery. Open Wednesday-Sunday right now, you can see what's in the ovens over on their Instagram page.
Nacho Daddy – Another Vegas import and set to open on August 16th in downtown SLC. The 4,000 square-foot restaurant will feature indoor and outdoor seating, nearly two dozen TVs for sports fans as well as an open floor plan dining room and kitchen. The SLC location will offer all the signature spectacles such as filet mignon nachos through to their infamous scorpion shot – a margarita shot replete with edible scorpion.
Nomad East – Justin Soelberg's trek Eastward is now complete, with his chef driven menu now available in the space left empty by Eggs In The City's departure.
Rico Brand – This one just in last night, Rico Brand have secured a new space that should allow their business to continue. You might recall they recently faced the loss of their near twenty year manufacturing space. The business teased the good news over on Instagram here.
Dining events creeping back?
Maybe I'm being a tad optimistic but seeing a restaurant announce their latest event menu right now is akin to seeing those green shoots peaking out from errant snow in March.
This is maybe the first dining event menu I can recall in many a month with Cottonwood Height's Franck's teaming up with Salt Fire for a socially instanced evening of paired food and beer. The event will be help on August 24th starting at 6.30 p.m. Cost is $80 per persona ($50 food) and the menu is as follows:
Cambozola panna cotta, prosciutto, grilled red pear, salt and pepper almonds, watercress, Crumb Brothers sourdough
Nzed Pilsner – Other 5.4% ABV

Hoisin glazed pork belly & seared Hokkaido scallop, shiitake slaw, umami broth wasabi greens
Big in Japan – IPA New England 7.1 % ABV

Spicy plum BBQ beef short rib, fried cauliflower "salad", pickled Utah plumb, cauliflower chicharrone, chive
Punk as F#Ok – IPA -Triple 11.5% ABV

Chocolate and salted peanut butter ice cream sandwich, candied peanut, porter caramel
Putin on the Fritz Porter – Imperial 9.0% ABV
Eat Drink SLC celebrates success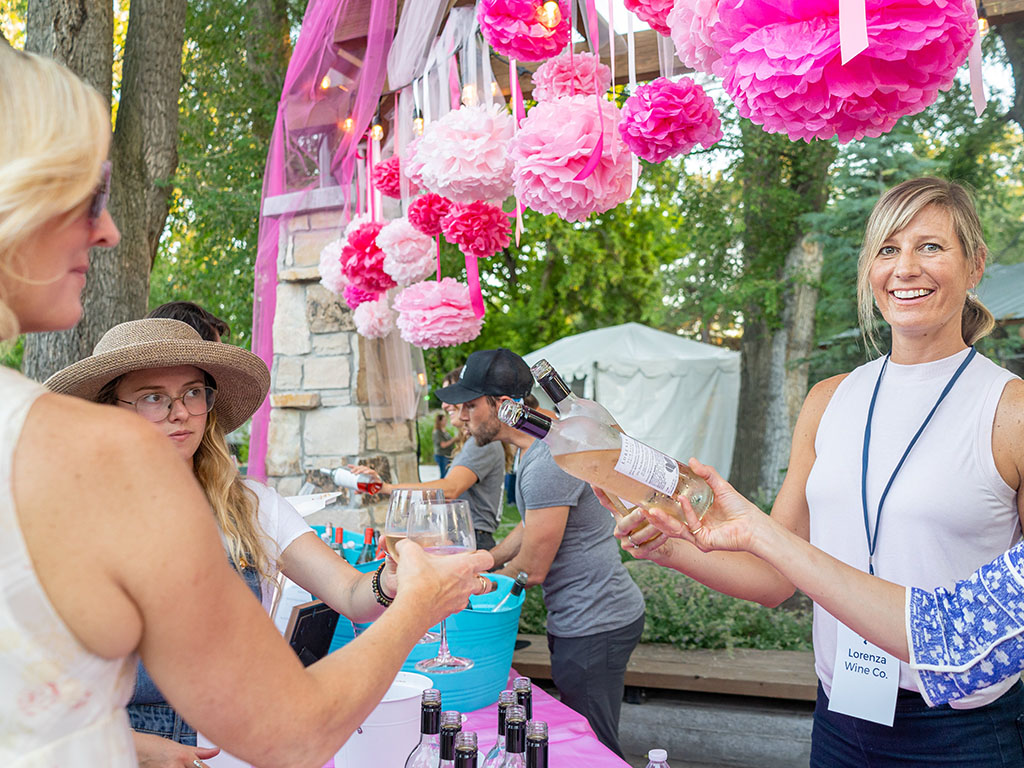 One event that didn't take place this year – Eat Drink SLC. That said the organization's charitable efforts for what would otherwise have been their sixth year went off with a bang! The replacement fundraiser effort was a killer success as detailed via press release as follows:
We truly, madly missed clinking glasses with you in July! But we're happy to report, thanks to our amazing Eat Drink SLC community, the virtual reimagination of this year's celebration was a brilliant success.
When COVID-19 forced the cancellation of the 6th annual EDSLC, we decided to pivot and give back to the local community in a different way. As EDLSC's co-founder and presenting Drink Curator, we committed to matching donations of up to $10,000 to the Utah Food Bank.
Within 48 hours, generous donors met that goal. Then, the donations kept rolling in. Together, we raised $24,378 which will provide 94,586 meals.
We're looking forward to next July, when Eat Drink SLC will return for its 7th year and we can gather together to celebrate our culinary community on the cool, green grounds of Tracy Aviary.
Meanwhile, please join us in continuing to visit EDSLC food and drink partners and keeping hope alive for our entire hospitality industry.
Hearth And Hill launches new menu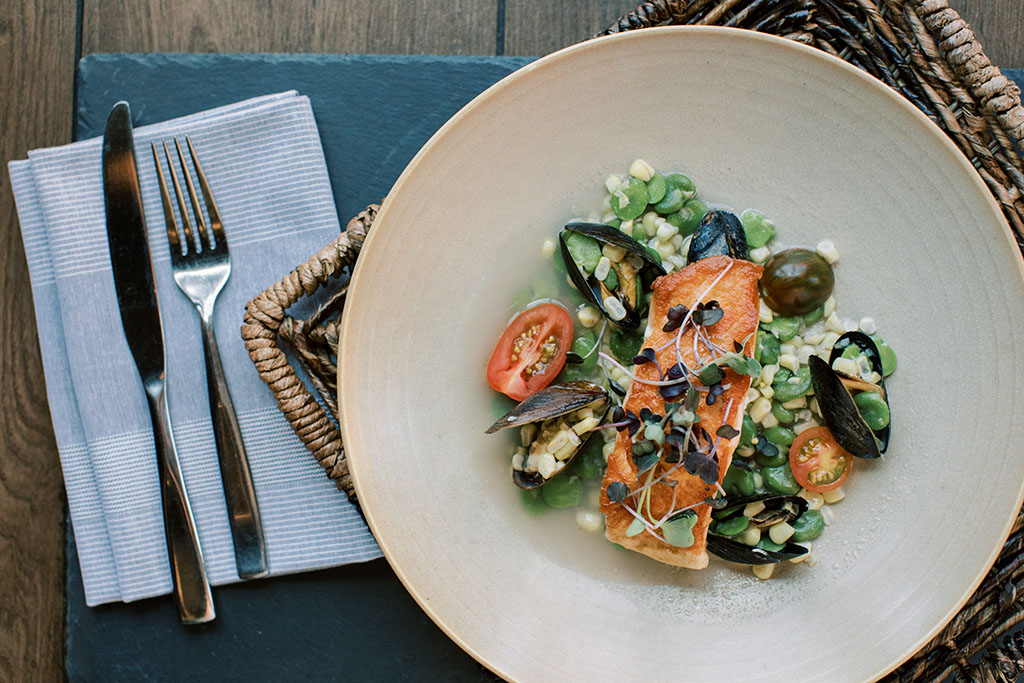 This one via press release:
Hearth and Hill, Park City's popular "gathering spot," invites guests to savor fresh, local tastes of summer with its new lunch, dinner, dessert and beverage menus. Featuring both longtime favorites and new creations curated by Executive Chef Jordan Harvey, Pastry Chef Jessie Nakoneczny and Bar Manager Daisy Clark, the menus emphasize locally grown or sourced ingredients, a Hearth and Hill hallmark.
"Serving our guests in the dining room, on our dog-friendly patio, and through our various dine-out options has been incredibly encouraging, and we are thrilled to introduce our new summer offerings in whichever way our guests feel most comfortable," said Proprietor Brooks Kirchheimer. "We've created a wide variety of new snack options, lunch and dinner offerings, decadent desserts and refreshing cocktails that we look forward to sharing all season long."
Midday meal options include innovative twists on fresh greens with the Avocado salad (tajin, orange, pepitas and quinoa clusters and cilantro coconut dressing), Roasted Beet salad (pickled strawberry, pistachio and everything spice whipped feta), and Greek Quinoa salad (heirloom tomatoes, cucumber, red onion, olive, feta and pepperoncini vinaigrette). Additional options such as Fish Tacos with blackened halibut, a classic Cuban, and the Bison Patty Melt round out the "feastable" section of the lunch menu.
Start dinner with Cornmeal Dusted Calamari, Shrimp Shumai or Pork Belly Gyoza, or enjoy snacks such as Cheddar Biscuits, Chicken Liver Pate and Tamarind Beets. Feast on Wild Salmon, Korean Fried Chicken, Carne Asada and Mushroom Stroganoff. Close the meal with sweet treats including the Vanilla Waffle Ice Cream Sandwich, Thai Tea Panna Cotta, Strawberry Olive Oil Cake, Black Forest Skillet Brownie or a Loch Ness-ie Monster Float.
Build-your-own Old Fashioned and seasonal cocktails including the Lavender Margarita, Smoke Show (Mezcal, jalapeno lime, tajin), and Mountain Water (Rum, Curacao, mint, agave, lime, blueberry) are available for sipping anytime of day. An extensive beer and wine list, as well as fun mocktails – Boone's Bubbles, Jack's Jubilee and Layla's Lemonade – accompany Hearth and Hill's summer beverage menu.
The health of Hearth and Hill associates and guests is paramount, and the restaurant is committed to helping the community beat the pandemic. Thus, Hearth and Hill is faithfully adhering to all applicable Health Department guidelines and orders.
Summer hours are Monday-Thursday: Noon-8:30 pm; Friday-Saturday: Noon-9 pm; and Sunday: 10 am-8:30 pm. Reservations for either dine-in or dine-out options including take-out, free delivery, frozen items, farmers' bags, etc. are available on-line or by calling the restaurant at 435-200-8840.
Eat this now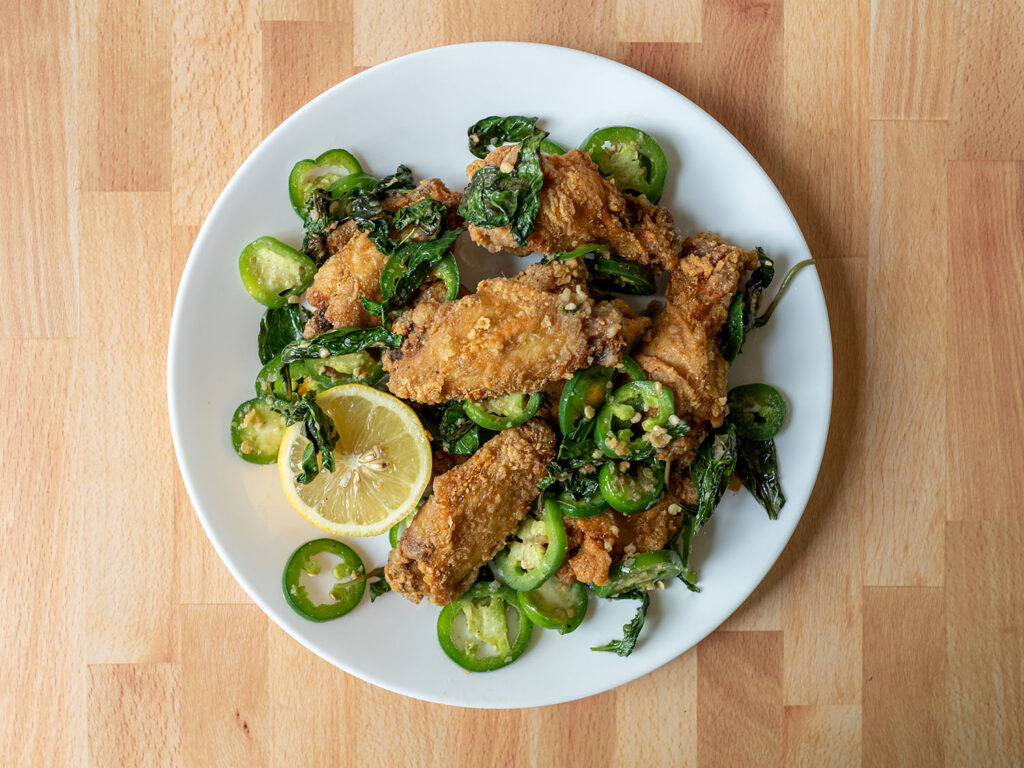 Looking for a plate to lift those lockdown blues? You've found it. I ordered this eight piece via Grubhub just recently, and they turned up perfectly packaged and crisp.
The wings come tossed in an inhalable mix of jalapeno, garlic and Thai basil; there's a judicious flurry of salt added after the frying too, which to quote the dude, ties it all together man. A bonus of anonymous app ordering is you can also select: extra garlic, extra Jalapeno and extra basil without having to look someone in the eye…
I'm not sure I've had a better wing experience…full stop. $12.50 for the eight piece for dine in/take out, expect to pay a little more on delivery apps.
2020 Park City Cocktail Contest now pouring
Another via press release:
Sixteen bars and restaurants are vying for this year's title. One vote may be cast per email address, per day, online on the PCARA website, www.parkcityrestaurants.com. You must be 21 years of age to participate.
"Adversity fuels creativity, so we anticipate this year's cocktail lineup to be the most innovative we've ever seen," PCARA executive director Ginger Wicks said. "Participants are excited for some friendly competition, and we look forward to reaping the fruits of their ingenuity and casting our votes."
The bartender or mixologist with the winning cocktail will earn a $500 cash prize, city-wide bragging rights, and will be featured in a marketing campaign leading into PCARA's popular fall "Dine About" event following the contest. New this year, the winner will also have the opportunity to create their own original Bartender's Box, a Top Shelf cocktail experience delivered right to your door. Equipped with fresh ingredients and helpful how-to videos, boxes include everything you need to prepare high-end, quality cocktails at home.
This summer's entrants include:
710 Bodega: Lavender Squeeze
Alpine Pie Bar: Thyme to Summit
Billy Blanco's: Mojo's Peach Sangria
Blind Dog: Blind Dog 22
Butcher's Chop House: Banh Mi Smash
The Eating Establishment: Smokey Paloma
Flanagan's on Main: Guinness Split
Grappa Italian Restaurant: Lavender Blueberry Lemon Drop Martini
Hearth and Hill: Dragonfly Rita
High West: Devil's Addiction
OP Rockwell: Park & Stormy
Royal Street Café: Tidal Wave Margarita
Silver Star Café: The Silver Star Spritz
More news around town
Hi, I'm Stuart, nice to meet you!  I'm the founder, writer and wrangler at Gastronomic SLC; I'm also a former restaurant critic of more than five years, working for the Salt Lake Tribune.  I've worked extensively with multiple local publications from Visit Salt Lake to Salt Lake Magazine, not least helped to consult on national TV shows.
I'm a multiple-award winning journalist and have covered the Utah dining scene for the better part of fifteen years.   I'm largely fueled by a critical obsession with rice, alliteration and the use of big words I don't understand.   What they're saying about me: "Not inaccurate", "I thought he was older", "I don't share his feelings".  Want to know more? This is why I am the way I am.
This article may contain content provided by one of our paid partners. These are some of the best businesses in Utah. For a list of all our current and past relationships see our
partnership history page
.