Rico Brand Foods face closure
News in this week that the popular Rico Brand Foods might be up on the chopping block soon. Rico's owner Jorge Fierro came to the US nearly four decades ago and has become something of a living legend in the local food community; not least for his range of prepared Mexican dishes but also his ongoing philanthropic work with various communities around SLC. I'm not sure how many of us (be honest now) could claim to have given more back than they've taken as Fierro has.
Fierro's core business is now at risk as the owners of his manufacturing location have requested he vacate by the end of August. In an interview with ABC4, Fierro spoke about increased sales of nearly 30% during the current pandemic situation, but with no new suitable home in sight – Rico's will have to shutter. With grocery shelf space so hard fought and won, any suspension in manufacturing could be the death knell to the eighteen year old business.
Fierro has started a petition asking that the owners of his currents space extended his lease by a measly two months to allow him just a little more time to move on to pastures new. Doesn't seem like a huge ask to me…
Rico's current plight echoes the recent closures of both Cafe And Hong and Sampan who also became embroiled in untenable rental situations. Meanwhile Ken Sanders has turned to Go Fund Me in the hopes of escaping his own.
Buffets open up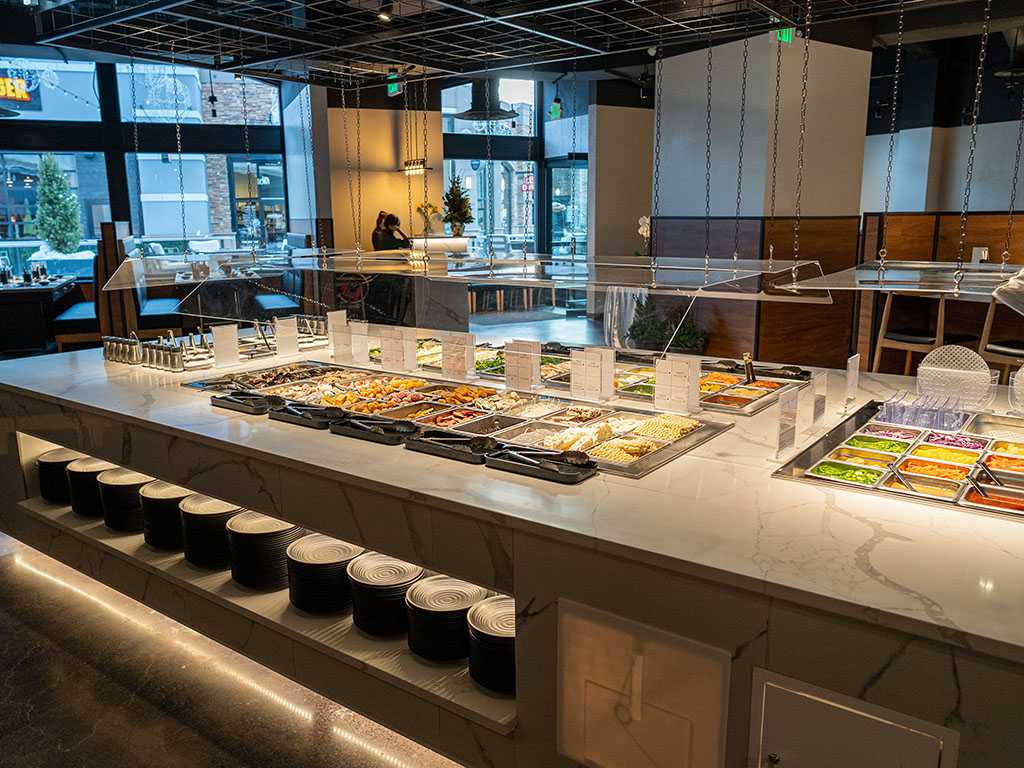 Also in the news this week, buffets are back in business for self service. Umm, yay? As you might know, until now buffets had to retool requiring staff to serve patrons. I wonder how that went, "yeah, err, um, just give me twelve shrimp, put them on some fried rice, noodles on top of that some marinara sauce and mix it up with some gravy. Oh and mashed potatoes on top please. Please don't look at me."
The recently revised rules for buffets now allow guests to get back to pigging out peacefully self service. The updated set of guidances for guests are as follows:
24-hour restaurants must close to clean twice per day
Utensils, cups, plates etc. must be provided by staff directly
None of these items can be offered self serve
Guests can now self-serve from food bars if hand sanitizer is used before entering the line for self service
Utensils in self serve areas must be replaced every 30 minutes
Face coverings mandatory in food serving areas
The complete new guidance can be found here.
Closures and openings
Cannellas – This venerable downtown Italian eatery has sadly had to call it quits. Current owner Joe Cannella spoke recently with the SL Tribune about the raft of 2020 issues, everything from earthquakes to pandemics. The business started 42 years ago by Cannella's parents will however by lived on in some spirit by the new Fratelli location in Sandy. Cannella also operates Taco Taco just a few doors down which will also continue.
The closure follows several other notable losses in recent weeks. Data recently released by Yelp suggests nationwide closures are up more than a quarter year on year. Hold onto your hats, forks, knives and spoons.
Meet Fresh – Now open for business in South Salt Lake's China Town complex – seriously take a walk around the block for five minutes and something new pops up here – this new Taiwanese drink and dessert spot. Meet Fresh is a national chain but the SoSL spot marks the first location in Utah.
Delicius – Over in the Tribune Kathy Stephenson recently wrote about this new family owned bakery coming to SLC's Jade Market downtown. Delicius is one of the proteges of the Spice Kitchen Incubator program and offers Venezuelan baked goods; the business is expected to replace the former Rosie's Deli in the market space.
Streusel – This previously Farmer's Market operated bakery is expected to hit the bricks and mortars soon. The business recently posted about an upcoming new spot over on Instagram.
BGR menu update
Three new burgers are hitting the menu board over at one of my favorite spots in Sugar House. The new items and their ingredients are as follows:
Lamb harissa – brioche bun, organic spring mix, feta cheese, lamb burger, cucumber, red onion, tzatziki
Wagyu truffle burger – brioche bun, home made 'Wellington black Truffle sauce', Kobe wagyu beef burger, blue cheese, mojo sauce
Bison chipotle burger – brioche bun, pepper jack cheese, bison & beef mix burger, black bean & corn salsa, mojo sauce
Read more over on their Facebook page. As ever BGR promises everything on the menu is hormone, antibiotic and steroid free. Everything's sustainably raised, responsibly harvested (and it has nothing to do with their ongoing support of GSLC) and I think it's telling in the taste.
More news
Helps us choose the best Utah restaurants!
Right now our 2023 Reader's Choice Awards are underway. We want your help in deciding the very best food and drink spots in Utah. This year we're taking a completely different approach as well. All we need is three names and 60 seconds of your time -> find out more and how to vote.
Keep the conversation going
Want to stay on top of the SLC food scene, minute by minute, dish by dish? Here are a few other places you should follow along:
Hi, I'm Stuart, nice to meet you!  I'm the founder, writer and wrangler at Gastronomic SLC; I'm also a former restaurant critic of more than five years, working for the Salt Lake Tribune.  I've worked extensively with multiple local publications from Visit Salt Lake to Salt Lake Magazine, not least helped to consult on national TV shows.
I'm a multiple-award winning journalist and have covered the Utah dining scene for the better part of fifteen years.   I'm largely fueled by a critical obsession with rice, alliteration and the use of big words I don't understand.   What they're saying about me: "Not inaccurate", "I thought he was older", "I don't share his feelings".  Want to know more? This is why I am the way I am.
This article may contain content provided by one of our paid partners. These are some of the best businesses in Utah. For a list of all our current and past relationships see our
partnership history page
.