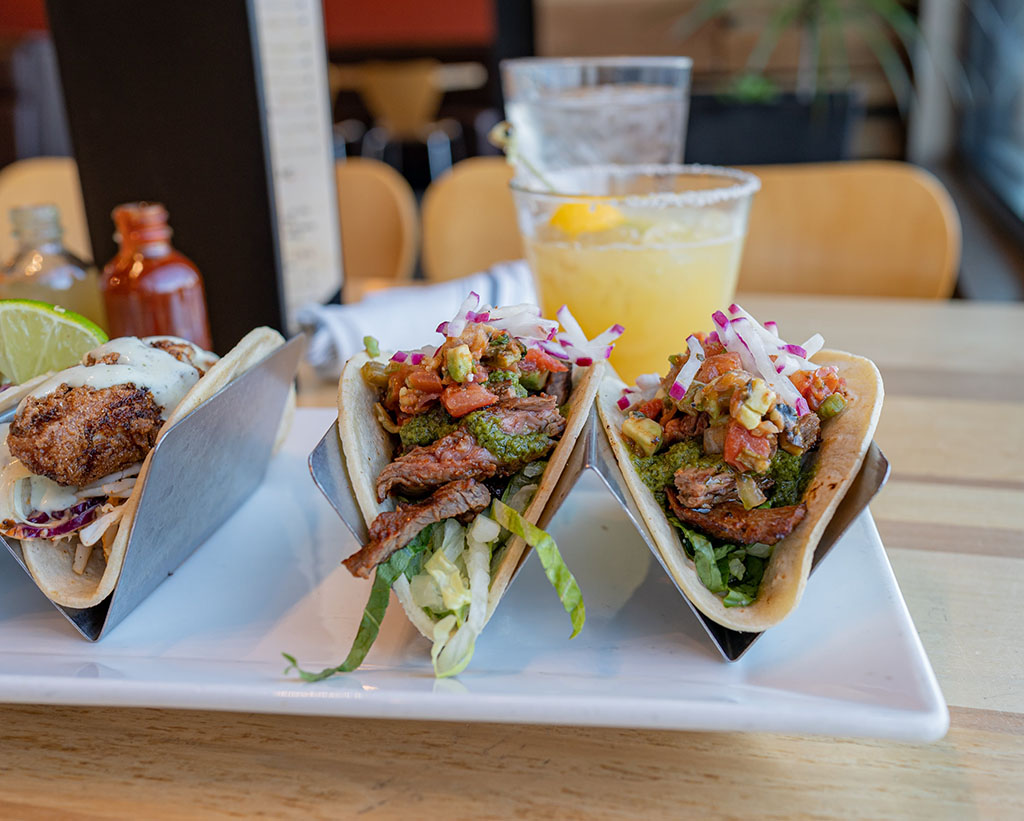 Curbside updates
As ever, be sure to check out our complete curbside dining list here. As well as that complete list here are all the recent updates and changes you might want to check out too:
Alamexo – A brand new menu for curbside pickup has rolled out at our favorite Mexican restaurant. Check out the full new menu here.
Beirut cafe – The Middle Eastern restaurant in Cottonwood Heights are now offering a curbside, option, more info. Here's the menu too.
Crown And Pitcher – The Murray bar is set to offer a brand new curbside option starting today. More info.
Elements Restaurant – Another new option, this one for those in Logan. Menu.
Nohm – The Japanese Izakaya styled eatery is now offering curbside, with a limited number of dishes to go. More info.
Taqueria 27 – We couldn't be more excited to share the news that the fabulous T27 are opening their doors once again. Starting today (Thursday 23rd) the Foothill location will re-open for take out, curbside and delivery.

Order at www.taqueria27.com, download their app or call (385) 259-0712. T27 Holladay will follow on Saturday 4-25, T27 Downtown on Monday 4-27, T27 Fashion Place on Tuesday 4-28 and T27 Lehi on Wednesday 4-29.
Veneto – Italian more your style? The award winning Veneto are offering an elaborate curbside menu including several family meal deals too. Here's the full menu.
Deals and specials
El Chihuahua – The Emergency Mexican Dinner kit from this Highland Drive favorite costs $30 and comes with 10 of the any one item (e.g. 10 burritos, 10 enchiladas…) plus rice, beans, chips and salsa. More info.
Kimi's Oyster house – With Mother's Day dining off the cards (at least for sit down restaurant dining this year) the Sugar House spot is currently offering a gift card deal;, so you can celebrate as things start to return to the new normal. The restaurant is offering a $10 bonus on all $100 gift card purchases.
Nomad Eatery – Walt to get fancy on your take out? This Friday and Saturday (24/25th) the restaurant is offering a NY strip "Prime Rib" take out dinner. The meal deal comes with horseradish, boulangère potatoes, creamed spinach, Caesar salad, and brownie sundaes. $20 per person. Also don't forget their margarita Thursday tonight too. $5 margarita pizza with every full price pizza. More info.
Red Rock Brewery – Multiple locations of the brew pub are still offering their entire menu at 50% off regular prices – available via curbside pickup. More info.
Saffron Valley – Find yourself missing a hearty Indian buffet lunch during lockdown? Saffron Valley's three locations have you covered with this new buffet to go option. More info.
Avenues Proper
It's hard to believe this restaurant is turning seven years old this month. Time hasn't just flew, its rocketed. Even harder to believe is that we can't all go hang out and celebrate with them in person. Nevertheless, you can still raise a glass at home this weekend – the restaurant is offering a celebratory birthday menu to mark the occasion – available for curbside pickup.
The three course meal is available Saturday 25th and Sunday 26th of April and is as follows:
Pork poutine, yellow cheddar, bell pepper, horseradish
Braised osso buco, cheesy orzo, brocollini, sun dried tomato compote
Lemon chiffon cake, Gorgonzola buttercream, berries
More info on their Facebook page.
Pago
Known for their popular wine dinners, 9th and 9th Pago are taking the whole shebang online this Saturday (April 25th). Scott Evans, owner and sommelier, will lead 'guests' through a fun and interactive wine pairing event at 7pm on Facebook.
Scott is pairing the Freghino wine from Agricola La Segreta in Umbria, Italy with Pago's 3-course braised short ribs + whipped potatoes + roasted vegetables meal. Follow along as Scott talks about why he selected this pairing and shares his tasting notes.
Purchase the meal from Pago – order online for curbside pickup. Purchase the Freghino wine from the DABC wine stores – search inventory here so you see how many bottles are available at each store (item #906908)

Or just grab a glass of wine of your own and join in with the casual conversation. Scott will answer live questions and give insights into how he selects wine, and what he looks for in wine pairings with food. Anyone can join in FREE (even if you don't order a meal)!
Park City restaurants offer discounts during virtual gallery stroll
This one courtesy of the Park City Area Restaurant Association…
While art lovers log in to view the first Virtual Park City Gallery Stroll on Friday, April 24, select members of the Park City Area Restaurant Association (PCARA) will provide a discount on their curbside pick-up menus. Park City residents can enjoy world-class art, paired with award-winning cuisine, right in the comfort of their own homes.
"We're excited to collaborate with the Park City Summit County Arts Council and the Park City Gallery Association and offer discounts at area restaurants during their first Virtual Gallery Stroll," said PCARA Executive Director Ginger Wicks. "Our dining community is making every effort to continue serving our most loyal patrons."
The following restaurants will be offering discounts from 15 – 25% for guests who use the discount code ARTS when placing orders on Friday, April 24:
Virtual strollers will certainly work up an appetite as they tour 12 of Park City's finest art galleries and entities via Facebook Live on Friday, April 24, from 6 p.m. – 9 p.m. Participating galleries include:
6:00 pm: Prospect Pop Up | Facebook Link
6:15 pm: Summit Gallery | Facebook Link
6:30 pm: J GO Gallery | Facebook Link
6:45 pm: Bret Webster Images | Facebook Link
7:00 pm: Kranstover Gallery | Facebook Link
7:15 pm: Meyer Gallery | Facebook Link
7:30 pm: Trove Gallery | Facebook Link
7:45 pm: Terzian Gallery | Facebook Link
8:00 pm: Gallery Mar | Facebook Link
8:15 pm: Timbre Art Loft | Facebook Link
8:30 pm: Kimball Arts Center | Facebook Link
8:45 pm: Friends of Ski Mountain History | Facebook Link
Park Silly Market 2020 cancelled
Writing on their website this week, the 2020 edition of the busy Park City market has been cancelled. Here's the full release:
After much thought and several weeks of discussions with our community of vendors and guests, along with the Summit County Health Department, we are sad to announce that we have decided to suspend the 2020 season of the Park Silly Sunday Market due to the impacts of Covid 19. As much as we all were looking forward to another Silly Season, we feel that prioritizing the health and welfare of our community, patrons and partners is the only decision that makes sense for this year. We are now planning for our 2021 season that will be even better and stronger than years past. Our hearts go out to all of our friends who have been impacted by the virus and for those who will lose income as a result of this pandemic.
For our vendors, we are committed to providing refunds to those who need them but we are also committed to keeping the Park Silly Sunday Market culture alive and thriving into the coming years. To this end, for any vendors that do not require an immediate refund, 100% of paid booth fees will be applied to any future dates in December and/or the 2021 Park Silly Sunday Market.
Other links
Bookmark these links!
Hi, I'm Stuart, nice to meet you!  I'm the founder, writer and wrangler at Gastronomic SLC.  I'm a multiple-award winning journalist and have written in myopic detail about the Salt Lake City  dining scene for the better part of seventeen years.
I've worked extensively with multiple local publications from Visit Salt Lake to Salt Lake Magazine, not least helped to consult on national TV.   Pause those credits, yep, that's me! I'm also a former restaurant critic of more than five years, working for the Salt Lake Tribune.    I'm largely fueled by a critical obsession with rice, alliteration and the use of big words I don't understand.   What they're saying about me: "Not inaccurate", "I thought he was older", "I don't share his feelings".
Want to know more? This is why I am the way I am.
This article may contain content provided by one of our paid partners. These are some of the best businesses in Utah. For a list of all our current and past relationships see our
partnership history page
.