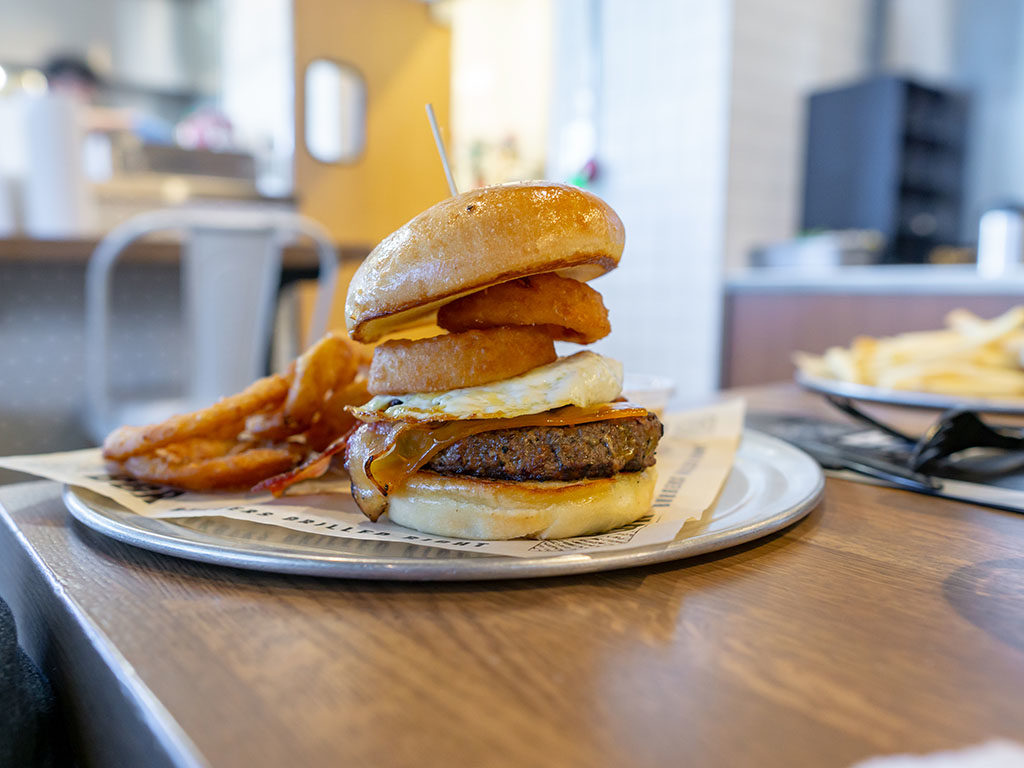 As I wrote about yesterday, we're changing things up. From here on out we're going to be covering updates from local food and beverage businesses – that allow you to safely support this industry during the current environment.
BGR Sugar House
Not only has one of the best places in town for a burger started offering curbside service, but if you want, you can also snag a free burger too! How? Simply text BGR to 43618 and download the restaurant's app. After your first purchase, the next one is free. I don't think you can say fairer than that!
Park City restaurant group donating funds
In an immediate effort to support employees in the wake of the Summit County Health Department ban on dine-in service that is effective today, March 15, Diversified Bars and Restaurants (DBR) will donate the proceeds of all gift card sales to its service staff family. Gift cards to DBR-owned establishments in Park City can be purchased online at No Name Saloon/The Annex, Butcher's Chop House & Bar, and Boneyard Saloon/Wine Dive. Given the loss of work during Park City's peak spring break season, the loss of income hospitality workers depend on will be a great hardship.
"We understand and accept the closures are essential to help stop the spread of COVID-19 and to protect our staff, customers, and community," acknowledges Jesse Shetler, Principal Owner of Diversified Bars and Restaurants. "Our family of staff members is legitimately concerned by the detrimental loss of income they typically rely on in March to get them through shoulder season. The outpouring of support from the close-knit Park City community is a massive source of comfort to them. We developed the gift card sale promotion as a vehicle for community members who are eager to help to do so, and we look forward to welcoming customers back when we can safely reopen, undoubtedly with additional protocols in place."
DBR is currently developing additional methods to support its staff. Meanwhile, the company is educating employees on how to stay healthy, offering guidance on how to work with their lenders and landlords to reduce payments, and providing healthcare-related resources.
"Our town has been through challenging times in the past, including September 11th and the recession that followed, and we always get through them stronger than ever. The generosity that our community is known for is crucial in helping small businesses and hospitality staff overcome this public health crisis," says Ron Wedig, Managing Partner of DBR.
Gift card deals
The best way you can support local small businesses right now is to spend cash. Of course, you might not be able to get out into the world right now, so why not buy a gift card? The restaurant gets crucial cash flow right now, and you get a great meal once we're through the worst of things. With that in mind, some businesses are offering deals right now:
Toro Toro – offering 10% bonus on gift card purchases. More info.
Afghan Kitchen – 15% off gift cards. More info.
BGR – 20% off gift cards purchased at the Sugar House location.
Butchers Chop House, No Name Saloon, Annex – all gift card purchase funds go direct to staff. More info.
Special deals
The following restaurants are all offering special deals to customers right now:
Arempa's – 15% off pickup orders. More info.
Red Butte Cafe – 10% off orders made online. More info.
Bawarchi – Get 15% off on your favorite Indian food. Valid on online & phone orders.
Other items
Copper Onion – offering family dinners to go. More info.
Este Pizza Sugar House – free slice of cheese or pepperoni pizza to kids until schools re-open. More info.
Hearth And Hill – offering a variety of family dinners for pickup curbside. More info.
Jurassic Tacos – to go tray includes 1.5lbs meat, corn tortilla, grilled onions, fresh toppings, $19.95. More info.
My Pie – work in the food service industry and need a break? This local pizza joint is offering industry employees a great $5 deal on 11″ pizzas. More info.
Nuch's Pizzeria – during school closures the pizza parlor is offering 50% discount on all lunch sized pizzas for kids under 19. There's also 50% off for college students on 12" pizzas with valid ID. More info.
Santo Tacos – offering a family meal deal called the La Caja. $19.99 includes rice, beans, toppings and meat, feeds four. More info.
YaBurned It – following along with one of my favorite blogs in town, Ashlee and Jason know how to cook, should be some great inspiration for home cooking here.
Bookmark these links!
Hi, I'm Stuart, nice to meet you!  I'm the founder, writer and wrangler at Gastronomic SLC; I'm also a former restaurant critic of more than five years, working for the Salt Lake Tribune.  I've worked extensively with multiple local publications from Visit Salt Lake to Salt Lake Magazine, not least helped to consult on national TV shows.
I'm a multiple-award winning journalist and have covered the Utah dining scene for the better part of fifteen years.   I'm largely fueled by a critical obsession with rice, alliteration and the use of big words I don't understand.   What they're saying about me: "Not inaccurate", "I thought he was older", "I don't share his feelings".  Want to know more? This is why I am the way I am.
This article may contain content provided by one of our paid partners. These are some of the best businesses in Utah. For a list of all our current and past relationships see our
partnership history page
.