DABC news
The debate around Thai Archer's limited service license application continued to rumble at the February DABC meeting. The commission has now formally concluded that the nearby Mc Kee Language School does meet the standard of a community location – this would ordinarily preclude a license for the business. A further meeting in March is set to be held as to whether Thai Archer would have instead qualified previously under the now nixed variance rule.
Also from last months meeting, Oak Wood Fire Kitchen in Draper re-secured their license. The DABC's Rob Hansen noted that the DABC believes "they will be good licensee going forward" and that the two months served without license since January 7th is "equitable punishment". Owner Michael McHenry noted the loss of license "most definitely put the viability of our business at risk", stating the business lost close to $30,000 of revenue from the license loss. Oak Wood's new license is active as of March 7th – head on down this Saturday and raise a glass.
Due to communication issues, Gura's Spice House (Salt Lake City) application for a limited service license was held over to the March meeting. The DABC noted concerns over management and training in light of past violations at the Herriman location, and seemed set to also engage a translator in the intervening month to ensure the business owner was fully aware of the situation and licensing conditions.
Full service licenses (beer, wine liquor)
Desert Bistro, Moab
Club Rio, Moab, conditional
Granary Bar & Grill, Monticello, conditional
Bricks, Salt Lake City, conditional
Limited service license (beer and wine)
Tamashi Ramen & Sushi Bar, American Fork
Arrabiata Restaurant, Ivins
Red 8 Asian Cuisine & Sushi Bar, Salt Lake City
Lucky Slice, Ogden, conditional
Nomad East, Salt Lake City, conditional
Bar licenses
One available license was up for grabs at the February meeting. Applicants contesting the precious included:
Redemption (Herriman), Grid City Beer Works (Salt Lake City), Calavera Cantina (Salt Lake City), Venus Club (Tooele), Heber Valley Brewing (Heber), Garage Grill (Herriman), Fox House (Salt Lake City ) and Fife Brewing Company (Salt Lake City).
The Venus Club in Tooele won by virtue of their time waiting for a license plus their location in a relatively underserved area (in terms of overall licensees). With one more license predicted to be available in March, and listening to the commission debate the merits of who gets what and when – my guess is Heber Valley Brewing will be in a strong position to secure the March license. Here's hoping the legislature relax the quota rules ever so slightly to remedy this ongoing madness.
Others
The Wing Coop in Salt Lake City secured a beer only restaurant license.
Restaurant closures and changes
Benji's Bar-B-Que Shack
This 24 hour BBQ business along State Street recently closed up shot, writing on Instagram as follows:
Benji's Bar-B-Que Shack is growing in a different direction. Time in the local community has been my mission since day one! It creates a much better client & customer experience, and it gives the people what they want. I love giving back to my community and making people smile with my food! There are tons of community projects Benji's Bar-B-Que Shack has not been able to be apart of and it has become very aggravating. The Utah community has not had the opportunity to experience what we really offer!
Benji's Bar-B-Que Shack is performing well above expectations, and is healthy. But a 24/7 business also means, no time! My health, family, and community has received the short end of the stick in this case. That doesn't sit well with me! With the recent acquisition of our food truck, we've seen an abundance of success with being mobile! Having the mobile unit will allow our footprint to grow much wider than we've seen since we've opened.
So, after weeks of discussions with the team, I've decided to close our State Street location and focus on Benji's Meals On Wheels. Thank You for the support of Benji's Bar-B-Que Shack and continue to follow us to stay updated on what we are doing. You don't have to come to us, we will come to you. The same delicious food, delivered to your doorstep… every time! Thank You!
Tinwell
This Salt Lake City bar also unexpectedly closed recently, simply updating their IG profile as follows with little by way of further detail:
RIP Jan 16' – Feb 20' a cocktail bar with big emphasis on tiki drinks, dance parties, and summer vibes. The party is over but the dream will never die
Long Life Vegi House
Reported via Facebook on February 7th and finally closing in recent days, the Millcreek stalwart of more than three decades has now temporarily closed their doors to the public. The owner of the restaurant space has sold the property to the city of Millcreek, presumably for the continued redevelopment of the city. Fear ye not! The business owners hope to bring back their wallet friendly vegetarian eats to a new location in South Salt Lake within the next 6 months. No word yet on exactly where.
Sampan
Speaking of long lived Chinese eateries, a reader also sent us this info from one of Sugar House's oldest restaurants.
Layers Cafe
Opening quite recently in November 2019, this Ogden spot is now reported as being closed.
Blue Marlin
Not closed, but huge changes afoot at this downtown Japanese spot. Reports came to me yesterday from multiple sources that the core culinary team behind the restaurant – Jerry Pacheco and Jake Wardle – have moved on from the business. Pacheco and Wardle's experience and talents were huge (Bambara and Tsunami respectively of late) and their expertise will undoubtedly be missed, and one would expect, mark a definitive change of menu and approach for the business.
George / Bar George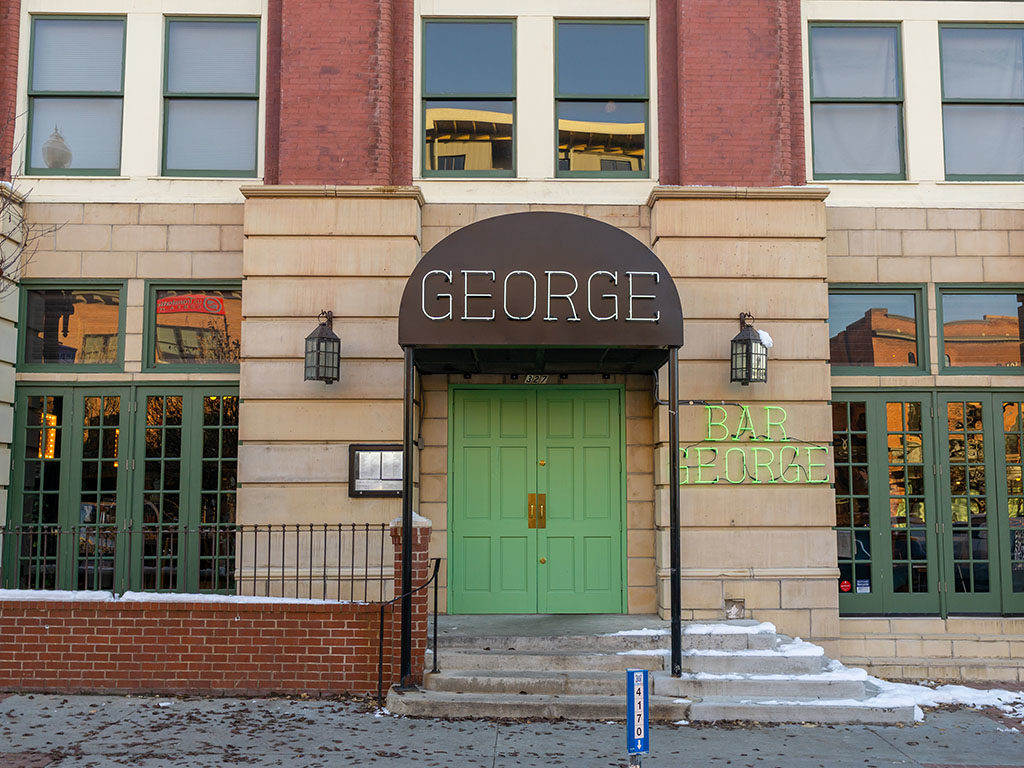 No official word form the business itself, but the downtown spot that was formerly Finca has closed to the public. The various areas of the George restaurant and the more cosy Bar George up front will live on as an event space, available for rent to the public too.
Flame Burger
The often praised Flame Burger is no more. I can't seem to find any formal announcement, but the space on 9th East that was once Scaddy's is next set to become a location of Gandolfo's.
Aloha Hale Aina
Similarly, no official word I could find, but this short lived Sugar House spot is now closed.
Tamales Tita
Now closed as a restaurant, you can still find TT's wares at farmer's markets as the weather gets better.
DABC deals
These wine and liquor deals came to us by way of Vine Lore, be sure to save a few dollars at the check out this weekend and through March in general!
Wines
Rutherford Ranch Sauvignon Blanc— regular $15.99 sale $10.99
Piattelli Malbec Tannat— regular $14.99 sale $11.99
Fat Bastard Chardonnay— regular $14.99 sale $11.99
Root 1 Cabernet— regular $14.99 sale $11.99
Predator Cabernet Sauvignon— regular $16.99 sale $13.99
Four Virtues Bourbon Barrel Zinfandel — regular $17.99 sale $14.99
Rutherford Ranch Chardonnay— regular $19.99 sale $14.99
Willamette Valley Whole Cluster Pinot Noir— regular $21.99 sale $18.99
House Wine Malbec Box 3000ML— regular $22.99 sale $19.99
House Wine Pinot Grigio Box 3000ML— regular $22.99 sale $19.99
Rutherford Ranch Cabernet— regular $29.99 sale $23.99
Spirits
Porter's Fire— regular $16.99 sale $13.99
Five Wives Heavenly Vodka— regular $17.99 sale $14.99
Porter's Huckleberry— regular $18.99 sale $15.99
Underground Herbal Spirit— regular $20.99 sale $16.99
Beehive Jack Rabbit Gin— regular $28.99 sale $24.99
Pasote Blanco Tequila— regular $39.99 sale $34.99
Log Haven turning 100
A quick reminder that Log Haven celebrates their 100 year anniversary this month. Log Haven was built in 1920, when a Salt Lake steel baron and Metropolitan Opera member, L.F. Rains created the breathtaking log hideway as an anniversary gift for his wife.
From March 20th through April 3rd, Log Haven invites guests to don your 20's attire and celebrate. There will be food and drink specials (in addition to the regular menu), 1920's décor, and a photo booth. Live music and dancing featured on the opening night (3/20) and the closing night (4/3).
Get set for St. Patricks Day
Head to the pictured Feldman's Deli if you want to get your corned beef on this St Pats. That's our number one pick for dining out this year – heck every year. If you're cooking at home though, Beltex Meats are now offering some fabulous corned beef. Here's the details:
Happy St. Patrick's Day! As usual, we will be brining brisket in-house to help you celebrate this holiday. We use our own house spice mix with fresh garlic and inject the brine directly into the meat every day for 21 days to ensure even flavor and tenderness. As always, these Idaho briskets are grass fed, grain finished, and antibiotic and hormone free. We will be selling our corned beef for $16/lb starting on March 14 until we sell out (don't forget, we are closed on Mondays!).
Beltex offers the following suggested cooking methods for that stellar product too. If you want to cook up some sides with that, check out these recipes from local grocer Harmons.
Other news
Opinion piece on the DABC:
https://dailyutahchronicle.com/2020/03/01/reese-self-sabotaging-dabc/
Is your favorite restaurant woke?
https://www.deseret.com/indepth/2020/2/23/21077389/restaurant-cafe-social-justice-ethics-the-battleground-roosevelt-coffeehouse-even-stevens
MacCools under new ownership
https://www.standard.net/lifestyle/food/maccool-s-under-new-ownership-looks-to-the-future-with/article_dc888658-e702-5db1-bbcb-98227ac669c4.html
Provo approves brewpubs
https://www.sltrib.com/news/2020/02/19/after-close-vote-provo/
R&R set for regional expansion
https://boisedev.com/news/2020/03/03/rr-bbq-boise
Utah brand enforces trademark
https://www.reporterherald.com/2020/02/20/mo-betta-gumbo-changes-name-under-pressure-from-utah-restaurant-chain/
Hi, I'm Stuart, nice to meet you!  I'm the founder, writer and wrangler at Gastronomic SLC; I'm also a former restaurant critic of more than five years, working for the Salt Lake Tribune.  I've worked extensively with multiple local publications from Visit Salt Lake to Salt Lake Magazine, not least helped to consult on national TV shows.
I'm a multiple-award winning journalist and have covered the Utah dining scene for the better part of fifteen years.   I'm largely fueled by a critical obsession with rice, alliteration and the use of big words I don't understand.   What they're saying about me: "Not inaccurate", "I thought he was older", "I don't share his feelings".  Want to know more? This is why I am the way I am.
This article may contain content provided by one of our paid partners. These are some of the best businesses in Utah. For a list of all our current and past relationships see our
partnership history page
.