All you can eat. It's a phrase that often sends a shudder down my snobbish-spine; quantity almost universally laying waste to quality. There's always an exception to the rule though and I'm happy to report Mr Shabu, one of The Gateway's newest restaurants, is just that.
Mr Shabu is the work of first time restaurateur Jaehan Park, not that you'd know by any means – the 5000 square foot dining space is as immaculate as the food is top drawer (more on that in a minute).
The menu is built around shabu shabu (it warms my hardened heart to know this translates to swish swish in Japanese), a popular Japanese hot pot cooking style. Owner Park coupled his love for the format with his day job (18 years experience exporting US meats to Asia) and the result is the remarkably modern re-imagining of the former Applebees that once lived in this spot – you'd never know it.
Mr Shabu offers an all you can eat experience built around hot pot cooking; amidst an ever increasing sea of Korean AYCE BBQ joints in the city, it's a refreshingly welcome change of cooking pace. Located on the lower level of the The Gateway's quickly revamping restaurant row (it's just below Bout Time) the seating in the restaurant is delightfully thoughtful. You'll find everything from six tops to single seat solo dining counter spaces.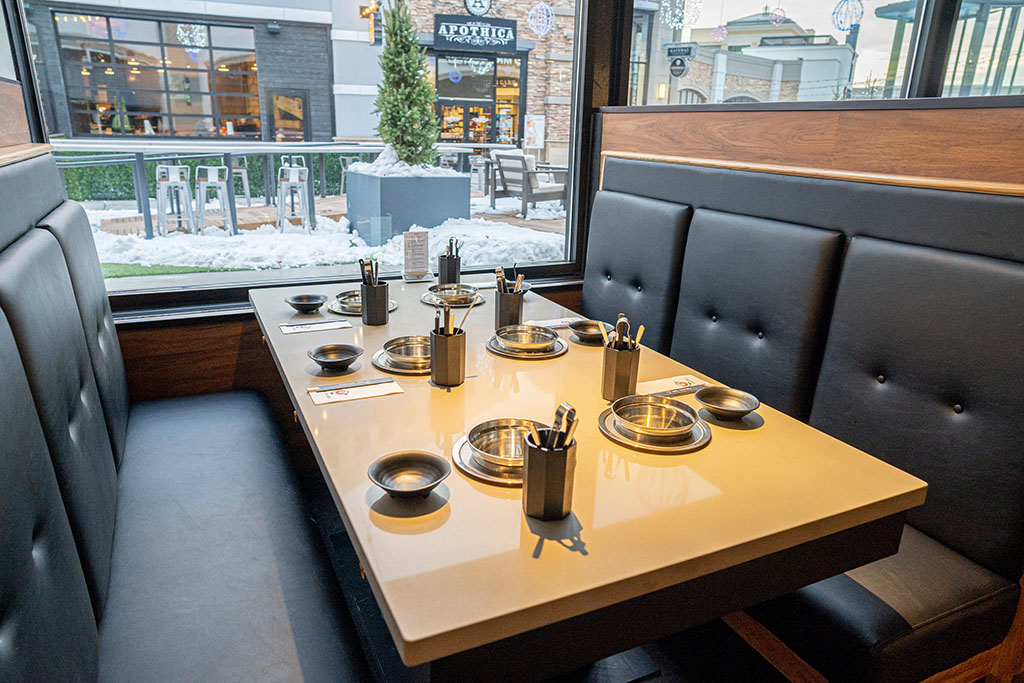 Each diner is provided their own personal cooking pot – controlled by a belly button height on/off switch and twiddly knob: 1 is a vague simmer, 5 is bubbling cauldron. With each diner in control of their own setup and tools they can dig in as they please. The private pots mean that carnivores and vegi-vores can dine side by side in happiness.
Proceedings begin with the appetizer section of the menu (again, all you can eat) that features a number of casual bites; karaage chicken, edamame, gyoza, cream cheese wontons, fries, cheese tonkatsu – or – an appetizer sampler that features the lot. The Japanese popcorn chicken (karaage) was my own personal favorite.
You won't want to waste too much time dawdling on the apps though (note there's a 2 hour time limit on dining at Mr Shabu), as you'll want to get to grips with the ample 'salad bar' as quickly as possible. The four sided setup features a bewildering bounty. There's an array of dried noodles, seafood, shellfish, vegetables, condiments; there's even a DIY spring roll station.
Side note: I skipped this particular part of the experience as I'd still be there now hamfistedly trying to make a single roll, some 24 hours later.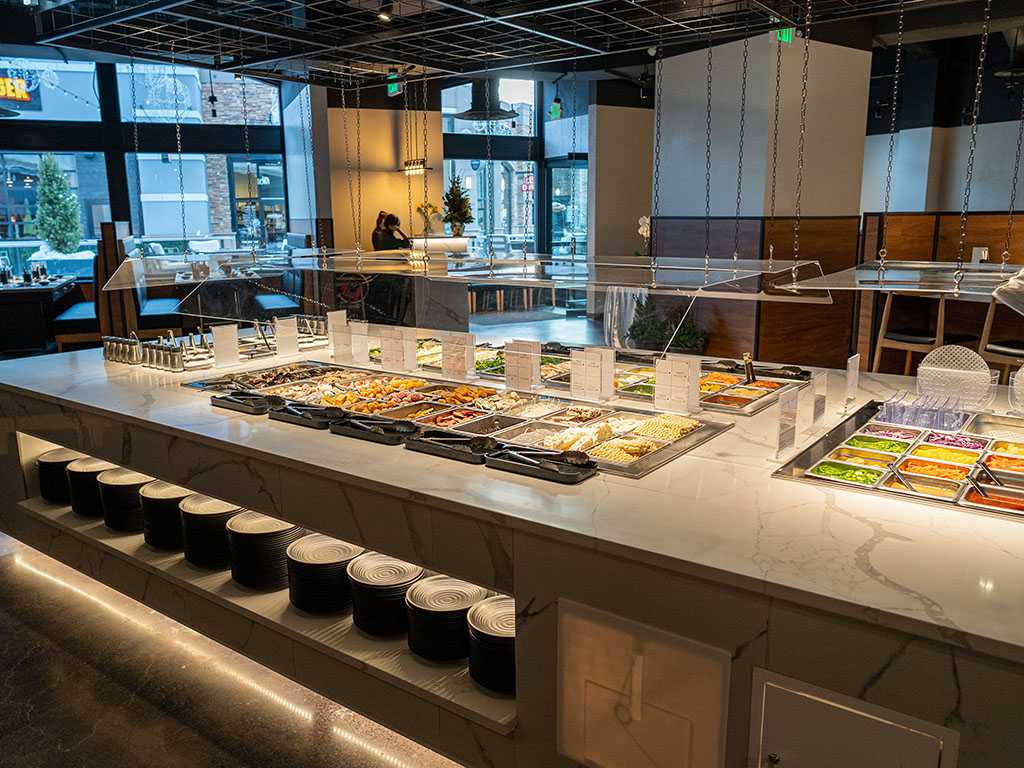 The above neon sign says it all, the generous help yourself bar leaps with imagination, freshness and quality. This ain't your sad old salad bar with a side of discount steak. Want mushrooms? Great! Would you like wood ear, enoki or king trumpet? Vermicelli, udon and ramen sit alongside konjac noodles for those hiding from carbohydrates. Even the condiment bar goes a little further than most. Sa cha? No, me neither. This funky blend of soybean oil, garlic, shallots, chili, brill fish and dried shrimp was great at spiking the table side broth with bold umami.
Which brings me to the broth. There are six different broths to fill your table side cooking pot with. Your server will bring them on request and top up as needed. They range form the mild to spicy and the meaty to the purely veggie based. And then, then we get to the meat; nine selections in total, all available by the literal press of a button via a table top system shown below. Meat is brought out platter by platter, and the staff are well drilled in explaining the nuance of each.
Order only what you intend to eat mind you, there's a five dollar surcharge for left over plates of meat. It'd be churlish to complain about this small menu footer note mind you, the meat is of such quality that it makes sense for the restaurant to demand some sanity from those with eyes bigger than their bellies – thankfully a problem I've never had.
Meat selections are prepared and presented as relatively thin cuts. The menu advises cooking for about twenty seconds as such. In particularly I found this style far more forgiving than Korean BBQ where you need to watch the grill like a hawk, lest you want a charcoal briquette. The slow simmer of the hot pot happily afforded a more languid and laid back experience.
The overall array of broths, fixings and meat is both dizzying and exciting. Should I cook everything piece meal, all at once, doused in this or that? Decisions decisions. In truth it wasn't until the end of my meal that I really started to get into my stride. Just another reason to come back to master the art of course.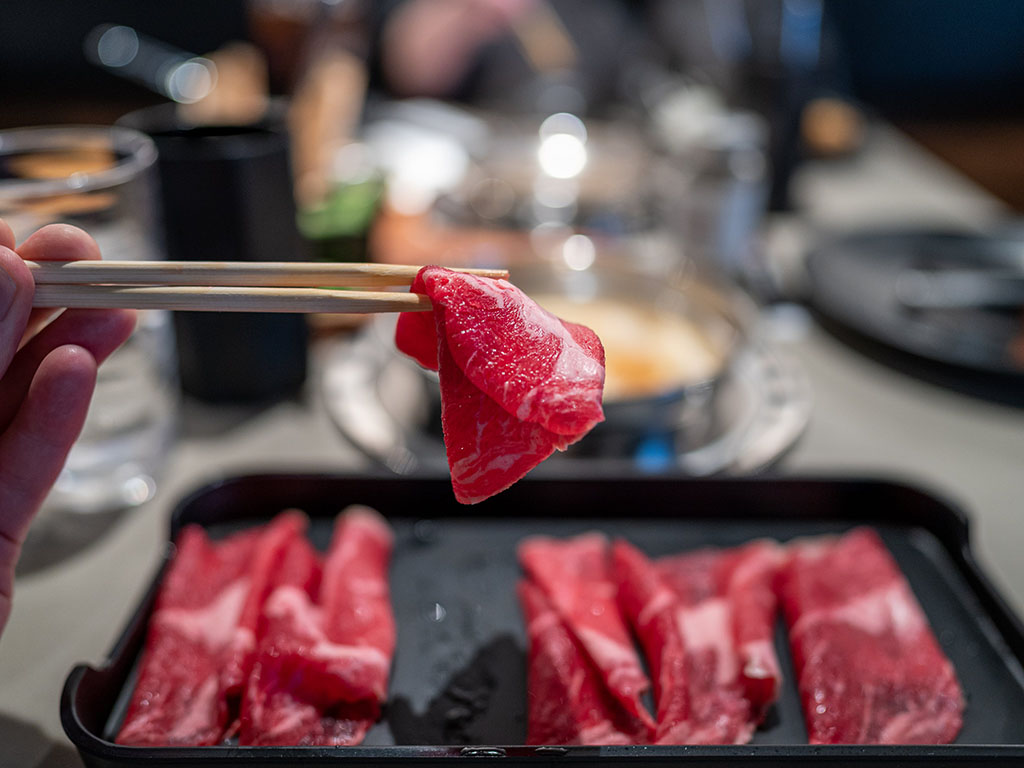 The restaurant provides a handy "how to shabu" card in the menu to help you get started but in reality there's no real right or wrong way. At least no one corrected me over my Frankensteinian concoction of sliced hot dog, lobster balls, ramen and kimchi. Scooped up into a small bowl, layered with medium rare wagyu and topped with a little chili oil and sa cha – well – that snowy December night just melted away.
Speaking of which, now's the perfect time to head down, if not only to beat the inevitable crowds that will be lining up out of the door soon but also to wander The Gateway after and take in the Christmas lights too.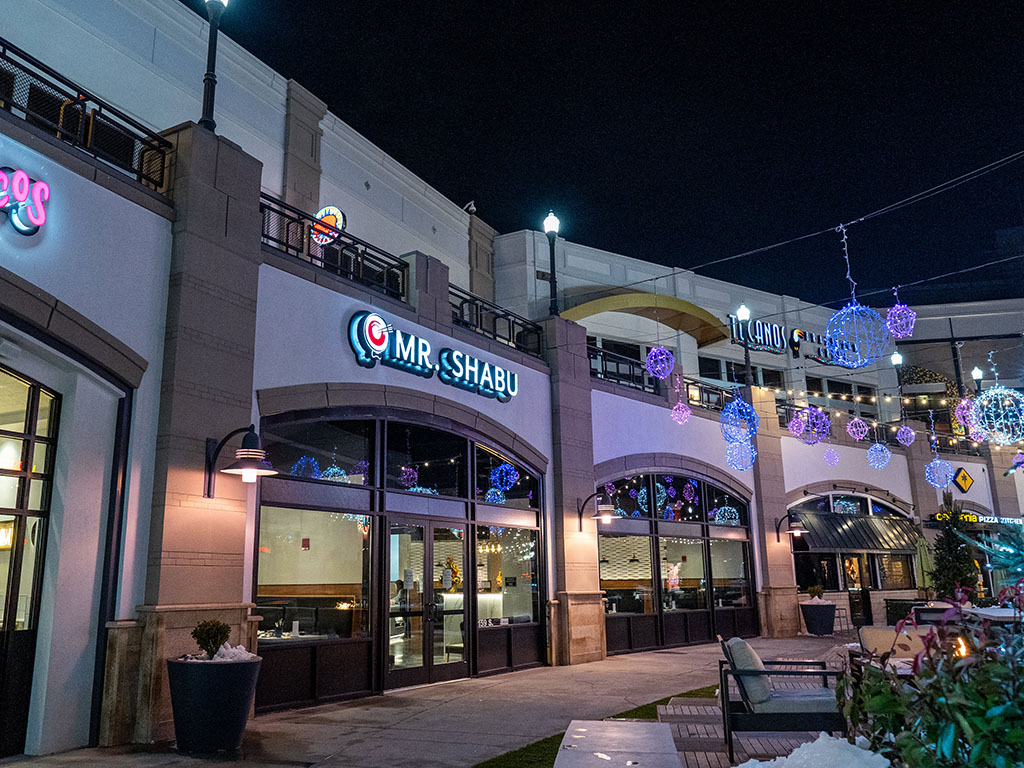 Mr. Shabu is located at 159 S. Rio Grande St, SLC, UT 84101 and costs are as follows (all you can eat):
Regular lunch $16.97
Vegetarian lunch $14.97
Kids (5-10) lunch $9.97
Regular dinner $24.97
Vegetarian dinner $19.97
Kids (5-10) dinner $12.97
Kids under four free at all times
Disclosure: I was invited to the restaurant free of charge to check out what's cooking boiling.
Maybe also check out
Maybe we can tempt you to something else delicious while you're here? Check out these other detailed guides, some of the most popular pages on our website:
Keep the conversation going
Want to stay on top of the SLC food scene, minute by minute, dish by dish? Here are a few other places you should follow along:
Hi, I'm Stuart, nice to meet you!  I'm the founder, writer and wrangler at Gastronomic SLC.  I'm a multiple-award winning journalist and have written in myopic detail about the Salt Lake City  dining scene for the better part of seventeen years.
I've worked extensively with multiple local publications from Visit Salt Lake to Salt Lake Magazine, not least helped to consult on national TV.   Pause those credits, yep, that's me! I'm also a former restaurant critic of more than five years, working for the Salt Lake Tribune.    I'm largely fueled by a critical obsession with rice, alliteration and the use of big words I don't understand.   What they're saying about me: "Not inaccurate", "I thought he was older", "I don't share his feelings".
Want to know more? This is why I am the way I am.
This article may contain content provided by one of our paid partners. These are some of the best businesses in Utah. For a list of all our current and past relationships see our
partnership history page
.