Feldman's Deli
If you've dined around SLC for any decent amount of time, you've undoubtedly found yourself gazing lovingly on something like the above, one of the many sublime sandwiches from Feldman's Deli. After settling your tab and departing in a state of bliss, perhaps your only complaint was the relatively muted opening hours.
Feldman's started life mainly as a lunch spot, but has been cautiously inching forwards through the years; the restaurant guided by a focus on consistent quality over rampant expansion (others might want to take note!). Starting October 1st the restaurant takes it's next step forward – expanding their hours to be open Tuesday through Saturday from 8 a.m.m through 8.30 p.m., for breakfast (until 10.30 a.m.), lunch and dinner!
Yep that means killer corned beef and pastrami five days a week, 12 hours a day. Let's all take a moment to pause and reflect on the ramifications of that, both in terms of our happiness and waistlines…
Indeed the new hours are handily just in time for the Jewish High Holy Days. Owner Michael Feldman kindly provided us with the following info on the upcoming celebrations and a little more about Feldman's as they enter their seventh year in business!
Michael Feldman: This time of year is the most sacred on the Jewish calendar, with Rosh Hashanah, the Jewish New Year, and Yom Kippur, the Day of Atonement, being celebrated Sept 30 –Oct 1, and Oct 9, respectively (with the holidays starting the evening prior to the day). It's our 10 days of penance, ending with the most solemn day, Yom Kippur. It's a time to reflect and a time to forgive. It's a time to be thankful and a time to refocus. A time to assess and a time to set new goals. But it is also a time to eat, and a time to fast. The New Year comes with the blowing of the ram's horn, and a feast.
The typical dinner served for Rosh Hashanah would be a filling meal, with Gefilte Fish, Chopped Chicken Liver and Matzo Ball Soup as starters, Challah or crusty Olive Bread, and melt-in-your-mouth Brisket, with carrots and potatoes. But tradition also required sweet dishes, as a lucky symbol for a "sweet New Year", so it is also common to see dishes like Ginger and Carrot Soup, Tzimmes (made with carrots, sweet potato, raisins and honey) or Apple and Raisin Kugel (noodle pie) sides, Beef Ribs with Fig/Wine sauce, or Honey-Glazed Chicken, and of course Honey or Apple Cake for dessert. And lest us not forget the wine!
For Yom Kippur, we typically fast for a day during our prayers for forgiveness, but we break the fast with a light meal, usually a nosh of bagels with many different spreads, like cream cheese, lox (smoked salmon) smoked whitefish salad, egg salad, chopped liver, hummus. My favorite was more exotic smoked fish, such as sable or sturgeon. But if my mother was too tired to cook, we'd run to our favorite deli, Harold's, and get a NJ Sloppy Joe Platter, with sides of potato salad, cole slaw and pickles…and be thrilled!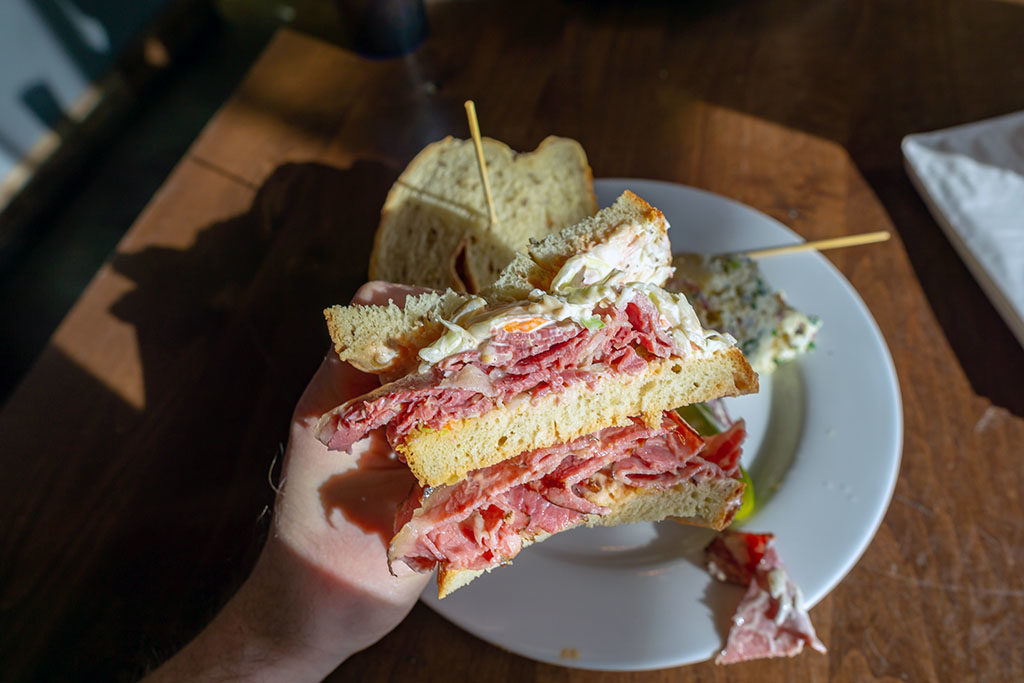 As the only authentic Jewish Deli within 500 miles, we at Feldman's Deli are thankful for the great support we have received from all the Salt Lake City and surrounding communities. This year, we are celebrating our 7th year in business. And we are announcing that we will be expanding our hours, starting Oct 1st , to be open Tuesday through Saturday from 8am through 8:30pm, for breakfast (until 10:30am), lunch and dinner.
As always, we will have live music Fri and Sat nights, 7-8:30pm. So come join us for the best Corned Beef and Pastrami west of the Hudson River, and enjoy our famous NJ Sloppy Joe Double Decker Sandwich, assortment of Reubens, Matzo Ball Soup, Potato Knish, or Bagel with a Schmear. We thank you for your business and look forward to serving you for years to come!
2005 E 2700 S, Salt Lake City, UT 84109
(801) 906-0369
feldmansdeli.com

Taste Of Holladay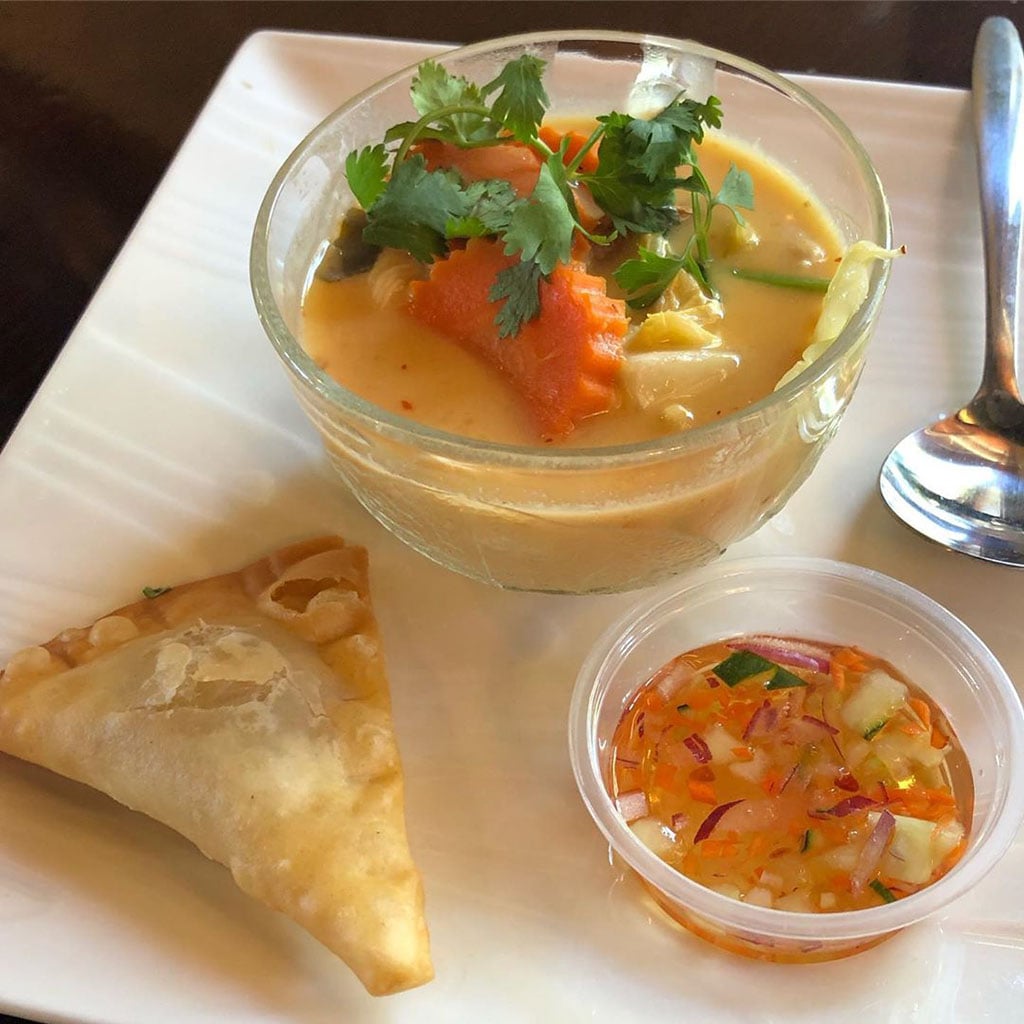 This brand new virtual food festival is currently underway, and at the time of writing you still have five days to grab a passport and get tasting. Passports are $25, delivered instantly to your phone, and you can get to tasting around Holladay stat. Note, these links are affiliate links, I get $5 if you decide to go and stuff yourself silly around Holladay. Aside from the filthy lucre I might get though, just look at the lineup and dishes, it's a steal:
Caputos Holladay – Caputo's sea salted chocolate chunk cookie
3 Cups – pick one: vanilla spice with house-made apple filling, authentic Mexican horchata gelato, or silky blood orange sorbetto
Auntie Rae's Dessert Island – Medium ice cream cup of dole pineapple ice cream (soft serve)
Cotton Kitchen – butter chicken
Cafe Trio – creamy parmesan polenta with garlic, onion and thyme mushrooms
Captain Lens BBQ – choice of 1 smoked baby back ribs or 2 smoked wings
El Sarten – pasta, burger and taco
FAV Bistro – curry puff & tom kar
Great Harvest – variety of breads and sweets throughout the day with quartered sandwiches during lunch hours
ICED – double scoop of gelato in a housemade sugar cone or single scoop of gelato in a bubble cone
Maize – tacos
My Pie – 1/2 order of garlic knots
Pig And A Jelly Jar – chicken and waffles
Narra Asian Bistro – flight through Manilla
Oh Mai Holladay – honey glazed pork sandwich
Cafe Madrid – fried calamari with garlic aioli
Real Taqueria – choose between meat and veggie taco
Roxberry Juice Co – choose either the iron strong green smoothie or the passion paradise smoothie
Sobe Eats – mini tostada bite: fresh guacamole , roasted potato and choose from 2 of our proteins – boneless short rib or slow roasted chicken
Summerhays – 1 piece of deep fried halibut
Suzy Thai Food – choice of small thai rice bowl
Taco Time – cinnamon crustos
Tandoor – food tasting
Taqueria 27 – 1 order of t27 chips and salsas (2 salsas)
I don't know about you but that sounds like a lot more value than a measly $25. You can purchase passports through September 20th when the event ends here.
Bonus giveaway! – We have one free Taste OF Holladay passport to give away to a reader! To enter first ensure you're subscribed to our newsletter. To formally enter let us know your favorite dish found on a Holladay restaurant menu in the comments below. We will pick a winner randomly from subscribed commenters first thing on Monday 16th.
Park City Fall Dine A Bout
Speaking of cut price menus, next up on the calendar is this dining deal event around Park City. Select restaurants will be offering two course lunches for $10 or $20 and set three course dinners for $20 or $40.
The event runs October 6th through 20th and participating restaurants have yet to be announced. More details via: https://parkcityrestaurants.com/specials-events/park-city-dine-about-returns.
Lumpy's Highland becoming Brickyard Bar
Ever stop by the venerable Lumpy's on Highland Drive? You might not recall it being the most spectacular dining experience. Time was there wasn't much more complicated cooking than frozen Sysco bags being deployed to deep fat fryers at this Millcreek sports bar – but that's all changing.
With the downtown location closed, the Highland Drive location is now under new ownership and set to rebrand as Brickyard Bar – following a fairly hefty remodel (see on Facebook). Here's the brand new brunch menu available right now, expect more to follow:
Also on the menu right now
BGR – Oktoberfest burger coming in October, Bratwurst, sauerkraut on a pretzel bun!
Blind Dog – buck a shuck oyster nights on Wednesdays. Link
Bill White Group – Fall dining value nights up in Park City. Link.
DaKine Grindz – celebrating one year in business. Link.
Best dining coupons in town
The following coupons are some of the most interesting / best coupons right now. Disclosure: some links may be affiliate links, eg Groupon, Restaurant.com, and we earn a small commission from each sale.
City Brew Tour – Nearly 30% off thus four hour guided tasting and tour of Utah brews.
Este Pizza – 40% off the popular Salt Lake pizza restaurant.
Itto Sushi downtown SLC – 38% off via Groupon. Fun sushi spot.
Kaze Sushi – 30% off this brand new Japanese restaurant in downtown SLC.
Maize Tacos – 30% off this downtown SLC taco restaurant on to go orders.
Ramen Legend – Sugar House Japanese spot, coupon valid for take out or dine in.
Keep the conversation going
Want to stay on top of the SLC food scene, minute by minute, dish by dish? Here are a few other places you should follow along:
Hi, I'm Stuart, nice to meet you!  I'm the founder, writer and wrangler at Gastronomic SLC.  I'm a multiple-award winning journalist and have written in myopic detail about the Salt Lake City  dining scene for the better part of seventeen years.
I've worked extensively with multiple local publications from Visit Salt Lake to Salt Lake Magazine, not least helped to consult on national TV.   Pause those credits, yep, that's me! I'm also a former restaurant critic of more than five years, working for the Salt Lake Tribune.    I'm largely fueled by a critical obsession with rice, alliteration and the use of big words I don't understand.   What they're saying about me: "Not inaccurate", "I thought he was older", "I don't share his feelings".
Want to know more? This is why I am the way I am.
This article may contain content provided by one of our paid partners. These are some of the best businesses in Utah. For a list of all our current and past relationships see our
partnership history page
.