Alamexo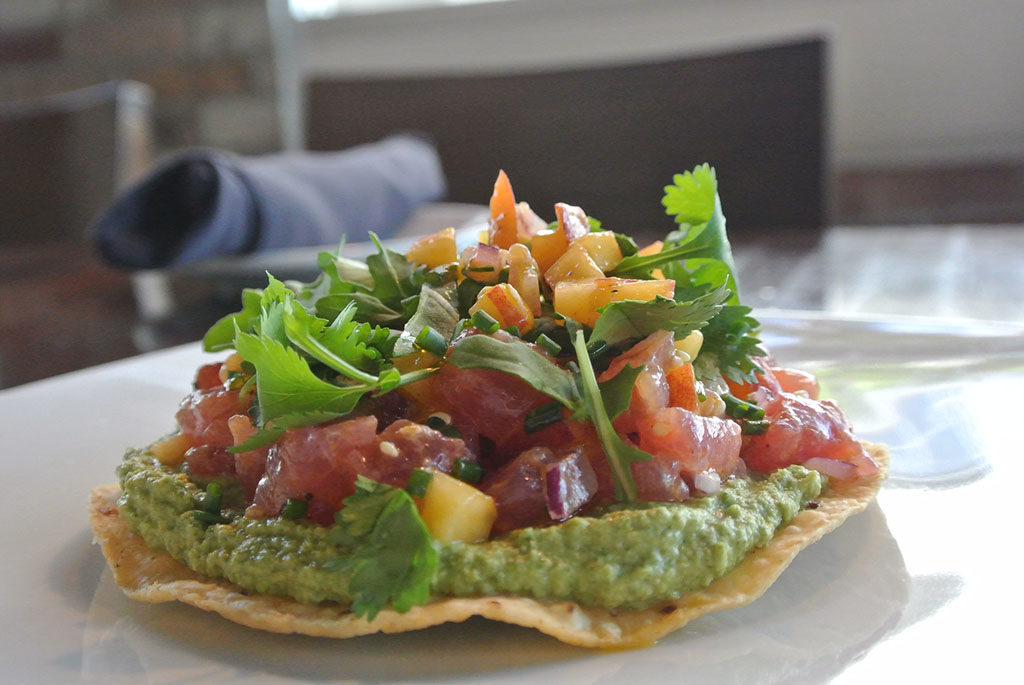 There's still a couple weeks left to check out the brand new menu at Alamexo (see below) and then it's all change again! Well, mostly changed… Starting August 1st the restaurant overhauled their menu – with a goal of printing a new menu each and every month.
On the first Thursday of every month diners will find a brand new menu featuring dishes that lean more heavily into seasonal product and inspiration. Expect the big customer favorites to remain, but alongside them, creative dishes that move with the season and produce available.
From speaking to the Alamexo team first hand I know how excited they are to stretch their creative legs each month with these new dishes. Happy chefs usually equates to fabulous dishes, just saying. Here's the current August menu: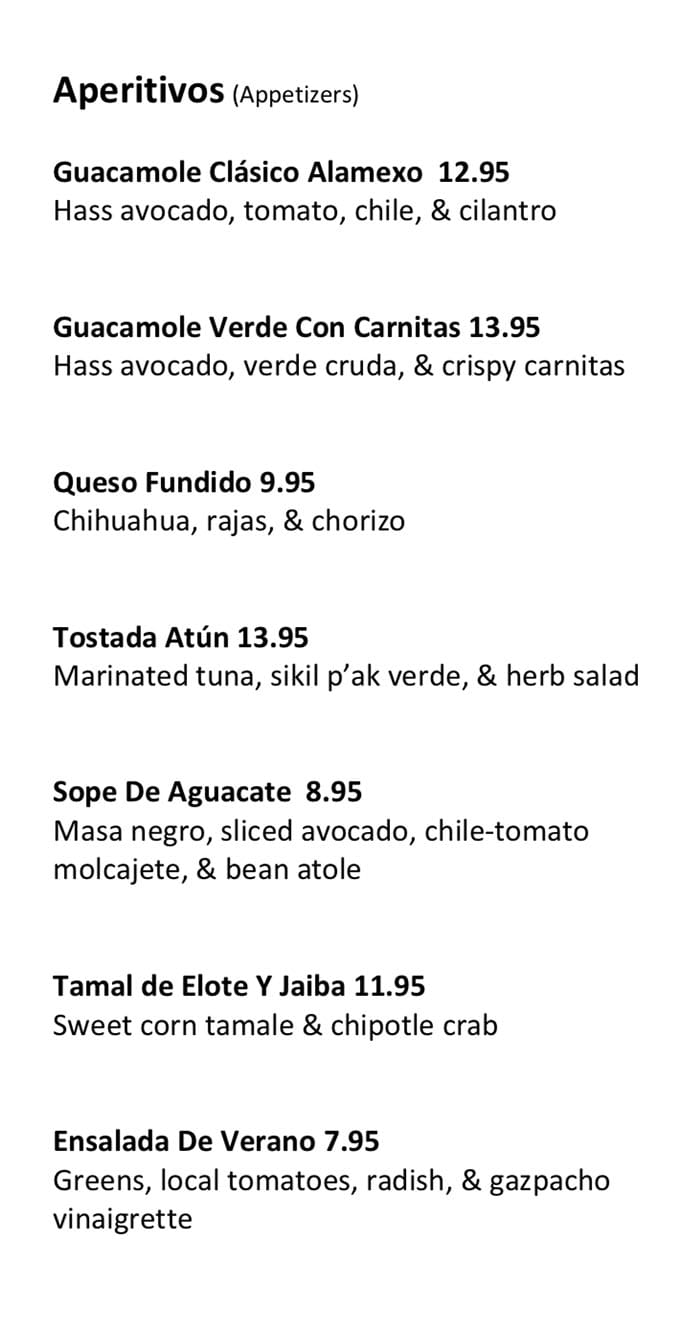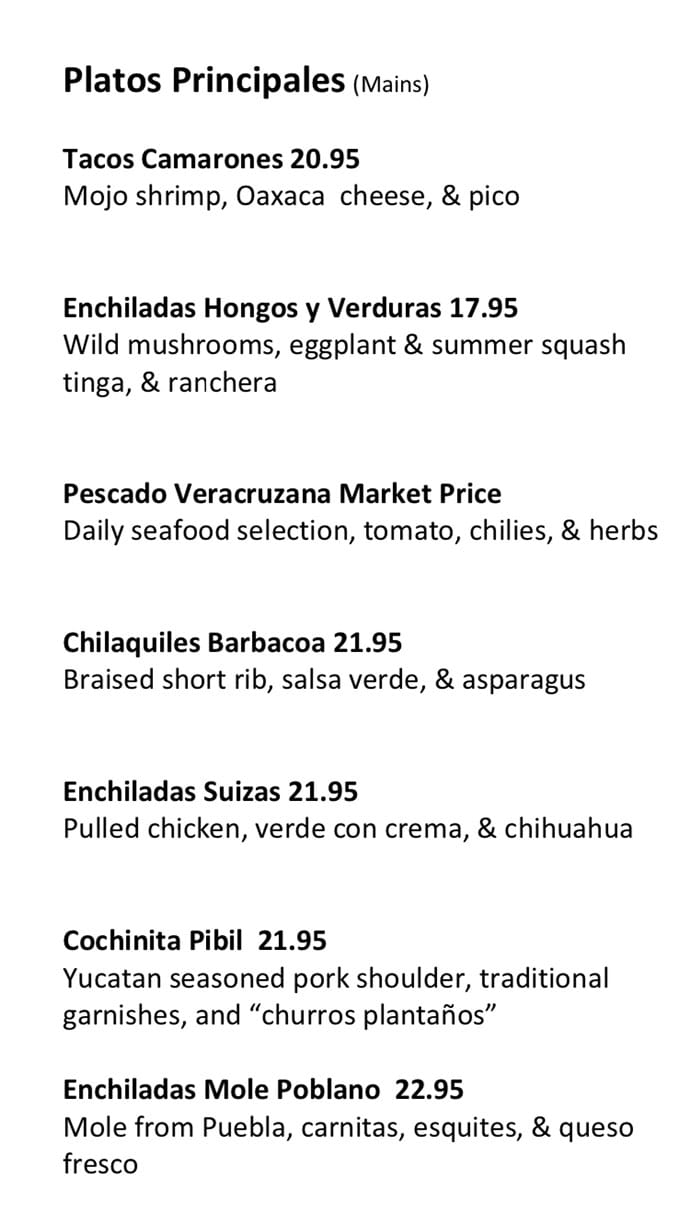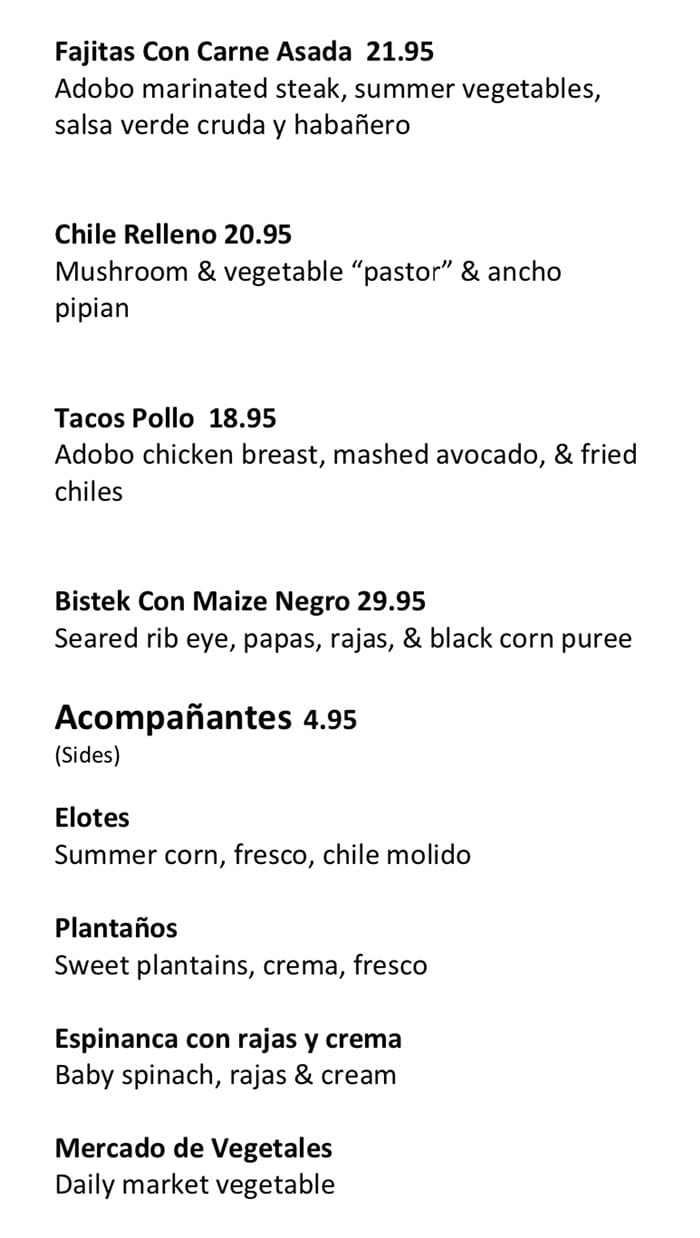 268 State St #110, Salt Lake City, UT 84111
(801) 779-4747
alamexo.com
Taqueria 27
A new drink menu is rolling out at all locations of this elevated taqueria. The update sees a particular focus on margaritas. Check out their Mezcal 'rita with ginger and grilled pear or maybe go classic with the house "Classic Margartia" made with our very own T27 Casa Noble Single Barrel.
Speaking of mezcal, keep your eyes peeled, the restaurant is planning a tasting dinner around this misunderstood spirit sometime around September. We'll have the scoop as soon as we know more.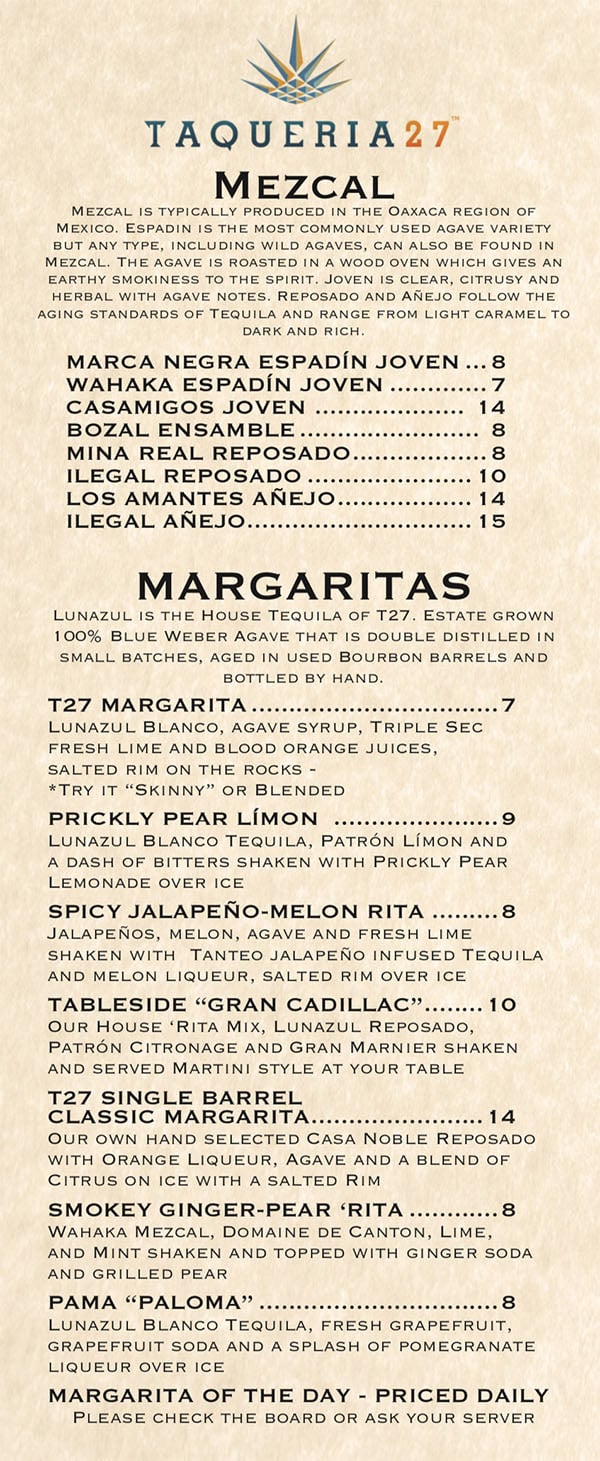 Foothill | 1615 S Foothill Dr., SLC, 84108 | (385) 259-0712
Holladay | 4670 S Holladay Village Plaza, Holladay, 84121 | (801) 676-9706
Downtown | 149 E 200 S, SLC, 84111 | (385) 259-0940
Murray | 6154 S. Fashion Blvd, Murray, 84107 | (801) 266-2487
Lehi | 1688 W Traverse Parkway, Lehi, 84043 | (801) 331-8033
taqueria27.com
Dishes to watch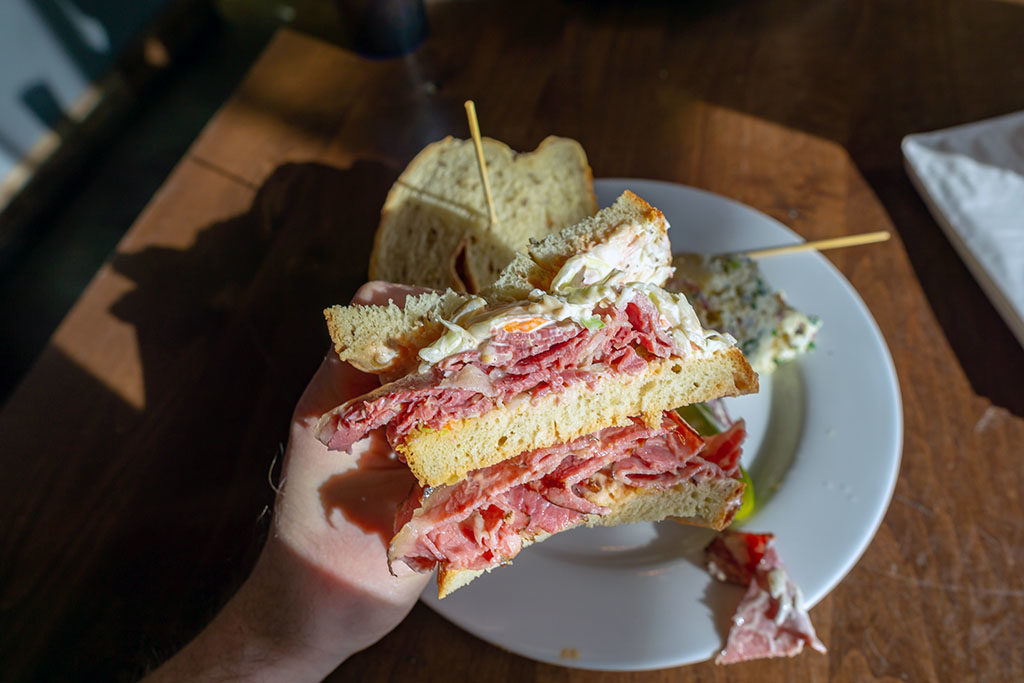 Feldman's Deli
This East side East coast deli now features turkey pastrami on the menu. Just ask if you want to upgrade any turkey sandwich for the extra smoke and spice!
BGR Sugar House
Every month at BGR sees something seasonal and special. With apples now in season, this month you can grab both the apple brie burger (link), and an apple pie shake (link).
Stanza
Looking for something new and fun downtown? Check out the new Flights And Bites menu at Stanza. The rotating tasting menu offers three small plates and three 2.5 oz wine pours for $30 (link).
Blind Dog Park City
Thursday nights are currently Lobster Night! 1 1/4lb Maine lobster are just $24 every Thursday.
Taste Of Holladay
A new tasting tour hits Holladay this coming September. Presented by the Holladay Chamber of Commerce, Taste of Holladay is a wallet friendly way to sample a range of local restaurants.
Tasting "passports" are delivered to your cellphone after purchase and are valid from September 7th through 20th. Simply present your phone/coupon at each of the participating restaurants and enjoy their small sample or tasting.
At the time of writing, participating restaurants featured include:
Caputos Holladay
3 Cups
Cotton Kitchen
Cafe Trio
FAV Bistro
Great Harvest
My Pie
Pig And A Jelly Jar
Narra Asian Bistro
Oh Mai
Cafe Madrid
Auntie Rae's Dessert Island
Real Taqueria
Taco Time
Tandoor
Expect more to be added before the event begins in September. Passports are priced $25 per person and can be purchased online here.
Midway Mercantile
Several new items have rolled out on an updated Summer menu at this Midway restaurant. Dishes as follows, notes provided by restaurant:
Summer Salad – A delicious blend of Rustling Aspen Farms organic greens and vibrant chive, a passel of fresh English peas, flavorful smoked salmon from Idaho, topped with our new basil-infused buttermilk dressing. And since it's summer, we offer the Rustling Aspen Farms upgrade on all our salads (except the Stone Hearth Caesar).
Scottish salmon Summer edition – we've taken our delicious Stone Hearth Roasted Salmon to a new level with the addition of fresh cherry-basil salsa, and a light yet hearty warm salad of orzo and einka farro, highlighted by fresh English peas and Rustling Aspen Farms roasted baby carrots and broccoli rabe.
Asian-style braised pork belly – this dynamite summer addition to our delectable appetizer line-up rests atop our smooth & creamy parsnip puree and is topped with a fresh scallion salad.
House special Summer pizza – We call it "The Sandy", after the valued employee who created it, and it's piled with ham, spicy Colosimo sausage, red onions, pineapple and for an extra kick, we've added jalapeño peppers. This incredible symphony of summer flavors harmonizes beautifully with our signature Mercantile basil pesto sauce.
If that's not enough, we've also added a Summer Scallop Special, the preparation of which will rotate based on available ingredients. No matter which way we serve it, the scallops are guaranteed fresh, briney and buttery. Call for a reservation or hit the button below to book your table online. See you soon!
99 E Main St, Midway, UT 84049
(435) 315-4151
midwaymercantile.com
Veneto
A new Summer tasting menu is now on offer at this SLC Italian restaurant. Focused on bright and clean flavors, the seven course degustation menu is priced menu $125 with wine pairings $90 extra. Menu as follows:
One
Patatine di biete rosse – homemade beet chips
NV Flor, Prosecco, Valdobbiadene, Veneto
Two
Crudo di capesante ai quattro sapori – four square raw scallop carpaccio experience with lemon+pink peppercorn / fennel+orange salad 25yr balsamic vinegar / polenta chip+fresh horseradish
2013 Scarbolo, Friulano, Friuli Venezia Giulia

Three
Vitello tonnato – thinly sliced veal in a tuna and caper sauce
2015 Valori, Montepulciano, d'Abruzzo, Abruzzo

Four
Linguine ai polipetti in salsa di pomodoro e rucola – linguine with baby octopus, san marzano tomato sauce, and rocket salad
2016 Brandini, Langhe Arneis-Viognier Coccinelle, Piemonte
Five
Sgroppino al Limone – midcourse lemon sorbet
Six
Orata – whole fresh sea bream baked with herbs and potatoes
2012 Zapuntel, Brunello di Montalcino, Toscana

Seven
Panna cotta al cappuccino – cappuccino panna cotta
2009 Bastianich, Friulano, Plus, Friuli Venezia Giulia
370 E 900 S, Salt Lake City, UT 84111
(801) 359-0708
venetoslc.com
Best dining coupons right now
The following five coupons are some of the most interesting / best coupons right now. Disclosure: some links may be affiliate links, eg Groupon, Restaurant.com, and we earn a small commission from each sale.
Sugar House BBQ – 35% off award winning BBQ
Ruth's Diner – 28% off at this fun Emigration canyon hotspot
Gura's Spice House – 40% off this brand new downtown Indian restaurant.
Itto Sushi downtown SLC – 38% off via Groupon. Fun sushi spot.
Kaze Sushi – 30% off this brand new Japanese restaurant in downtown SLC.
Oh Mai – 30% off at this fab Vietnamese restaurant, Sandy location only.
Del Mar Al Lago – 41% off this fab Peruvian spot.
Postmates – $100 in delivery credit from this restaurant delivery service.
Food talk
Want to discuss this post or the SLC food scene in general? Check out our Facebook group and come talk with other likeminded SLC foodies. Also follow along at Instagram for upto the minute local food news.
Hi, I'm Stuart, nice to meet you!  I'm the founder, writer and wrangler at Gastronomic SLC and The Utah Review; I'm also a former restaurant critic of more than five years, working for the Salt Lake Tribune.  I've worked extensively with other local publications from Utah Stories through to Salt Lake Magazine and Visit Salt Lake.
I'm a multiple-award winning journalist and have covered the Utah dining scene for more than a decade.   I'm largely fueled by Uinta Cutthroat, alliteration and the use of too many big words I don't understand.  I ate all the pies.
This site is 100% free of intrusive third party ads through the generous headline sponsorship by The Gateway - SLC's premier entertainment destination.
This article may contain content provided by one of our Partners or Sponsors. These are some of the best businesses in Utah. The current businesses we work with include:
Avenues Proper
,
BGR
,
Bourbon House
,
BTG Wine Bar
,
Caffe Molise
,
Cafe Niche
,
Campos Coffee
,
Current Fish & Oyster
,
Kyoto
,
Feldman's Deli
,
Log Haven
,
Oasis Cafe
,
Proper Burger
,
Proper Brewing Co
,
Saffron Valley
,
SLC Eatery
,
Stanza Italian Bistro
,
Taqueria 27
,
Whiskey Street
,
White Horse
.
For a list of all our past relationships and timelines, please see our historical partnerships page.