Bambara
Those delicious looking pictures you ask? They're from Bambara's first beer pairing dinner of the year, just over a
month ago
now. Devised and executed by the talented (sous chef) Jerry Pacheco, the dinner represented something of a more relaxed break for the restaurant. If you missed the first event, don't worry, the team are back for seconds; this time teaming up with local brewery Shades Of Pale. September 14th is the date for your calendar and the evening is once again impeccably priced at just $65; $40 for food, $25 for beer. The menu for the next pairing event is as follows: First * Bayley hazen bleu, prosciutto, melon, basil, * Cerberus Belgian Quadrupel Second * Pickled plum, jicama, mizen, ginger vinaigrette * Plum Berliner Weisse Third * Bagna cauda lavosh, bottarga, cucumber * Kveik Golden Sour Fourth * Camarones a la diabla, prawns, rice crisps, baby squash * Aphrodite Belgian Blonde Fifth * Espresso stout tiramisu * Sweet Dreams Imperial Porter
202 Main St, Salt Lake City, UT 84101 (801) 363-5454 bambara-slc.com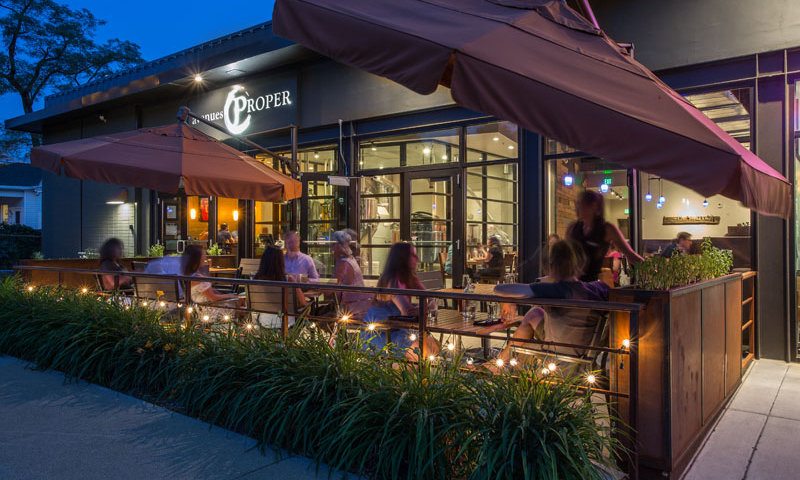 Avenues Proper
I hate to be the bearer of bad news, but patio season is almost over. Your favorite sunny spot is about to be covered in snow. Therein, al fresco fans should check out the last patio dinner of the year at Avenues Proper and bask in the last of the Summer sun on September 12th. Dinner starts at 7 p.m. and is priced at $70 per person; $40 dinner, $30 spirits pairings. Guests will enjoy a four course menu paired with selections from local distillers, New World Distillery. Call (385) 227-8628 for reservations, menu as follows: * Figs and gorgonzola, watercress, smoked walnuts, balsamic vinaigrette * Agave vodka martini * Thai red curry, charred peppers, purple potatoes, baby carrots, cilantro, lime * Rabbit & Grass Blanco / Wasatch blossom margarita * Lamb skewers, pearl onion, tzatziki, lemon herb rice * Oomaw gin * Apple spice cake * Rabbit & Grass Reposado
376 8th Ave, Salt Lake City, UT 84103 (385) 227-8628 avenuesproper.com
Meet Your Maker
This centerpiece event for the upcoming
Salt Lake Food And Wine Festival
is shaping up to look like something really special. The open air event held on September 15th seeks to showcase the best of local. Heritage breed lamb, beef, pork, trout and seasonal veg are set to be the stars of a wide ranging, locally-focused tasting menu. At the time of writing the following chefs and restaurants are signed on, with possibly more to come: Copper Onion – Amanda McGraw Fireside – Mike Richey Manoli's – Manoli Katsanevas Pago – Phelix Gardner Pretty Bird – Viet Pham Takashi – Takashi Gibo Table X – Nick Fahs Tin Angel – Jerry Liedtke Joining them will be Proper Brewing and Squatters pouring the sudsy stuff with Dented Brick, Beehive Distillery Sugarhouse Distillery and Vida Tequila serving libations in the VIP cocktail area. If wine is your thing, I'm told there will be 10 tables featuring some 80 wines from around the world drawing on the portfolios of all the local brokers you know and love – Vine Lore, Libation etc. Final details are still being worked out, I'll bring you more info as we receive it.
Tickets are on sale now, priced $100-$135
. Here's Scott Evans from Pago with a few more details:
Food talk
Want to discuss this post or the SLC food scene in general? Check out our
Facebook group
and come talk with other likeminded SLC foodies.
Hi, I'm Stuart, nice to meet you!  I'm the founder, writer and wrangler at Gastronomic SLC and The Utah Review; I'm also a former restaurant critic of more than five years, working for the Salt Lake Tribune.  I've worked extensively with other local publications from Utah Stories through to Salt Lake Magazine and Visit Salt Lake.
I'm a multiple-award winning journalist and have covered the Utah dining scene for more than a decade.   I'm largely fueled by Uinta Cutthroat, alliteration and the use of too many big words I don't understand.  I ate all the pies.
This site is 100% free of intrusive third party ads through the generous headline sponsorship by The Gateway - SLC's premier entertainment destination.
This article may contain content provided by one of our Partners or Sponsors. These are some of the best businesses in Utah. The current businesses we work with include:
Alamexo
,
The Angry Korean
,
Avenues Proper
,
BGR
,
Bourbon House
,
BTG Wine Bar
,
Caffe Molise
,
Cafe Niche
,
Campos Coffee
,
Current Fish & Oyster
,
Desert Edge Pub
,
Kyoto
,
Feldman's Deli
,
Log Haven
,
Oasis Cafe
,
Proper Burger
,
Proper Brewing Co
,
Saffron Valley
,
SLC Eatery
,
Stanza Italian Bistro
,
Taqueria 27
,
Vida Tequila
,
Vine Lore
,
Whiskey Street
,
White Horse
.
For a list of all our past relationships and timelines, please see our historical partnerships page.