With the ski season practically upon us, diner's hungry from a day on the slopes might want to look a little further afield than Park City's well trodden main street. Certainly, if my recent meal at Escala Provisions Company was anything to go by, it's worth the dining excursion.
This newest addition to the Hyatt Escala Lodge in the Canyons Resort is headed by executive chef Jesse McDannell. What first struck me about McDannell was his age. At just 31, to be heading up his own kitchen, in such a luxe setting, is surely no mean feat. Mind you, its easy to see why the powers that be believe in this talented young chef. McDannell has steadily risen through the ranks within the hotel group, working at nine properties in the past seven years; Escala Provision Company represents his first gig with his name on the menu.
Before Escala Provisions Company, the Escala Lodge did not operate a full service restaurant. The new restaurant now provides on site dining, convention catering and even room service. The remodel of the space is as you would expect from a hotel group with megabucks – quite the eye opener. From the open kitchen and smartly upholstered dining space through to the use of Utah's topographic profile in the decorative work – its a classy space (click images below for larger versions).
What impressed me more than the fancy trappings though was the handiwork of the chef at the helm. I'd imagine that in their own place of work, most folks promoted to leadership feel some pressure to prove themselves; in the context of a kitchen that might translate to misguided efforts to dazzle and wow, ultimately leading to overworked dishes. Thankfully McDannel's cuisine was focused and restrained; eyes squarely on the main ingredient with only a small smattering of supporting acts.
Both the restaurant and McDannel seem eager to embrace local producers. Indeed as a relative newcomer to Utah teh chef was visibly excited to spend time table side chatting about the great and good of Utah producers. The menu name checks a handful of local names right now, but I'd expect that to grow as McDannell gets increasingly settled.
Mind you, all that isn't to say there aren't some touches of flair and fun on the menu. An appetizer of Pan Seared Day Boat Scallops ($15) with citrus aioli and pear and sour cherry relish was excellent in my book. The perfectly cooked, sweet as you like scallops, were given just that extra nudge with a well balanced sweet and sour relish. McDannel's East coast roots were clearly on display with the Jumbo Lump Crab Cakes ($16) – two meaty cakes gussied up with a smoked jalapeno aioli, local greens and preserved lemon vinaigrette:
Of the entrees I sampled, I particularly enjoyed the Pan Seared Provo River Trout ($26). The dish was surprisingly generous with the locally farm raised fish sitting atop a heaping of crab and citrus cous cous, baby spinach, lemon and chive nage.
A Braised Willis Farm Lamb Shank ($28) was proudly declared Flinstone food by my dining companion Ryan, in the nicest possible way of course. Parmesan whipped potatoes, honey glazed carrots and a roasted shallots veloute meant it was a far fancier dish (and more tasty I'd wager) than anything Wilma cooked for Fred.
A Bone-in Pasture Raised Pork Chop ($28) was also a hefty piece of meat, happily cooked to desired temperature which even today many finer restaurants don't seem to want to offer. Chive and goat cheese polenta, swiss chard and whole grain mustard jus completed the dish.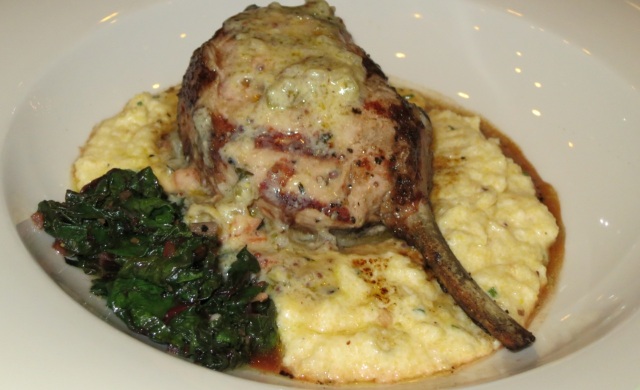 Desserts ($8 each) were solid, if perhaps somewhat pedestrian following the excellent preceding fare. Pictured below a Cranberry Brioche Bread pudding with vanilla bean anglaise and maple cream; a Seasonal Fruit and Berry Cobbler with candied citrus fruit (and vanilla ice cream not pictured).
For a full menu and prices click the image below, then the 'expand' button on the top right of the image: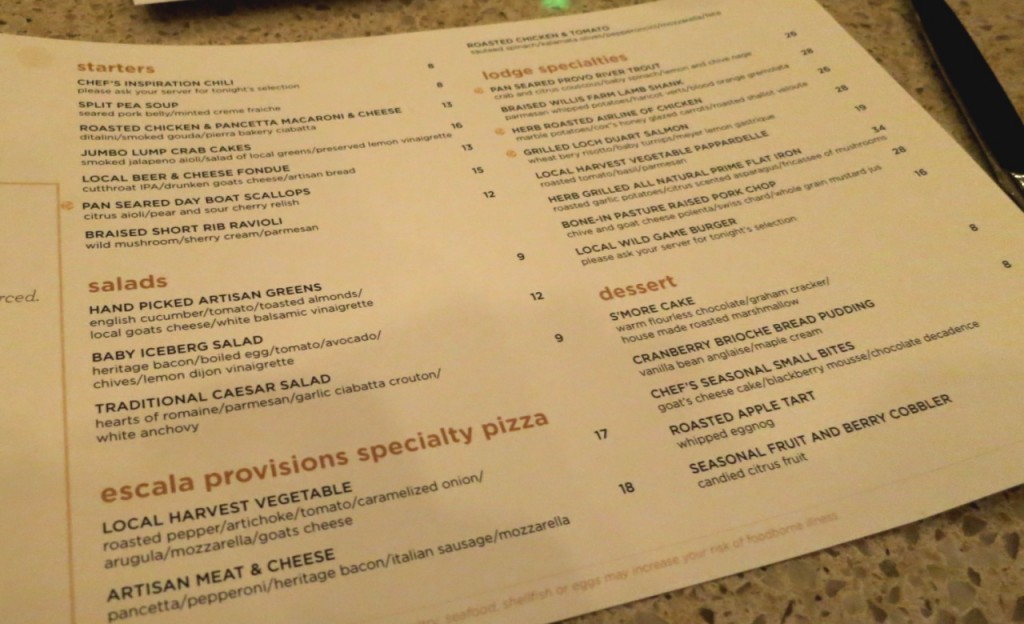 Disclosure: I was invited by the press agency representing Escala Provisions Company, to come check out their recent changes. As their guest, my meal and drinks were provided free of charge and I did not dine anonymously.
Hyatt Escala Lodge at Park City
3551 North Escala Court, Park City, Utah, USA 84098
(435) 940-1234
www.escalalodge.hyatt.com
Rating: 3 out of 5.
Hi, I'm Stuart, nice to meet you!  I'm the founder, writer and wrangler at Gastronomic SLC.  I'm a multiple-award winning journalist and have written in myopic detail about the Salt Lake City  dining scene for the better part of seventeen years.
I've worked extensively with multiple local publications from Visit Salt Lake to Salt Lake Magazine, not least helped to consult on national TV.   Pause those credits, yep, that's me! I'm also a former restaurant critic of more than five years, working for the Salt Lake Tribune.    I'm largely fueled by a critical obsession with rice, alliteration and the use of big words I don't understand.   What they're saying about me: "Not inaccurate", "I thought he was older", "I don't share his feelings".
Want to know more? This is why I am the way I am.
This article may contain content provided by one of our paid partners. These are some of the best businesses in Utah. For a list of all our current and past relationships see our
partnership history page
.