Evening dinner review
It was while reading through Anthony Bourdains "A Cook's Tour" that I was thoroughly introduced to the authentic Tapas of Spain. By that, I mean the somewhat romantic notion described in the book of wandering from place to place, never sampling more than a small plate of the house speciality and glass of wine in each eatery/bar, before heading to the joint next door and executing the plan over again. The process is repeated until one is stuffed to the gills; and in the case of Bourdain's jaunt, also decently inebriated. Both of which, seemed like an enjoyable way to spend an evening to me.
Here in the United States, the take on tapas is understandably different. The bar/restaurant hopping idea is obviously straight out the window. The Americanized experience focuses on the the small plate approach, featuring menu items more appreciable to local tastes. Here in Salt Lake City, it seems we can barely keep more than one or two small plate places in business at any one time. Panache and Zola are both only distant memories now. Martine and Cafe Madrid still carry the torch, but neither restaurant focuses singularly on tapas. You can imagine our delight then, when a month ago, we discovered Meditrina; whose tag line reads "small plates and wine bar". It didn't take us long to head on down there.
Meditrina is located in the former space of Mama's Southern Plantation (roughly 1300 South and West Temple). On the particular snow-blanketed night that we visited, we were the only two visitors. To be fair, the weather was truly atrocious, and only our devotion to good food and wine made us venture out that night.
The interior of Meditrina is comfortable yet trendy in design. The now ubiquitous modern restaurant pairing of exposed brick walls and wooden flooring serves as the template for the ambiance. A large blackboard advertises the nightly specials, and hangs above a comfy sofa, that looks perfect for sharing a nice glass of wine or three. Artwork (presumably by local artists) hangs around the room, which is also littered (in a non kitschy way) with numerous tea lights. Despite being the only diners that evening, we felt instantly relaxed and at ease.
After being thanked for braving the weather by the hostess, we were handed our menus and given a run down of the specials. First up was the booze. For alcoholic pairings the menu features 16 wines by the glass, 24 selections by the bottle, and a pleasingly diverse 14 beers. If memory serves, I settled on a glass of the Trapiche Malbec ($8). I should note I won't really be commenting at length on service during this meal. Although our server was nothing less than stellar, a proper comment would only be appropriate on a busier evening.
I can't quite recall who ordered what during the meal, and that really isn't the point. Half the fun of the small plates concept is choosing an array of food and stealing and sharing bites as the plates arrive. So in no particular order, here are the plates we tried.
Lollipop Lamb Chops ($10):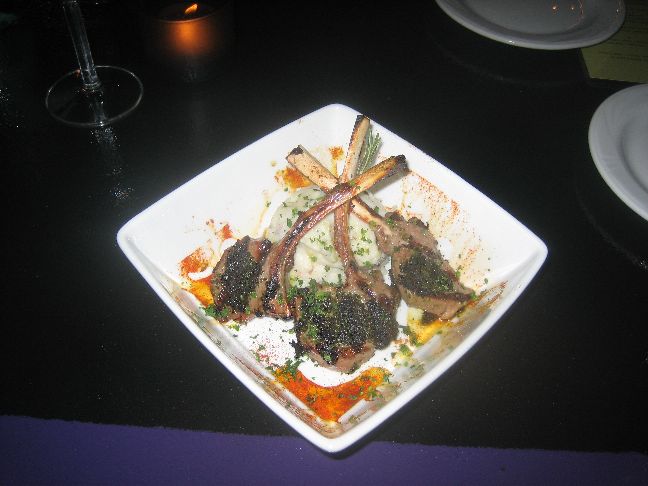 Three lovely frenched lamb chops were nestled atop a pile of garlic mashed potatoes. The lamb was not only cooked just right, but was also coated with a lip-smackingly rich smear of fresh herbs. The mash was pretty standard. A really great dish.
One of the several specials of the nights was the Ahi Tuna Poke Special ($forgotten!):
A popular feature of many contempoary sushi joint these days, this trendy concoction was as appetizing as any I have tried. Hearty morsels of Ahi tuna were packed into a martini glass, doused in a spicy yet light marinade, and topped with sesame seeds. Always a winner in my book. Wendi was a big fan of this one.
Crab Cakes ($9):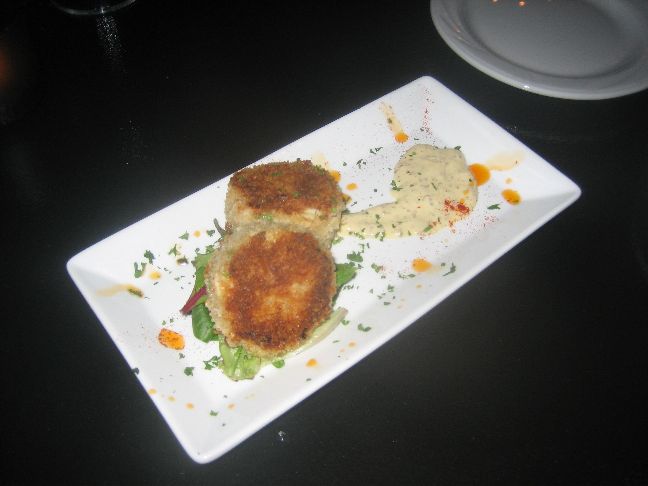 We both felt these were so-so. Not bad, not great, perhaps crab cakes are just getting a little tired now. Meditrina's crab cakes were a fairly standard affair.
The Curry Lime Prawns ($10) intrigued us both:
The pricing was a stretch for three prawns and some rice, but the plate was delicious. The curry sauce brought everything together, and was not overly strong. Another excellent little plate.
An Antipasto Plate ($11) brought together cured meat, local Beehive Cheese Co. Barely Buzzed cheese, olives, and bread:
A much more traditional Spanish dish was the Patatas Bravas ($5):
I can't say I have ever tried this dish before, but I don't think you can ever go too wrong with spuds and spice! The traditional preparation of this dish is to deep fry I believe, but these potatoes seemed to perhaps par boiled and grilled? Whatever their creation, the result was delicious.
We had enough room left to let our waiter reel off the nights desserts. Even though I was fascinated by the idea of the wine-soaked Oreos he described, we both agreed to share a Pear Creme Brulee ($7):
In my opinion, the pear was a great addition, lending a hit of flavor and interest in what can be a somewhat tired dessert. We finished every last bite in what seemed like seconds. Indeed, my only gripe was that the serving was on the small side.
Overall, we both felt this was a very good meal. I should note that for a full dinner, those small plates will soon add up. Three plates per person would be respectable for dinner, and before wine that will probably set you back around $30. Dinner for two, with dessert and wine could easily top the $100 mark (as our meal did).
The only extra thing we could ask for would be the presence of some other diners. We both commented what a great lift some additional buzz and atmosphere would give to the dining space. I could happily see this place as a perfect after work drop in, for a glass of wine and snack, or equally as a romantic night spot.
Quite often one hears people say they don't want to let the secret out about their favourite restaurant, for fear of the crowds taking over. In the case of Meditrina I have been espousing its charms to anyone who will listen. It remains to be seen whether SLC diners are prepared to embrace the idea, especially in the current economic climate. I for one, really hope they do.
Meditrina
1394 South West Temple, Salt Lake City, 84115, Utah
(801) 485 2055
Website: http://www.meditrinaslc.com/
Hi, I'm Stuart, nice to meet you!  I'm the founder, writer and wrangler at Gastronomic SLC.  I'm a multiple-award winning journalist and have written in myopic detail about the Salt Lake City  dining scene for the better part of seventeen years.
I've worked extensively with multiple local publications from Visit Salt Lake to Salt Lake Magazine, not least helped to consult on national TV.   Pause those credits, yep, that's me! I'm also a former restaurant critic of more than five years, working for the Salt Lake Tribune.    I'm largely fueled by a critical obsession with rice, alliteration and the use of big words I don't understand.   What they're saying about me: "Not inaccurate", "I thought he was older", "I don't share his feelings".
Want to know more? This is why I am the way I am.
This article may contain content provided by one of our paid partners. These are some of the best businesses in Utah. For a list of all our current and past relationships see our
partnership history page
.