Indecisiveness and procrastination combined are a killer. You know the kind of night. Too lazy to cook at home, too tired to go out and eat. Sitting in a crowded restaurant for an hour and upwards is the last thing you want. All you want is to grab something; and you want that something as fast as possible. Take out it is then. On many occasions one of our favourite solutions to the problem is Mad Greek. Fast, cheap, filling and a much more appetizing proposition than the array of McBurgerChickens that line the valley.
Mad Greek serves up all the standard Greek fare one would expect: gyros, souvlaki, lemon rice, dolmathes etc. The menu at Mad Greek is somewhat more eccentric and extensive than most. Other reasonable options include burgers and salads. Things get vaguely stranger with meatloaf, fish and chips and spaghetti. I'd proclaim the style Greek-American, if it weren't for Chicken Teriyaki also making an appearance.
Whatever the unifying menu theory (and i'm not sure there is one), there seems to be something for everyone here. For us, we stick to the Greek specialities. My favourite being the iconic Gyro. Ground lamb, seasoned and cooked slowly on a rotisserie until mouth wateringly tender. Served, wrapped in a pitta and topped with tzatziki sauce, onions and tomatoes. The Gyros at Mad Greek are my personal favourites to date (in Utah anyway).
On a recent take-out expedition I was feeling slightly piggish and bought a few things. Below is my order of the Classic Gyro ($4.35), Chicken kabob in pitta ($3.25) and rice pilaf ($1.45):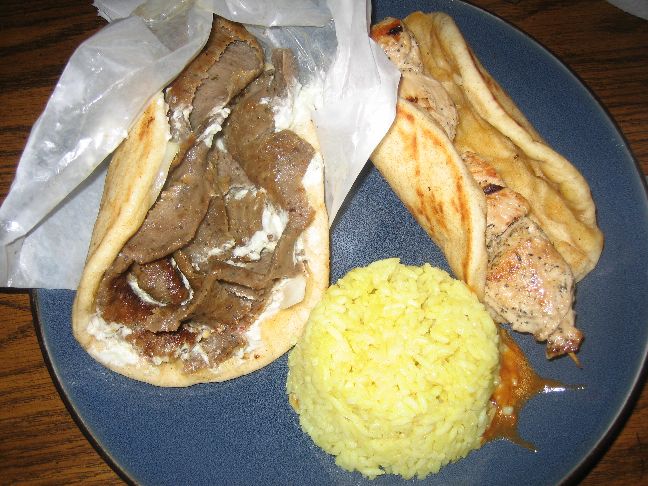 As ever, the Gyro didn't dissapoint. Exceptionally flavoursome and not the least bit dry (unlike some other places). The pitta also is worthy of note Warm, fluffy and light. The chicken was very competent, again cooked well and not dry. The rice was less to write home about being at most functional. The gyro and kabob would have been more than enough by themselves.

Wendi went for the far healthier and lighter Chicken Breast Salad ($6.45):
This also comes with a slice of garlic bread to boot. I'm told the salad was nice and fresh. The salad featured the same tender chicken as my kebob.
All locations have drive through for those ultra-lazy take out nights. From our experience the staff are friendly and the food comes fast. I cannot speak for the non-Greek offerings, but for Greek fast food I can find no fault. Their specials (Mon-Sat 2-9pm) also offer excellent value: 1 chicken kabob with rice, salad, garlic bread, rice pudding and 22oz drink comes in at a wallet-friendly $6.45. Next time your feeling the need for something fast and filling, check out your local Mad Greek.
Mad greek can be found at several locations in the valley:
50 E 2100 S, Salt Lake City, UT
4500 S. 900 E. Salt Lake City, Utah
12300 S. 600 E. Salt Lake City, Utah
4700 S. Redwood Rd. Salt Lake City, Utah
5400 S. 3965 Salt Lake City, Utah
This site is 100% free of annoying ads through the generous headline sponsorship by The Gateway - SLC's premier entertainment destination.
This article may contain content provided by one of our paid partners. These are some of the best businesses in Utah. The current businesses we work with include:
For a list of all our past relationships see our
historical partnerships
.