Sometimes a lighter bite is all you want. Sometimes…if you're like us…you want tons of lighter bites in a tasting tour all over town. Who wants to settle on just one entree! If you're in the mood for something smaller check out this following list; some of our favorite small plates in Salt Lake City.
Fried Mormon Funeral Potatoes – Garage On Beck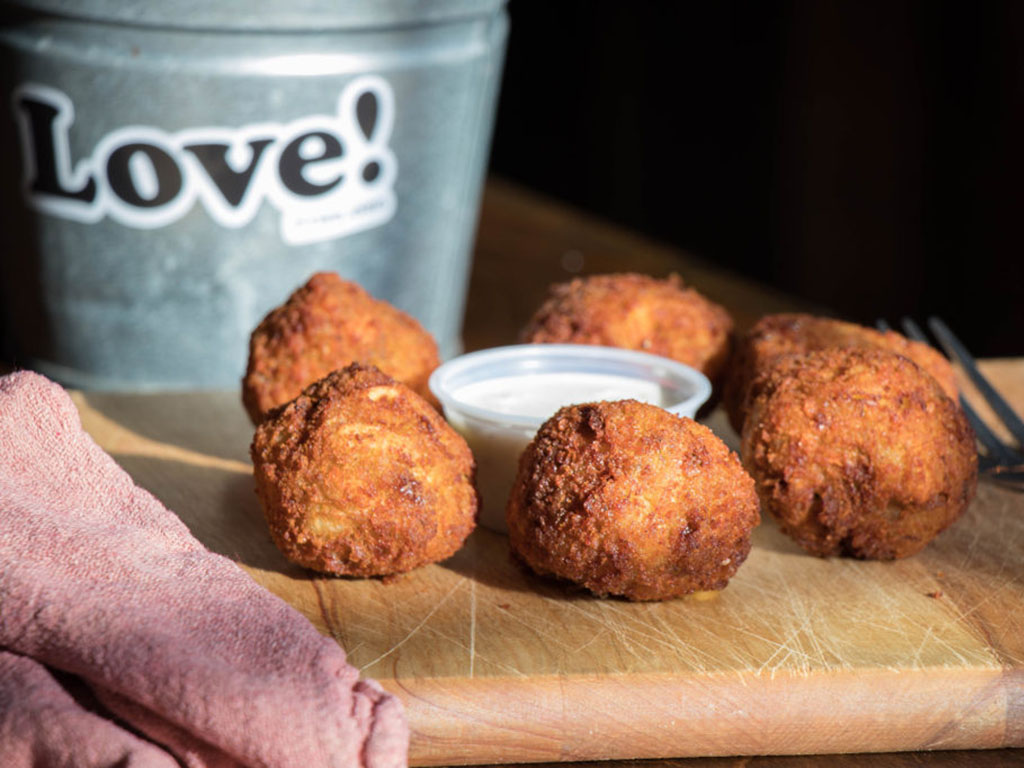 Eight bucks scores you a cheeky dish that plays on this traditional Utah dish. Idaho potatoes, cheddar Cheese, jalapeño, bacon and scallops are wrapped in a cornflake crust, then "Baptized in Hot Oil". Snd yes they come with Utah ranch. Available Regular, Fiery, and Vegetarian
1199 Beck St, Salt Lake City, UT 84103
(801) 521-3904
garageonbeck.com
Sheng Jian – Foodie And Sweetie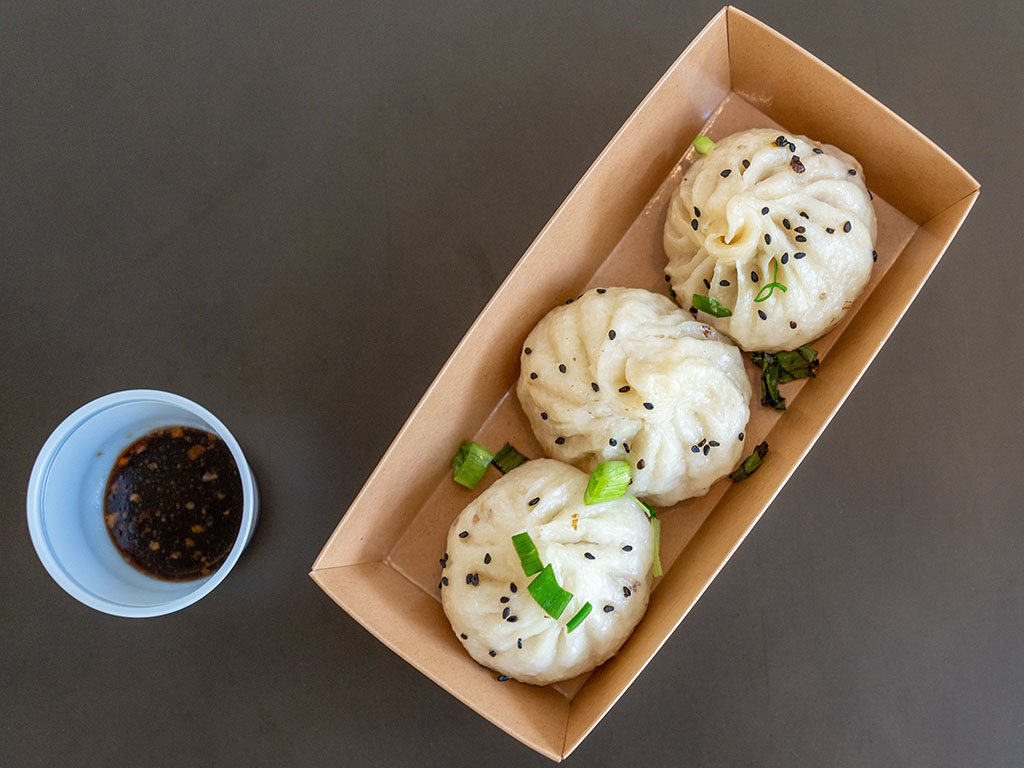 A blink and you'll miss it spot nestled in SLC's Avenues neighborhood is this Taiwanese snack and noodle shop. The star of the menu are these pork buns that are finished in the pan and fries to a crisp finish on the underside. Maybe grab a boba drink while you swing by too?
89 D St, Salt Lake City, UT 84103
(385) 528-3823
instagram.com/foodieandsweetie_dmarket
Snap Peas – Franklin Avenue
The only thing I don't like about this shareable plate from Franklin Ave, I didn't come up with the idea first. The sweet greens are plated with a flurry of fresno chiles and an herbaceous storm of fresh mint and Thai basil. A couple dollops of chili crisp bring bite, crushed cashews do the same for the texture. Underneath the pile is a rich coconut cream.
231 S Edison St, Salt Lake City, UT 84111
franklinaveslc.com
Vietnamese Sausage – The Pearl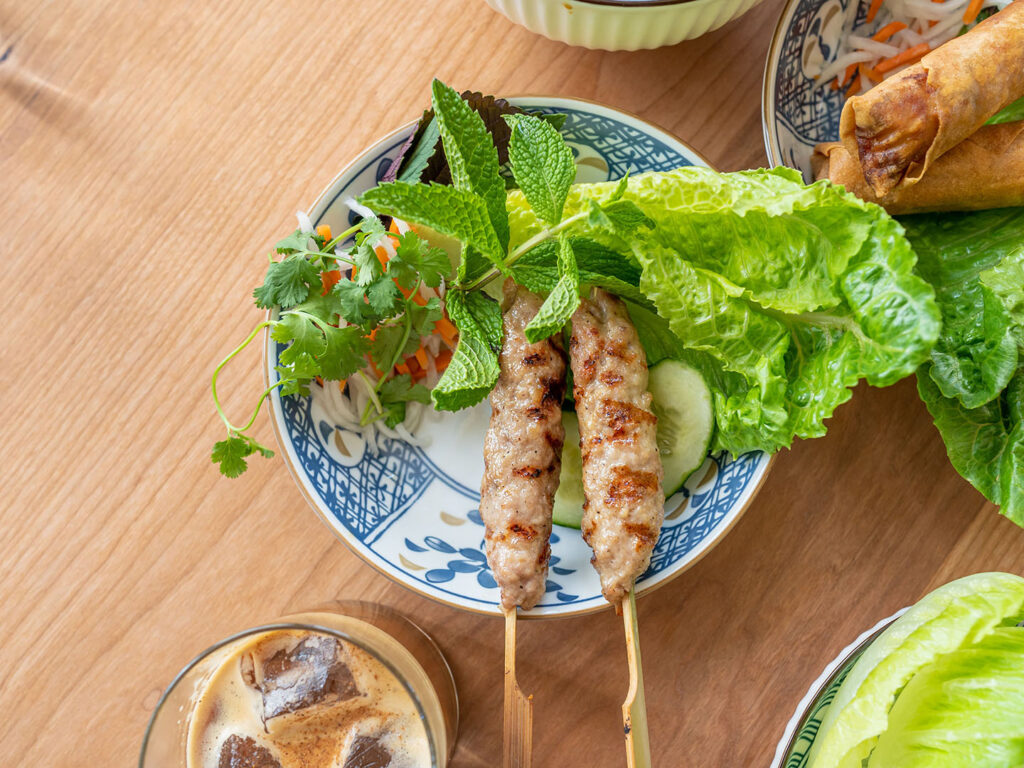 Located in the buzzy trendy Central 9th neighborhood, this 21+ bar has a range of small plates that could make this list. I particularly love these Vietnamese sausages, served over a bed of greens and vibrant herbs. Eat em off the skewer, eat them as wraps – just eat them.
917 S 200 W, Salt Lake City, UT 84101
Boquerones – Copper Common
Anchovies to you. These flavor packed morsels come served with absolutely delicious house bread and butter and make for perfect snacking in the setting sun. Indeed, all the menu is made that much better enjoyed al fresco on the tidy patio here. Read our full Copper Common story here.
111 E Broadway Suite 190, Salt Lake City, UT 84111
(801) 355-0543
coppercommon.com
Tater Tots – Wasatch Brew Pub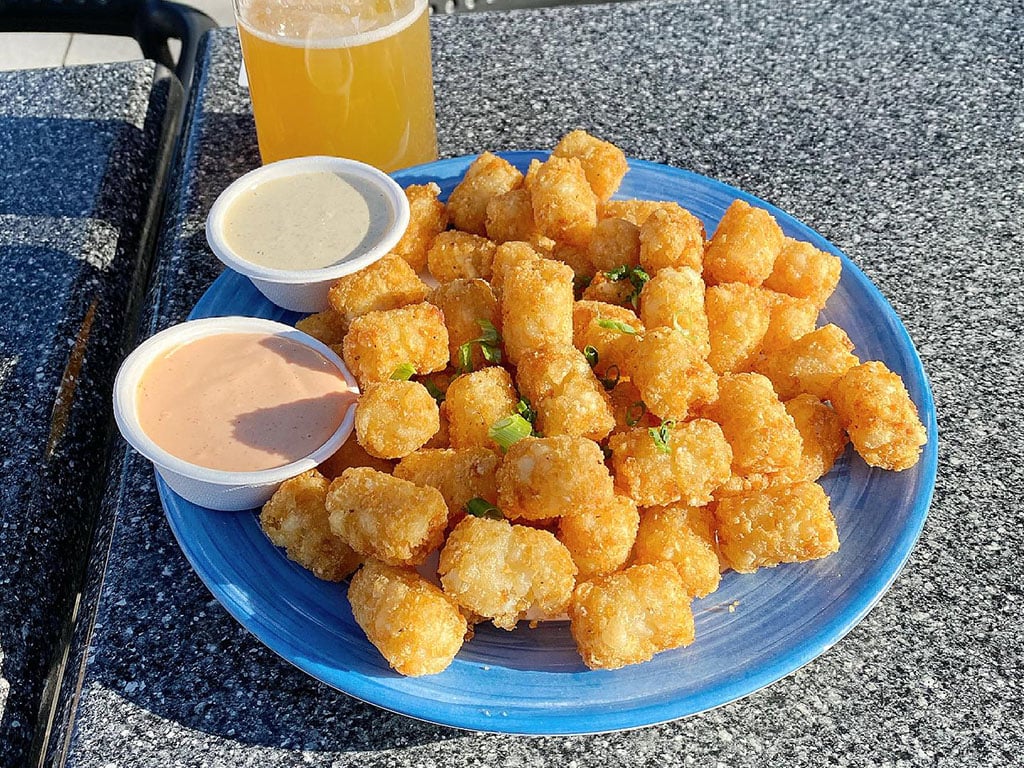 While we're talking about patios and setting sun – here's another option. The patio at the Sugar House location of Wasatch Brew Pub is fun, fun, fun. It's also a wonderful way to enjoy this plate of golden fried deliciousness. Served with fry sauce and ranch, I don't know of a better tater tot in town.
2110 Highland Dr., Salt Lake City, UT 84106
(801) 783-1127
wasatchbeers.com
Negima – Tsunami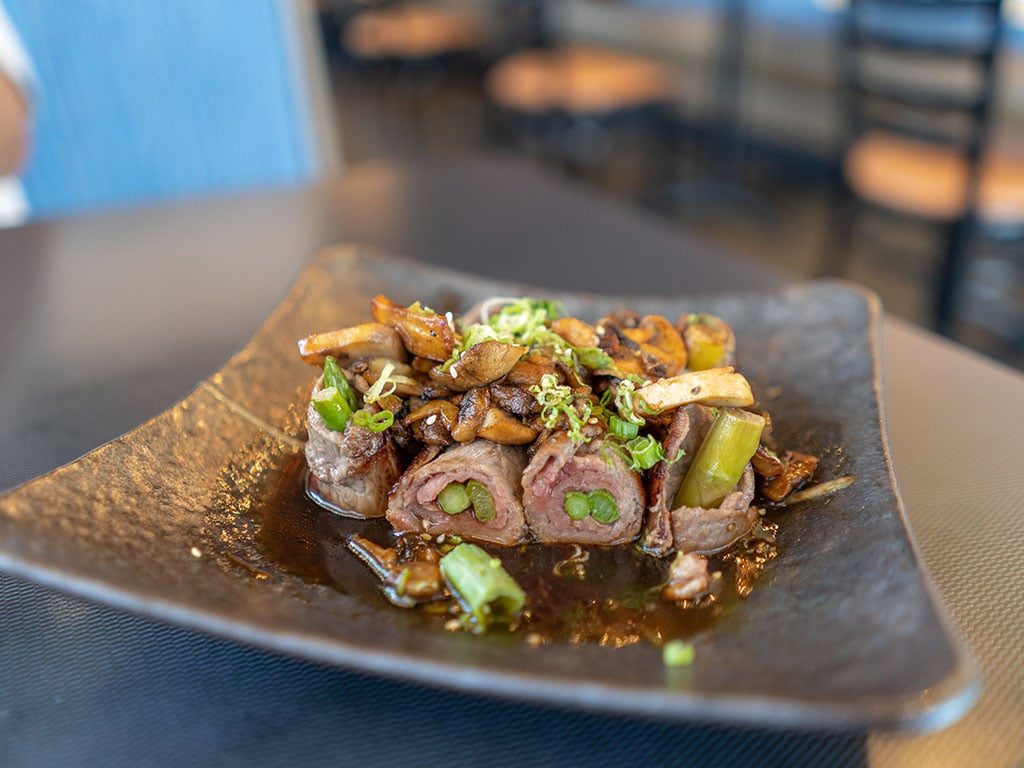 Thinly sliced New York steak is wrapped around scallion and pan seared just past medium. Pay the $4.99 extra though and replace them with grassy asparagus for a much better dish; the beef is plat with sautéed mushrooms and ginger teriyaki sauce.
Various locations
tsunamiutah.com
Curry Puffs – FAV Bistro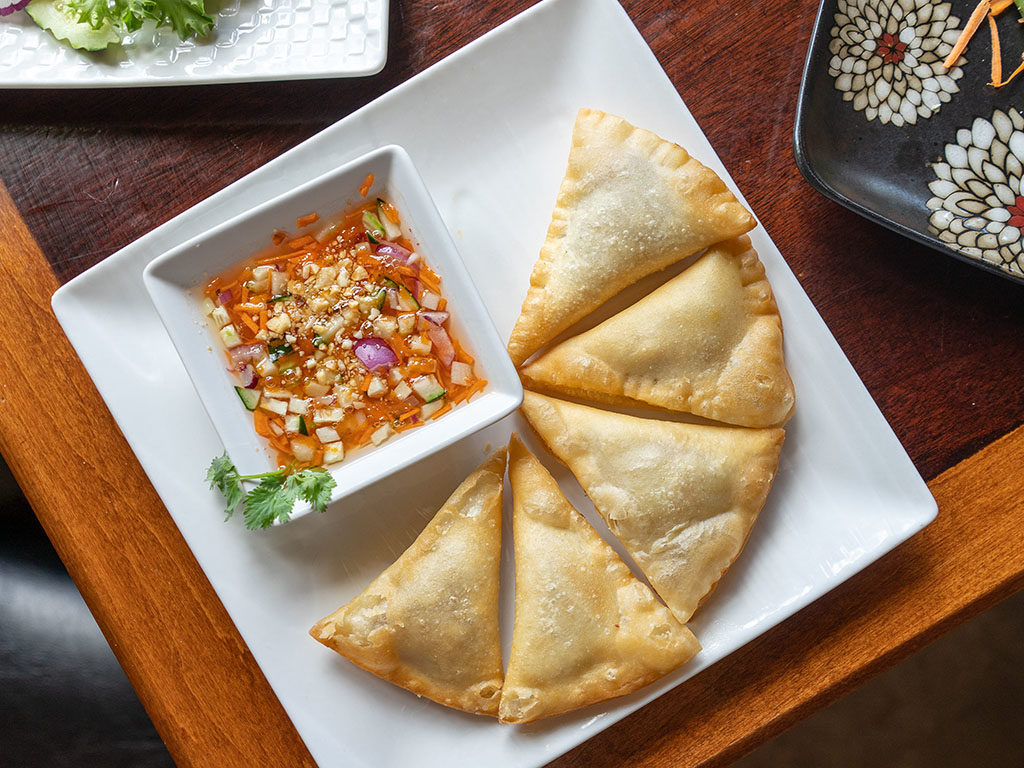 These golden fried pockets are stuffed with a lightly curried potato mash and served alongside a sweet Thai dipping sauce. Its a textural treat that we guarantee you'll always order up once you've tasted it.
1984 E Murray Holladay Rd, Holladay, UT 84117
(801) 676-9300
Chicken Pakora – Tandoor Indian Grill
Chicken fingers with attitude – that's Indian pakora in a nutshell. Our favorites in all of SLC are these delicately spiced strips from Tandoor Indian Grill. Gently battered and fried the chicken is always deliciously moist.
733 E 3300 S, Salt Lake City, UT 84106
(801) 486-4542
Shrimp Dumplings – Ginger Street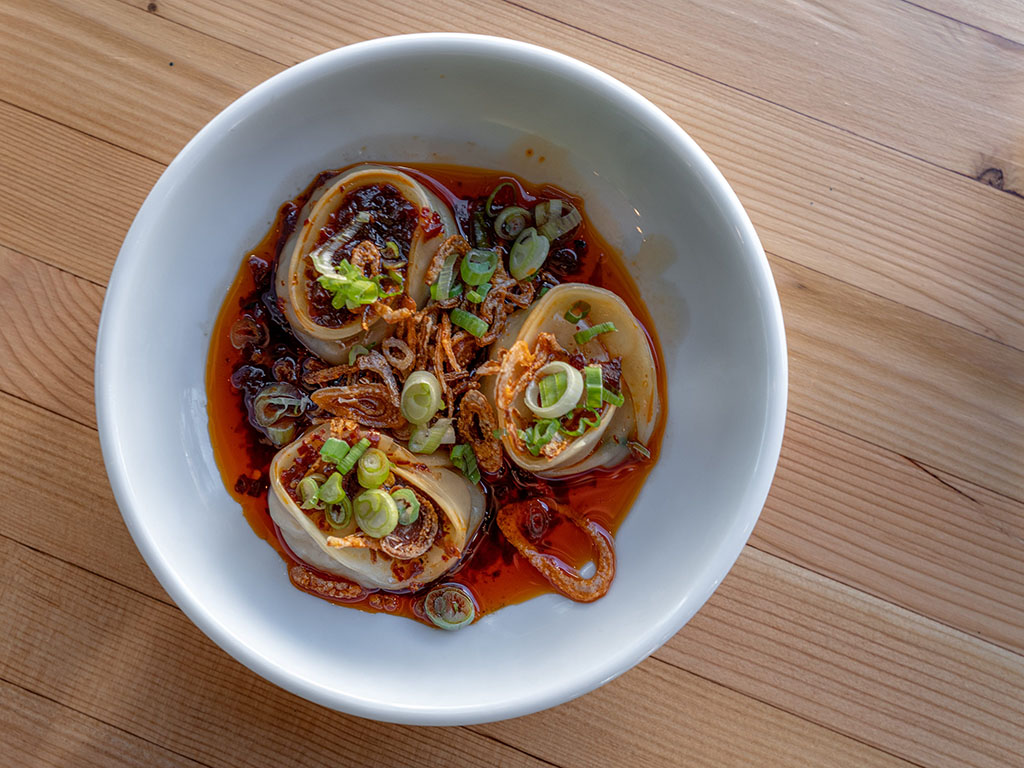 At this downtown SLC restaurant you can take a tour of multiple South East Asian countries. If you do, be sure to stop and order these fabulously eye popping pockets. The dumplings are stuffed with chives, fresh ginger, Thai chilies and spiced vinegar.
324 State Street, Salt Lake City, Utah 84111
(385) 477-4975
gingerstreet.com
Utah Scones – SLC Eatery
One bite of these "Utah" scones from SLC Eatery and you might decide to linger a bit longer and sample more. If you do, check out the restaurants ever changing cart that wheels around the restaurant during service – it's always loaded with daily special small plates. We guarantee each will be delicious!
1017 Main St, Salt Lake City, UT 84111
(801) 355-7952
Brunch menu
Yellowfin Tuna Poke – Bambara
You can enjoy this treat for lunch at Bambara or in the Hotel Monaco's bar area well into the evening. This pretty dish comprises ahi, avocado, red quinoa, basil, black sesame cream, orange peel, togarashi and wonton chips!
Onion Rings – Red Rock
This is the HALF order of onion rings, just $2 extra on any meal. This towering pile is essentially a pint glass high of crisp, crunchy, savory onion rings. And yes, you'll find real sweet onion rings in that amazing coating, not reformed onion mush like some!
Satay Chicken – Mano Thai Diner
If things on sticks aren't an appetizer match made in heaven, well we don't know what is. You can find this expertly grilled chicken at South Salt Lake's Mano Thai Diner. The juicy chicken skewers are served up with both peanut dipping sauce and a sweet sugary dipping sauce.
41 W 3300 S, South Salt Lake, UT 84115
(801) 485-1209
manothai.com

Ahi Tuna – Sushi Groove
Meanwhile over in Sugar House, you will find some of the very freshest sushi in town. When it's available grab a bowl of this epic sushi. Sushi Groove fly perfect product in direct from Hawaii – ask at the sushi counter for what's particularly good!
2910 S Highland Dr, Salt Lake City, UT 84106
(801) 467-7420
sushigrooveutah.com
Have we missed someone off of this list? If you have a suggestion for this page, perhaps something interesting and unique off of the beaten path let me know at stuart@gastronomicslc.com so we can share!
Hi, I'm Stuart, nice to meet you!  I'm the founder, writer and wrangler at Gastronomic SLC; I'm also a former restaurant critic of more than five years, working for the Salt Lake Tribune.  I've worked extensively with multiple local publications from Visit Salt Lake to Salt Lake Magazine, not least helped to consult on national TV shows.
I'm a multiple-award winning journalist and have covered the Utah dining scene for the better part of fifteen years.   I'm largely fueled by a critical obsession with rice, alliteration and the use of big words I don't understand.   What they're saying about me: "Not inaccurate", "I thought he was older", "I don't share his feelings".  Want to know more? This is why I am the way I am.
Our sponsors and this page
This page may contain information about one of our sponsors. We only work with the very best businesses in the state, and routinely turn down offers to work with businesses we don't enjoy. If we can't hand on heart recommend them - they can't be a sponsor.
At this time we have the following sponosrs: Avenues Proper, BGR Sugar House, BTG, Caffe Molise, Craft by Proper, The Dough Miner, Downtown Alliance, Feldman's Deli, Flanker, Garage On Beck, Hearth And Hill, Hill's Kitchen, Kao Thai, Kin Sen Asian Noodle Bar, Kyoto, Laziz Kitchen, Log Haven, Oasis Cafe, Pirate O's Gourmet Market, Proper Brewing, Proper Burger, Scion Cider Bar, SLC Eatery, Squatter's Downtown Salt Lake City, Stoneground Italian Kitchen, Urban Hill, Wasatch Brew Pub Sugar House, Whiskey Street, White Horse.
I encourage you to Google any of our sponsors and see the stellar reviews on multiple sites that they enjoy. For a list of all our current and past relationships see our partnership history page.