Renowned local chef Romina Rasmussen (pictured top, credit Aimee Cook), formerly of Les Madeleines, is making a sweet comeback with her brand-new chocolate shop, Chez Nibs. The grand opening is set for today – Saturday, November 18, from 10.30 a.m. to 6.00 p.m. — be sure to order your advent calendar ($44) while you are there; they will be available for pickup starting Black Friday.
Located just steps away from Rasmussen's popular Chinese bao shop, Xiao Bao Bao, Chez Nibs has an enticing menu filled with indulgent options. From kouign amann to tempting chocolate snacks, or nibbles she likes to call them, and a rotating selection of treats like the tigré cookie – a browned butter cake with miniature chocolate chips and a touch of chocolate ganache on top.
"Chez Nibs is going to be very chocolate-heavy; all my chocolates are ganache or pralinés (nut/caramel pastes that I make in-house) that makes them different from the other chocolate shops in town," said Rasmussen. "But I will also have kouign amann, because I think people might be mad at me if I didn't. There will also be five or six desserts on any given day, and as long there are leftover kouign amann, there will be bread pudding."
The star attractions at Chez Nibs [instagram.com/cheznibs] are the exquisite bonbons, available in 10-16 flavors. From the aromatic coffee-cardamom to the rich black sesame, the tangy raspberry to the savory whiskey-pecan made with Sugar House Distillery's whiskey. Additionally, a plant-based option is also available, currently coconut. Eighty percent of the chocolates are made with Weiss chocolate from France. Boxes of four ($13), nine ($26), and sixteen ($45) pieces are available. To fully savor the experience, Rasmussen encourages guests to embrace the art of enjoying a bonbon.
"I've noticed a lot of people have never heard of bonbons before and don't always know how to get the most enjoyment out of one," Rasmusen noted. "Nothing sadder (I know that there are many things that are sadder) than watching someone toss it in their mouth, chew it up and it's gone in seconds rather than letting it melt in their mouth and getting all the nuances of the chocolate and the added flavors and textures."
For those looking to kick-start their Saturdays with a heavenly breakfast, Chez Nibs opens its doors at 10:30 a.m., offering delightful croissants, pain au chocolat, and a rotating third item that changes weekly.
To complete the indulgence, a selection of beverages, including nectars (coming soon), coffees, and velvety hot chocolate, are available at Chez Nibs.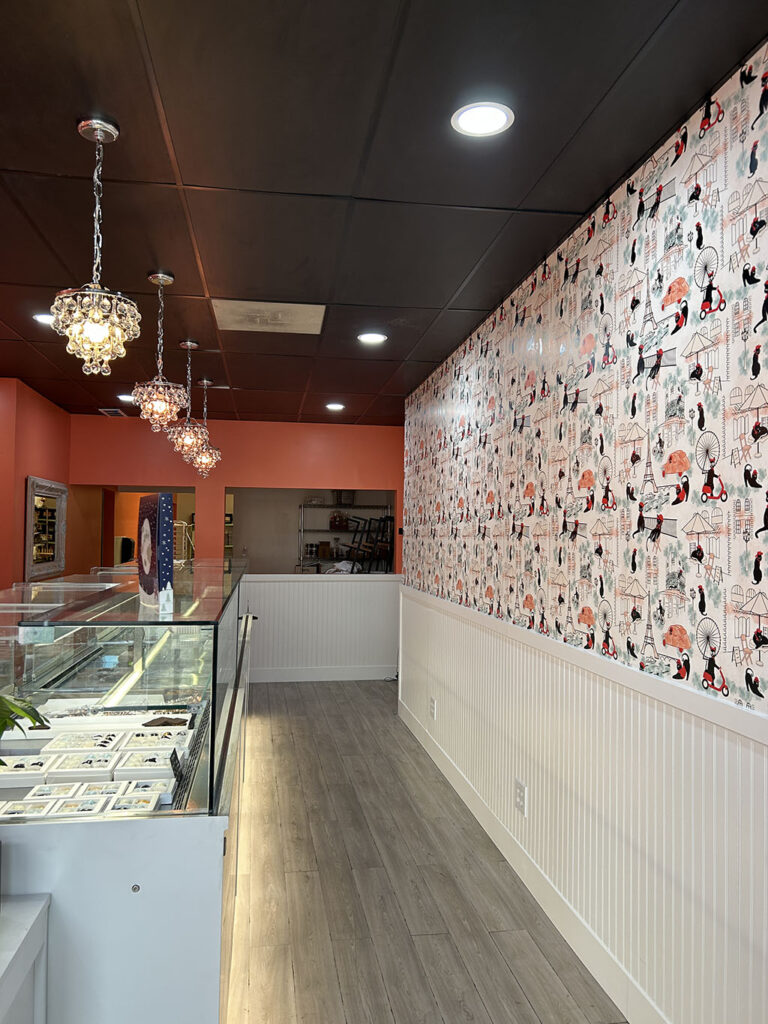 Rasmussen's unwavering passion drives her forward. Although she never planned on retiring, she closed Les Madeleines for various reasons. With her well-planned new ventures, Rasmussen continues to craft exceptional treats without putting in those long baker's hours.
"What's here is what I have," Rasmussen added. "There is nothing savory, and I am flattered and honored that you would want me to continue to make certain things, but that is one of the reasons I changed the name. I can't do all the things anymore, and I will be closed from mid-June to mid-September because chocolate melts."
Chez Nibs launch hours are Wednesday through Friday, Noon to 6.00 p.m. and Saturdays 10.30 a.m. to 6.00 p.m.
Keep the conversation going
Want to stay on top of the SLC food scene, minute by minute, dish by dish? Here are a few other places you should follow along:

Aimee is a content creator and an award-winning journalist. As a freelance writer, her work is published in several publications around Utah, Idaho, and Wyoming, and Montana. Aimee enjoys writing about all things art, entertainment, and food-related.
This article may contain content provided by one of our paid partners. These are some of the best businesses in Utah. For a list of all our current and past relationships see our
partnership history page
.