There's a good reason for National Farmers Market Week beginning this weekend – local produce is starting to hit a Summery crescendo across the country; with Salt Lake City's downtown extravaganza no exception. Braving the (mercifully waning) scorching temps this past weekend, I was keen to browse my way through the lively weekly gathering and see how our showpiece market was shaping up as the seasonal apex approaches.
Stone fruit is where it's at right now, Utah peaches and apricots tumbling all over the place. I snagged a dozen for little more than five bucks; lines formed double digit deep at certain sellers, crowds keen to get their hands on big sacks of fresh fruit. Tomatoes and corn are becoming more prominent and will only increase from here, while there's always a solid selection of staples such as onion, garlic, zucchini, herbs, green leafs and more.
One of the highlights of the market for me though, there's always something new to learn. This particular past trip saw a stop by Patti's Produce and their handsome display of internationally inspired cucumbers. Croatian dragon egg, Russian brown netted and Italian fuzzy. Who knew? What I do know is that a stop at by Gerome's Market is always in order. Top notch gourmet sausages from former chef (HSL, Annex) Craig Gerome are constantly changing, and always compelling. I greedily grabbed some Peruvian chorizo and a blend of fig/spinach/bacon – as well as wallet friendly slab of fat ridged pork loin, and a small bag of pork cheeks.
An equal must stop and stare is the long display of fungi at Intermountain Gourmet Mushrooms – where you can ooh and ahh over morels and lobsters. While you're poking and prodding, don't forget to pick the minds of those sellers, they're eager to share and suggest. I walked away with some magnificent looking morels and a handful of shiitake; and a few pointers to boot from IGM's Alex Sherman.
For first time visitors, preparation is key; the array on offer can be overwhelming at first blush. The market encircles the complete exterior circuit of Pioneer Park, but you'll find the biggest concentration of produce along the 300. S edge of the park; in total there are nearly 200 stalls to stop and check in on. It's wise to pre-game using this vendors map which typically gets more accurate as the week progresses.
While the mercury is still bubbling, my advice is to get there as early as possible; not least because I saw lines forming double digits deep for some of the most popular vendors. By 10.30 a.m. popular pitches like Baby's Bagels were almost sold out.
Dress accordingly and bring a water bottle, the site features free water refill stations here and there, as well as several beverage options from local vendors. Speaking of which, just past the produce selection at the North end of the park you'll find a collection of local food options to munch and sip on, should you need a well earned pit stop.
Finally, come prepared with the green stuff. Most vendors prefer cash for obvious reasons but many offer Venmo too. Far fewer take cards so do come prepared with that in mind. It feels churlish to ask someone to run a credit card for 75c worth of garlic after all…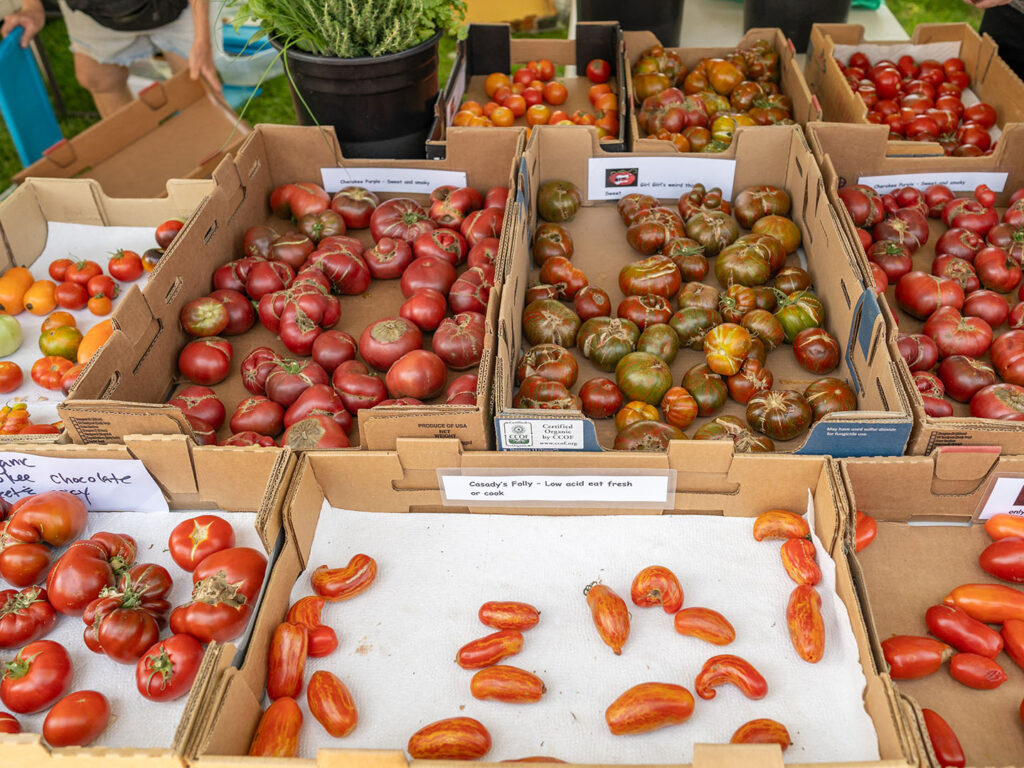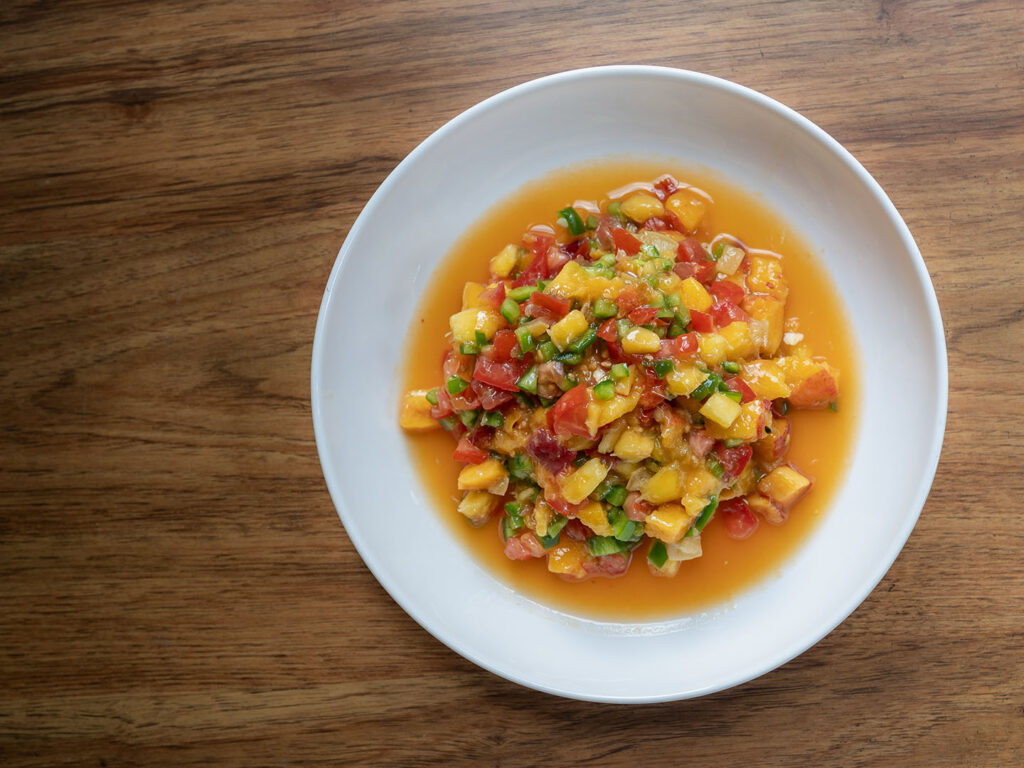 Need some inspiration? The highlight of dishes for me after a weekend stroll of stalls was a magnificent peach salsa with harissa pork. A combination of Gerome's Market and several veggie stands.
To make the salsa I deployed a couple of chopped peaches, tomato, green bell pepper, and jalapeño. Rather than use a traditional lime and cilantro mix, I went a little left field with roughly chopped preserved lemon (courtesy of Black Cherry in Holladay); the condiment adds a unique electrical charge, plus brings all the salt you need to round out the dish. It fitted quite nicely with the harissa flavors too.
For the pork, I quickly trimmed and rendered some of the excess fat before getting a good sear. After that, into the oven for ten minutes to cook through, then finally back to the pan with some reserved fat, and a couple tablespoons of harissa sauce to glaze the pork over high heat. Some shishitos out of the air fryer (five minutes, coated in oil and salt at max temp) completed the plate. I'm not one to brag (ok maybe a little), but it was a dining highlight of the past several weeks. If you find yourself stuck in a kitchen rut, a walk through the market provides fuel for no end of thought.
Also on my week's menu? Pork cheeks with morels over polenta, Peruvian chorizo with egg, tomato and shiitake as well as a cooling roasted corn, cucumber, and tomato salad. Yep. Better start making weekend those plans now.
[This story brought to you as part of Downtown Alliance's sponsorship of our site]
Keep the conversation going
Want to stay on top of the SLC food scene, minute by minute, dish by dish? Here are a few other places you should follow along:
Hi, I'm Stuart, nice to meet you!  I'm the founder, writer and wrangler at Gastronomic SLC; I'm also a former restaurant critic of more than five years, working for the Salt Lake Tribune.  I've worked extensively with multiple local publications from Visit Salt Lake to Salt Lake Magazine, not least helped to consult on national TV shows.
I'm a multiple-award winning journalist and have covered the Utah dining scene for the better part of fifteen years.   I'm largely fueled by a critical obsession with rice, alliteration and the use of big words I don't understand.   What they're saying about me: "Not inaccurate", "I thought he was older", "I don't share his feelings".  Want to know more? This is why I am the way I am.
This article may contain content provided by one of our paid partners. These are some of the best businesses in Utah. For a list of all our current and past relationships see our
partnership history page
.