This coming Monday sees the opening Utah's latest 'NextGen' (that's my own phrase folks) DABS store. The 14,000 square foot facility located at 1880 E 9400 S appears set to follow the path trodden by several of the most recent liquor store openings – which is to say – modern in both design and outlook.
Much like the fabulous Taylorsville location (currently my favorite in SL County, pictured above and below) which features aisles of refrigerated beverages, the Sandy newcomer doubles down on the concept; the store apparently features the most refrigeration of any state run store according to the DABS. Not only that but the new location will feature a first-of-its-kind for state stores. A crown in jewel will be a new 'Utah Proud' section, designated specifically for Beehive made beverages. 
This positive step forward builds on the tentative progress made during the NBA All Stars games back in February, where you might remember a brief downtown popup store highlighted local product. In a press release issued today, DABS director Tiffany Clason confirmed:
"The new Sandy store is the first to be designed with a dedicated 'Utah Proud' section, in which shoppers can more easily find locally made products. We want Utahns and tourists to find items crafted right here in Utah, by passionate entrepreneurs who choose to locate their operations here, contributing to state and local economies."
While there's no confirmation yet of what/who might be featured in this new section (or indeed what the qualification requirements are) anything that might help move the needle for local brewers and distillers gets the thumbs up in my book. Local manufacturers have long complained about the difficult of obtaining shelf space in local stores; fingers most recently have pointed to the maligned Symphony inventory system which can favor more economically priced products.
In today's release, Clason went on to say that in its first year of operation, the new store is expected to generate $5.4 million to the state of Utah, in addition to more than $1 million in local sales tax revenue to Sandy City and Salt Lake County.  You can go check out the swish new facility this Monday (July 31st) at 11.00 a.m., located in the Little Cottonwood Shopping Center at 9400 South and Highland Drive.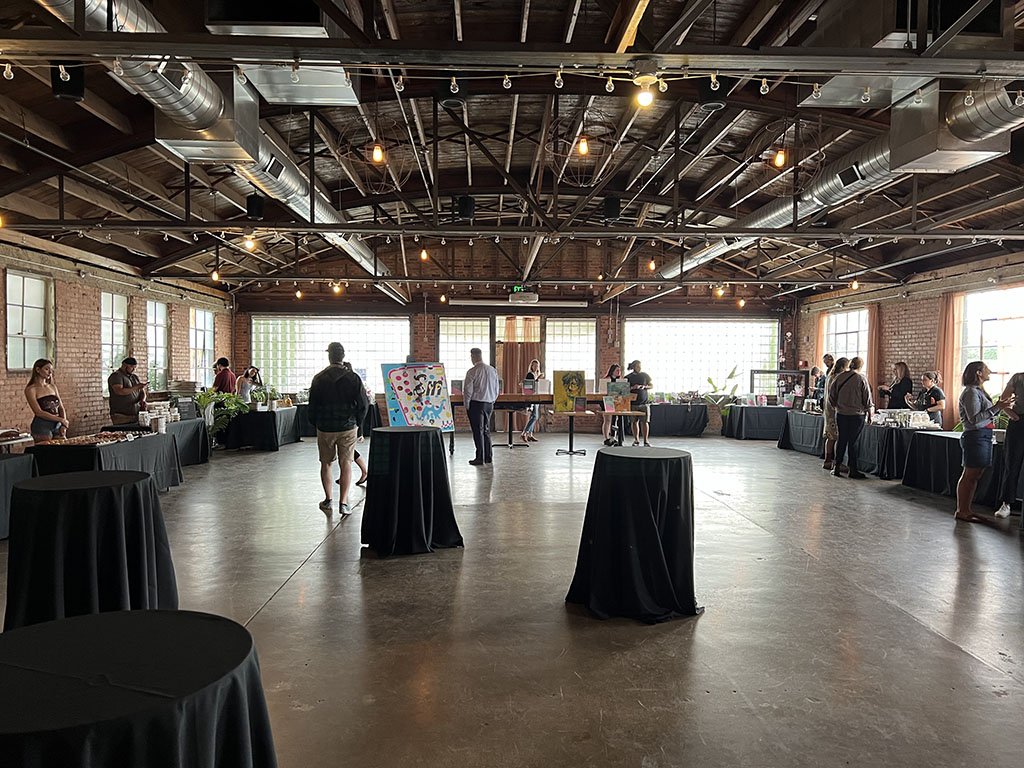 Food Fight 2.0 smashes $60K mark
Great news from the folks over at Food Fight, the recent foodie fundraiser for planned parenthood. The June 11th event attracted nearly 1,000 attendees and raised a bundle. Here's the full press release from the event wrap:
. . .
We sold 962 tickets! All of the restaurant + beverage partners donated 100% of their beautiful food + drinks AND their teams volunteered their time last Sunday! Every auction + raffle item was donated to Food Fight by small businesses, artists and individuals who wanted to partner to raise funds! The music, photography, videography and experience trucks were all donated! The Food Fight graphic, website and Instagram page were all created, facilitated + managed by volunteers! The amazing humans who met you in line, wristbanded your arms, checked you in, sold you raffle tickets, hauled garbage and cleaned up were ALL community volunteers!
We are humbled + thrilled to share that Food Fight 2.0 raised $62,000 and 100% of these proceeds will, once again, be donated to Planned Parenthood Utah and The Utah Abortion Fund, so please support all of the incredible Food Fight partners this summer and in the coming months. Thank you again, Utah – Our community should be proud of what we accomplished together!
Please keep fighting the fight. It matters. Food Fight Highlights:
https://instagram.com/slc_food_fight?igshid=MzRlODBiNWFlZA==
Utah Restaurant Association Gala Awards
You may recall me tooting my own horn this past week, well, let's toot some others. Here are several other food/bev winners at the 2023 URA gala award ceremony:
Golden Spoon Award (Restaurateur of the Year) Kym & Pete Buttschardt – Roosters, The Coop
Lifetime Achievement Award Gary Lee – Asian Star Restaurant
Hall of Fame Award Victor Cooper – Rocking V Café – Kanab
Silver Platter (URA Industry Ally) KUTV Channel 2
Chairman's Awards Fred Boutwell – Market Street Grill
Bill Athens – Nicholas & Company
Heart of the Industry Awards MVP – Benjamin Robbins – Ruth's Chris Park City
Front of the House Chase Lazar – Provisions Restaurant
Back of the House Peter McAllister – Log Haven Restaurant
Bar Program of the Year Award Monarca
Concept Awards (New & Unique Concepts)

Fine Dine – Oquirrh (Salt Lake)
Casual Dine – Sunday's Best (Brunch Hard) Salt Lake
Fast Casual – Dirty Bird Chxx – Salt Lake
Quick Service – JDawgs (Utah)

Food Journalism Stuart Melling
Legacy Award Valter Nassi – Valter's Osteria (Salt Lake)
Heart of Hospitality (Not Restaurants)

Hotel – Goldener Hirsch – Park City
Gastro Pub – The Franklin
Bar – Beer Bar / Bar X

Workplace Safety Awards

Diamond – Gardner Mill Company
Platinum – Hires Drive-In
Gold – Del Taco
Silver – Arctic Circle
Bronze – Winger Brothers
Local reviews and roundups
If you missed them the first time around, here's what local restaurant writers have been scribbling about around town the last few weeks:
In other news
Keep the conversation going
Want to stay on top of the SLC food scene, minute by minute, dish by dish? Here are a few other places you should follow along:
Hi, I'm Stuart, nice to meet you!  I'm the founder, writer and wrangler at Gastronomic SLC; I'm also a former restaurant critic of more than five years, working for the Salt Lake Tribune.  I've worked extensively with multiple local publications from Visit Salt Lake to Salt Lake Magazine, not least helped to consult on national TV shows.
I'm a multiple-award winning journalist and have covered the Utah dining scene for the better part of fifteen years.   I'm largely fueled by a critical obsession with rice, alliteration and the use of big words I don't understand.   What they're saying about me: "Not inaccurate", "I thought he was older", "I don't share his feelings".  Want to know more? This is why I am the way I am.
This article may contain content provided by one of our paid partners. These are some of the best businesses in Utah. For a list of all our current and past relationships see our
partnership history page
.