If your social feeds resemble mine, you've no doubt seen the words chili crisp emblazoned everywhere. You've also no doubt been spookily trailed around the web with dazzling ads promising fame, fortune and flavor unparalleled. I'm guessing you've also reeled at the cost too. $15? $20!? Bring me my fainting chair Jeeves.
Moreover, if you've been paying attention to menus around Salt Lake you'll have seen the glossy stuff increasingly splattered all over the shop. HallPass have it on their fries at the bar, Matt Crandall at Franklin Avenue makes good use of it on his South East Asian snap peas, and I'm told Sasa Kitchen's prep is killer. We could devote and entire article to local use alone.
If you find yourself currently wondering, crisp wha? a) you can probably just stop reading now because b) I'm not sure we can be friends but still c) here's what wikipedia has on this condiment du jour if you're going to stick around, "Chili crisp or chile crisp is a type of hot sauce, originating from Chinese cuisine, made with fried chili pepper and other aromatics infused in oil, sometimes with other ingredients. Multiple homemade and restaurant-original versions exist across China. The best-known commercial brand is Lao Gan Ma, which is based on the chili crisps of Guizhou province."
Seeing as at any given time my fridge is approximately one third full of hot sauces, oils and a wife-patience-testing-lack-of-adult-food, I figured I'd be well placed to give you the rundown on some of crisps out there right now.
The testing
The following chili crisps were purchased largely online over several weeks. The rigorous testing involved multiple samplings in a variety of formats. Right from the jar with the handiest utensil, spooned ad hoc over this and then that, pried curiously from the fridge late at night – and then a side by side blind taste test – allowing all the products to come to room temperature first. Oh and then more snaffling with spoons while I finished writing this article. No actual science was used, but a great many fingers, faces and fridge space was rendered in spicy, glistening glory. Ahem.
The contenders
A random and motley crew. I went with some of the big names, the social media buzzy ones, and then some random ones. There are plenty more out there, I apologize if I missed your particular sauce de jour.
Please note: some of the following are affiliate links. Some aren't. Just go ahead and presume if you click a link and make a purchase, I'm earning a tiny jangle of cents.
Lao Gan Ma Spicy Chili Crisp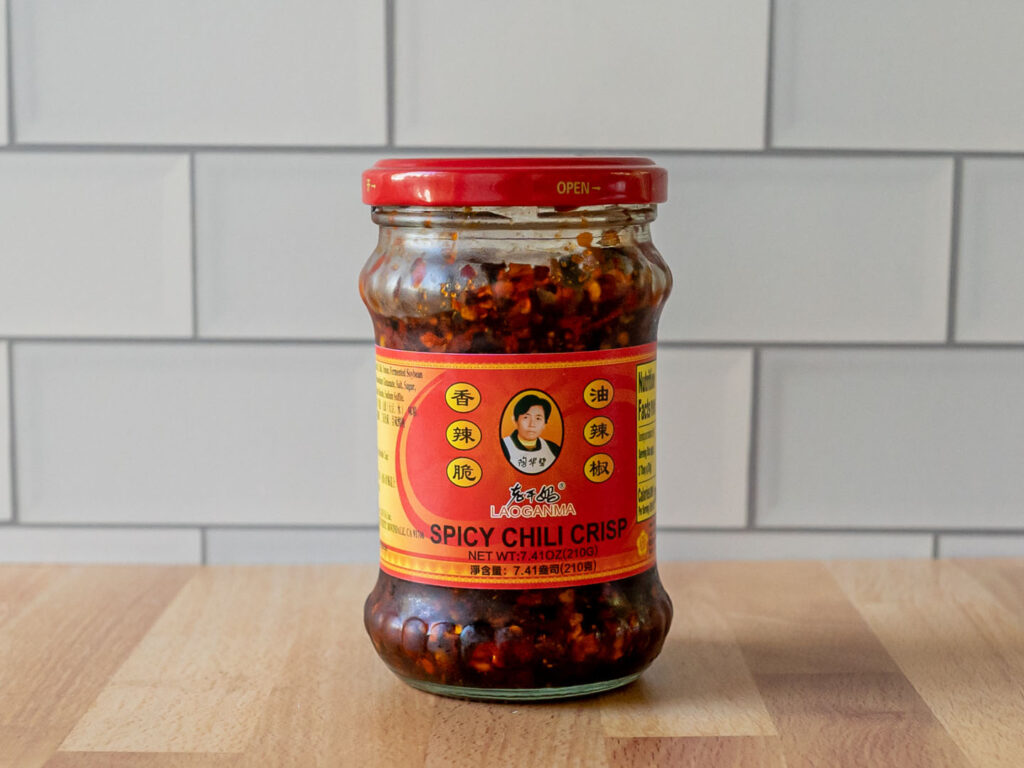 Lao Gan Ma – aka old grandmother – is the most recognizable of the whole line up. You can grab it right here in Utah stores as mainstream as Smith's. Not to be confused with their fried chili oil sauce, this is a thick mass of chili flakes, not overtly oily. Garlic hits you first, followed by some mild mannered funk and onion sweetness, and only a moderate heat. It's a little sweeter than others in the test. Oh, and it has MSG, so you know it's good. Many reckon this to be the gold standard for chili crisps.
$3.99 – buy at local stores such as Smith's or online at Amazon with a fancy spoon. And who doesn't' want a fancy spoon.
S&B Crunchy Garlic Chili Oil
S&B might be a familiar name to those finding themselves reaching for Japanese curry cubes at most U.S. supermarkets. Here the brand have gotten in on the fun with a slight twist. This one gets off to the races with a salty thwack to the tastebuds. There's no heat whatsoever for my money, but before you despair, a deluge of sweetly-crisped garlic romps all over the place. Very moreish, very garlicky.
$8 or less on Amazon probably at local Asian markets too that stock S&B brand.
Oo'mame Chili Crisp
There's more heat lurking here than some of the other names on the list. It's a little thinner and more oilier too if that's your thing. The array of ingredients includes fermented black beans, crystallized ginger and Sichuan peppercorns. Depending on the bite you scoop out, you might be struck by a fruity, almost winey/clovey blast, or perhaps a milder sweeter black bean note.
Eight dollars or so at Amazon – note they have a range of other flavors such as Indian, Moroccan and Mexican!
Mr. Bing Chili Crisp
This one is backed by celeb chef Jet Tila. Despite being listed as spicy, the heat level is relatively pedestrian. There's some gentle smoke and sweetness and a very minor funk. It's quite a gritty concoction all said but there's nothing to swoon or sneer at here. It's sat in my fridge largely forgotten in disinterest.
$14 on Amazon.
Fly By Jing Sichuan Chili Crisp
One off three creations by this social media savvy brand and probably the most well known after Lao Gan Ma. Inside the eye catching jar is a sauce with a texture more viscous that others in this roundup. It goes without saying you should give all these products a stored before use, but the Fly By Jing especially demands it; all molasses like thick and slow. It's a soy forward flavor, rammed with fermented black bean notes, caramelish sweet and slightly sultry – it's spiked by just a modest level of heat.
$14.99 – buy on Amazon.com, flybyjing.com.
Kroger Chile Crisp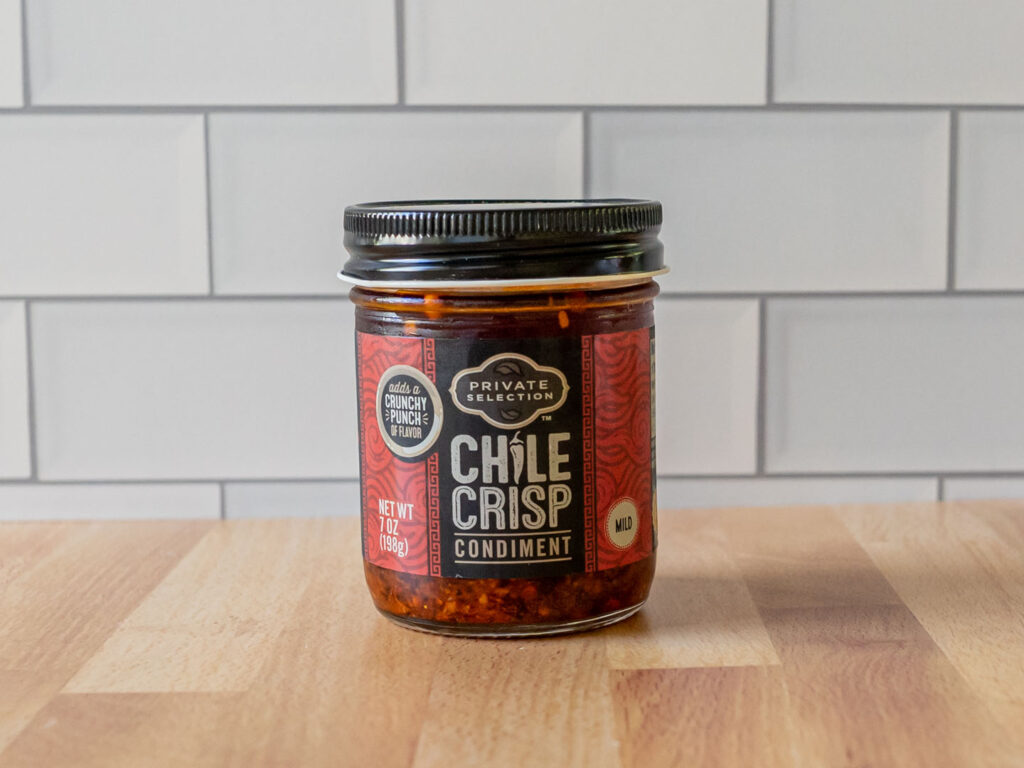 Hush down at the back. Stop the giggling otherwise I'll hold you back after class and make you suffer through an irascible lecture on brioche buns and their unseemly use as burger buns. I include this one as proof positive that chili crisps are mainstream, maybe even jumping the shark some might add. So what of Kroger's efforts? There's too much bitterness there, and not in a fun smokey way, the flavor is unappealing and the heat hits the back of the throat in a cloying way. Let's just move on.
Momofuku Chili Crunch
This one hails from the storied kitchen of one David Chang – universally lauded king of umami. A single jar goes for $13 on their website, and you'll need to buy at least three for free shipping. I think I saw some at Target for ten bucks.
The ingredient list is naturally replete with a mad hatter's gleeful barrage of umami. Mushroom powder, yeast extract, seaweed and more. The texture is displeasingly gritty and and granular. You might argue that goes away with sparing use and as part of a more complete dish; as opposed to say, one middle aged English guy prodding away perplexed with a spoon. There's some gently building heat from the arbol, but I found the general flavor a little plasticy.
$17 via Amazon, or $13 at momofuku.com.
Natural Plus Green Sichuan Chili Crisp
Arguably the most unique of the bunch. It's a drier composition, and lacks the slick oil of the rest of the roster. It leans most heavily into crunchier textural elements – whole pieces of peanut, dried pea and soy bean. If you want crunch you found it. There's a mild heat and earthy back note. My brain struggles to decide if I like it or loathe it, it's certainly unlike the others.
About $10 on Amazon.
Chili Beak Spicy Roasted Chili Oil
No, I know it's not a traditional chili crisp. But, but! I did want to showcase something local, as perhaps an adjunct you might want to consider for adding intrigue to a dish. Chili Beak has been cranking out the chili oil for years, and well, it does what it says on the tin. There's no umami overload here, no garlic, no black bean, no well, nothing but roasted chilis in a whole heap of oil. This is the spiciest of the sauces on the list and will bring a brow tingle.
Local stores here in Utah like Harmons, The Store.
The verdict?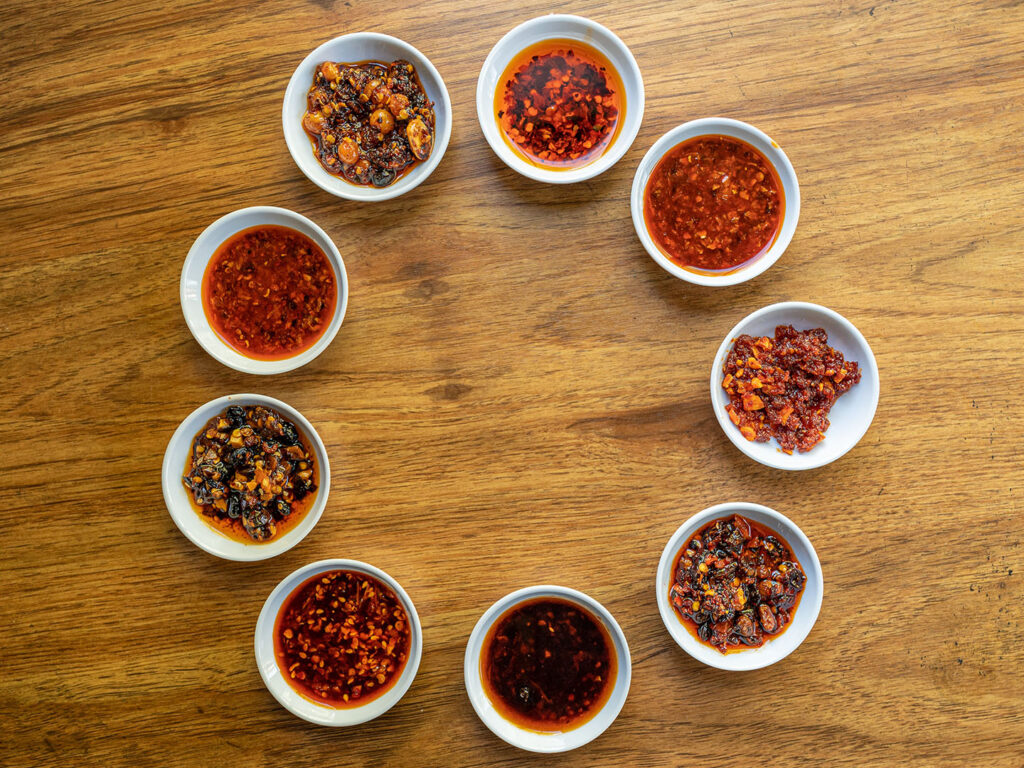 I went into this imagining there'd be a runaway standout. The truth was more nuanced. Natch. Some focus more on texture, others on umami. Some get lost amongst the weeds. After rattling through my blind testing notes though – three did manage to score higher than the rest – Lao Gan Man, Fly By Jing and the S&B.
Lao Gan Ma is loved by many for obvious reasons. It's a simple enough staple with gobs of chili flakes and textural bite. The modest heat is tempered with plenty of sweetness and garlic.
It's hard to beat the iconic grandma, but Fly By Jing Do a solid job on expanding on the palette; silky fermented black bean notes are likely unfamiliar to many and liable to surprise. S&B's Crunchy Garlic is a salty/garlicky slap that offers a fun change of pace from the crowd, I'd love it in a larger jar mind you.
From there it's a toss up for middle of the pack but I do enjoy the sweltering heat of Chili Beak, and I'm also enamored by the curious complexity of the Oo'mame. For sure I'd pass on Kroger's in house brand, and I hate to say it, but Momofuku's grittiness and overall flavor wasn't my favorite. Heresy indeed.
Cost and availability of course factor into the final equation. Lao Gan Ma priced at four dollars or less is a steal of a deal when all is said and done. That probably places it top of the pile. It's easy to purchase around town too. Locally I've heard that Ocean Mart stocks Fly By Jing too. For any of these though, fifteen dollars or more though? Nah. Nah mate.
So what can you use chili crisp on?
So what the hell am I piling all this sodium and capsaicin on exactly? Well, anything you want actually. Fly By Jing suggest you can use theirs on ice cream, which even I might suggest is crossing a line of decorum; but honestly the stuff works wonders on many a dish. Here a few plates that came out of my own kitchen while testing the above collection:
Breakfast
Eggs in particular taste as handsome as they look with a teaspoon of chili crisp or two. Go ahead and reach for the condiment anytime you might otherwise boringly select tabasco or ketchup. My brain, tasked as it is with slowly calculating my demise, is already trying to figure out how to lacquer some over strips of fatty bacon.
Rice dishes
Pictured, some home made basil fried rice, a Thai spin of the more familiar Chinese dish. A table side splutter of additional heat and flavor can make up for any sins in the pan, should you fail to develop enough wok hei – reach for the intrigue in a jar which is CC.
Salads
Above you will see an Asian style salad I often make in warmer Summer months when I'm afraid go turn the oven on. It roughly comprises sliced cabbage, bell pepper, radish, carrot and snow peas. It's all then tossed in a sauce of soy, shaved garlic and ginger, sesame oil and sugar. Plonk it in the fridge overnight and enjoy for days as a standalone dish or side. Given a topping of chili crisp takes the whole thing to another level. Any salad will enjoy the sweet and spicy spin…for example…
Here's a quick Vietnamese-style salad, a tough mix of green onion, romaine, radish and mint. Dressed in fish sauce, sambal, oil, lime juice and rice wine vinegar – you guessed it – our favorite sauce is at home again.
Dumplings duh
Or you can get all classic and go ahead and dunk something squidgy and comforting in a whole heap of chili. Case in point, soup dumplings. Seeing as I am always inundated with requests to find Xiao long bao – I can confirm these are from online retailer Xiao Chi Jie. If you've got chili crisp ads in your social feeds, I am betting you get these too. XCJ ship frozen to your door, 50 pieces for $39.99. They take about twelve minutes in the heated steamer, direct from freezer to steamer to plate. I use this cheap and cheerful steamer from Oster.
Where's my favorite sauce?
In creation this article, I teased various dishes and sauces along the way on social media. Every last time, my DM's were immediately slid into with a variety or well meaning suggestions. To be frank, the number of chili crisps out there exceeds even the number of boba shops in Utah. Hard as that may be to believe.
Making your own chili crisp
Lastly, it's absolutely worth pointing out you can make your own chili crisp for comparative pennies. The following recipe was sent my way via a certain Jason Stock, creator of some of Utah's best beer and one half of the inimitable Ya Burned It, who also contribute to GSLC. When it comes to recommendations regarding food, and home cooking I take his opinions as seriously as I take my ongoing battle against brioche buns.
Here's a link to the written recipe for printing. Here's the vid…
Keep the conversation going
Want to stay on top of the SLC food scene, minute by minute, dish by dish? Here are a few other places you should follow along:
Hi, I'm Stuart, nice to meet you!  I'm the founder, writer and wrangler at Gastronomic SLC; I'm also a former restaurant critic of more than five years, working for the Salt Lake Tribune.  I've worked extensively with multiple local publications from Visit Salt Lake to Salt Lake Magazine, not least helped to consult on national TV shows.
I'm a multiple-award winning journalist and have covered the Utah dining scene for the better part of fifteen years.   I'm largely fueled by a critical obsession with rice, alliteration and the use of big words I don't understand.   What they're saying about me: "Not inaccurate", "I thought he was older", "I don't share his feelings".  Want to know more? This is why I am the way I am.
This article may contain content provided by one of our paid partners. These are some of the best businesses in Utah. For a list of all our current and past relationships see our
partnership history page
.