It's been several months since our last menu watch, that moment where we take a pause from the furious new restaurant openings – and instead – focus on what the established crowd are working on. If you're looking for an excuse to check out a new spot, read on…
Ascent Kitchen
Starting with that headline picture then, pancakes have now hit the menu at the trio of Ascent locations. And not just any pancakes – all you can eat pancakes! Those with an insatiable hunger should head on down every Saturday. Starting on July 23rd, the breakfast and lunch destination are offering this AYCE treat for just $10 per person. Pancakes are also available in multigrain or gluten free versions and come topped with fresh seasonal fruit and house-made forest honey drizzle.
49 E Gallivan Ave, Salt Lake City, UT 84111 | (801) 456-2513
439 E 900 S, Salt Lake City, UT 84111 | (385) 267-1092
9645 S State St, Sandy, UT 84070 | (385) 557-4986
ascent.kitchen
Beehive Distilling
A new bar snacks menu is now available from 4.00 p.m. at this South Salt Lake distillery. Stop by for one of their fab cocktail concoctions and also now, a bite to eat. The all new menu sees inspiration from South and central America as well as Asia with selections like al pastor sliders, pork belly bao and potato empanadas.
2245 S W Temple St, South Salt Lake, UT 84115
(385) 259-0252
Carson Kitchen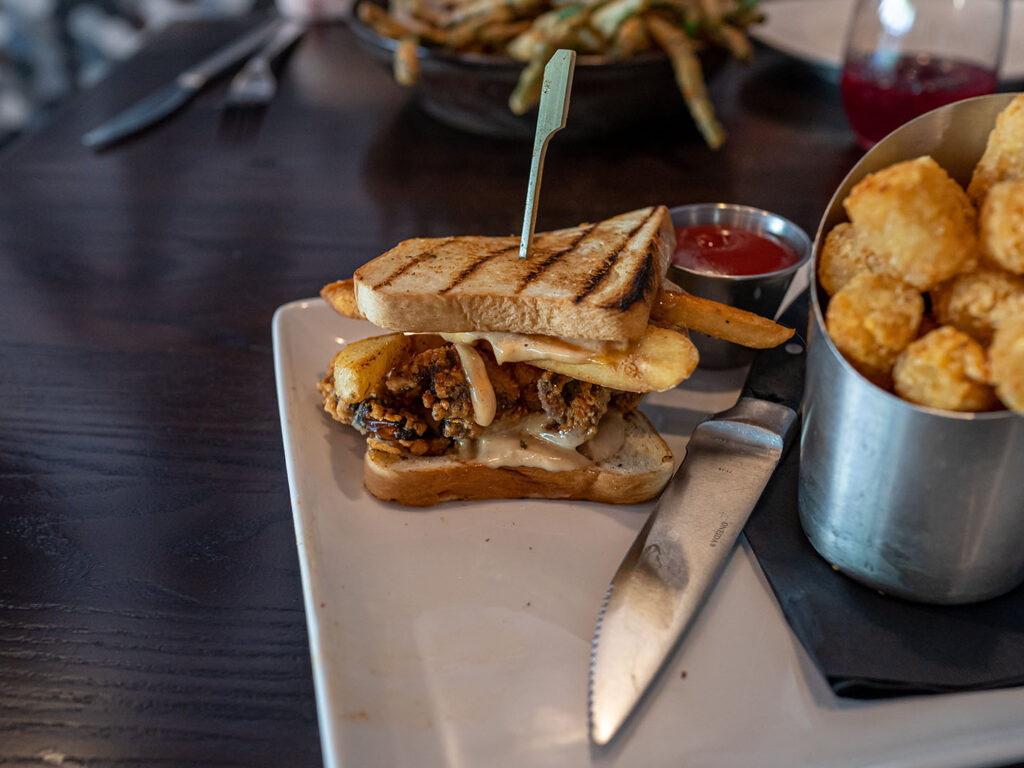 The Vegas import that came to Salt Lake streets a couple years back is always refreshing the menu with something fun. Latest to the menu is their Summer update as follows:
Grilled oysters with a mojito mignonette
Hot dog burnt ends with highbrow ranch
Chip butty with soft shell crab and HP aioli
Shirt rib steak with Mississippi jus
BLT flatbread with wasabi mayo
Salmon with spiced mango
Berry posset
241 W 200 S, Salt Lake City, UT 84101
(385) 252-3200
carsonkitchen.com/slc
Finca
Summer menu additions at this Spanish spot are as follows:
Ensalada primavera, Summer salad of radish, asparagus, cucumber, citrus, yogurt mousse
Esparragos, charred asparagus, marcona romesco, pickled shallot
Calabacín a la plancha, seared zucchini, salsa verde, crispy garlic chips
Mejillones, steamed mussels, chorizo, sofrito, white wine, grilled lemon
Bistec, seared 12oz NY strip steak, asparagus, parsnip puree, romesco sauce, charred scallions
Vieiras, 3 seared scallops, pea puree, marinated snap peas
1513 S 1500 E, Salt Lake City, UT 84105
(801) 532-3372
fincaslc.com
Fleming's Steakhouse
A new option for those who love to share comes from this downtown steak spot. About their new Twosdav 3-cours menu Fleming's write, "experience the complementary flavors and textures of two exquisite cuts of steak with the Chef's Reserve. This new entrée features a 6oz Filet Mignon paired with a 28oz Prime Bone-In New York Strip alongside your choice of two salads, two sides and two desserts." The price? $135 for the table of two.
20 S 400 W #2020, Salt Lake City, UT 84101
(801) 355-3704
flemingssteakhouse.com
Log Haven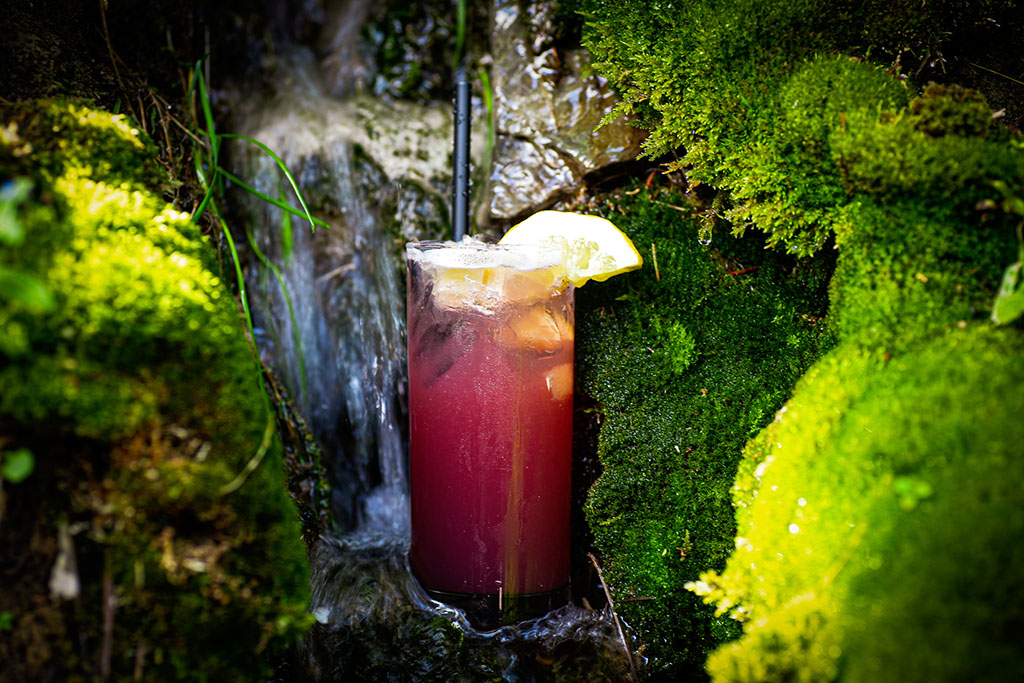 Five new sips are available up at this Millcreek fine dining spot – a mix of cocktails and beer. All are geared to help you beat the heat. Which I should point out, this canyon-nestled spot is always perfect for this time of year; sit on their al fresco amphitheater and enjoying the soaring pines and tumbling waterfalls . New drinks include:
Cabin cooler cocktail
Strawberry mojito cocktail
Vernal Brewing Mama's Milk
RoHa High On Hops
2 Row Brewing Wingpointe
6451 Mill Creek Canyon Rd, Salt Lake City, UT 84109
(801) 272-8255
log-haven.com
Pago On 9th
Over at this 9th and 9th farm to table restaurant, a new Summer menu has dropped, details as follows:
Fresh burrata, celery caponata, arugula puree, calabrian chilies
Chakchouka, chickpeas, baked farm eggs, caramelized onions, roasted red pepper
Roasted asparagus, remoulade, marinated feta, hard boiled egg
Chilled broccoli, baba ganoush, crispy chickpeas, sumac, black vinegar
Potato gnocchi, glazed carrot, fresh mushrooms, pea tips, mushroom reduction
Mahi mahi, pea farrotto, blistered summer squash, pistachio chimichurri
Crispy pork belly, fresh kimchi, maitake mushrooms, egg yolk jam
878 S 900 E, Salt Lake City, UT 84102
(801) 532-0777
pagoslc.com
Pago On Main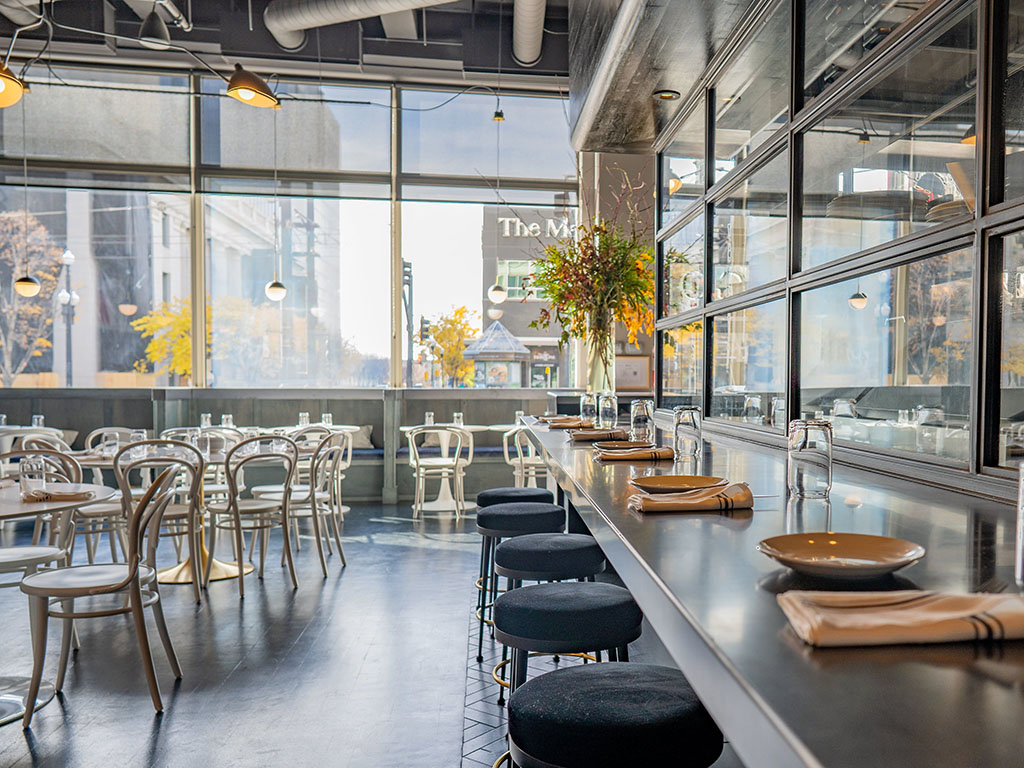 A new lunch menu is available at the sister location in downtown SLC – an updated dinner menu will be coming along soon as well:
Chopped salad, salami, provolone, onion, tomato, pickles, chickpeas, red wine vinaigrette
Nicoise salad, rare tuna, olives, fried potatoes, boiled egg, seasonal vegetables
Little gem lettuce, seaweed buttermilk dressing, apricot, radish, almond
Seared trout tartine, fennel, oven dried tomatoes, green olive tapenade, garlic aioli, truffle frites
Roasted baby carrots, labne, sunflower dukka, pink peppercorns, mint, cilantro
Crab cakes, onion, bell pepper, celery, old bay, lemon aioli, pepper relish
Short rib grilled cheese, white cheddar, black garlic aioli, caramelized onion, brioche
Meatball sub, beef & pork meatballs, provolone, pickled chiles, arugula, truffle frites
341 S Main St, Salt Lake City, UT 84111
(801) 441-2955
pagoslc.com
Porch
Tapas Tuesday is back at Jen Gilroy's Daybreak eatery. Five plates for forty bucks from the following menu. First choose three or four items from:
Beet & arugula salad chevre, pecans, maple Champagne vinaigrette
Cajun kale caesar chopped kale, house biscuit croutons, Parmesan
Porch mac & cheese sharp, chevre, parmesan, bacon crumble
Buffalo fried cauliflower buffalo vinaigrette, chive & dill Crème fraiche
Bourbon sriracha popcorn chicken
Chickpea & roasted pepper hummas carrots, cucumbers,Crostini
Then choose one or two from:
London broil bruschetta mustard & spice medium rare beef, herb cream cheese, grilled baguette, chili oil
Pan seared tuna pink peppercorn, grape balsamic glaze, grapefruit segments, avocado, cilantro
Shrimp & grits parmesan grits, ham, BBQ butter
Taqueria 27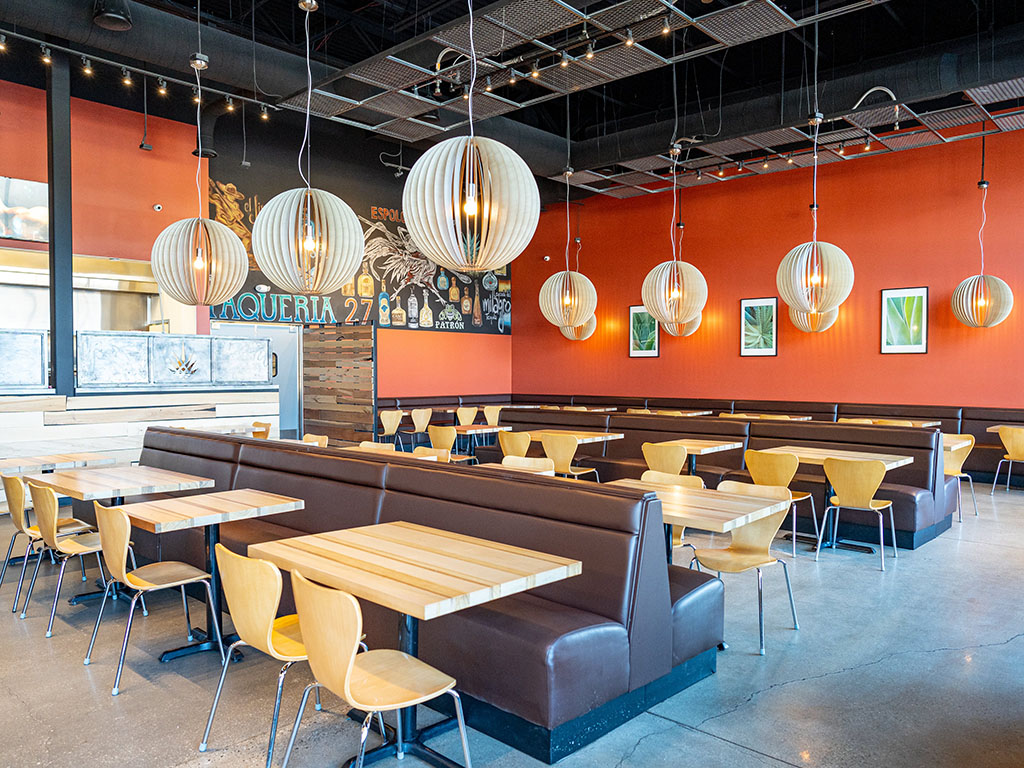 T27 has a new drink menu. The big change is the Strawberry Lemonade Margarita. Remember every day at Taqueria 27 sees taco, guacamole and fish specials – meaning there's also a new dish to explore.
Holladay | 4670 S Holladay Village Plaza, Holladay, 84121 | (801) 676-9706
Downtown | 149 E 200 S, SLC, 84111 | (385) 259-0940
Murray | 6154 S. Fashion Blvd, Murray, 84107 | (801) 266-2487
Lehi | 1688 W Traverse Parkway, Lehi, 84043 | (801) 331-8033
taqueria27.com
Tuscany
Tuesday's and Thursday's now afford a new bar happy hour at this Cottonwood Heights spot. Running through July enjoy a three glass wine flight for $15 which includes Scaia Bianco,
Alpha Zeta Soave and Zenato Pinto Grigio. Also available, chicken basil penne pasta for $15.
2832 6200 S, Salt Lake City, UT 84121
(801) 277-9919
tuscanyslc.com
Oquirrh
Fans of this chef-driven spot in downtown SLC will love to read their new Summer menu. Also, the restaurant report that chef Matthew Duncan has been working as pastry chef recently and is releasing new desserts every couple of weeks. The new dinner menu is as follow:
House sourdough bread, butter, radish, sea salt
Oquirrh salad, whole leaf lettuce, garden sprouts, buckwheat, toasted sunflower seed vinaigrette
Milk braised potatoes, heirloom potatoes, curds, whey vinaigrette, alliums
Roasted corn salad, blue cheese, lime aioli, chicories, malt crumb, hot honey
Chilled cucumber soup, stone fruit and tapioca pearl salad, greek yogurt
Banana prawns, four head-on griddled prawns, Calabrian chili & garlic butter, charred lime
House made radiatori pasta, basil & cashew pesto, roasted carrots, burrata, saba
Bucatini pasta bolognese, house pork & beef bolognese, chili flake, ricotta
Niman ranch frenched pork chop, Summer roots, beet pure, feta, golden raisin vinaigrette, dill
Market fish, vorn pure, wild mushrooms, fennel & heirloom tomato salad
10 oz n.Y. Strip steak, Zursun braised beans & greens, yellow pepper cream, tomatillo salsa crudo
368 E 100 S, Salt Lake City, UT 84111
(801) 359-0426
oquirrhslc.com
Zest
Monday nights are now pizza night at this downtown restaurant which also recent moved from operating as a bar, to a restaurant. That means anyone, any age can stop by to take advantage of the new deal – 2 pizzas for $25.
275 S 200 W, Salt Lake City, UT 84101
(801) 433-0589
zestslc.com
Closures and moves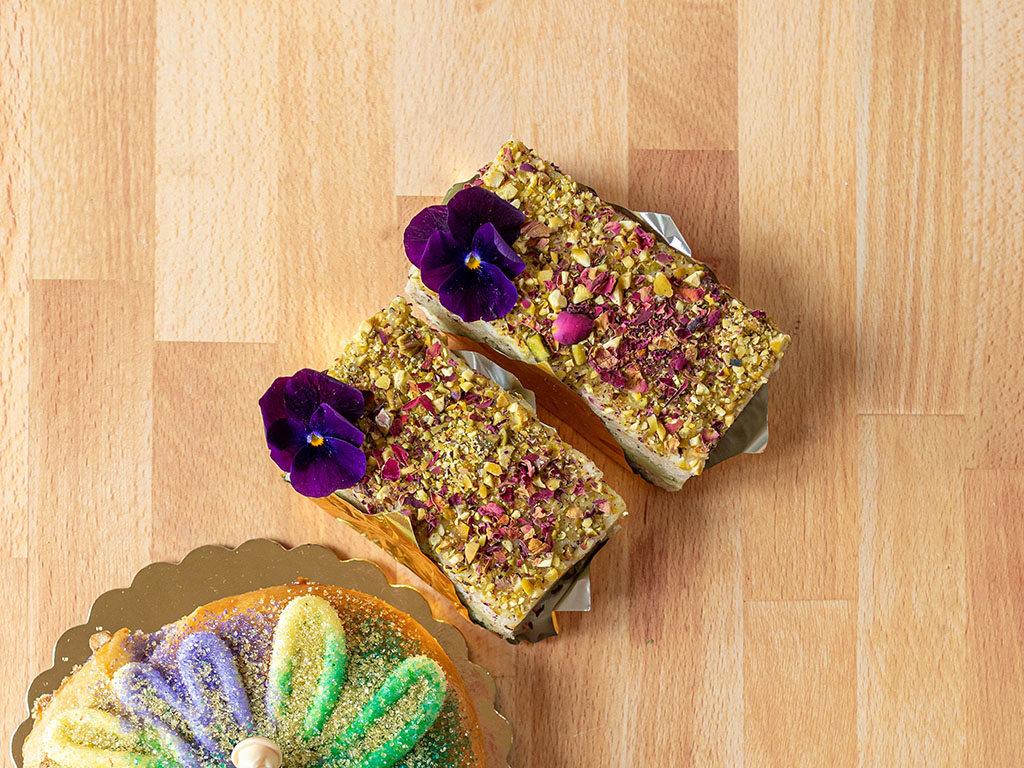 The following details popped up recently for the sale of Celeste Ristorante, the Midvale Italian restaurant. The price for Paolo Celeste's operation is $90K, but does not include the name apparently. Celeste – is one of the names behind the much loved Michelangelo's and is renowned for his rustic Tuscan cooking. Fans should take heart that the sale is intended to allow the restaurant to relocate, not close for good.
The Tribune report that Seasons Plant-based Bistro have formally closed their State Street location in Salt Lake City. They also report that the business should re-open in August in the Central 9th district (916 Jefferson Street) next door to Scion Cider.
Flourish Bakery are another name to have recently called it quits. The first rate bakery that saw the talent's of Amber Billingsley of late, helped those with addiction get back on track, with a solid foundation and skillset. Sadly, the business faced a number of issues and is no more.
A social media post reports that Grinders 13 in West Valley City might be shuttering their doors. The poster writes that, "due to staffing issues Grinders 13 in West Valley is shutting their doors after near 50 years in business next Friday July 22. Sounds like they will be doing some deep cleaning the week after then there my be potential to buy name and or building in a few weeks. Would be cool to see this iconic restaurant somehow stay in business."
Other closures include Sushi Go in Layton, posted here and the Kamas location of Richie Lush's BBQ; the smoked meats shop now operating out of a new Silver Lake location.
Park City Cocktail contest in full swing
Via press release
Bottoms up for the annual Park City Area Restaurant Association (PCARA) Savor the Cocktail contest. Online voting opens today through July 31 for patrons to sample newly created cocktails – and inventive mocktails – from Park City's talented community of mixologists.
"This summer, the Savor the Cocktail Contest is raising the stakes with a new mocktail category to give mixologists fresh grounds for creativity and patrons a wider variety of beverage options," said PCARA Executive Director Ginger Wicks. "While the bulk of our entrants remain in the cocktail category this year, we're excited to continue to expand drink menus for non-drinkers and designated drivers, as well as provide our mixologists an additional opportunity to be recognized and awarded for their incredible talent in future contests."
The bartender or mixologist with the winning cocktail or mocktail will each earn a $500 cash prize, city-wide recognition, and will be featured in a marketing campaign leading into PCARA's popular fall "Dine About" event following the contest.
Seventeen bars and restaurants are competing in this year's contest. One vote may be cast per email address, per day, per category, (cocktail or mocktail) online at parkcityrestaurants.com. You must be 21 years of age to participate in the cocktail contest.
Entrants for Best Cocktail include:
Alpine Distilling Pie Bar: TGB Cold Brew
Après Pendry: Frenchie
Blind Dog: Blind Spritzer
Butcher's Chop House: No Thyme to Die
Dos Olas Cantina: Mojo
Firewood: Matcha Picchu
Flanagan's on Main: Kiss Me I'm "Irish-tini"
Handle: Handle Highball
Hearth and Hill: Tijuana Handshake
High West: Sweet Agony
KITA: Chikyu
Riverhorse on Main: Peachy Summers
Royal Street Café: Ruby Spritzer
Stein Eriksen Lodge: Wildfire
The Pool House: Rye or Die
Wasatch Brew Pub: Watermelon Mint Margarita
Entrants for Best Mocktail include:
Alpine Distilling Pie Bar: Sober & Bitter
Après Pendry: Midsomer
Handle: Mocktail #1
Mixologist Reagan Chung from Handle won last year's contest with the Handle "Rum" Cocktail, which features Plantation 3 Stars rum, Wray and Nephew white rum, Licor 43, pandan syrup, coconut water and lime.
Red Banjo celebrates 60 years
Via press release
The Historic Park City Alliance (HPCA) invites guests to stop in and wish Park City's oldest business a very happy birthday this June. Red Banjo Pizza will celebrate 60 years of service to the community, who's doors have been open since Park City's silver mining era.
"What a privilege it has been for four generations of our family to serve Park City for the last six decades," says Red Banjo Pizza Co-Owner Tana Toly. "Since 1962, we have endured and thrived through the community's evolution from silver mining town to international ski mecca. We look forward to continue tossing pizzas for locals and visitors well into the future, wherever that may lead."
Open daily for lunch and dinner at 322 Main Street, Red Banjo Pizza's family-friendly atmosphere provides a comfortable, casual vibe for anyone with a taste for homestyle Italian fare. Known for their hand-tossed, fresh baked pizzas made daily from scratch, including gluten-free and cauliflower crust options, their full menu is also stocked with savory sandwiches, pastas, salads and a full bar. Conveniently located in the heart of Main Street, Red Banjo offers delivery, curbside, dine-in and al fresco seating on their elevated outdoor deck. For the full menu, reservations or to place an order, visit redbanjoparkcity.com.
In other news
Keep the conversation going
Want to stay on top of the SLC food scene, minute by minute, dish by dish? Here are a few other places you should follow along:
Hi, I'm Stuart, nice to meet you!  I'm the founder, writer and wrangler at Gastronomic SLC; I'm also a former restaurant critic of more than five years, working for the Salt Lake Tribune.  I've worked extensively with multiple local publications from Visit Salt Lake to Salt Lake Magazine, not least helped to consult on national TV shows.
I'm a multiple-award winning journalist and have covered the Utah dining scene for the better part of fifteen years.   I'm largely fueled by a critical obsession with rice, alliteration and the use of big words I don't understand.   What they're saying about me: "Not inaccurate", "I thought he was older", "I don't share his feelings".  Want to know more? This is why I am the way I am.
This article may contain content provided by one of our paid partners. These are some of the best businesses in Utah. For a list of all our current and past relationships see our
partnership history page
.