Given recent turmoils and lockdowns, one of the most well received posts in 2021 was this piece; a look at what major food and drink events came back online. 2022 currently looks brighter than the year that was, so here's another look ahead. Get your calendar out, and start planning. I'm expecting a busy year. Here are all the major food and drink events, and their current confirmed statuses.
Living Traditions
May 20th – 22nd
Washington Square / Library Park, downtown SLC
Free entrance
saltlakearts.org/livingtraditionspresents
In my mind this three-day celebration of Utah's cultural landscape always marks the start of the Summer food and drink event season. While not elusively focused on stuffing your face (there's myriad arts, music, dance and performance to enjoy), absolutely a huge draw for the crowds is the eclectic cuisine on offer.
Downtown SLC Farmers Market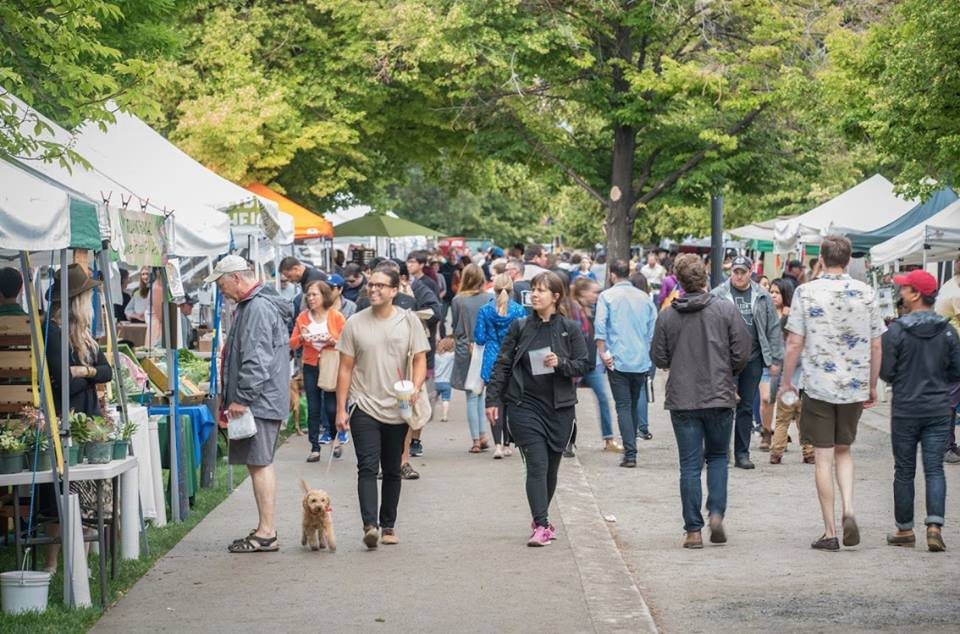 June 4th – October 22nd, 8.00 a.m. – 2.00 p.m.
Historic Pioneer Park, 300 South 300 West
Free
slcfarmersmarket.org
Vendor applications recently closed for Utah's biggest Farmers Market, that will return again once in 2022 as of June 4th (every Saturday). The Pioneer Park market is a showcase for "farmers and producers offer the freshest local fruits and vegetables as well as a wide variety of grass-fed meats, eggs, dairy, honey, and flora, along with the region's best locally made sauces, spreads, baked goods and culinary accoutrements."
Sauce Lake City
June 18th
Utah State Fairpark
$10
facebook.com/events/977896879494636
A new one for 2022, and an event very close to my capsaicin stained heart. This Father's Day weekend event organized by Chili Beak will star hot sauces, salsa, bbq vendors, live entertainment, food trucks, hot pepper challenges and more. Plenty of samples should be on hand from some of Utah's biggest names in the hot sauce biz.
Savor The Summit
June 25th
Main Street, Park City
Price varies
parkcityrestaurants.com/savor-the-summit
After a two-year hiatus, the Park City Area Restaurant Association's (PCARA) annual Savor the Summit will return to Historic Main Street on June 25, 2022. Organizers write:
"We could not be more excited to bring Savor the Summit to life this year, and we are so grateful for the collaborative efforts of the City, Historic Park City Alliance (HPCA) and our loyal patrons who have been patiently awaiting the event's return," said PCARA Executive Director Ginger Wicks. "Guests can look forward to a completely revamped, refreshed version of our favorite summer dining tradition."
This year's participating PCARA-member restaurants will celebrate the official kickoff to summer by offering their own inspired menus for guests to enjoy. The full lineup of partners and reservations for a seat at the Grande Table will be available soon. To save yours, as well as stay up to date on ongoing event updates, visit www.savorthesummit.com
Utah Asian Festival
July 9th
Utah State Fairpark
Free entrance
utahasianfestival.org
2022 will mark the 45th year of this venerable event, which is the longest running, continuous festival of its kind west of the Mississippi since 1977. The event features traditional and modern performances, children's activities, food booths and trucks, cultural/nonprofit/commercial booths, and more! $5 all-day parking fee at the fairgrounds.
Mega Peruvian Festival
July 29th and 30th
279 S 300 W, Salt Lake City, UT 84101
Prices TBA
facebook.com/fiestas.delperu
Final details of this one are still swirling but the event looks to be on this year (after faltering in 2021 if memory serves). The organizers write, "Let's celebrate the Peruvian Culture with folklore, arts, live music and arguably the best food in the world; The Peruvian cuisine is held in high esteem for their anomalous and complex dishes that give visitors a taste of this unique culture. "Just for Foodies", showcasing Peru's exquisite cuisine."
SLC Veg Fest
September 10th
Library Square
Free entrance
slcveg.com
This end of Summer high five for the plant-based community is still in the final stages of planning. Right now the event is still accepting applications for vendors. In the meantime, to get a feel for what to expect, check out these snaps from the 2021 event.
City Weekly Beer Festival
August 21st and 22nd
The Gateway
Price TBA
utahbeerfestival.com
The 11th annual beer festival organized by local paper City Weekly marked 11 years pouring pints in 2021. The website for the event has now been updated to show the 2022 event will follow in the footsteps of last year, moving as it did to The Gateway on the West side of downtown SLC.
Oktoberfest @ Snowbird
August 14 – October 17 in 2021
Snowbird
Free entrance

The 48th Oktoberfest at the Snowbird resort took place during August 14 – October 17 in 2021. While the organizers and Snowbird calendar haven't yet been updated with 2022 info – we'd say this is a shoe in to return in the late Summer / Fall.
Greek Festival
September 10th, 11th, 12th
Holy Trinity Cathedral – 279 South 300 West, SLC, UT 84101
$3
saltlakegreekfestival.com
It's unclear from the events website if these are the final dates and details for the 2022 Greek festival. That said, given the four decade plus event typically runs every year like clockwork – it's almost a certainty this one will be back for 2022.
Eat Drink SLC
September 14th and 15th
Tracy Aviary
Prices TBA
Last year saw this garden party toast to Utah's best food and drink, move to a a more modest, more covid friendly format; spaced out over several days. The 2022 bounce back is set to emulate this model, which organizers felt really improved the overall experience for guests. Final details are still pending but organize Tracey Thompson confirmed to me:
"Yes, we are 'on' for September 14th and 15th. Our provisional the plan is to host the event over 2 evenings ( last year we produced 3 separate events – one week apart and limited guests and vendors). This will allow for that one on one — up close and personal experience between patrons and makers each night we will feature approx. 10-15 food and libation partners – total vendors 30 (about 1/2 the size of pre-pandemic EDSLC).
Park City Food and Wine Festival
September 29th – October 1st
Price and location varies, Summit County
The Summit County celebration of all things wine made a big comeback in 2021; and look set to repeat the show this September. The website for the multi-day series of tastings and paired meals, states that 2022 ticket sales will begin on April 26th.
Taco Fest
October 1st & 2nd
Utah State Fair
The popular celebration of tacos took 2021 off and at the time of writing it looks like they might be staging a 2022 come back. The event are currently soliciting vendors via the signup for here for a potential Fall event.
Feast Of The Five Senses
Date, price and info TBA
The precise details are up in the air, but this Fall-feast by Slow Food Utah, has been confirmed to be coming back for a 2022 edition; more than that, this will be the first time in two years that the event will be held in person. The '21 and '22 events ran as virtual take out meals. Organizers write:
"Believe it or not, we've already begun preparation for this years annual Feast of Five. We are hopeful to return to sharing plates and dinning together this year. To celebrate the triumphant return of the Feast in person, we're interested in hearing from YOU if have a dream feast location. Know of a good farm/garden/rooftop that might
host you and your closest 120 friends? Drop us a line: slowfood@xmission.com"
Hi, I'm Stuart, nice to meet you!  I'm the founder, writer and wrangler at Gastronomic SLC; I'm also a former restaurant critic of more than five years, working for the Salt Lake Tribune.  I've worked extensively with multiple local publications from Visit Salt Lake to Salt Lake Magazine, not least helped to consult on national TV shows.
I'm a multiple-award winning journalist and have covered the Utah dining scene for the better part of fifteen years.   I'm largely fueled by a critical obsession with rice, alliteration and the use of big words I don't understand.   What they're saying about me: "Not inaccurate", "I thought he was older", "I don't share his feelings".  Want to know more? This is why I am the way I am.
This article may contain content provided by one of our paid partners. These are some of the best businesses in Utah. For a list of all our current and past relationships see our
partnership history page
.