As I stumble around our fair city, I try to recount as many restaurant experiences as I can. As the weeks blur into months and life makes mockery of my intricate plans, many fine dishes are sadly left on the proverbial cutting room floor. Now follows then, a rectification of sorts – eight restaurants, where I had the finest of intentions of regaling you. Hopefully herein some dining inspiration, as you ponder what's on the menu this weekend.
Tacos Garay
That feast at the top of the page? The one that refuses to fit entirely in the shot? Incomprehensibly it barely breaks the $45 mark. That my friends will secure you two pounds of meat (carnitas and barbacoa pictured), 32oz rice, 32oz beans, 20 tortillas (corn or flour), salsa, cilantro and onions. Frankly the only more incalculable element in all of this, the fact that I ordered this to feed yours truly, and yours truly alone. If you're less inclined to brazenly gorge, a pound of meat and accompanying 16oz fixings is $22.99.
It's a cliche to say something is criminally priced, but if anything can be in this inflatory world, it's Tacos Garay. When I posted this to social media last year, whip smart friends pointed out that T.F. Brewing is mere steps away and the marriage of the two couldn't be a happier one.
909 S 300 W, Salt Lake City, UT 84101
(801) 532-2621
tacosgaray.com
Crack Shack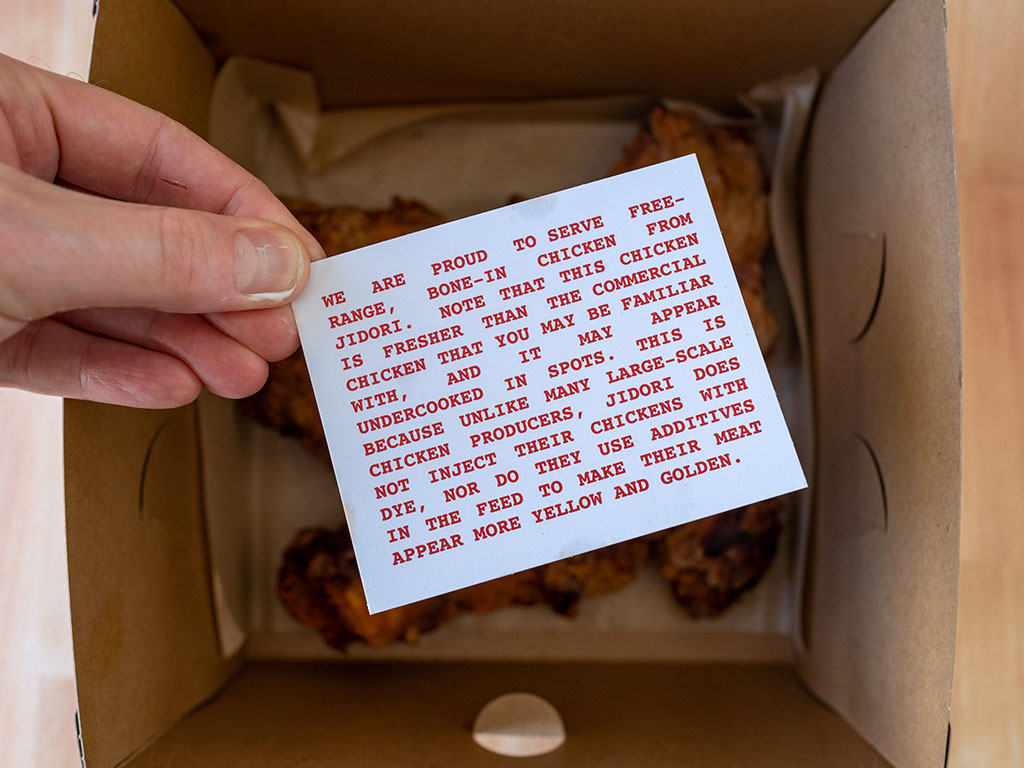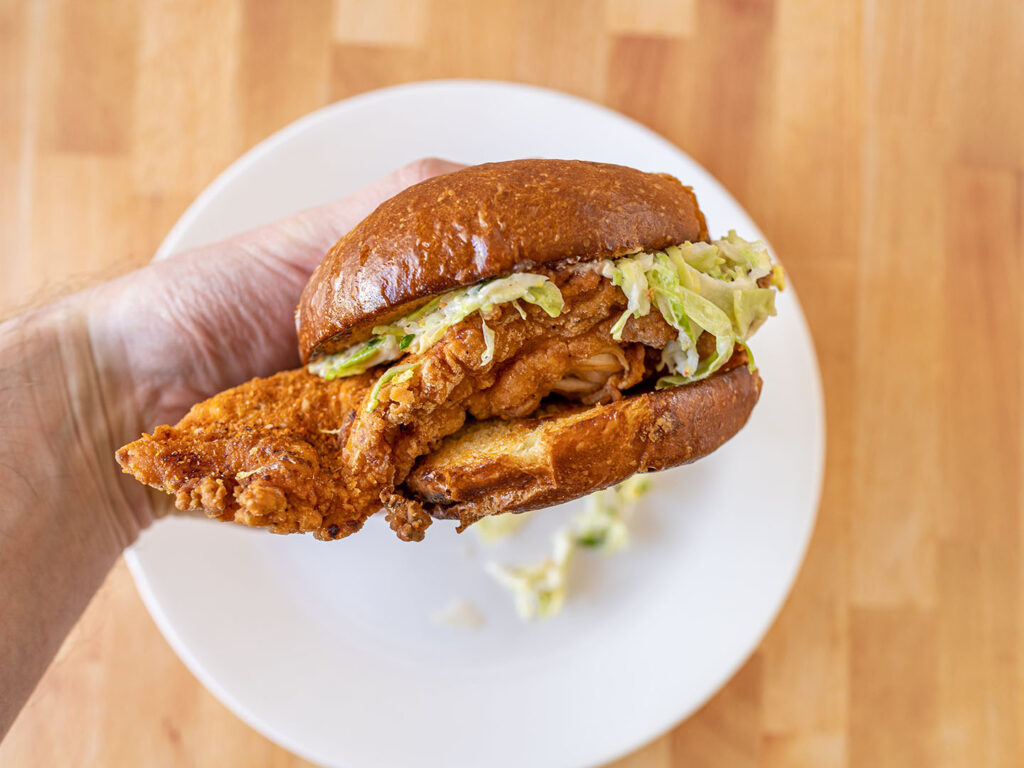 Grumbles aplenty from the chattering classes when news broke about this one headed our way. Crack Shack displaces 9th and 9th's long lived Mazza, and is a fried chicken concept escaped from a San Diego coop. Shake your fists at out of state interlopers (and chicken ones at that) all you want but me, I couldn't care less whether you're local or from the moon. What are you serving? Is it good? Get outta my way.
Initially booted up in part by celeb-chef Richard Blais (no longer involved I should add) the Crack Shack's USP is their use of Jidori chicken; organic, free range birds from small California farms. The prices reflect the higher quality sourcing and it's solid stuff. It cracks and it shatters and it makes a finger licking mess like all fried chicken should. As well as half bird and full bird plates, there's a range of heaving sandwiches; and it's all heavy on brand, from the inflatable chicken outside right down to the detailed packaging encouraging you to 'crack me open'. Local beer if you dine in too I believe.
912 E 900 S, Salt Lake City, UT 84105
(385) 715-0250
crackshack.com
Chettinad House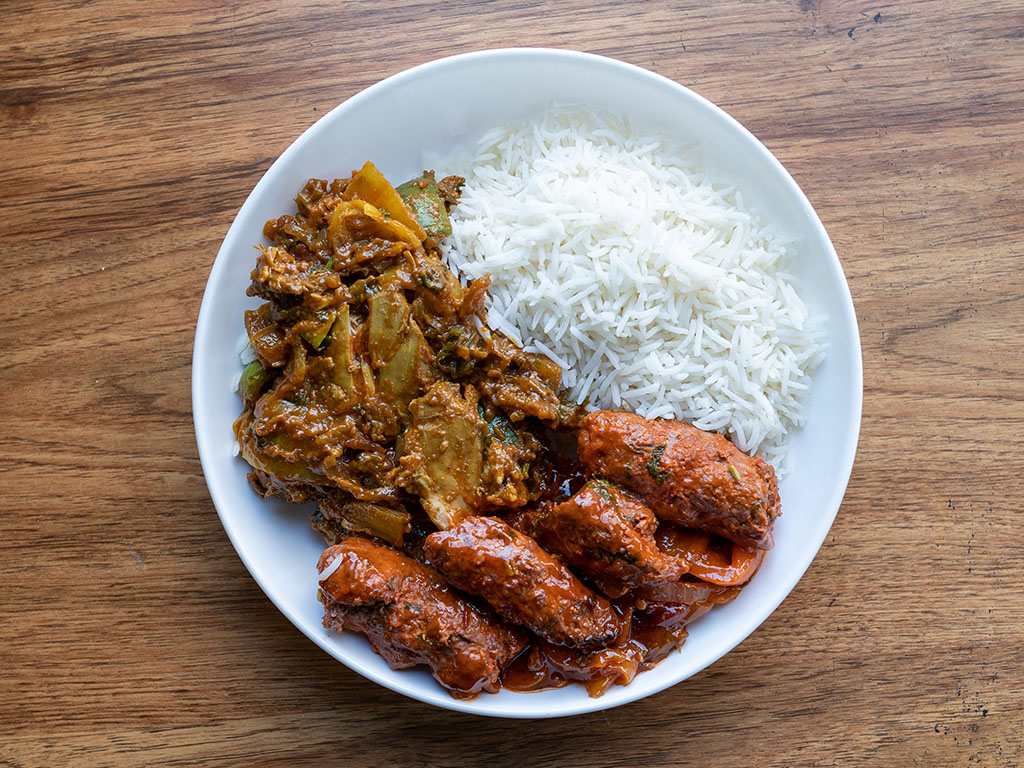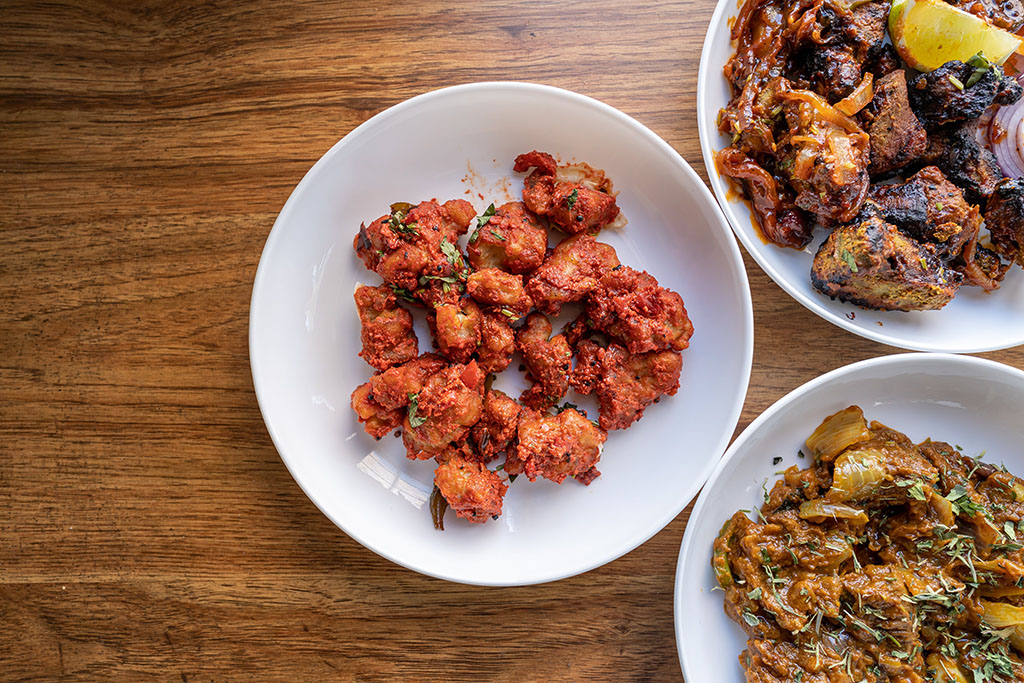 After Lambs Grill packed their century's old bags and vanished from Main Street (you can still find the interior at Orem's Tru Religion Pancake House) the space was quickly commandeered by this latest tenant, a rather respectable Indian eatery. The menu features a number of dishes you don't see elsewhere – fiery chicken 65 for example, battered and fried nuggets amped up with furious heat. Pictured above an excellent chicken kadai, a drier style dish; and a very enjoyable seekh kebab (ground, seasoned, roasted lamb) finished with a Utah-friendly sweetly-thick sauce. Amongst the many fine bars vying for your dollars on Main Street, this makes for a nice change of culinary pace.
169 S Main St, Salt Lake City, UT 84111
(801) 410-4696
chettinadhousesl.com
Sasa Kitchen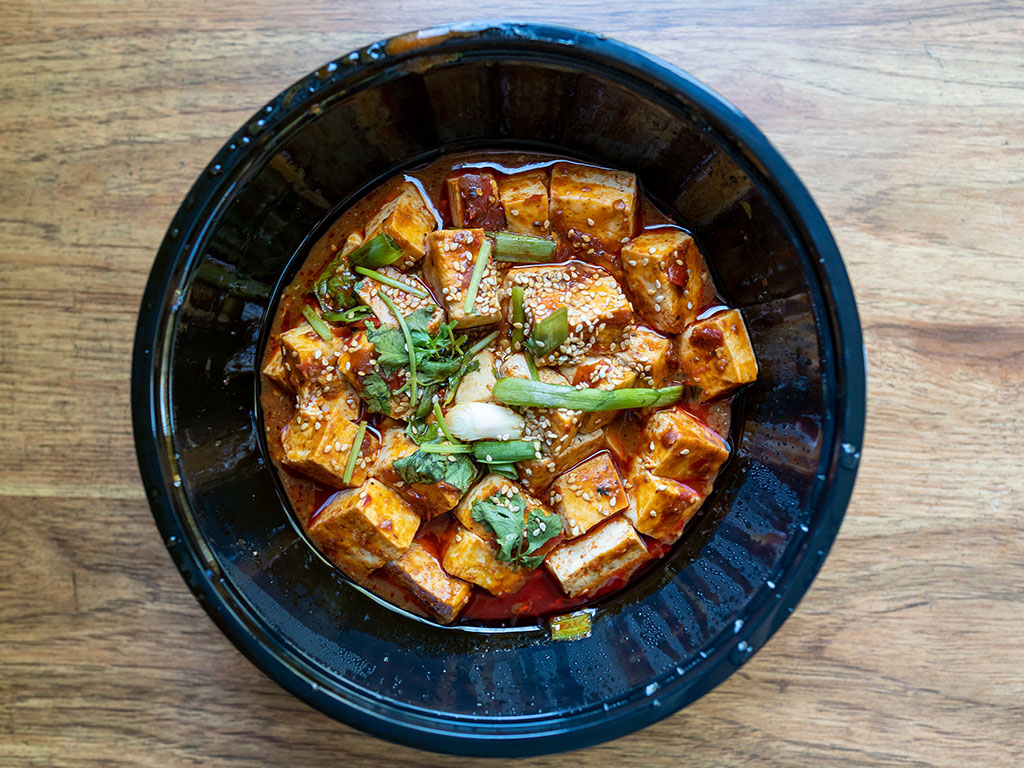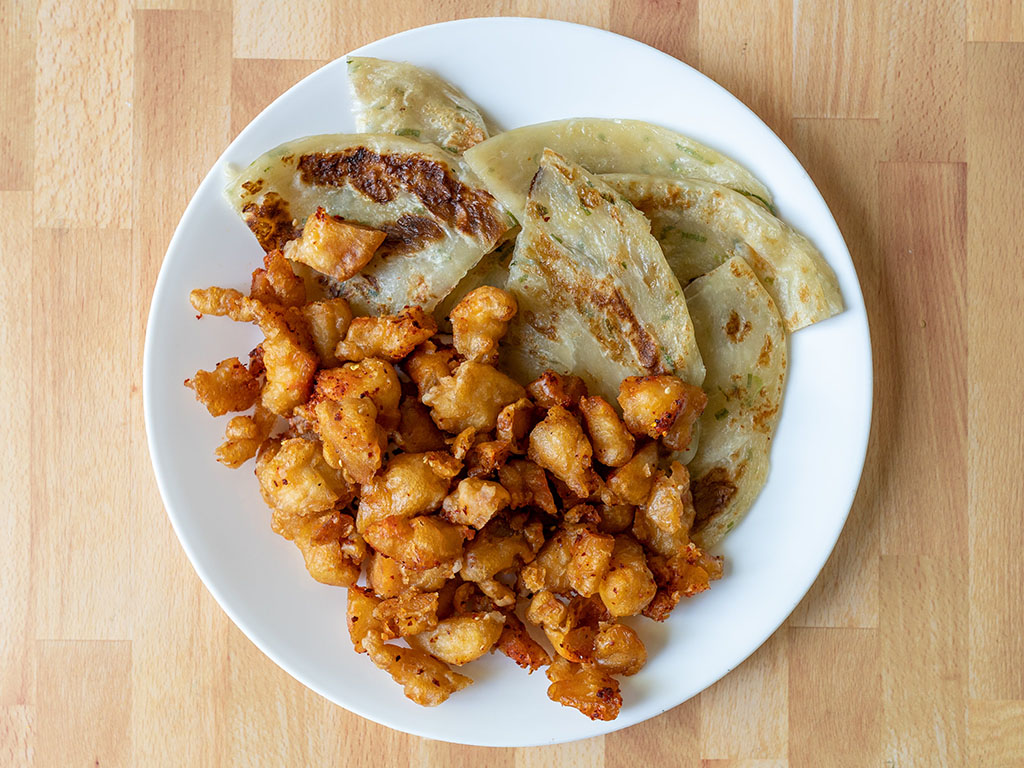 I recently wrote about my love for mapo tofu – and my own recipe here. The version at SLC's Sasa Kitchen is decent (perhaps leans a little too much into the Sichuan peppercorn for me personally). Sasa's menu is fun, a mix of Sichuan dishes, hot pots and noodles. There are also small plates like takoyaki, sesame balls and green onion pancakes – perfect to grab and go, alongside a drink menu of teas, shakes and smoothies.
2095 E 1300 S, Salt Lake City, UT 84108
(801) 583-7888
Neutral Ground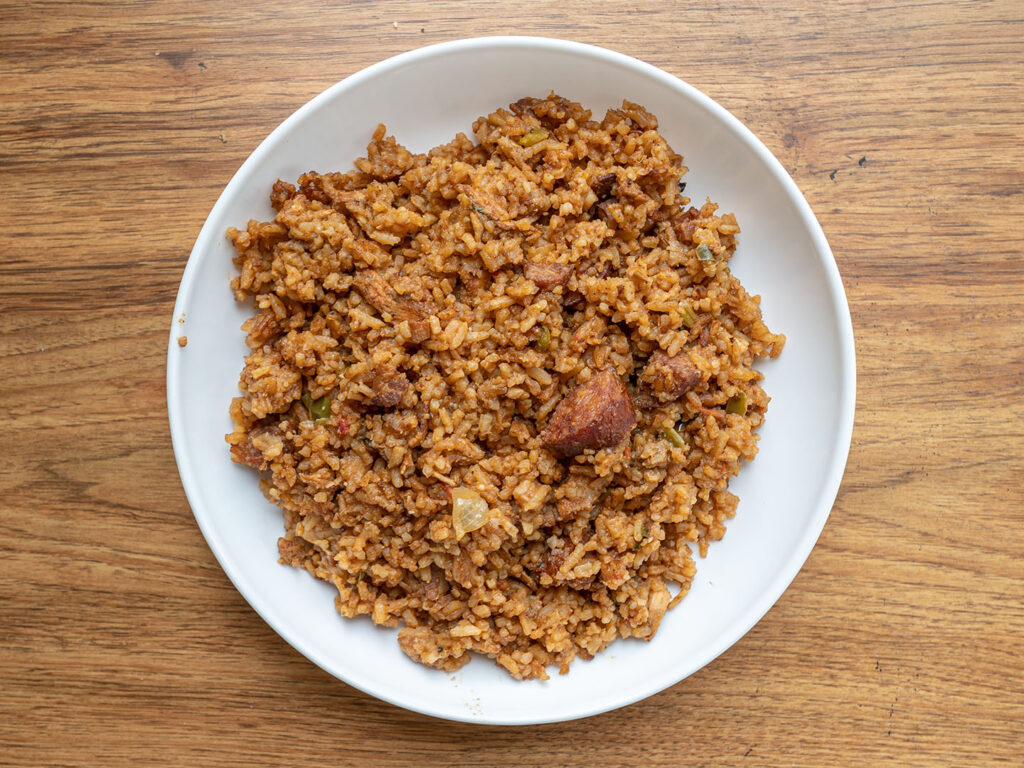 When they get their feet under them, this one promises something special. For now, this new opening is operating only as a to go or delivery option (which I availed myself of recently). The cuisine is New Orleans, a culinary language almost completely missing in Utah. The fried green tomatoes perhaps the best I've had here. Firm slices of sharp acidity, breaded and fried contrastingly crisp. Atop, an appealing few finishing touches – sweet tomato jam and a creamy smoked tomato remoulade. Also, that's how it came right out of the delivery box, attention to detail people; remarkably still warm and crisp after a couple miles journey I might add.
I have no real reference point for jambalaya, but scooped up every last grain of this deeply flavored dish studded with smoky andouille and shredded chicken. The restaurant is set to open for dine in come April I believe – breathing new life into the North Salt Lake building vacant since Nomad Eatery wandered off East.
110 W N Temple St, Salt Lake City, UT 84116
(801) 953-0443
toasttab.com/neutral-ground-slc-2110-w-north-temple/v3
IndieGo Coffee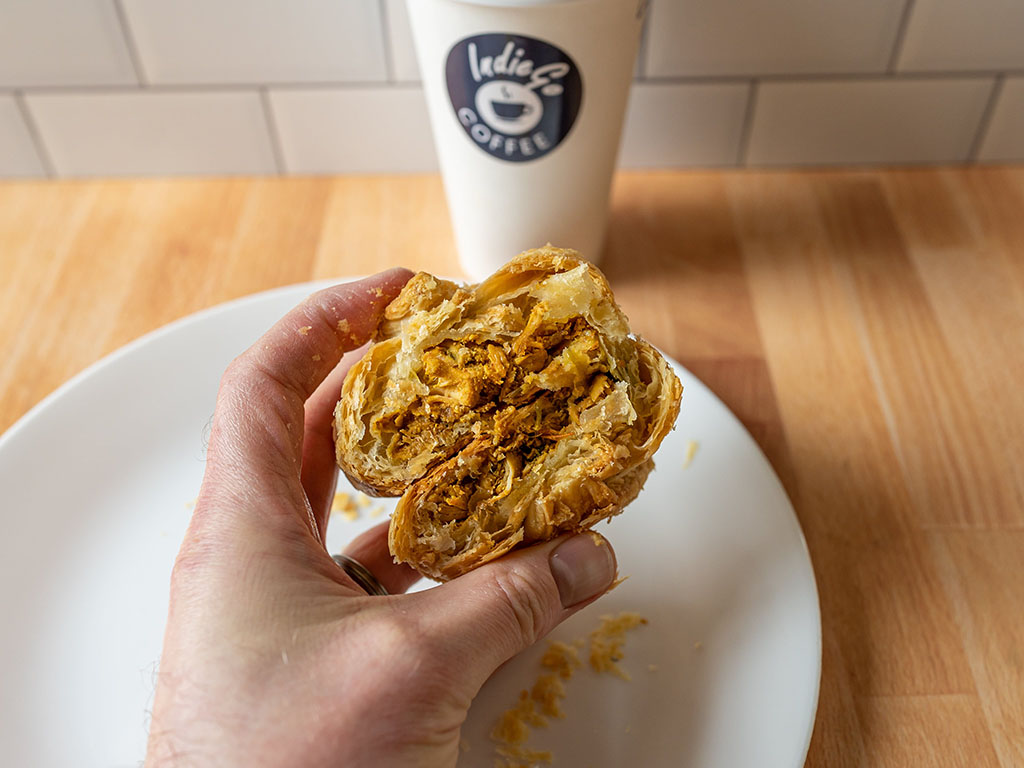 Bambu – the little tea shop on the corner of 33rd South and 5th East – is now gone. Instead, a new spot for your beverage needs; and frankly one with a couple of savory treats up the sleeves to tempt you through the door. Amidst the staples of muffins and coffees of shapes and sizes – a range of Indian-inflected savory puff pastries. Seasoned potato, paneer and chicken tikka. More of this kind of thing please. Menu on our sister site SLC menu here.
3310 S 500 E, South Salt Lake, UT 84106
(801) 819-4911
Kokonut Island Grill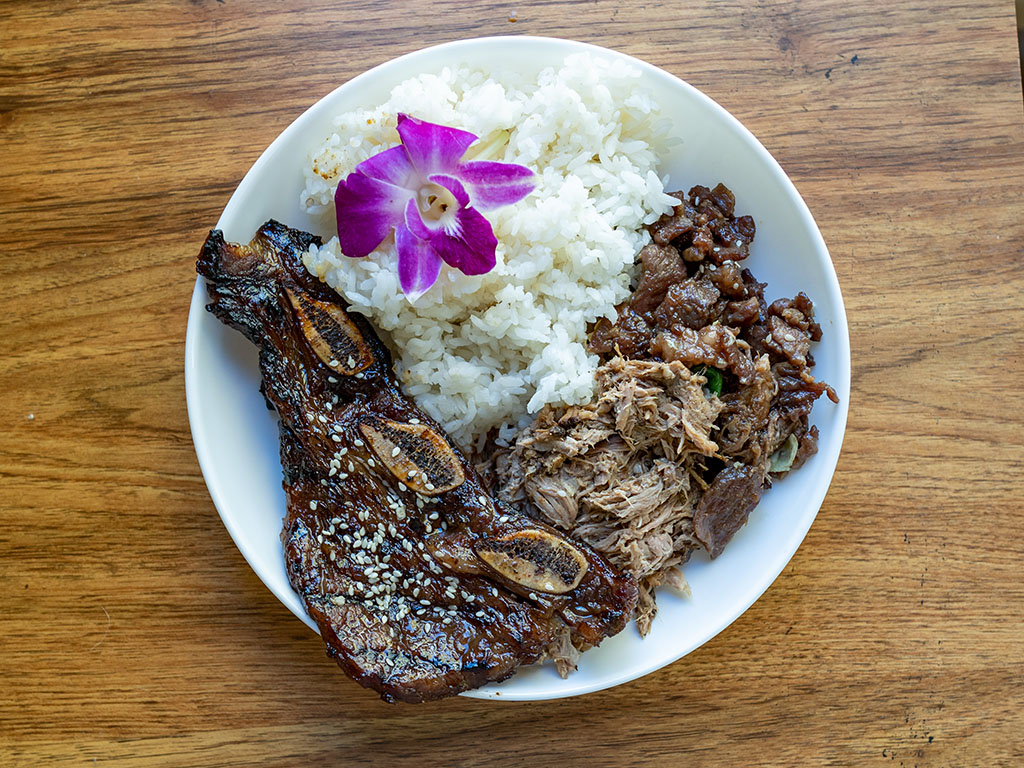 Bored of usual brisket and ribs? No me neither. But hey, if you ever are, this quickly expanding local chain of Hawaiian restaurants has something for you. The three meat plate pictured above rings up at $13.99. It's hard to argue with the value of money here, and wait till you see their chicken sandwich…
358 S 700 E, Salt Lake City, UT 84103
(385) 379-3299
kokonutislandgrill.com
Flanker Kitchen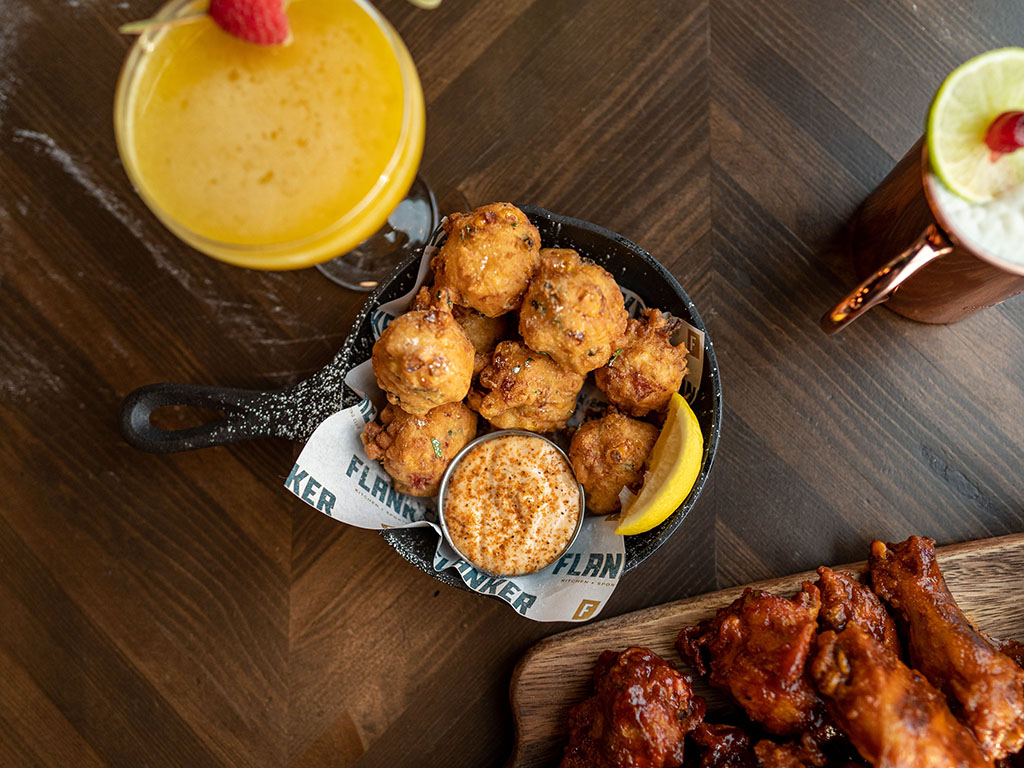 Another chain (to be) but who cares when the execution is on point. Carver Road Hospitality are the group behind this one – a recently formed Vegas outfit whose head honchos have some seriously strong CVs in the Sin City hospitality business. Flanker is part restaurant, two part bars, and a few more parts entertainment; karaoke, sports simulators, a weekend night club and plenty more.
The menu created by exec chef Jeannie Glass (who lists a stint under Joel Robuchon on her curriculum vitae ) takes all your favorite pub grub and basically goes to town. The sweet lobster bites are dusted table side with powdered sugar by your server, a similar cheesy treat occurs when you order the brisket nachos. Chicken wings come with little chicken feet terminated tongues – grab your wings and crisp em up over your own stereo-heated flame. It's kinda silly, but hey, it's fun and again, the execution is sharp.
6 N Rio Grande St, Salt Lake City, UT 84101
(801) 683-7070
flankerslc.com
Hi, I'm Stuart, nice to meet you!  I'm the founder, writer and wrangler at Gastronomic SLC.  I'm a multiple-award winning journalist and have written in myopic detail about the Salt Lake City  dining scene for the better part of seventeen years.
I've worked extensively with multiple local publications from Visit Salt Lake to Salt Lake Magazine, not least helped to consult on national TV.   Pause those credits, yep, that's me! I'm also a former restaurant critic of more than five years, working for the Salt Lake Tribune.    I'm largely fueled by a critical obsession with rice, alliteration and the use of big words I don't understand.   What they're saying about me: "Not inaccurate", "I thought he was older", "I don't share his feelings".
Want to know more? This is why I am the way I am.
This article may contain content provided by one of our paid partners. These are some of the best businesses in Utah. For a list of all our current and past relationships see our
partnership history page
.