If you haven't yet seen this one, consider contributing some seasonal cheer (see: cash) for a fabulous local producer. Created by Matt Caputo – always a staunch supporter of local food projects – the campaign seeks to raise funds for Cathy Tshilombo-Lokemba's Utah based hot sauce business, Mama Africa,
Posting on the fundraising page here, Tshilombo-Lokemba writes
Hello, my name is Cathy Tshilombo-Lokemba – people affectionately know me as "Mama Africa" – and I produce intensely spicy, yet disarmingly tasty pili pili sauce. As a refugee, former clothing designer, and restaurateur, I create the best authentic African hot sauce around (if I do say so myself).
2020 saw the success of the business of Mama Africa reach new heights; however, with a new national distribution audience, my production has been strained to breaking point. Additionally, a stroke greatly increased the challenge of production; yet I am determined to keep my business alive and share this special family recipe.
Donations from the campaign will help Mama Africa procure updated equipment that should assist in ramping up efficiency and production; with the business aiming to scale up and serve a bigger, national audience. The ultimate goal will see the Utah based operation install machinery capable of processing as many as 1200 bottles per hour.
You can read more and donate here: https://www.gofundme.com/f/help-mama-africa-stay-in-business
Hearth and Hill coming down the mountain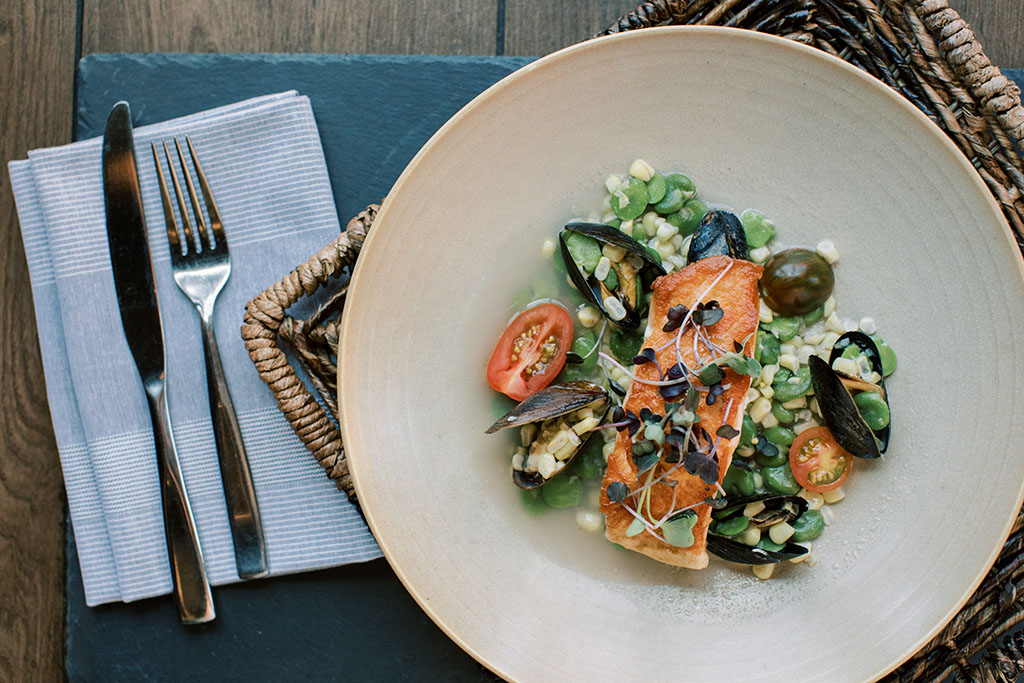 News in from Town Lift this week about not one but two new outings from the team behind Park City's Heath And Hill. After hitting the ski town in style back in 2018 owners David and Brooks Kirchheimer are taking the path down Parley's Canyon and opening up a duo of eateries in SLC.
One of the new restaurants will be a like for like Salt Lake outpost of Hearth And Hill proper, while the second will be named Urban Hill and is billed as "a high-end concept in the Post District west of downtown." More info to come as we get it.
I've got a couple more openings under my hat right now (from some big names) that I've been sworn to secrecy on for the time being. Suffices to say – 2022 is gonna be a busy year for the SLC dining scene.
Bocuse d'Or chef popup
Act quick and you can still grab a seat at this event on Saturday evening. Downtown SLC newcomer Brick & Mortar will be the hosts for Bocuse d'Or chef Corey Siegel, who will put on a five course spectacle for guests.
I don't think you can expect the over the top preparations that the Bocuse d'Or is famous for – the "Olympics" of the food world routinely sees national teams spend *millions* on crafting their ludicrously extravagant entry. Mind you, the ticket price here is a much more reasonable $125. The menu includes, red snapper crudo, little gem salad, halibut, prime zabuton, salted caramel budding.
228 S Edison St, Salt Lake City, UT 84111
(801) 419-0871
Review round up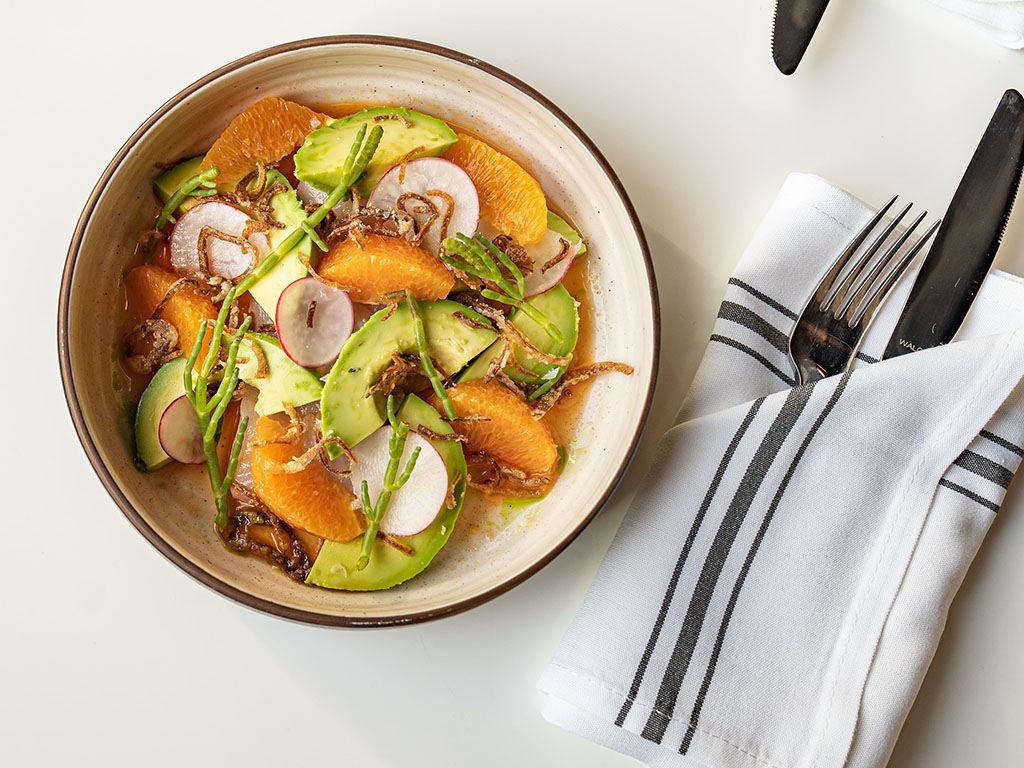 As the year wraps up, here's once last look at what local writers are talking about. Val Phillips always writes great stories that dig into the details of the people, faces and names – and this past few weeks sees No Manches Way (Ogden) as well as Tonyburgers (various) receive Philips signature treatment.
Ted Scheffler of Utah Stories checks out the new downtown Pago, and muses on two Utah dining stalwarts – Chimayo (Park City) and Log Haven (Millcreek Canyon). Ted also stops by HallPass at The Gateway (SLC).
On the blogging front it's always a pleasure to see SLC Eats back in the saddle, be sure to read Ryan's review of Fenice (SSL); and of course a humble plug for yours truly, I recently ran the rule over Taqueria Los Lee (South Salt Lake), Scion Cider (SLC) and Richie Lush's BBQ (Kamas).
In the SL Mag, Jeremy Pugh writes about The Lakehouse (Deer Creek). Up in PC Scott Iwasaki covers the opening of Fenice (SLC).
Lastly and never leastly Alex Springer in the City Weekly has all you need to known about the newest Cuban spot in town – Batista (SoSL) – and also heads on down for some Ethiopian cuisine at Oromian (SLC). Alex also reviews a duo of Draper eateries, Cultivate and Cliff Dining Pub.
Via press release
Here are a few more interesting items that landed in my inbox over the past couple weeks…
Laurel now open at Grand America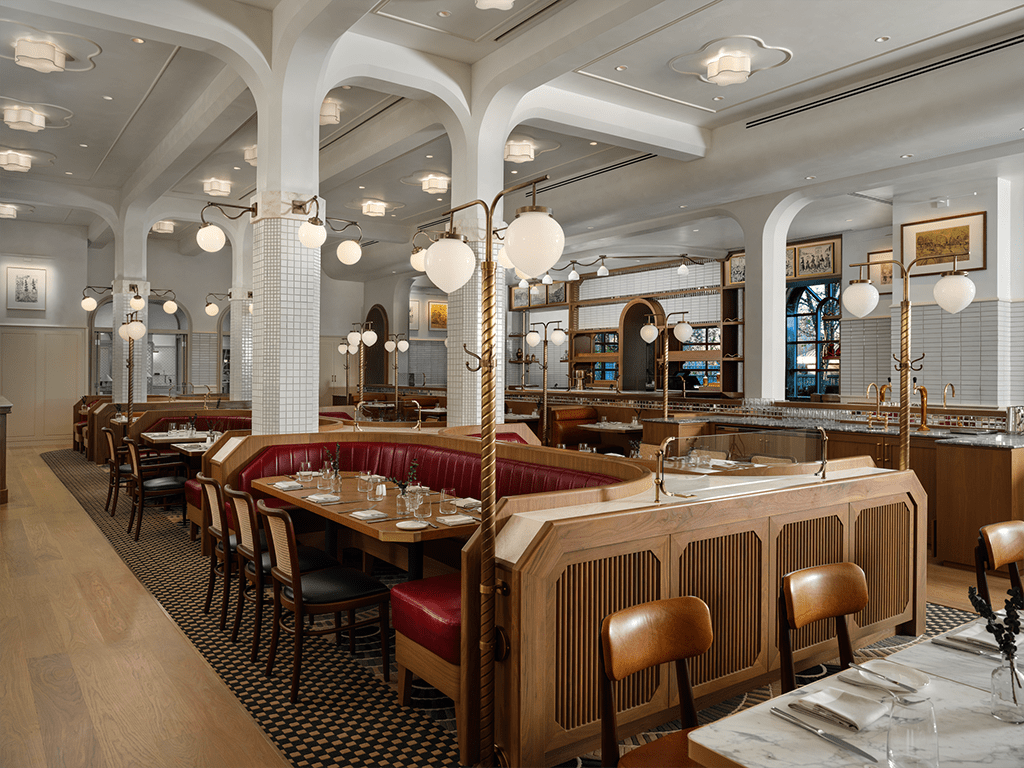 Laurel Brasserie & Bar, a new neighborhood brasserie featuring classic European cuisine with a modern American approach, is now open in the heart of downtown Salt Lake City. Located adjacent to The Grand America Hotel entrance with a full-service bar, a value-driven menu and enchanting design and décor, guests can enjoy chef-driven dishes and techniques without the fuss. Evoking a socially vibrant atmosphere, this highly anticipated bar and restaurant concept is a place to visit any time of day. Whether for an early morning coffee and pastry at Bonne Vie or a dependable business lunch, Laurel Brasserie & Bar offers breakfast, Sunday brunch, lunch, Happy Hour, Late Night Happy Hour and dinner.
"After three years of planning this project, and 10 years from the first ideation, we are proud to be able to finally welcome guests and visitors to the reimagined space," says Régis Perret, Director of Food & Beverage. "Laurel Brasserie & Bar will quickly become a destination in our flourishing downtown community for Salt Lake City locals and Utah travelers alike."
Laurel Brasserie & Bar draws inspiration for its design and décor from traditional brasserie elements enhanced with a modern American touch, creating a casual and energetic experience. Upon entry, guests are greeted by a grand entrance, accentuated by natural stone and ceramic tiles, custom-designed carpets, gold accents and Verde Antigua and Verde Jasmine marble throughout the space. The restaurant is centered around a thoughtfully designed feature bar, a first for the space, enticing diners to relax and enjoy a drink. Laurel Brasserie & Bar is also complemented by an exhibition oven, an intimate outdoor patio slated to open in the spring, and an updated private dining room with space to seat around 150 guests with options to make more intimate experiences for guests or expand as needed with two additional private dining rooms.
Featuring classic European cuisine presented with a twist, Laurel Brasserie & Bar's menu offers bites & starters, soups & salads, handcrafted pasta, mains, handhelds, and complements. With an emphasis on fresh, local and seasonal ingredients, most elements of each dish are made in-house, including the cultured butter for the baked fresh Bread Service and the handmade pasta featured in the Rigatoni Bolognese and Chicken Lasagna. Patrons can enjoy additional traditional brasserie fare including Mussels, French Onion Soup and Steak Frites – all priced under $30, allowing guests to experience Laurel Brasserie & Bar multiple times a week.
For those looking to imbibe with their meal, grab a seat at the stunning bar. Crafted to be the focal point of the elegant space, the bar will offer a variety of wine, beer, spirits, handcrafted cocktails and zero-proof mocktails. Laurel invites guests to enjoy the Hibiscus Mule with Dented Brick Vodka, lime, ginger beer, and hibiscus tea; the Great BasinSour with High West Prairie Bourbon, Bulleit Rye Whiskey, lemon, Blood-Orange Grand Marnier Foam, and red wine; or enjoy the alcohol-free Eastside, with Seedlip zero-proof spirits, cucumber, mint and lime. Carrying on the same principles from the dining room of working with local partners, at opening, the bar program will be highlighting six local distilleries and six local breweries with more to be added in the coming months. Happy Hour, which will take place from 4:00 – 6:00 p.m., and Late Night Happy Hour from 10:00 p.m. – 12:00 a.m. every day in the bar, will offer food selections at near half price.
The Bonne Vie that locals know and love has a new look inside Laurel Brasserie & Bar. The refreshed space will be a bustling coffee-centric cafe that caters to locals and hotel guests with an emphasis on made-from-scratch and local sourcing. The iconic Bonne Vie Macarons are made in-house fresh daily, using the traditional French style, with only four simple ingredients yet achieving delicious results. Other indulgent offerings include grab-and-go coffee and house-made flaky pastries. Bonne Vie will be open 6:00 a.m. to 6:00 p.m. daily.
Usu-Zan @ Yuta
Chef Kyle and Katina Connaughton are proud to unveil Usu-Zan by SingleThread, presented by Chase Sapphire®, their singular wintertime hot pot dining experience inspired by their many years living in Hokkaido, which will debut in the alpine climes of Park City in January 2022. The limited 10-day engagement that will run from the 20th-30th of January, is inspired by the name of the small, active volcano overlooking the remote village where the Connaughton's lived and where they honed their education in farming, cooking, and warm hospitality.
The Lodge at Blue Sky, Auberge Resorts Collection which encompasses 3,500 acres, is a retreat in and of itself, and will become home to the entire SingleThread staff during their winter sojourn in Utah. Upon escaping the busy streets of Park City for this culinary adventure, guests will be welcomed into the Arena, a beautifully appointed and expansive barn to be reimagined by the premiere production company Shelter Co. Upon arrival, they will be greeted with SingleThread's signature first course that best captures the essence and moment of the day, a collection of seafood from the California Coast and Hokkaido along with vegetables from the SingleThread Farm and Gracie's Farm at Blue Sky.
The 7-course dinner's main event will be a special donabe hot pot to be shared amongst guests at the table. Cooked in special handmade donabes from the Nagatani Family in Iga, Japan, this will be a choice of a Hokkaido King Crab Seafood Miso Hot Pot, an A-5 Wagyu Shabu-Shabu Hot Pot, a Roasted Duclair Duck Hot Pot, or a Shojin Style Vegetarian Hot Pot. Each reservation will include wine pairings, featuring Dom Pérignon Champagne along with some of the best producers from Sonoma, CA and around the world. Post dinner, guests will be led to a whiskey bar lounge for dessert bites and digestifs.
SingleThread Farms will release limited nightly bookings to Usu-Zan exclusively for Chase Sapphire Reserve® cardmembers within Chase DiningSM Additionally, Sapphire will be hosting two Reserved by Sapphire℠ special private dining events during opening weekend of the limited engagement run. Sapphire Reserve cardmembers can purchase reservations using their card and points, and can access these exclusives by logging in to dining.chase.com within Ultimate Rewardsstarting on December 14, 2021.
Additional bookings will be available through Tock and starting on December 16th at 9am PST. Only 25 tables are available per evening with seatings starting at 5:00pm. Dinner packages are $800/person or $900/person (depending on main course selection) and inclusive of beverage pairings. Exclusive of gratuity and taxes.
States Kyle, "To be able to recreate this experience at The Lodge at Blue Sky is incredible. Our winters in Hokkaido were some of the most formative in our lives. Katina and I would sit for hours fortifying the broth, sharing sake and talking. It was a way of cooking and a way of life that changed us forever. The experience of gathering around the table with friends and family while enjoying rich, soulful donabe hot pots inspired many of the ideas of what SingleThread would one day become. We had this amazing opportunity to create the Usu-Zan at SingleThread in early 2021 and are now excited to bring it to Park City for this limited engagement."
"Through our collaboration with SingleThread, guests will explore curiosity, discover community, and find a much needed respite from the hustle of Park City in the winter," adds Joe Ogdie, general manager, The Lodge at Blue Sky, Auberge Resorts Collection. "We are thrilled to welcome Chef Kyle and Katina to The Lodge at Blue Sky for a once-in-a-lifetime culinary journey guided by local ingredients and the philosophy of heart-warming alpine cooking."
Crack Shack confirms 9th and 9th opening
The Crack Shack announces the highly anticipated opening of its first Utah unit on Friday, December 17th. The team behind the popular fried chicken restaurants is opening in the 9th & 9th neighborhood, centrally located in Salt Lake City, at 912 East 900 South. The space is being transformed into a culinary "coop" that features its iconic chicken artwork, pet-friendly patio and full bar featuring local craft beer from KiiTOS, Shades Brewing and T.F. Brewing, craft cocktails and wine.
The Crack Shack originally started as a passion project to transform the pristine, local ingredients from the founding team's fine dining restaurant, Juniper and Ivy, into a more accessible, casual setting. What started as a humble open-air chicken spot in San Diego's Little Italy in 2015 –- before the fried chicken sandwich craze began — has now transformed itself into six fine casual eateries, earning the title of one of the best fried chicken restaurants in the US and recognition as a Michelin Plate honoree.
Culinary Director Jon Sloan is behind the SoCal/Baja-inspired fried chicken that combines non-GMO, "beyond free range" birds fresh from Jidori Farm and a proprietary "Crack Spice" blend from Le Sanctuaire. While bone-in fried chicken is their signature, the menu boasts fried chicken sandwiches packed with homemade sauces and local produce, fresh & hearty bowls for the healthy-ish at heart and a Lil' Cluckers menu kids will love and grown-ups will feel good about serving. Patrons will also have access to The Crack Shack's beloved sauce bar which will feature housemade condiments like ranch, sriracha, 1000 Island, pineapple mustard and Sweet Baby G's BBQ.
"We could not be more excited about becoming a part of the Salt Lake City community," said Dan Pena, Director of Operations for The Crack Shack. "From the aesthetic to the ingredient sourcing, to the organizations we support and every decision we make, this location will uniquely cater to this neighborhood that we're so grateful to be a part of."
The 9th & 9th eatery will open officially to the public on Friday, December 17th. A portion of proceeds on grand opening day will be donated to local non-profit organization Encircle.
In other news
Keep the conversation going
Want to stay on top of the SLC food scene, minute by minute, dish by dish? Here are a few other places you should follow along:
Hi, I'm Stuart, nice to meet you!  I'm the founder, writer and wrangler at Gastronomic SLC.  I'm a multiple-award winning journalist and have written in myopic detail about the Salt Lake City  dining scene for the better part of seventeen years.
I've worked extensively with multiple local publications from Visit Salt Lake to Salt Lake Magazine, not least helped to consult on national TV.   Pause those credits, yep, that's me! I'm also a former restaurant critic of more than five years, working for the Salt Lake Tribune.    I'm largely fueled by a critical obsession with rice, alliteration and the use of big words I don't understand.   What they're saying about me: "Not inaccurate", "I thought he was older", "I don't share his feelings".
Want to know more? This is why I am the way I am.
This article may contain content provided by one of our paid partners. These are some of the best businesses in Utah. For a list of all our current and past relationships see our
partnership history page
.