After a weekend of getting your fill of pie and beer, presumably you're now in the mood for something a little more exotic? Never fear, the dining calendar keeps piling up with fabulous event after event. Here's what's coming up over the next few weeks.
Taqueria 27 Herradura tasting
In the first of this year's tequila paired dinners, the Holladay location (pictured above) of T27 will feature Herradura Tequila on Thursday, August 5th. You'll hear from chef Todd about the process of selecting the restaurant's featured tequilas as well as what makes the spirit so unique; hint: while you can make gin in your bathtub, tequila requires skill, patience and determination.
I've been to several of Taqueria 27's events down the years and can vouch first hand for a throughly wonderful evening. Attendees will sample a four course meal paired a range of tequilas included the T27 double-barrel Herradura Reposado. Menu as follows:
Beef barbacoa "jalapeño rellenos" with fire roasted salsa and frijoles Oaxaca
Herradura Silver Margarita
Heirloom tomato gazpacho "primavera"
Herradura "off the shelf" Reposado

Taco Trio with

Southwestern crab cake with organic lettuces, jalapeno aioli and tequila lime vinaigrette in corn tortillas
coriander crusted seared albacore with cucumber potatoes, shiso "salad" and anejo citrus glaze in flour tortillas
Baja style shrimp ceviche' in house made blue corn tortillas

T27 Exclusive Herradura Double Barrel Reposado
Mexican cinnamon flan with peach compote and churro bites

Herradura Ultra
You can purchase tickets here online, food is priced $75 per person with drink tickets $6 each.
4670 Holladay Blvd E, Holladay, UT 84117
(801) 676-9706
taqueria27.com
Avenues Proper beer dinner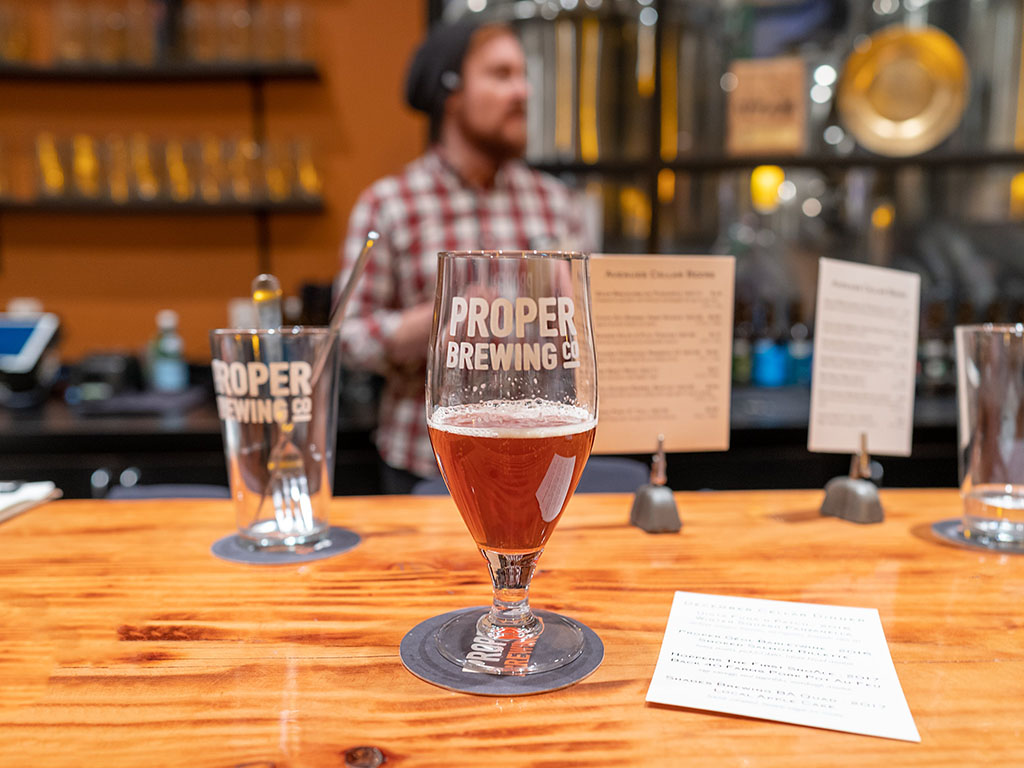 In just a couple days time (Wednesday, July 28th) Avenues Proper host their next "cellar" dinner. These fun events see the brew team pull up a range of aged beers from their cellar, a who's who of other SLC breweries. The special suds are then poured with some extra special dishes; there's also a little education from the team too. Always a great evening, again, another I've attended and loved.
Goat cheese salad with charred greens, green goddess dressing, blue cheese breadcrumbs
Uinta Birthday Suit 2017
Salmon ceviche with tequila, citrus, rice crackers
Proper Brewing Co Death In The Afternoon 2021
Pansotti with smoked chicken, sun dried tomatoes, burnt lemons, fried green tomatoes
Talisman Pinot Noir Barrel Aged Saison 2017
Carrot cake cheesecake with carrot cake crust, carrot cake cream cheese
Uinta Cahoots 2017
Cost is $50 for food and $30 for beer. More info.
376 8th Ave, Salt Lake City, UT 84103
(385) 227-8628
avenuesproper.com
Franck's wine dinner
August the 18th sees Staglin Family Vineyard the star of the show at this Cottonwood Heights spot. Dinner begins at 6.00 p.m. and is hosted by winery rep Amber Mihna. Cost is $225 per person ($75 food, $150 wine).
Chilled white tuna crude, truffle ponzu, Valencia orange, macadamia nut, black garlic,
marinated spring onion, ruby grapefruit, lemon bubbles, mint
2019 Mumm Napa Brut Prestige
4 day brined Mary's chicken, lobster tapioca, seared Oregon foie gras, thyme huckleberry jam,
chicken skin crumb, huckleberry vinegar, creeping thyme
2019 Staglin Family Estate Chardonnay
36 hour wagyu beef cheek & Chateaubriand, porcini mushroom confit, Robuchon style carrot puree
2013 Staglin Family Estate Cabernet Sauvignon
Dark chocolate mille fuille, hazelnut praline, balsamic-vanilla bean gelato, chocolate mint
Paring TBD
6263 Holladay Blvd E, Holladay, UT 84121
(801) 274-6264
francksfood.com
Feast Of The Five Senses
The seventeenth(!) annual Feast Of The Five Senses is almost back to its big, boldest best. As you might recall, last years celebration of all things local was a to-go only affair in light of C19. This year sees the event slowly get back to normal with a hybrid offering.
The event will be held on August 28th and offered as both an in person dining event, as well as one with take out options. There are no details yet on location or price, for now, just save that date. Here's coverage of the event from past years.
As soon as we hear details of the location, menu and what to expect from the multi-course extravaganza we'll let you know.
Park City Wine Festival
News just in from the PC wine fest folks on a series of paired lunches and dinners for the event that runs September 30th through October 3rd this year. Joining the "grand tasting" events, the following meals can now also be booked:
Paired dinner series | Thursday, September 30th at 7 p.m.
Wild West Whiskey & Wine Dinner (Wine and Whiskey Paired Dinner)
Montage Deer Valley Dinner (Chef and Sommelier Collaboration)
Nothing Beats Powder Dinner (Intimate and Elevated Dining Experience)
Better Off Red Dinner (Pairing of Red Wine and Red Meat)
Best of Butcher's Dinner (Award-winning 5-star Collaboration)
Luxurious lunch series
Rosé All Day | Oct. 1 at 12 p.m.
Salud to Spain Sampling | Oct. 1 at 1:30 p.m.
Wine & Wildflowers Hike | Oct. 2 at 10 a.m.
Pigs and Pinots Lunch | Oct. 2 at 12 p.m.
Zins and BBQ | Oct. 2 at 12 p.m.
High Noon at High West Lunch | Oct. 2 at 12 p.m.
Un-Wine Tailgate and Football Fiesta | Oct. 3 at 12 p.m.
Seminar series
The French Connection | Oct. 1 at 11:30 a.m.
Bubble Trouble Tasting | Oct. 2 at 10:30 a.m.
See their website for more details here.
Hi, I'm Stuart, nice to meet you!  I'm the founder, writer and wrangler at Gastronomic SLC.  I'm a multiple-award winning journalist and have written in myopic detail about the Salt Lake City  dining scene for the better part of seventeen years.
I've worked extensively with multiple local publications from Visit Salt Lake to Salt Lake Magazine, not least helped to consult on national TV.   Pause those credits, yep, that's me! I'm also a former restaurant critic of more than five years, working for the Salt Lake Tribune.    I'm largely fueled by a critical obsession with rice, alliteration and the use of big words I don't understand.   What they're saying about me: "Not inaccurate", "I thought he was older", "I don't share his feelings".
Want to know more? This is why I am the way I am.
This article may contain content provided by one of our paid partners. These are some of the best businesses in Utah. For a list of all our current and past relationships see our
partnership history page
.