Business closures
Nuan's Thai Kitchen – The following picture was spied over on Yelp, indicating the Fort Union Thai restaurant will be closing up shop at the end of August this year. The posting does offer some hope that the business might return, indicating they are seeking a new home. The business initially opened around five years ago.
Tram Club – Rumors abound regarding the closure of this venerable bar up at the Snowbird Resort. Whatever the reason, the following petition has sprung to life in the hopes of saving this on mountain drinking spot.
Tavernacle – The last hurrah for the dueling piano bar is July 31st – tickets are $100. If memory serves the building that hosts the long standing spot is being renovated or demolished. Taking to Facebook the business thanked their patrons for their nearly two decade run:
We are overwhelmed by the love coming in from our Tavernacle Friends. We have been Utah's best place to party for over 19 years but at some point e1very party must come to an end.
We will be throwing one last and probably best party on July 31st. It will be a ticked event so get your tickets now, as space is limited.
We will have our final dueling piano show with the Tavernacle band. We're also planning on auctioning off some of the memorabilia and decorations at the end of the show. You could be the proud owner of our Gong, or the famous framed picture(s) of Tony Danza. Come share in this historic night as this landmark bar says goodnight. We thank you all for the memories of a lifetime!
Mamachari Kombucha – This one from our Facebook food group; it appears as though Utah's oldest kombucha brewer might be set to shut up shop. One of our members reports seeing the following email, though I should caution I can't find this confirmed by the business online as of yet:
Hello All! It is with heavy hearts that we make this announcement. After an incredible run for many years and with the best customers we could ever hope for, we have elected to close Mamachari Kombucha…. We decided it's time to spend time in other areas of our life and pursue new ventures.
YOU, our tap room customers, have been some of our most devout group of individuals who have stuck with us year-in and year-out…and for that, we want to express our deepest appreciation for all the support you have provided. We could not have done this without you. We'll miss each and every one of you!! Sincerely, Lorrie & Ben
More news as we get it. As I say, for now this isn't confirmed.
Menu watch
Porch – Currently offering their Tapas Tuesday 5 deal – five small plates for $30. The business also has a wine and burger Wednesday too with $10 burgers and $5 glasses of wine.
Veneto – A Summer tasting menu is priced $145 and offers a bounty from the sea, with a focus on eco-friendly Pacific water fish. Also an update to the ala carte menu includes a caprese salad with black truffle burrata, bigoli with basil pesto and lavender flowers, risotto with fresh peas and bacon, and a homemade strawberry crostata and panna cotta with kiwi for dessert.
Fleming's – The downtown SLC steak house has an interesting dueling duo of prix fixe menus right now. The competing "earth, wine and fire" menus are priced $80-$98.
Hearth and Hill – A new Summer menu has rolled out at the Park City hot spot. New options include For a a fig and speck flatbread, beer-battered cauliflower, scallops with pea puree and striped black bass prepared with dashi.
Review roundup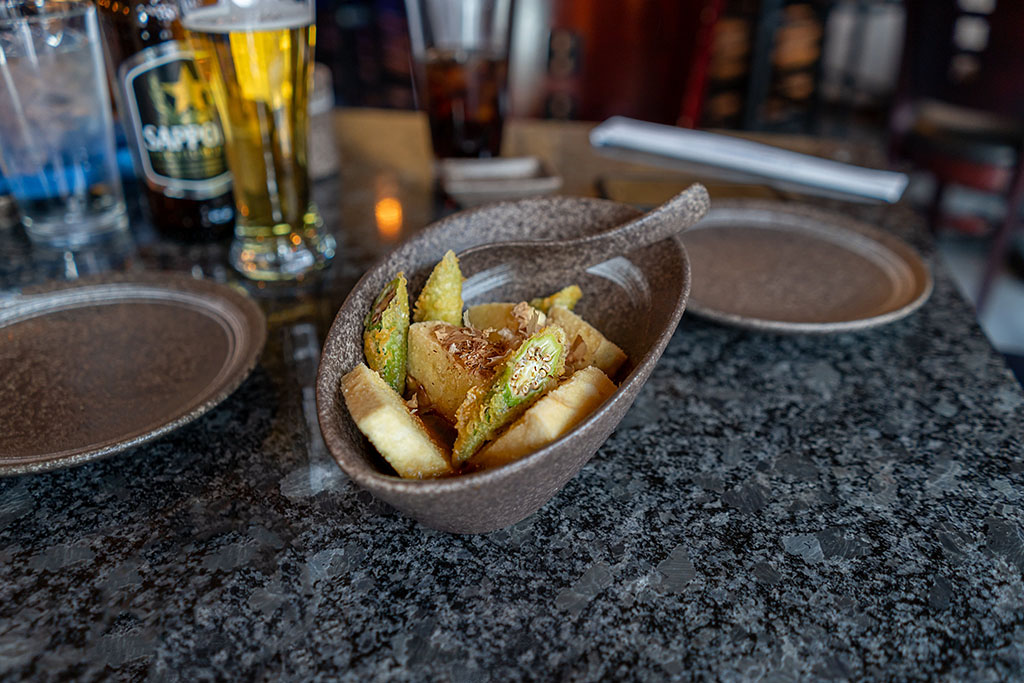 La Casa Del Tamal enjoys a brace of solid reviews (link and link). The WVC joint quickly came to prominence for their social media worthy birria tacos – but also seem to be rapidly solidifying their name as one of the best Mexican spots in the valley.
In Utah Stories Ted Scheffler speaks kindly about downtown's Kaze Sushi (link) before checking out the bajillion dollar upgrade at Deer Valley's Goldener Hirsch (link). Over in the Salt Lake Mag Jeremy Pugh waxes lyrical about Bricks Corner (link) while Josh Peterson joins the baying crowds at Raising Cane's (link). The Standard-Examiner's Val Philips also gives a bit more detail and background on the German cuisine at Weller's Bistro (link).
I recently also started to dig into the Newsbreak app which is also providing to be a fun source of thoughtful local food reviewers. Check out these two write ups of SLC's Chettinad House (link) and Ti Amo (link) in Bountiful.
Lastly this interesting story about a restaurant on the Utah/Nevada border that promises "small-plates with the most impressive bar selection of spirits between Salt Lake City and Las Vegas."
Flanker job fair
The huge new concept coming to The Gateway are set to host a large hiring farina the next couple days. The following via press release details the event:
Carver Road Hospitality, owner and operator of cutting-edge dining, drinking and entertainment concept Flanker Kitchen + Sporting Club, opening at The Gateway in September, will host a career fair on Wednesday, July 28, and Thursday, July 29 at The Depot (13 N 300 W, Salt Lake City). Interviews occur between Noon and 5 p.m.
Flanker is filling 60 positions across multiple departments, including executive chef, sous chef, managers, servers, bartenders, barbacks, bussers, security, A/V technicians, line cooks, prep cooks and dishwashers.
"We're seeking applicants who can contribute to Carver Road Hospitality's culture of excellence to help Flanker become a world-class establishment," said Matthew Minichino, Carver Road Hospitality's Vice President of Operations.
The 17,500-square-foot multi-concept complex will include: a restaurant serving elevated American fare and featuring a 360-degree bar and stage for entertainment; a central sporting club/nightclub with a DJ booth, live entertainment, 400-square-feet of LED screens, private karaoke and golf simulator rooms, and hosted nighttime and weekend brunch parties; and a craft cocktail-driven lounge.
To receive instructions on how to apply, job listings and additional career fair information, email careers@flankerslc.com. Candidates must apply in advance. Carver Road Hospitality is an equal opportunity employer.
In other news
Hi, I'm Stuart, nice to meet you!  I'm the founder, writer and wrangler at Gastronomic SLC; I'm also a former restaurant critic of more than five years, working for the Salt Lake Tribune.  I've worked extensively with multiple local publications from Visit Salt Lake to Salt Lake Magazine, not least helped to consult on national TV shows.
I'm a multiple-award winning journalist and have covered the Utah dining scene for the better part of fifteen years.   I'm largely fueled by a critical obsession with rice, alliteration and the use of big words I don't understand.   What they're saying about me: "Not inaccurate", "I thought he was older", "I don't share his feelings".  Want to know more? This is why I am the way I am.
This article may contain content provided by one of our paid partners. These are some of the best businesses in Utah. For a list of all our current and past relationships see our
partnership history page
.