Franck's
The restaurant biz is known for its particularly high attrition rate for would be new restaurants. For most businesses, celebrating a first full successful year is an achievement. That's why the marking of fifteen years in business is especially auspicious. Which is what this Cottonwood Heights mainstay are going on April 19th.
Starting at 6.000 p.m. the evenings proceedings will be hosted by Mark Eaton. The following four course, wine paired menu will be served. Cost is $65 food and $60 wine:
Albacore Crudo, buttered popcorn cream, guava agua Chile, grilled onion XO sauce, Togarashi peanut, cilantro
Scaia Bianco
Ginger salt crusted king salmon, nuoc-cham potato, garlic Thai spinach, Massaman curry- lychee emulsion, pickled lychee "kimichi"
Domaine Michelle Brut Rose
Crispy wagyu beef cheek, sunchoke textures, caramelized pearl onion, sunflower ravigote, burgundy-cidalia onion sauce, breakfast radish, pepper cress
Wine Pairing- Kith & Kin Cabernet Sauvignon
White chocolate torte, last year's cherries, hazelnut, "burnt" white chocolate, cherry butter cream
Spanish Valley Late Harvest Riesling
6263 Holladay Blvd E, Holladay, UT 84121
(801) 274-6264
francksfood.com
Avenues Proper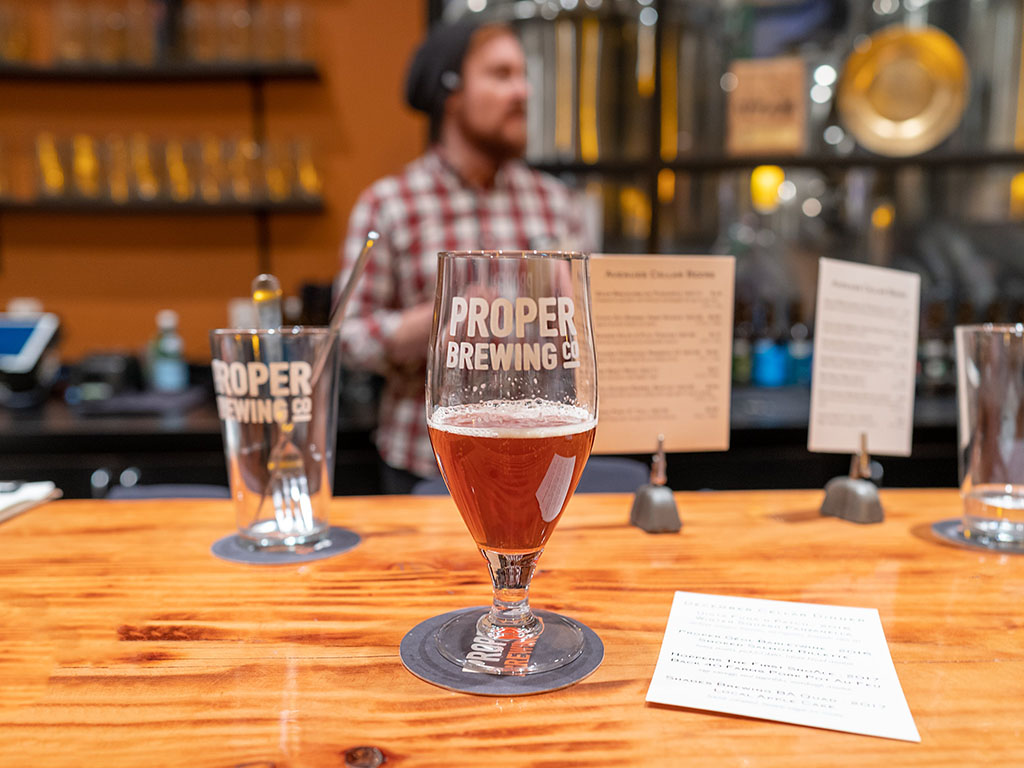 Also celebrating a big occasion, and now at an impressive eight years at the job, the first of the Proper family of businesses to open. Beer is of course the pairing for their own celebratory meal. Cost is $65 food and $25 beer. Menu as follows for the Sunday April 25th event:
Baked oysters, smoked tomato remoulade, ciabatta bread crumble
5oz Trop Rock Juice Box
Caputo's house made burrata, toasted farm, crispy chicken skins, butternut squash
8oz Proper Beer

Amon Mills blue corn grits elotes, lime, cotija
5oz Jump the Shark

Charred heirloom carrots, prosciutto, smoked blueberry dust
3oz Sour Rangers
Wagyu sukiyaki, maitake mushrooms, beef broth, poached egg
8oz Carcosa
Coconut creme fraiche panna cotta, dark chocolate biscotti
5oz Salted Caramel Porter
There's also a beer cellar dinner coming up on the horizon too on April 28th. The Proper team pull up some notable picks from the cellar and present them with great food. Only details so far are the following beers to be poured. Stop by their social media channels for more updates:
2017 Squatters Fifth Element
2017 Uinta Dubhe
2017 Uinta Hopscurscio
2016 Uinta Croggy
376 8th Ave, Salt Lake City, UT 84103
(385) 227-8628
avenuesproper.com
Stanza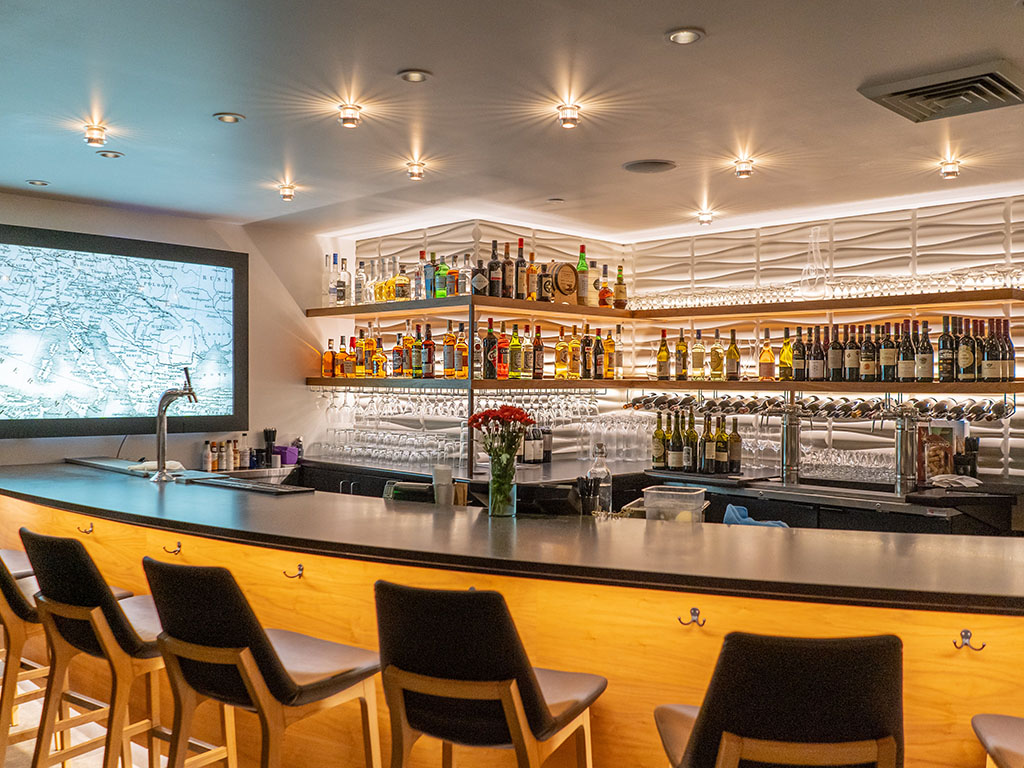 Back to wine dinners then, and this one on Wednesday, April 28th. The 'Spring Wine Dinner' at one of my favorites in town begins at 6.30 p.m. and is priced $80 person ($55 food / $25 wine). The menu created by chef Jonathan LeBlanc and sous Paul Cafaro is as follows:
Scallop, Spring pea cream, candied tomato, burrata, ginger-lemongrass foam, caviar
Tenuta Luisa Sauvignon Blanc
Capon tortellini, ricotta & pecorino romano, spinach, wild mushroom, smoked Jerusalem artichoke and vermouth sauce
Nozolle Bruniche Chardonnay
Lychee-basil sorbet

Kurobuta pork shank, apricot puree, saffron potato pearls, Swiss chard, fava beans, Moroccan spiced jus
Zanato Alanera Rosso Veronese
Zeppole, chocolate ganache, ricotta-chestnut honey, vanilla gelato
Quady Elysium Muscat
454 E 300 S, Salt Lake City, UT 84111
(801) 746-4441
stanzaslc.com
Veneto
For those preferring to stay at home a while longer, Veneto are continuing their "Make It With Marco" series of virtual cooking classes.
Next on the agenda is "Speck, Rosemary, Potato Risotto". Each class comes with a package of all ingredients needed to prepare two portions of the selected dish. The business writes that "Entertaining instruction is conducted by executive chef, Marco Stevanoni, where you'll learn his secrets & hear his stories, all from the comfort of your home, via Zoom."
Purchase individual classes for $60, or grab the whole series of six classes in 2021 for $300. Call the restaurant for more details.
Caputo's
Also offering online classes is this SLC institution. Indeed, Caputo's has now started offering the classes nationally, so you don't need to reside in SLC to experience some of the wonderfully educational presentations, and tastings – they'll ship what's needed across the US. That means you can enjoy a virtual foodie educational experience with your friend on the other side of the country if you like!
Coming up on the online horizon in the near future are the following courses:
Should you take part, tasting kits are shipped to arrive a day or two before class. You'll need to k keep any perishable items refrigerated until an hour before class begins (and try not to eat anything before class!)
Each kit contains roughly 1/5 lb of each item which is enough for a couple to enjoy for days after class or for a large family to participate together. Utah residents can also pick up the class kits the week of the particular event at the downtown store.
Midway Mercantile
Up in Summit county, another wine dinner to keep an eye on if that's your thing. Here are the full details from the restaurant chef and owner:
I'm eager to do some spring cooking, and you all seem especially eager for more wine dinners! So, here's a unique idea for a fun wine dinner:
I have asked my favorite wine importers/distributors to partner with me on a night of fine wine and fine food. 3 great friends who are each choosing two wines they represent; one bottle that is on MM's wine list and one that is not on our list, (but our friends would love us all to try!)
Of course, I will pair a spring-inspired course with each delicious wine.
It's $125 per person, all in, and it's in two weeks – Tuesday, April 27 at 6 pm. We have space for 40 people and can provide various seating configurations. We are pulling this together quickly so we don't have the wines and food courses figured out yet, but I hope you can trust us based on your experience that it will be a memorable night worth every penny.
99 E Main St, Midway, UT 84049
(435) 315-4151
midwaymercantile.com
Blended Table
The SLC catering company are hosting a Bakers Market fundraiser on Saturday April 24th to support the Asian Association of Utah. Full details can be found here.
Swing by 925 S Jefferson Street on the 24th, 9 a.m. through 1 p.m. (or until they're sold out); all baked goods are donated by local community bakers (participating bakers are tagged) and all proceeds will be donated to local AAPI led organizations.
Asian Association of Utah
http://aau-slc.org
OCA Utah
https://www.ocanational.org
Hoof & Vine
Couldn't find much detail on this one – but April 28th should be the night for a wine dinner at the Sandy steak house. The restraint writes, "WE ARE THRILLED to announce a third seating for our Charles Smith Wine Pairing Dinner on Wednesday, April 28th at 6:30pm! We've added a third chance to join us for an evening of divine food, amazing wine, unmatched service, and incredible company (thanks to you!). Reservations for this special event are required and our first two seatings sold out quickly, so don't wait.
7680 S Union Park Ave, Midvale, UT 84047
(801) 569-4645
hoofandvine.com

Hi, I'm Stuart, nice to meet you!  I'm the founder, writer and wrangler at Gastronomic SLC.  I'm a multiple-award winning journalist and have written in myopic detail about the Salt Lake City  dining scene for the better part of seventeen years.
I've worked extensively with multiple local publications from Visit Salt Lake to Salt Lake Magazine, not least helped to consult on national TV.   Pause those credits, yep, that's me! I'm also a former restaurant critic of more than five years, working for the Salt Lake Tribune.    I'm largely fueled by a critical obsession with rice, alliteration and the use of big words I don't understand.   What they're saying about me: "Not inaccurate", "I thought he was older", "I don't share his feelings".
Want to know more? This is why I am the way I am.
This article may contain content provided by one of our paid partners. These are some of the best businesses in Utah. For a list of all our current and past relationships see our
partnership history page
.