Tributes poured in across local media this week as local legend Tony Caputo sadly passed away. FOX13, SL Mag (their picture above), ABC4, KSL amongst others wrote about the life of a man who undeniably improved SLC's food scene – putting the city in front of local and global audiences.
After leaving Granato's deli counter in 1996, Caputo founded one of Utah's culinary institutions – Caputo's Market & Deli. Caputo's was, and still is, one of the first places out of town foodies are directed to when asked, "so what's good around here". In recent years son Matt and wife Yelena extended the offering's of the business, moving from staples like meat and cheese to more nascent gastronomic areas such as fine chocolates and conservas.
Over the years the business has won accolade after accolade, not just locally, but on a national level, punching right up there with the very best. Caputo's is one of Utah's true gems, one that would put a smile on the face of any city in the US with ease. Speaking of the loss, Matt Caputo wrote the following words about Tony:
Just after midnight on March 10th, 2021 my incredible dad, Tony Caputo, passed away. It was quite sudden and we are still reeling, so this is hard to put into words.
The best days of my life were spent working with him in the deli and watching how he would treat each person having lunch. It didn't matter what color your skin was, if you were the Governor, or a blue collar worker. He made each person feel like an old friend by welcoming them with genuine kindness, respect, and hospitality.
I have so much more to say, but am struggling for words. Our whole family would like to extend our love and gratitude to each of you. Since I was a small boy, I've always known the love he showed to everyone would be reciprocated by our community to the whole Caputo family. I've never known a more loved person. Thank you all.
Savor The Summit 2021 cancelled
News also in this week that the 2021 edition of the popular Savor The Summer event is now formally cancelled. Park City's biggest culinary bash of the year had already furloughed the 2020 event, with 2021 now also nixed. Here's the full press release on the decision:
Given the continued uncertainty of the COVID-19 pandemic, the Park City Area Restaurant Association (PCARA) and its participating members announce their decision to cancel this year's annual Savor the Summit event that was slated for June. In its place, PCARA will look to launch a "Savor the Summer" campaign, a series of restaurant promotions and the annual Summer Cocktail Contest, to encourage locals and visitors to continue supporting the restaurant community.
"Although canceling this year's Savor the Summit event was a difficult decision, we want to be sure we don't undo any positive momentum our restaurants have been experiencing in terms of returning to 'business as usual,'" said PCARA executive director Ginger Wicks. "We're excited to offer a variety of ways to help our dining community thrive and guests to show their love all summer long through our Savor the Summer campaign as we continue to approach the light at the end of the pandemic tunnel."
PCARA's Savor the Summer campaign will be designed to provide a wide range of opportunities for restaurants to showcase the best of their summer menus and outdoor dining options, and for patrons to take advantage of special promotions, offers, and small events. More details on the Savor the Summer campaign will be available at parkcityrestaurants.com in the coming months.
Although the duration of the COVID-19 pandemic and its ongoing challenges are unknown, the Park City restaurant community continues to support Park City patrons with dine-in, delivery and curbside offerings. For a full list of PCARA members and their current menus, visit parkcityrestaurants.com.
Restaurant closures
Over on the business side of things, there are also several more losses to make note of. As ever the full list of businesses lost to the pandemic can be found here. Do let me know if you're aware of any I've missed.
Cafe VilleBella – February saw the closure of the Ogden based VilleBella – citing pressure from the ongoing C19 pandemic, the closure was reported in more detail over on ABC 4 here.
Galley Grill – This Sugar House Russian restaurant is also now closed. No word on the reason for the closure but the spot itself was a tough one that many have failed at cracking over the years. Russian food in Utah now becomes that much more harder to find.
Jesse Jeans – Another Weber County business halted by Coronavirus, this one with more than two decades under their belts. More on the closure on ABC4.
Noodle Run – This one actually closed last year but escaped my attention at the time. Noodle Run was a fast casual concept by Anny Sooksri – who you might know from Tea Rose Diner, Chabaar, FAV Bistro and the also now close Siam Noodle House at Murray's IHC hospital. The spot has now re-opened in recent weeks with a new dessert shop from Sooksri.
Blue Plate Diner – Update just after this post went live – another one coming in via ABC4, the forthcoming closure of this popular East side diner was announced today. Blue Plate is set to close their doors on May 4th after two decades in business.
We Olive suspends restaurant operations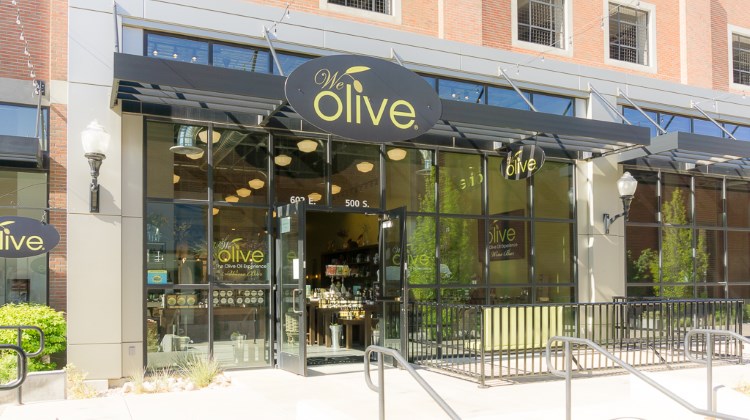 Lastly, changes are coming to this Trolley Square favorite. Thankfully the business isn't closing for good – but owner Stephanie Garcia wrote to customers this week confirming the business will close the restaurant wine/bar side of things, focusing instead on the core olive oil business. Garcia wrote the following:
I opened the doors to We Olive Salt Lake 4.5 years ago. I fell in love with We Olive two years prior when I came across We Olive's flagship store and wine bar when on a family vacation to La Jolla, CA. I loved the ambiance of the store, the engagement of the staff, and I went back many times before the end of my vacation to get their stuffed peppadew peppers.

We've had many firsts over these 4.5 years – opening the wine bar, doing farmers markets, events, a kiosk at the mall, etc. Never could I have imagined what 2020 had in store….

On March 15th, it will be 1 year since we shut down due to the pandemic. Since then, we've had a roller coaster of a year. An earthquake, electrical issues prolonging our full shut down, canceled events, the "new normal," and of course, all of the unknown. Even before the pandemic, we experienced a major change at We Olive when Josh, my son who had been by my side from the beginning and masterfully managed the store and wine bar, was presented with an opportunity and left We Olive. Many of you know and love Josh and we miss him a lot at We Olive.

With so much happening after Josh's departure and the time that was afforded me by the pandemic, I have come to realize my true passion is in the We Olive product – the olive oil, balsamic vinegar, and other gourmet products – not the restaurant and wine bar side of things.

With this clarity, I've made the difficult decision to permanently close the wine bar portion of We Olive Salt Lake. We will continue to serve the Salt Lake community and will focus all of our efforts on the retail store and product.

We will miss having you enjoy a glass of wine at We Olive. I want to thank everyone who dined with us since the wine bar opened, especially to our regulars. We will miss the community that the wine bar provided to us. Though it's no replacement for the real thing, we will be sharing some favorite recipes from the wine bar with you via our social media. Check out our Instagram stories next week to vote for your favorites. It is my hope that we will be able to have olive oil tastings and other in-person events in the store soon.

Again, I want to thank you for supporting We Olive Salt Lake, particularly over the past year. We are still standing because of your ongoing support. We are eager to continue to provide you with the best olive oil, balsamic vinegar, olives, and other gourmet products and hope to see you at the store soon!


In other news
Hi, I'm Stuart, nice to meet you!  I'm the founder, writer and wrangler at Gastronomic SLC; I'm also a former restaurant critic of more than five years, working for the Salt Lake Tribune.  I've worked extensively with multiple local publications from Visit Salt Lake to Salt Lake Magazine, not least helped to consult on national TV shows.
I'm a multiple-award winning journalist and have covered the Utah dining scene for the better part of fifteen years.   I'm largely fueled by a critical obsession with rice, alliteration and the use of big words I don't understand.   What they're saying about me: "Not inaccurate", "I thought he was older", "I don't share his feelings".  Want to know more? This is why I am the way I am.
This article may contain content provided by one of our paid partners. These are some of the best businesses in Utah. For a list of all our current and past relationships see our
partnership history page
.