Black owned restaurants
With the nation grappling to understand and react to the horrific events of late, many have wanted to show their support in any way they can. One small way is of course to support black owned businesses in your community. By now I'm sure you've already seen many lists on social media.
Rather than duplicate that here, please check out our friends over at Salt Plate City. I guarantee their list is more accurate and better curated than pretty much any other you will find in town.
Also consider ordering up from Chefpanzee, the local delivery business that helps many small businesses deliver to your door (including several black owned businesses). P.s. their what's for dinner service is fab.
Latest closures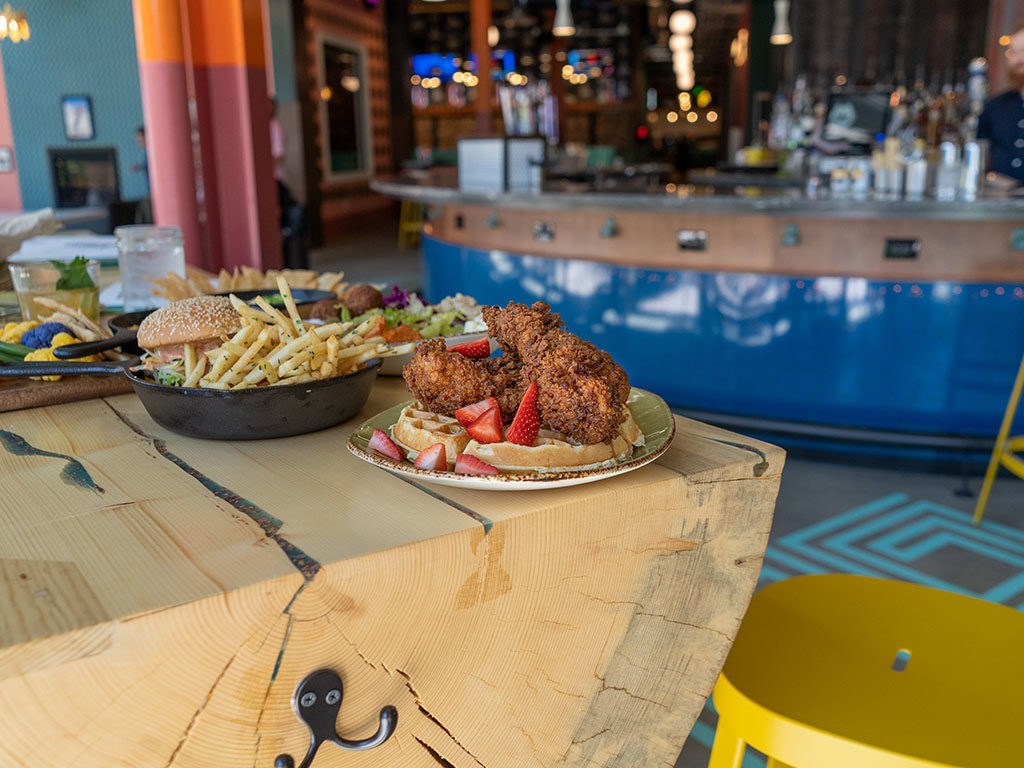 Sad news time. The following business haven't been able to keep the doors open.
Elevo – May 30th was the last day of business for Jen Gilroy's most recent opening. The coffee shop slash wine bar was the newest venture from Gilroy. Following on from the closure of Meditrina, the restaurant sought to bring some of the same charm and dishes to the former Firehouse BBQ spot on 21st South. Gilroy's cuisine can still be found over in Daybreak at Porch.
Howdy's – This community drive ice cream business announced their closure in May after three years in business.
Brio – Filing for Chapter 11 protection in April the doors have been temporarily closed on this multi unit chain for a while. News just in yesterday though that Earl Enterprises (Planet Hollywood, Buca di Beppo) has acquired the assets of Brio. Watch this space as they say.
Punch Bowl – Similarly, no update yet on one of our favorite downtown spots. Since Cracker Barrel pulled the funding plug back in March, there's been no news if a new suitor will step into the breach and help revive the brand.
New menu at Manoli's
Looking for a quick and convenient way to feed the family? Manoli's have a new menu this week which includes take and bake meze, dinner kits, pantry items, and desserts. Keep an eye on their social media accounts as the menu changes frequently.
Dine To Donate at The Gateway
The Gateway has a new way their guests can give back and help the restaurant community with the all-new Dine to Donate punch card. The punch cards can be filled by dining at Gateway restaurants through to July 31st . The Gateway will make a $5 donation to the Tip Your Server program for every completed card; plus everyone turning in a punch card will also receive a limited edition #SaltLakeStrong tote bag.
Jacklyn Briggs of the The Gateway writes, "We have added new areas of outdoor seating in our open common space for diners to safely enjoy a meal at The Gateway while keeping a safe distance. The space includes a colorful overhead display of umbrellas that provide much-needed shade on the south-end of our restaurant district. As we welcome people back, our commitment to the community is to provide plenty of options here at The Gateway to stay connected while we continue to support our local restaurants."
Cards can be printed here or picked up from any participating Gateway restaurant.
Father's Day Deals
Flemings – Prime bone-in ribeye and lobster three course meal for $100.
Franck's – Four course prix fixe menu for $78 includes pork belly appetizer and BBQ wagyu short rib main course. 4-8 pm.. for dine in.
Pretty Bird – Location two of Viet Pham's fried chicken adventure has now been announced. The business will move into the 3400 square foot space currently home to Sampan in Sugar House. Once open the downtown spot will become a walkup only business.
Veneto – Offering a special four-course menu at their virtual Chef's Table, all enjoyed from the comfort of home via Zoom. Those attending will be special guests of Veneto's exec chef and owner Marco Stevanoni. Pre-order by June 19. $100 per person.
Bite sized news
Brisketzilla – Check out these guys. I don't know much yet but they recently popped up on my radar offering delicious looking BBQ brisket tacos via delivery.
Impossible Foods – I was in love with the Beyond Burger for the longest time. And then I tried the Impossible. Seriously it's that much better. It's currently available in SLC via Smith's but it's worth noting Impossible are now offering their product direct to your door.
Nicco Marketplace – Restaurant supply business Nicholas And Company are opening up their wares to the public. Order online, pickup in person. See their store here.
White Horse – Specials and seasonal updates are starting to re-appear on menus. Woo! Here's some from one of the finest downtown.
Harmons foodie grants total $15K
This one via press release:
Harmons Neighborhood Grocer awarded Bitter's Lab, Salsa Queen, and Days Fresh Produce $5,000 each as part of its Local Supplier Development Grant initiative. The annual grants program, now in its fifth year, rewards local businesses for their exceptional dedication and effort in providing high quality products to Harmons for its customers.
As Utah's first premium cocktail bitters company, Bitter's Lab pays it forward by providing educational courses, buying locally and creating partnerships with local non-profits like Grand Staircase Escalante Partners and The Green Urban Lunchbox.
Salsa Queen has become the largest producer of fresh salsas in Utah and plays an active role in supporting local charities and contributing to the local food bank.
Days Fresh Produce focuses on summer employment opportunities, purchasing supplies from local businesses and providing fresh food produced locally.
"We know that it is tough for local businesses to compete against 'big business' as they try to make their retail mark," said Todd Jensen, vice president of sales, Harmons president and CEO. "We are proud to offer these products in our stores and our Local Supplier Development Grant is another way for us to show our support for helping them on their success journey. These locally owned businesses exemplify what it means to be a local Utah business. They create delicious products with fresh ingredients and prioritize giving back to their community."
Harmons past grant recipients include: 2019: Chocolate Conspiracy, Mamachari Kombucha and Shaffer Farms. 2018: Bar 10 Beef, McFarland Farms and Hollow Tree Honey. 2017: Caffe Ibis, Heber Valley Milk & Artisan Cheese, Kodiak Cakes. 2016: Mezzo Chocolates, RubySnap Fresh Cookies, Intermountain Specialty Food Group, Drake Family Farms.
Harmons continues to focus on providing customers with an extensive selection of local items. They partner with more than 350 local vendors, making it one of the most comprehensive selections of local items in Utah.
Mercato gobbles up Four Foods
Another via press release:
Mercato Partners today announced its inaugural food and beverage fund, Savory. This new fund of $90 million will make investments into compelling, up-and-coming restaurant concepts by providing access to capital together with a team of experienced industry professionals to fuel growth and operations.
To create this unique investment practice, Mercato Partners founder Greg Warnock partnered with restaurant industry veteran Andrew K. Smith along with several members of his leadership team. Savory combines the experience of Smith and his team in developing and operating over 175 geographically diverse restaurant locations with the experience of Warnock and the Mercato Partners team in successfully executing institutional investment strategies through various economic cycles and private equity practices.
Savory fills a noticeable void in the food and beverage industry by delivering access to growth capital together with an award-winning restaurant operations team of more than 50 industry veterans who formerly led restaurant development at Four Foods Group, one of the fastest-growing restaurant operators in the nation. With a well-documented track record and decades of relevant experience, this value-add team brings pivotal resources critical to the establishment of successful processes for emerging multi-unit concepts. These resources include expertise in real estate selection and negotiation, development and construction of each restaurant location, project and event management, talent recruiting, leadership training and development, supply chain/procurement, human resources, accounting, strategic financial planning, facilities management, sales and marketing, and more.
"Thousands of restaurant brands have built winning concepts with a promising mix of culture, flavor profile, and momentum; however, the creativity and courage needed to launch a new restaurant is much different from the skill set required to scale a restaurant concept to dozens of locations in multiple states," said Smith, managing director of Savory. "Both capital and expertise are essential to create lasting value in the restaurant industry. Savory's unique approach is to 1) identify where consumers have "already picked" a winner through loyal patronage, to 2) provide capital to rapidly expand while preserving the brand's uniqueness and to 3) provide restaurant founders with a capable support team ready to go beyond advice and coaching – and actually do work 'on the business' while the founders continue to work 'in the business' and thereby ensure mutual success."
Savory's current portfolio includes popular restaurant concepts Mo'Bettahs, R&R BBQ and Swig. Strong portfolio performance demonstrates Savory's ability to identify and grow successful concepts at a rate exceeding 40% year-over-year, and to do so profitably. This remarkable growth has continued throughout, and in spite of, the economic fallout of the current crisis.
"The restaurant industry carries an undeserved reputation among certain investors for business risk and razor-thin margins, giving rise to market inefficiency and opportunity. A differentiated brand with several profitable locations and years of consumer loyalty offers a compelling risk-return profile for investors," said managing director of Savory and Mercato Partners, Greg Warnock. "By providing both capital and relevant expertise, we have unlocked tremendous success. Savory's limited partner investors and portfolio brand founders appreciate the Savory approach to driving incremental growth and value."
"We created Mo'Bettahs to give guests an authentic Hawaiian experience, which we were able to successfully provide through lots of hard work and deliberate culture curation over the past 10 years," said Kimo Mack, co-founder of Mo'Bettahs. "Despite that success, we had reached a plateau in our expansion efforts. We were stretched thin and being pulled away from our core strengths. The Savory team helped us to achieve a breakthrough in performance and together we quickly grew our business to heights we simply couldn't have reached on our own. Our partnership with Savory and its value-add team remains one of our greatest accomplishments."
Dining behaviors have changed in ways both temporary and permanent as a result of COVID-19. Many community favorite restaurants will not survive, and those losses are heartbreaking to their loyal customers. These market shifts and disruptions create an opportunity for brands that are fresh, nimble, and well-funded to prosper in the food and beverage landscape for years to come. For more information about how Savory helps restaurant concepts grow and thrive, contact the Savory team at: info@savoryfund.com or visit: savory.mercatopartners.com
More local food in the news
Hi, I'm Stuart, nice to meet you!  I'm the founder, writer and wrangler at Gastronomic SLC; I'm also a former restaurant critic of more than five years, working for the Salt Lake Tribune.  I've worked extensively with multiple local publications from Visit Salt Lake to Salt Lake Magazine, not least helped to consult on national TV shows.
I'm a multiple-award winning journalist and have covered the Utah dining scene for the better part of fifteen years.   I'm largely fueled by a critical obsession with rice, alliteration and the use of big words I don't understand.   What they're saying about me: "Not inaccurate", "I thought he was older", "I don't share his feelings".  Want to know more? This is why I am the way I am.
This article may contain content provided by one of our paid partners. These are some of the best businesses in Utah. For a list of all our current and past relationships see our
partnership history page
.