By about about now you should be coming out of that blissful, holiday-induced haze. Wall to wall calories and carefree attitude to the calendar. Well, it's time to put down the nog and consign the decorations to that big box in the closet for another year. Before you run back under the covers and pretend it's not happening, I wanted to give you a little inspiration to tackle this new decade in your stride – a list of stellar restaurants across the valley to hit up in 2020.
These restaurants are worth your time, money and consideration. Not least because they're some of the best in the businesses, but because frankly these are the business that are parting with cold hard cash to support Gastronomic SLC. Without their support, none of my rambling would be possible. I'll let you be the judge of whether or not that's a good thing.
Every single one of these businesses is a gem. Every last one I'd happily spend my own dime at (and I do). Side note: I happily turn down offers of sponsorship or partnership if I'm not a fan of what the business is up to.
In randomized order then, here are the restaurants and businesses that allow Gastronomic SLC to operate. Visit and support them in 2020 – you, me and them won't regret it.
SLC Eatery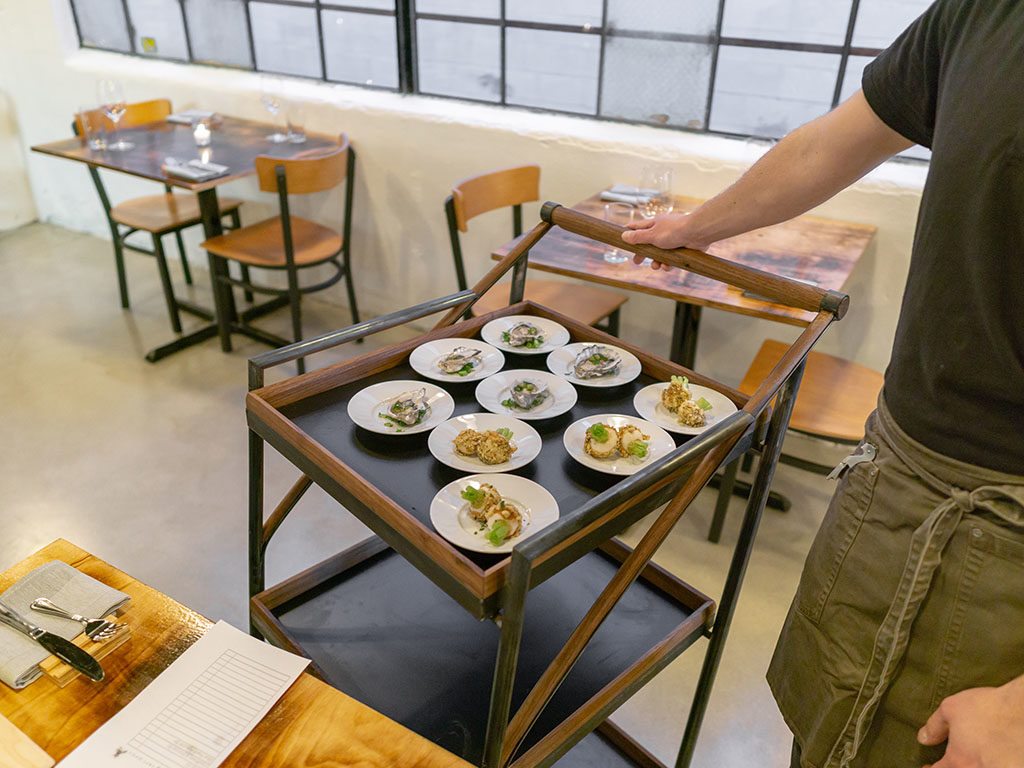 2020 marks the second year in business for a restaurant that's like no other in Utah. The menu at SLC Eatery moves at hyper-frenzied speed, changing week in and week out. Chefs Logen Crew and Paul Chamberlain double down on the notion with a nightly cart service that wheels around small plate specials to diners.
The restaurant hosted a number of memorable wine dinners in 2019, expect many more in 2020, as well as a menu that continues to evolve and surprise.
1017 Main St, Salt Lake City, UT 84111
(801) 355-7952
Brunch menu
Campos Coffee
Looking for your new morning must go spot for flat whites and light snacks? You just found it. Campos Coffee is an Aussie import coffee shop in the heart of downtown SLC. The sharply appointed interior space offers a perfect way to start the morning or end the day – offering wine and beer alongside an extensive tea, coffee and food menu.
Angry Korean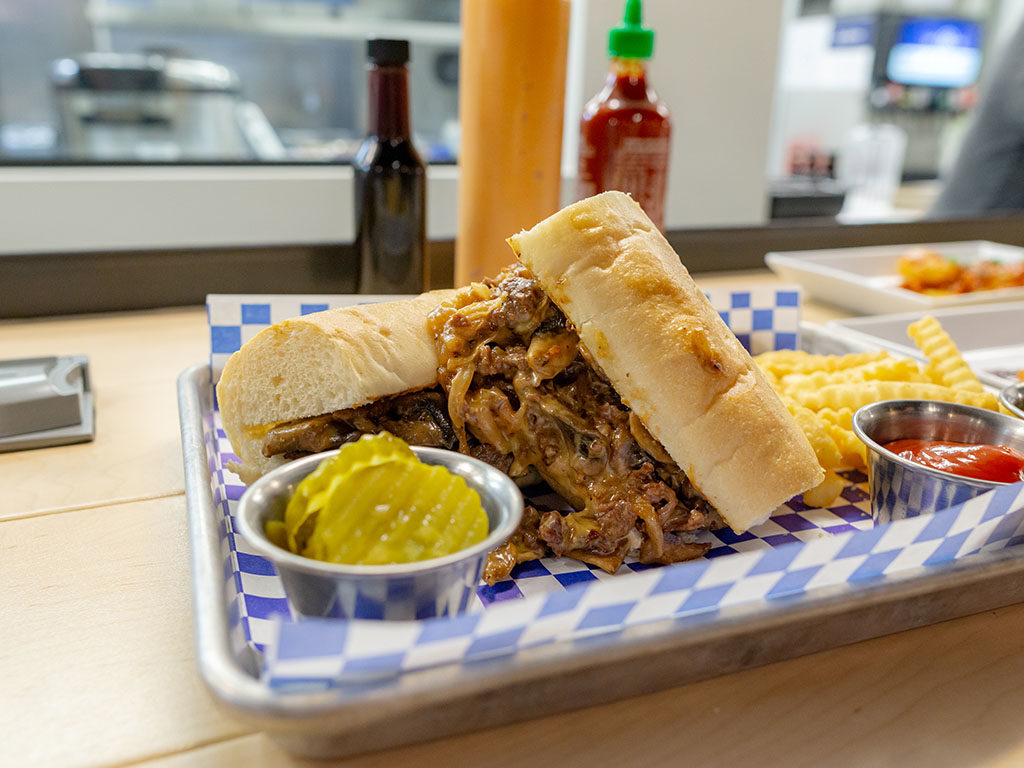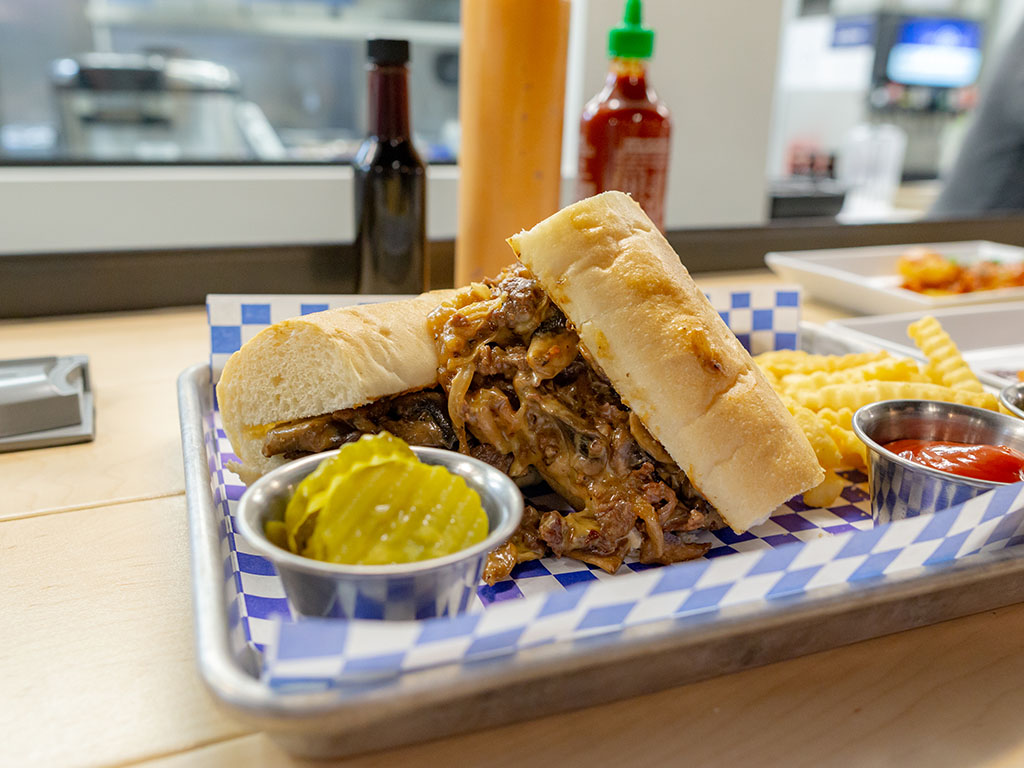 Hitting South Jordan's District seemingly out of nowhere (well transitioning from a food truck) in early 2019, chef-owners Peter Kim and Young-Ho Kang have made an indelible mark with their modern Korean restaurant.
The duo's fusion menu sees Korean ingredients like delicious beef bulgogi end up soldered into American classics like Philly cheesesteaks. Tacos come loaded with gochujjang marinated pork while fried chicken gets a whole new lease of life with vibrant flavors. One to keep watching in 2020 for sure.
11587 District Main Dr Suite 300, South Jordan, UT 84095
(801) 307-8300
facebook.com/theangrykorean/
Whiskey Street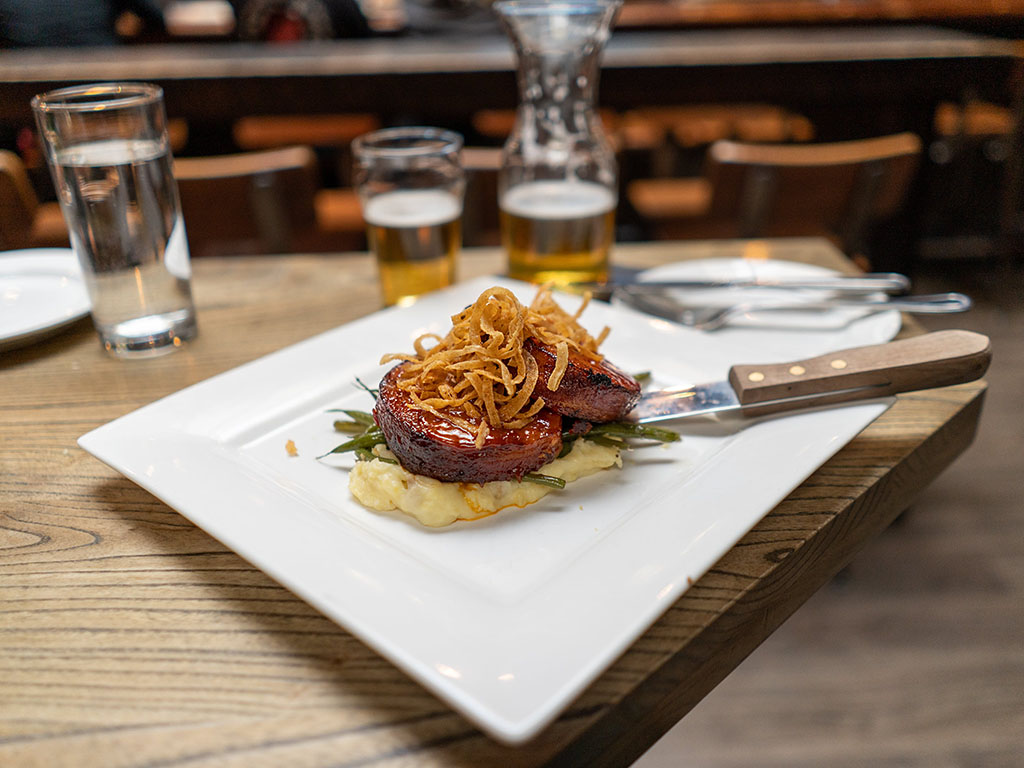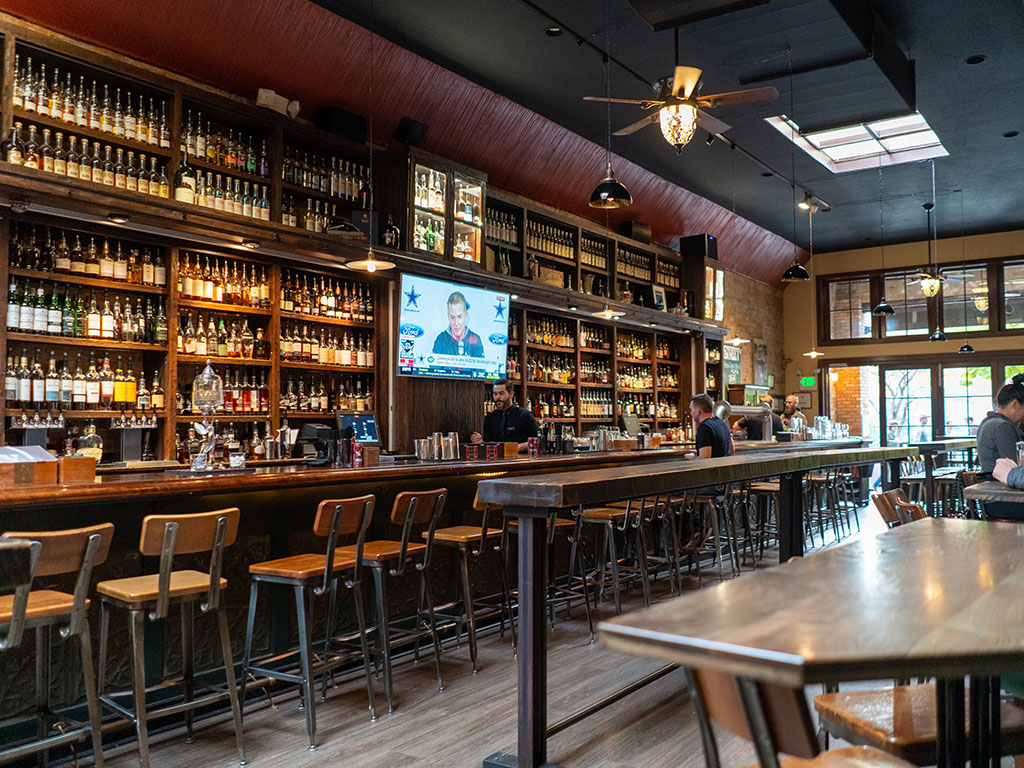 A staple of downtown SLC's Main Street drag and for good reason, chef Matt Crandall's elevated pub grub menu hits the spot every single time. I can't recall ever being disappointed with a meal at Whiskey Street. Case in point, that meatloaf pictured above, a dish I'd pretty much sworn off eating years ago as bland and boring. One bite of Crandall's bacon wrapped version had me re-evaluating several of my life choices.
323 Main St, Salt Lake City, UT 84111
(801) 433-1371
whiskeystreet.com
Taqueria 27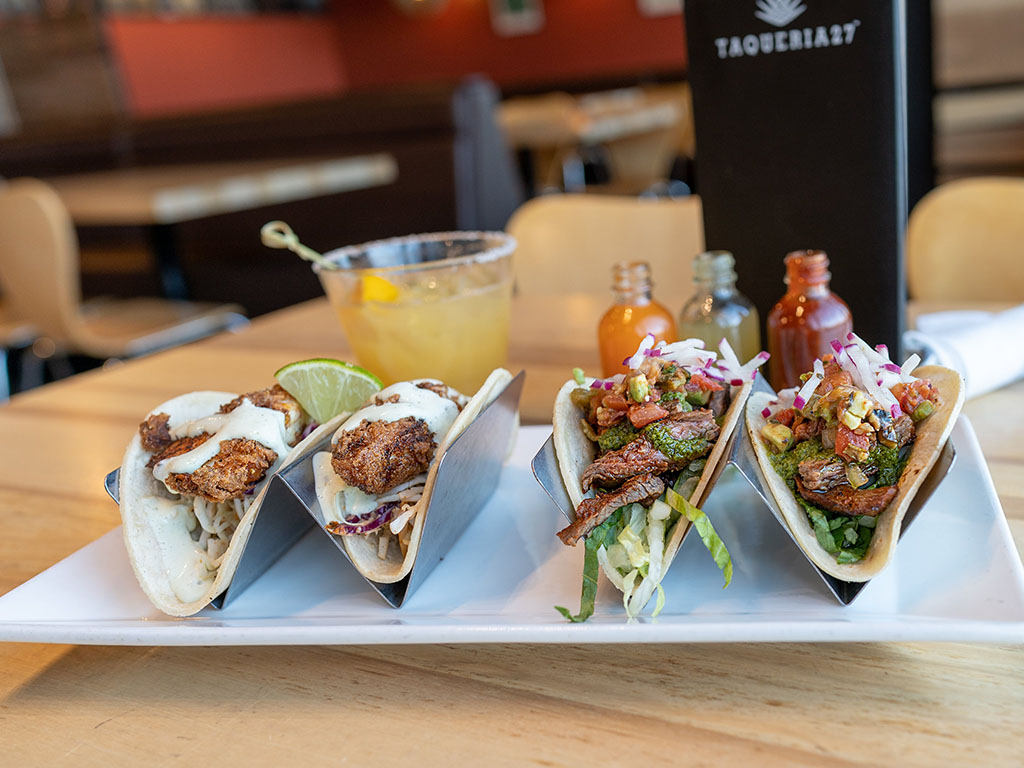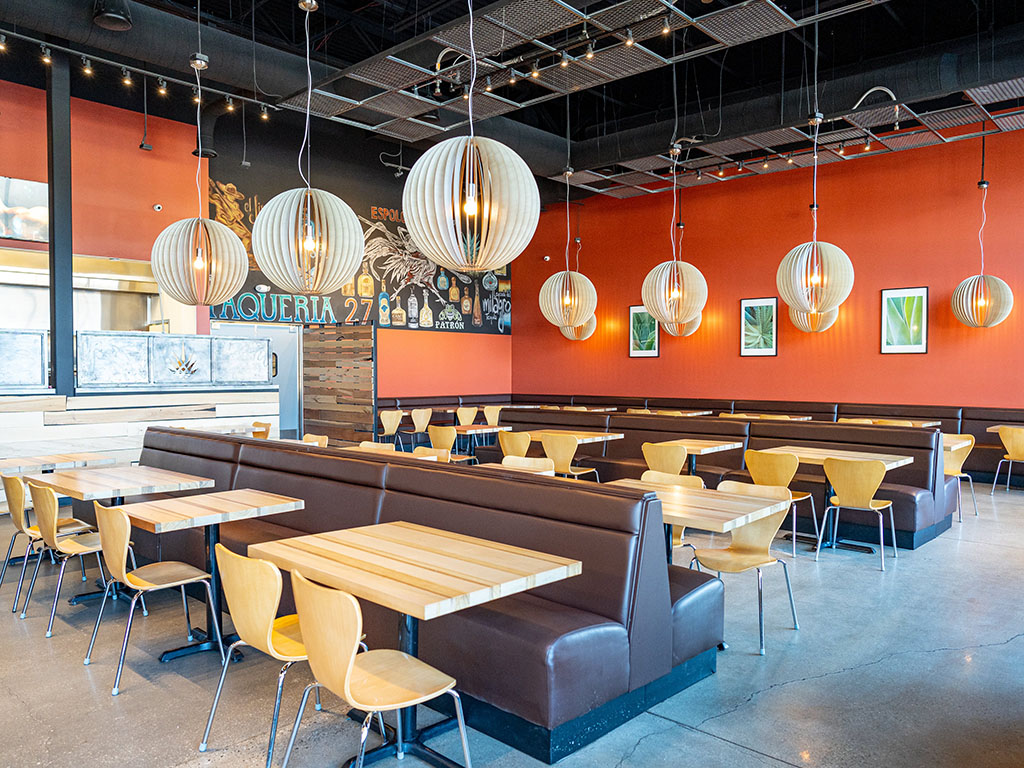 Now with five locations across the valley, Todd and Kristen Gardiner's elevated taco spot shows no sign of slowing down. In 2019 the duo opened a new location, started offering their very own barreled tequila and hosted special tasting events aplenty. The year ended with a new online ordering/delivery service. Expect lots more to come from these guys in 2020 including some of the best tacos in town.
Caffe Molise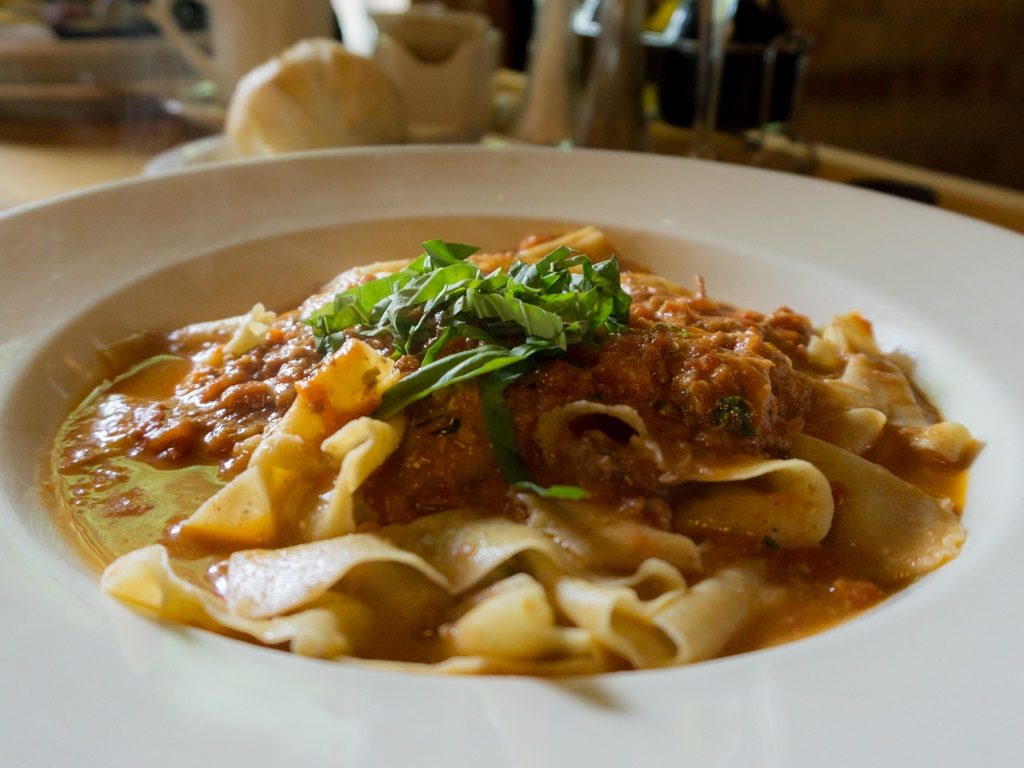 This downtown Italian eatery took the move to their new Eagle building digs capably in their stride. Little has changed on the menu in the process, which is a very good thing. Chef Fred Moesinger's recipes remain tried and true, like the picture pappardelle al sugo – a heaping of freshly made pasta with luscious ragu. After your meal head downstairs to experience BTG too (see below).
404 S W Temple, Salt Lake City, UT 84101
(801) 364-8833
caffemolise.com
Stanza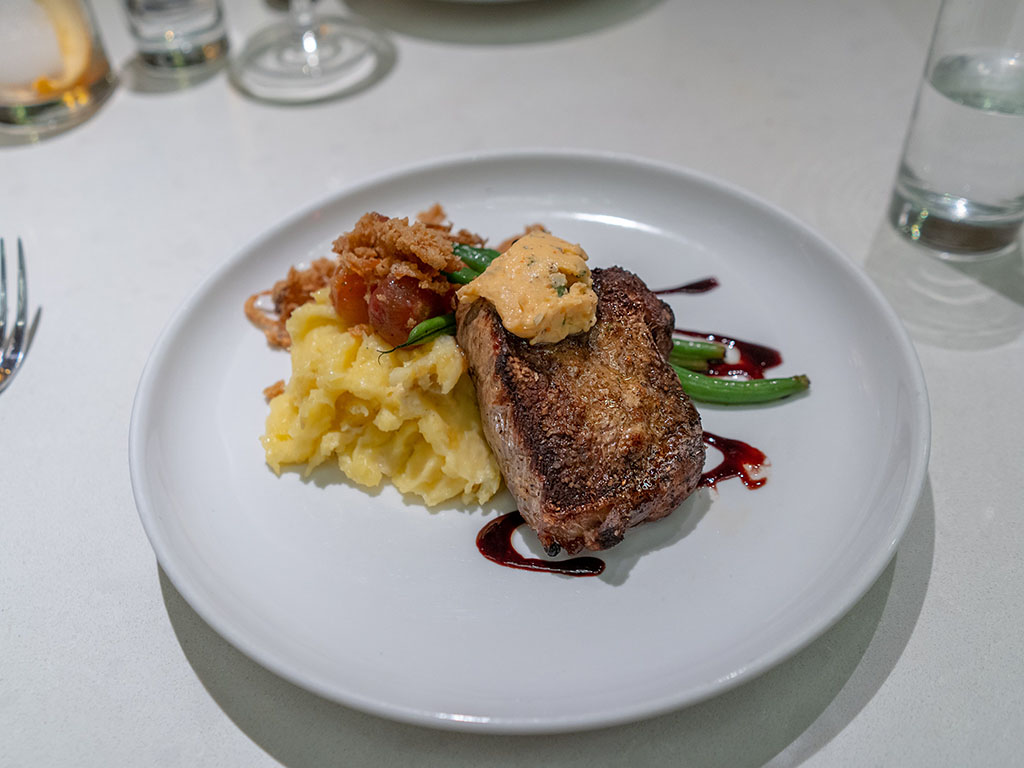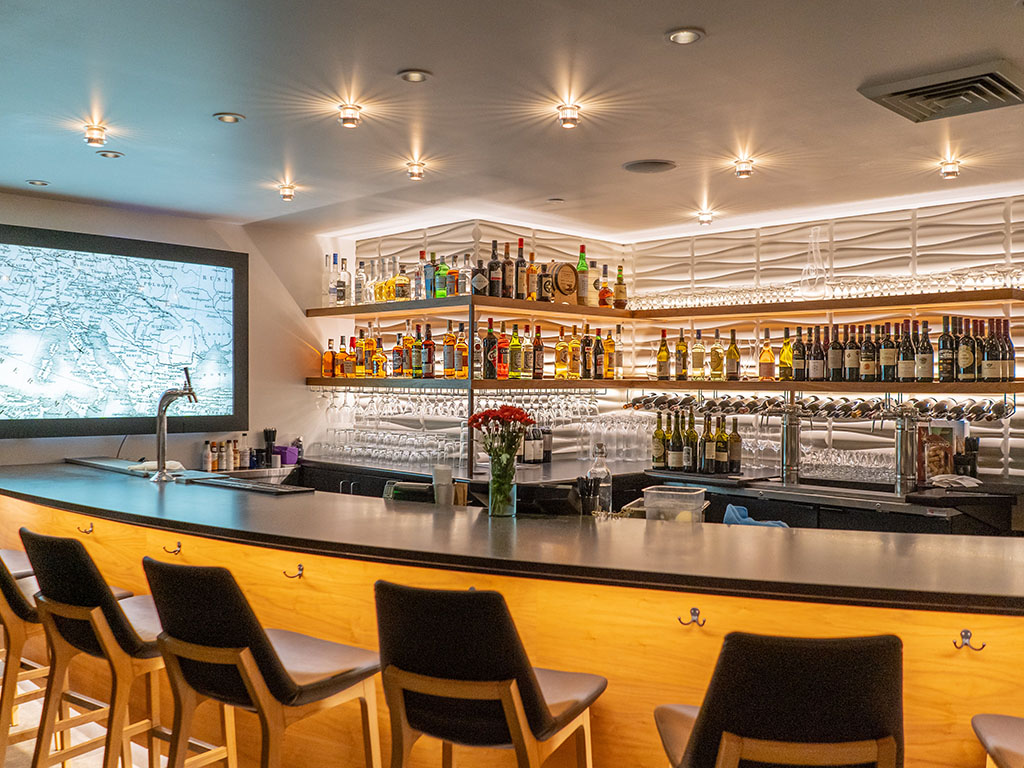 Since Stanza's chef Jonathan LeBlanc retooled the kitchen a couple years back, a quietly understated revolution has been underway at this downtown restaurant. LeBlanc's menu is night and day from what came before. House made pasta sits alongside daily specials, with fish being a particular specialty. Most recently, dessert-whizz Amber Billingsley added another reason to visit by joining the team.
White Horse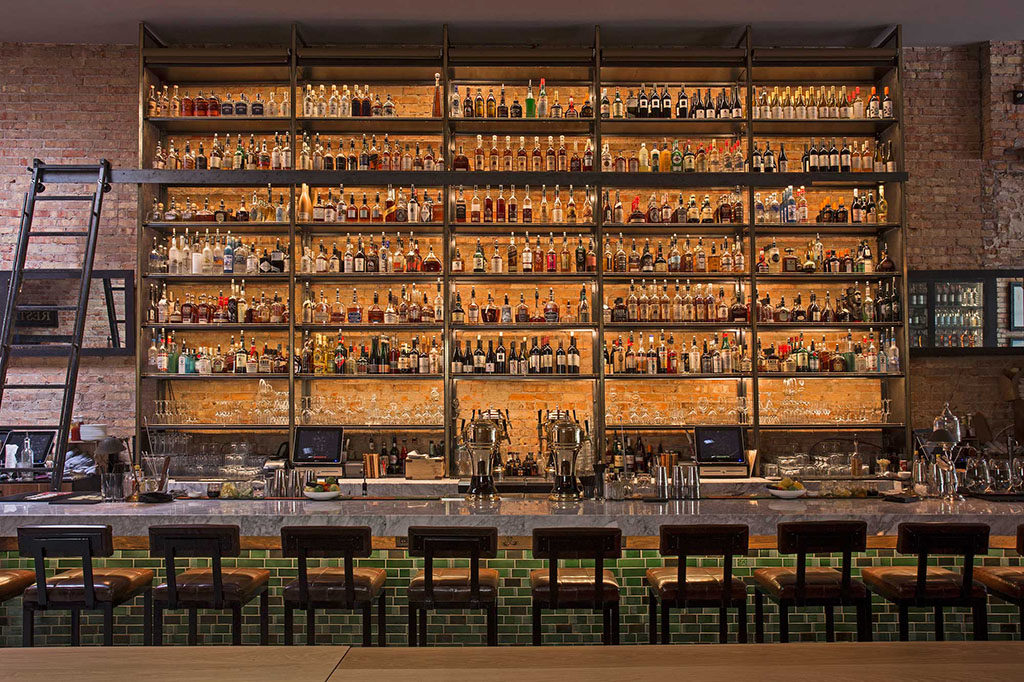 The third restaurant in the mini-chain that is the Bourbon Group. Again, Matt Crandall's cuisine shines. Instead of the hearty pub approach of next door Whiskey Street, the food at White Horse takes on a slightly lighter, Euro-inspired approach; think fresh shellfish, steak tartare and local charcuterie.
Pro tip: expect the fourth opening from the Bourbon Group chain of businesses this year, with a second iteration of White Horse expected to take pride of place at the new SLC International airport.
325 Main St, Salt Lake City, UT 84111
(801) 363-0137
whitehorseslc.com

Punch Bowl Social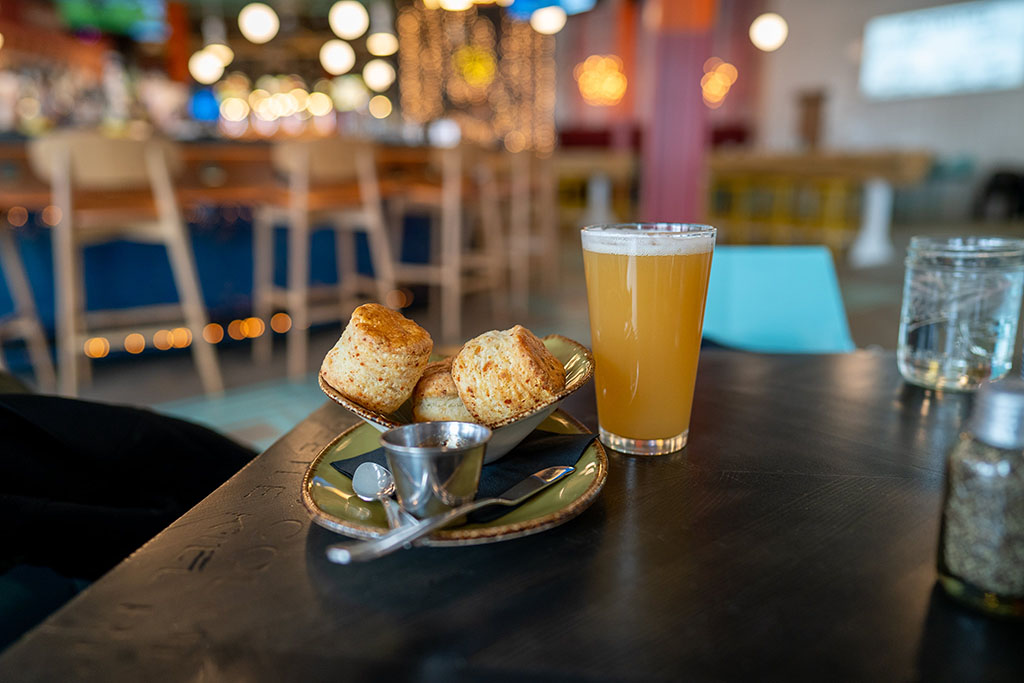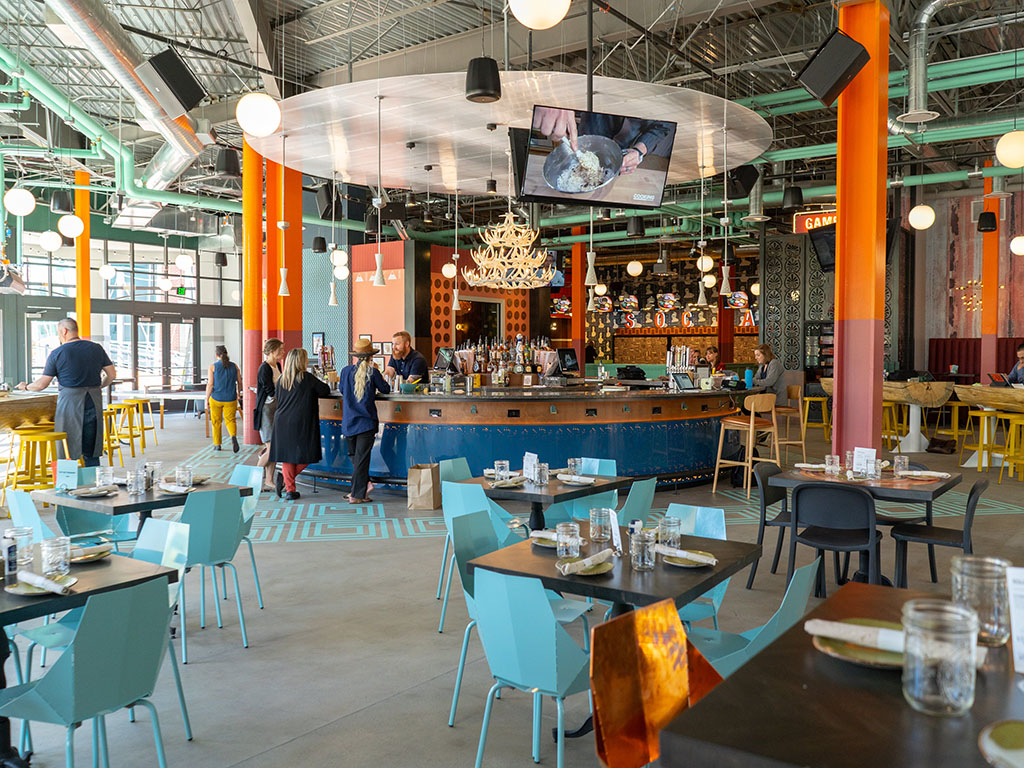 Proof that I'm not a myopic, no-chain food snob as some would believe. All I'm after is great grub, and that's what Punch Bowl Social serves up by the plateful; indeed plateful is what you'll get, the portions are huge, take note when ordering. My current favorites include the homage to the Golden Arches which is the knock off burger, the delectable fried chicken sandwich and pork rinds that come spitting and fizzing to your table right from the fryer.
The Gateway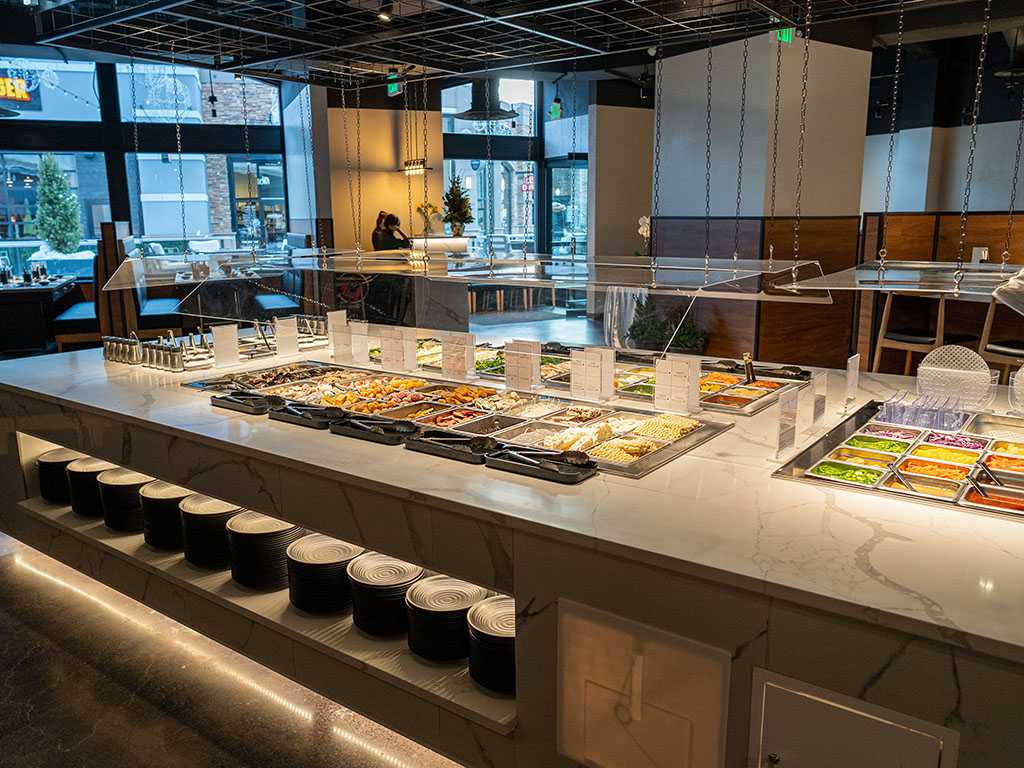 Our headline sponsor in 2019 and again through 2020 is this downtown entertainment complex. Under current owners Vestar, the area has undergone a dramatic and consistent improvement. Retail has been passed out in favor of fun, food and frolics (check out the 100s of events the facility hosted in 2019).a
Of particular note is the intelligent re-imaging of the food and drink options. You'll still find national quick eats like Costa Vida (hey I'm a fan, don't judge) and Panda Express, but you'll also find inspired new choices such as Mr Shabu, Seabird, Punch Bowl and the intriguing looking HallPass.
If you're at all interested in food and drink, I guarantee you'll end up at The Gateway in 2020, and you're going to be pretty impressed.
400 W 200 S, Salt Lake City, UT 84101
(801) 456-0000
shopthegateway.com
Feldman's Deli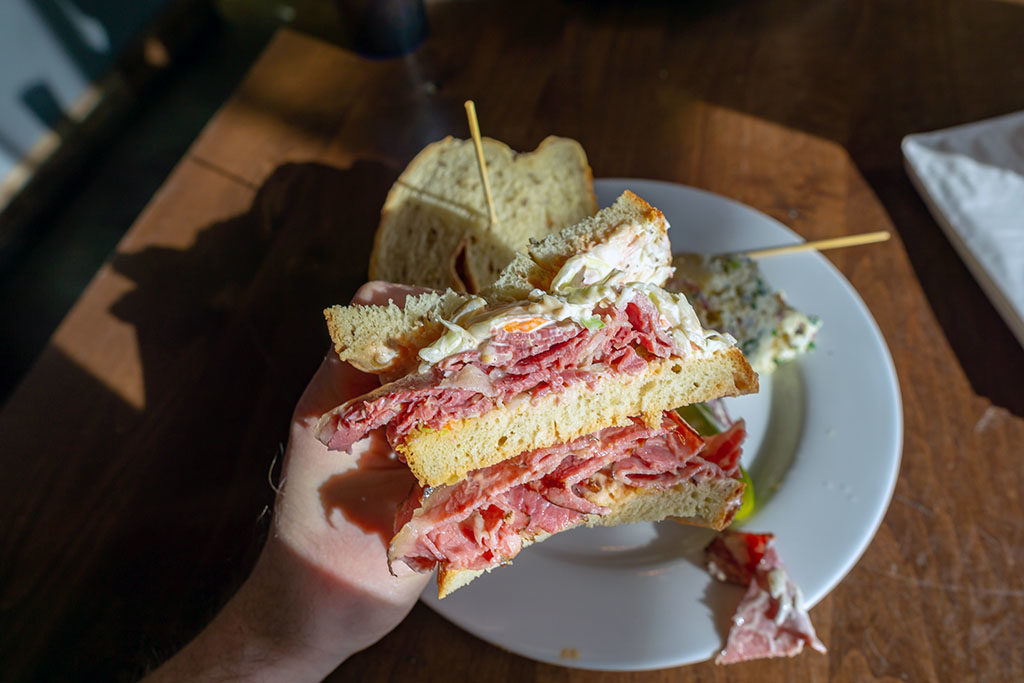 Can we call these guys an institution now? I think we can. If you only buy one sandwich in 2020 make sure it's a Feldman's half pound perfection. That said, make sure you stop by for dinner to check out the hearty home cooked dishes now available Tuesday through Saturday. Chef Janet Feldman offers a series of rotating rustic specials such as brisket and brats.
2005 E 2700 S, Salt Lake City, UT 84109
(801) 906-0369
feldmansdeli.com

Oasis Cafe
Another unquestionable institution is this breakfast and brunch spot hidden away on the edge of downtown. Well, maybe not so hidden mind you, stop by any morning of the week and you'll find a buzzy crowd enjoying Efren Benitez's menu. Be sure to pencil Oasis in your diary when the Spring and Summer sun rolls around too, their al fresco courtyard is one of the prettiest patios in town.
151 500 E, Salt Lake City, UT 84102
(801) 322-0404
oasiscafeslc.com

Alamexo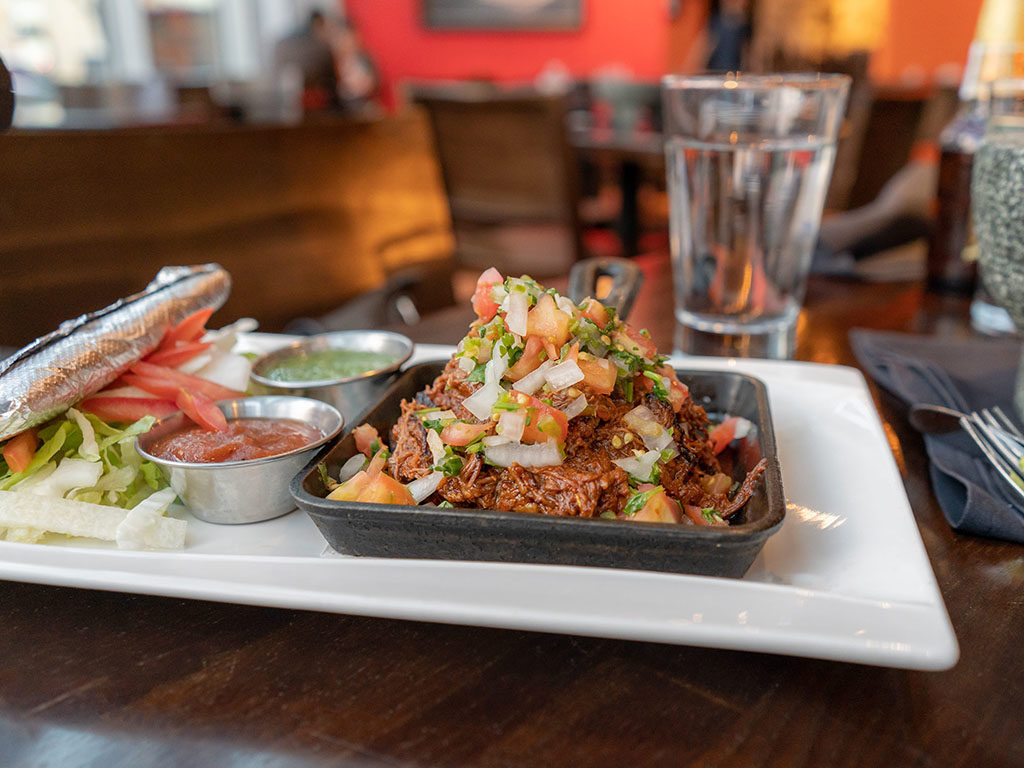 2019 saw chef Matt Lake overhaul the menu at Alamexo, introducing a seasonal flexibility and fluidity to proceedings. Every month Lake changes up the menu offering new and interesting dishes. You'll want to follow along with their Facebook page to keep apprised pf what's cooking, trust me you'll be glad you did.
BGR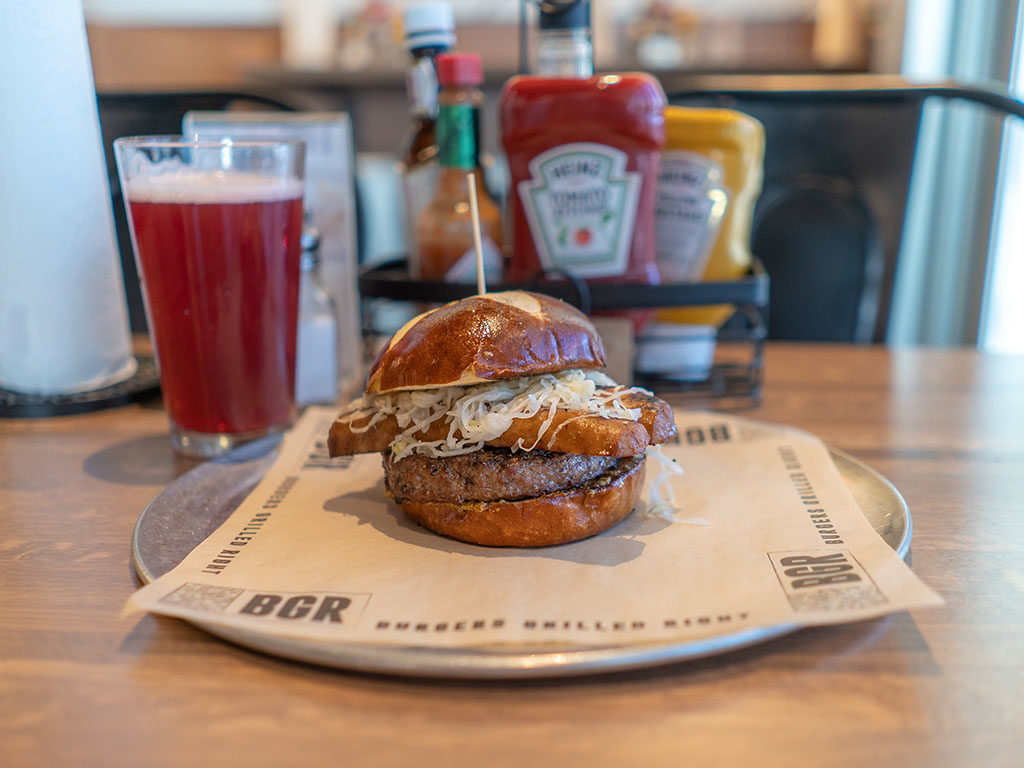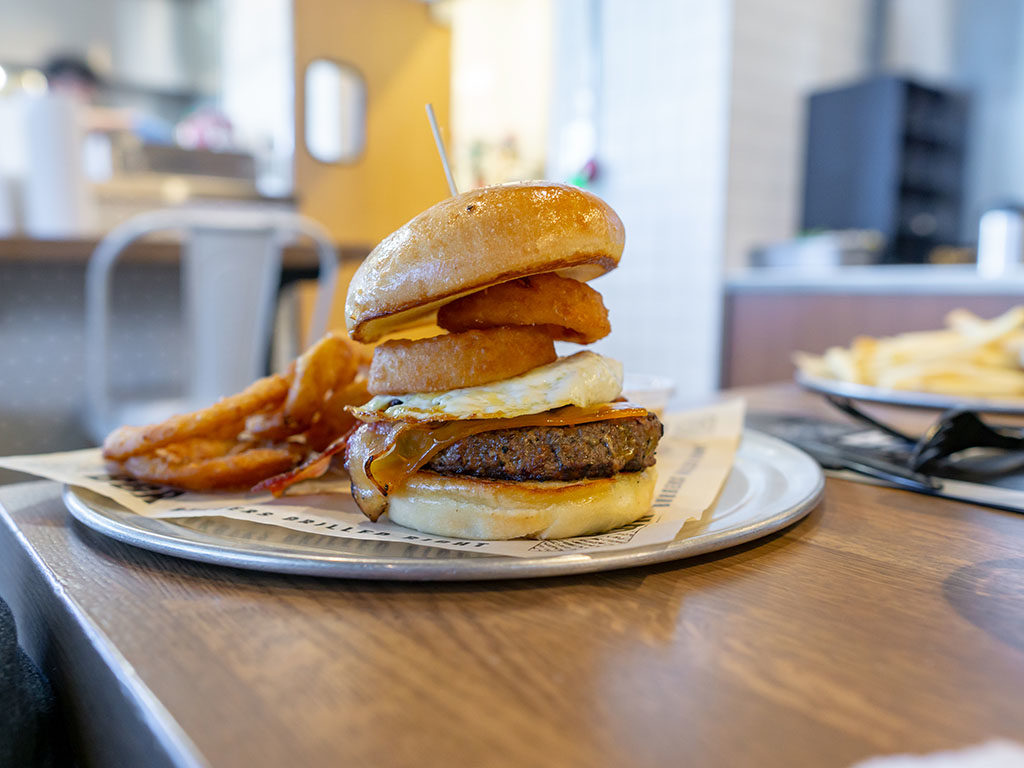 One of the first additions to the radically changed Sugar House, and still one of the best, is this boutique chain restaurant. This is the only location in Utah that promises you: Burgers Gilled Right. Want that patty medium rare with an extra egg on top? You got it.
Not only does BGR have their burgers on point, but they routinely change up the menu with seasonal specials and tasting events too. BGR doesn't mess around when it comes to their beer selection either offering a range of local craft brews and seasonal options.
1202 Wilmington Ave Ste, Salt Lake City, UT 84106
(801) 487-6301
bgrtheburgerjoint.com/locations-menus/saltlake-ut/
Kyoto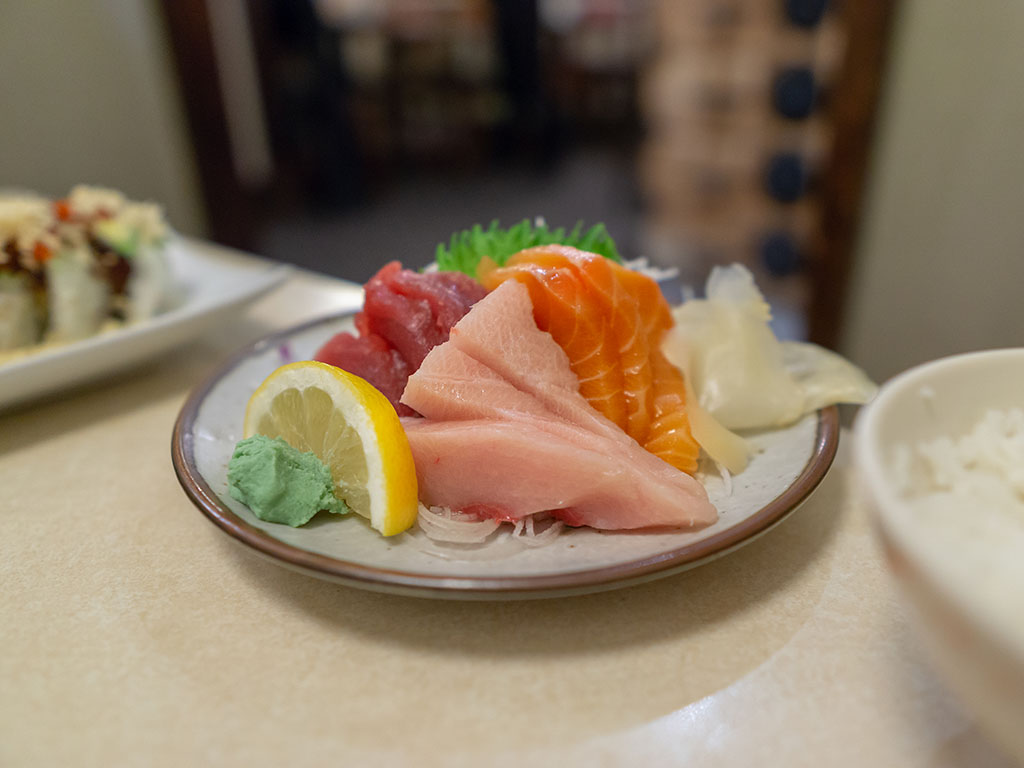 Thankfully little changed when Sam and Yoshiko Tada handed over the reigns of their landmark Japanese restaurant to current owners, the La Salle Group. The tempura remains as terrifically crisp as ever. The saba shioyaki still offers a salty and pungent kick of umami. Sure there's a few new dishes and flourishes, but this is still the same solid Kyoto you remember. If you don't, now's a perfect time to go explore one of SLC's most long lived restaurants.
1080 E 1300 S, Salt Lake City, UT 84105
(801) 487-3525
kyotoslc.com

Desert Edge Pub
Many folks don't know that this Trolley Square brewpub is one of Utah's originals, an innovator and multi-award winner long before the current craft brew craze. Towards the latter end of 2019 the business began to make the move to canning – which means you should start to see their GABF award winning creations on store shelves, not just the taps their pub. If you do stop by the pub, you'll also be rewarded not only with their routinely excellent menu, but a newly remodeled dining space too.
273 Trolley Square, Salt Lake City, UT 84102
(801) 521-891
desertedgebrewery.com
Log Haven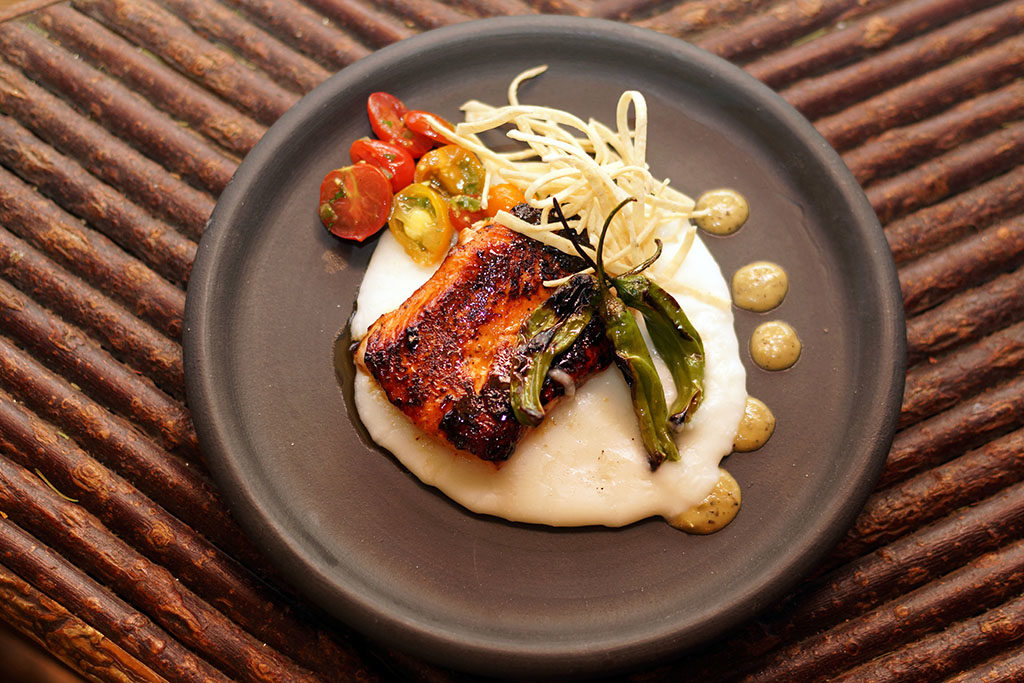 Still one of the very best destination restaurants in the whole state of Utah is this Millcreek canyon must visit spot. Take the 15 minute ride up to Log Haven and you'll be rewarded with seriously jaw dropping scenery, award winning wine and service, and impeccable cuisine. Chef Dave jones remains at the helm in the kitchen putting out bill bold plates that fuse international inspiration and mountain rustic flair. Looking to pop the big question or celebrate the day you did? This is the spot.
6451 E Millcreek Canyon Rd, Salt Lake City, UT 84109
(801) 272-8255
www.log-haven.com
Avenues Proper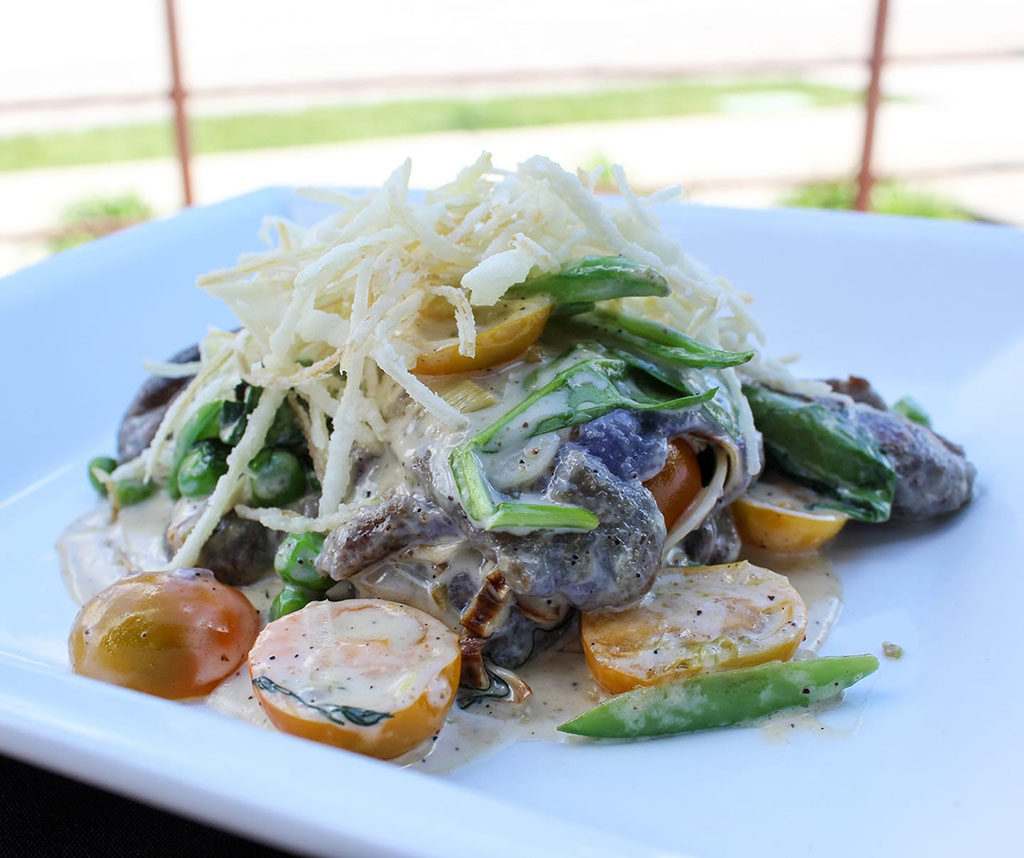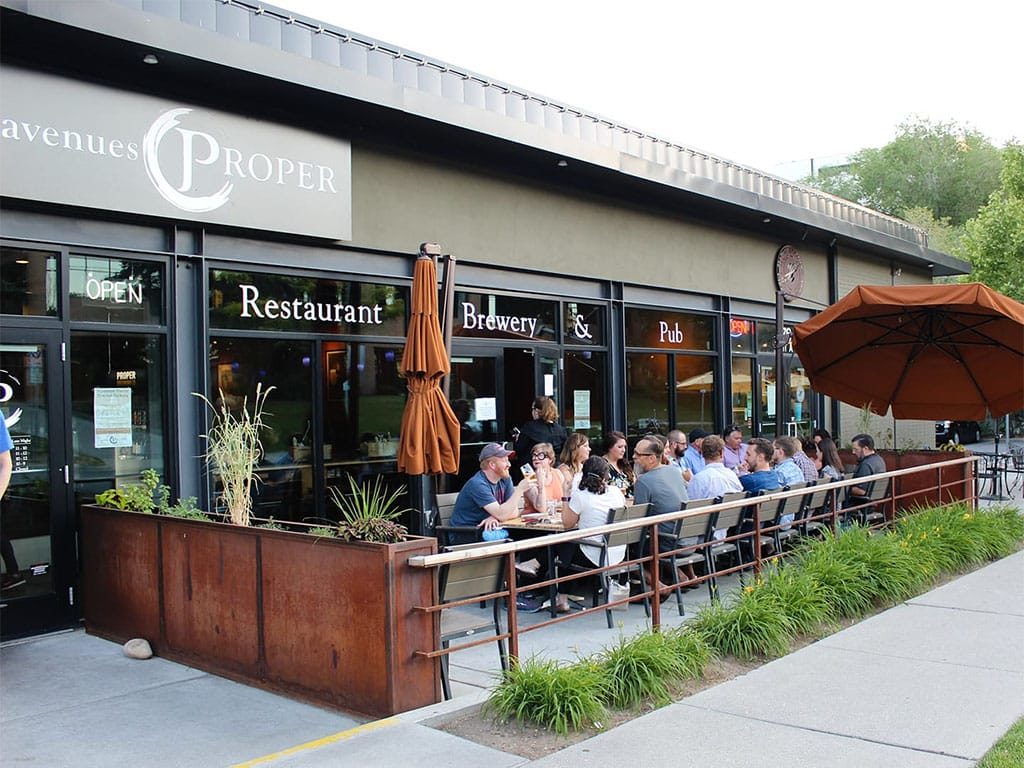 Now firmly ensconced in the Aves as a neighborhood must, this little nano-brew-pub that kicked off the whole Proper family of businesses: Proper Brewing, Proper Burgers, Stratford Proper and most recently, Sweet Sundaes.
The SLC originator keeps doing what it does best – a classic brewpub menu that's laced with local and seasonal flourishes. Open late six days a week and always pouring their delicious brews – this is my goto restaurant when I'm in the area.
376 8th Ave, Salt Lake City, UT 84103
(385) 227-8628
avenuesproper.com
BTG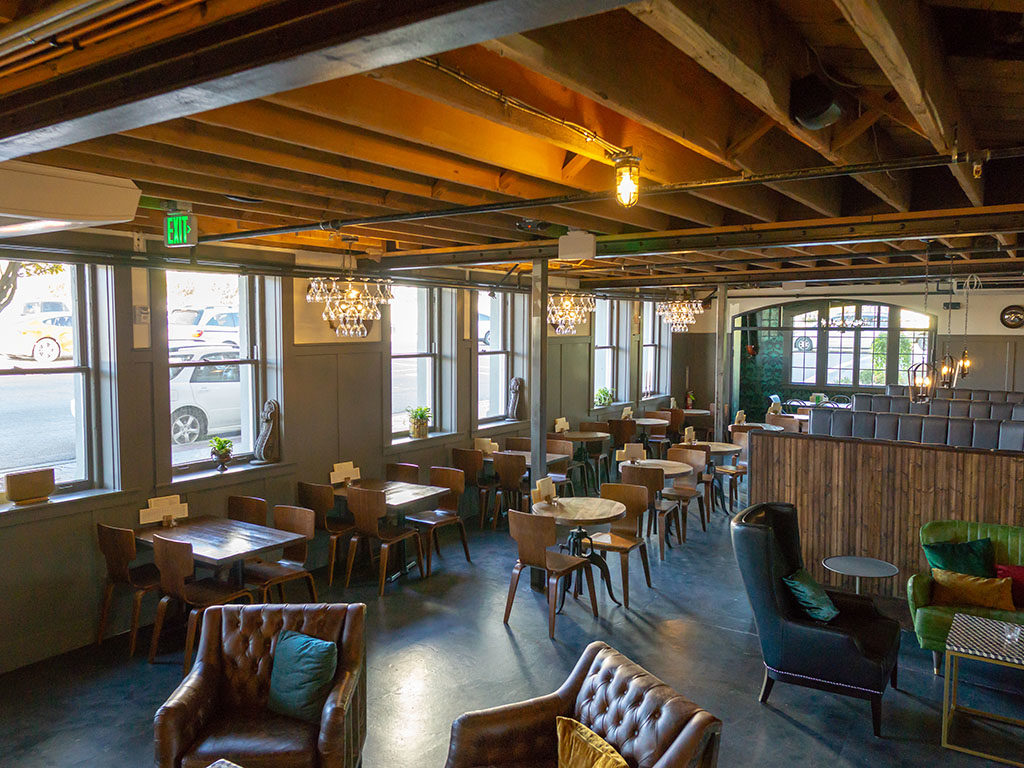 No other bar in town comes close to what BTG has created. Sister business to upstairs Caffe Molise, this wine bar has a bewildering selection of boutique wines. If you love wine, have an interest in wine, or want to know more about wine – head here now. There's literally no arguing with me – just go.
While you're there be sure to bend the ear of sommelier Louis Koppel, who's singularly responsible for the vast collection of wines available by the glass, bottle or tasting flight.
63 W 100 S, Salt Lake City, UT 84101
(801) 359-2814
btgwinebar.com
Caffe Niche
Another downtown gem that quietly goes about their business week in, week out. Open for lunch and dinner, locals flock here for their award winning breakfast menu.
779 E 300 S, Salt Lake City, UT 84102
(801) 433-3380
caffeniche.com
Saffron Valley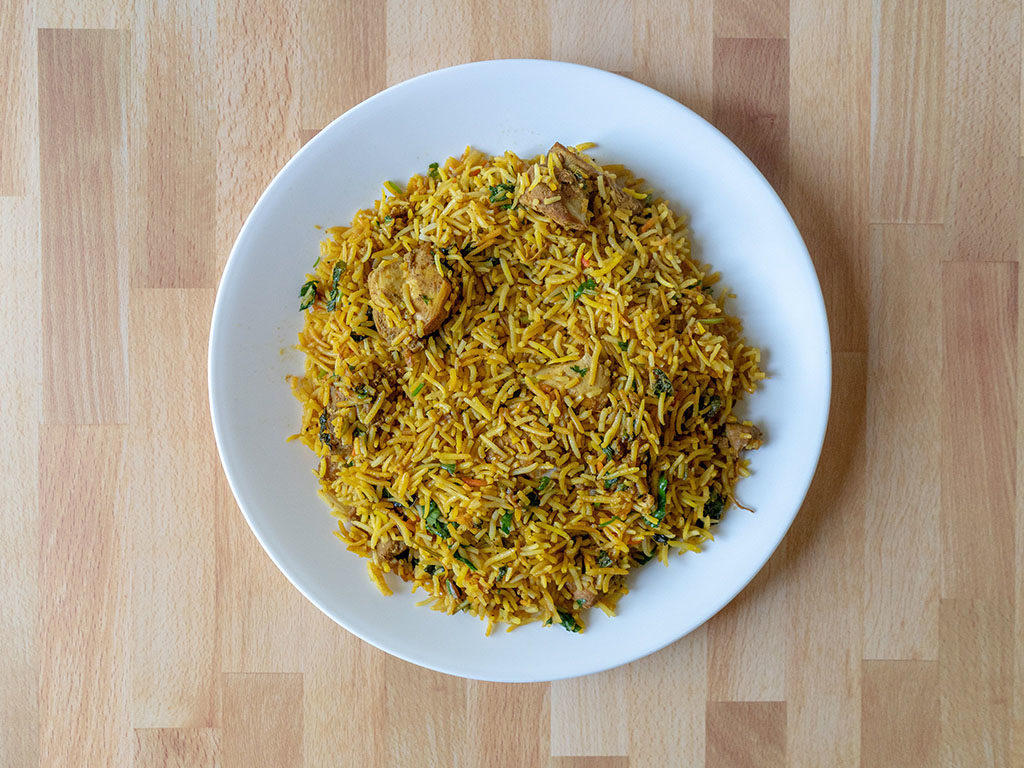 Another local mini-empire that shows no signs of resting on their laurels. I'm glad – the menus at each of Saffron Valley's four main locations are intelligent, unique and diverse. This isn't cookie cutter Indian cuisine that dominates much of the SLC valley. In 2019, the Riverton location of Saffron Valley came online (Saffron Circle) offering the most modern take on the concept yet; a beautiful dining space space supported by an impeccable wine and cocktail list and the only (as far as I know) chef's tasting menu in an Indian restaurant in Utah.
Colonial | 26 E St E, Salt Lake City, UT 84103
Bistro | 79 E 2100 S, Salt Lake City, UT 84115
Canteen | 1098 S Jordan Pkwy, South Jordan, UT 84095
Circle | 4597 W. Patridgehill Lane, Riverton, UT, 84096
saffronvalley.com | order delivery (affiliate)
Current Fish And Oyster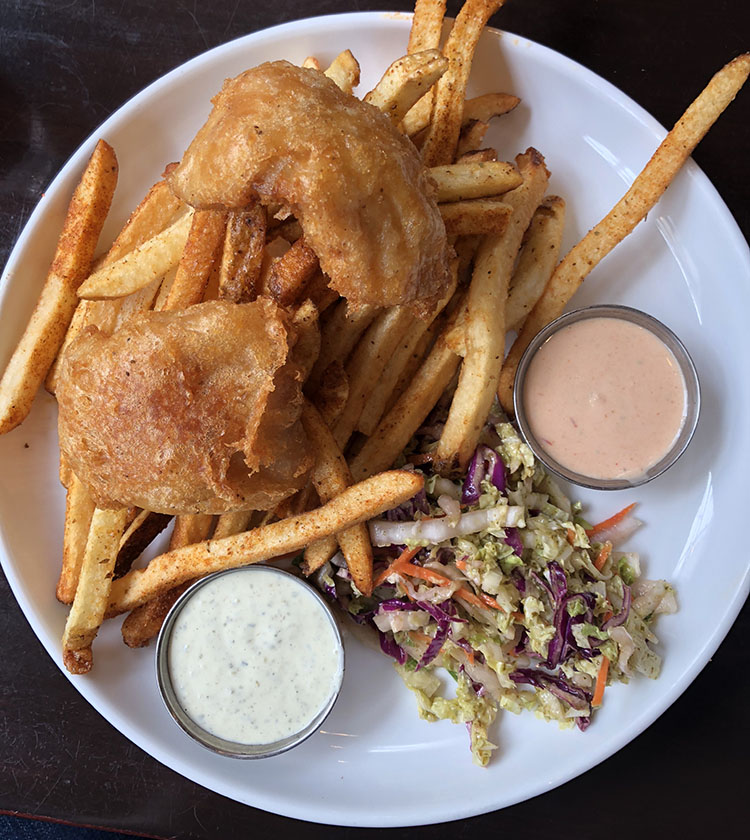 When Current opened a few years back the gorgeous and impressive space seemed like a huge gamble. Would notoriously fickle Utahns embrace a seafood-centric menu, especially one that sourced only the best and charged appropriately. The answer was of course a resounding yes. Current is now a must go attraction for SLC seafood fans and under current chef Alan Brines, continues to grow and improve.
279 E 300 S, Salt Lake City, UT 84111
(801) 326-3474
currentfishandoyster.com
Gastronomic Salt Lake City – the cold capitalist truth
If you're new to this site, or intrigued as to why we need a revenue stream, let me go into a little bit of detail and backstory. Pull up a chair…
Hi, I'm Stuart, I like food.
Do you like food? Cool, we should hang out. Better yet, read this website – one I started wayyyyy back in the mists of time. To be more precise, these particular mists of time are 2007.
This was a confusing time, with next to no online food websites for the Salt Lake City area aside from the mainstream media. This was before Instagram and prior to the arrival of the word foodie. The Goliath that is Yelp was just a twinkle in a coders eye and smart phones had yet to proliferate in every hand across the country.
Oh how the world changed
What didn't change, I still love food. And beer, and wine, and more food, and great food products, and, and, and, well I think you get the picture. For five years or so, I went a little bonkers and freelanced for the Salt Lake Tribune, preaching the good word about food as a restaurant critic. I've also randomly done similar tasks for other local publications such as Visit Salt Lake and Utah Stories to name just two.
The world is still changing
High quality coverage of the food and beverage scene in Salt Lake City is rapidly dwindling. Print media is now on its last legs; you're as likely to find a wire piece chili recipe or article on fast food hamburgers than you are something about local, amazing food. I want to make sure that the rapidly evolving food scene is covered accurately and intelligently. I don't want to write about fast food hamburgers. Do you want to read about them? Side note: I don't mind eating hamburgers of any description.
If you're a reader of Gastronomic Salt Lake City and wonder why I seek paid partners – you might be just be asking – surely this should all be a labor of love? Right?
You're not wrong, and for most of the past decade I've ran Gastronomic SLC with a limited budget and lots of goodwill. Over the most recent years I've been able to make a modest income off of the site by working with local businesses who I respect and trust. That in turn has helped me invest into better software, equipment and advertising platforms to improve the site and reach more people.
I want to build on that. I want to raise the bar. I want to be able to pay quality writers, and produce even more content to keep you upto date with everything happening in the food and beverage scene here in Utah.
Long term followers of the food scene in Utah will have no doubt witnessed the slow and painful decline in coverage by the mainstream print media. Some publications rely more and more heavily on AP wire pieces, some have dropped covering the food scene at all. Some literally write about the latest chain restaurant and their new item. That's not food coverage I want to read, what about you?
The fact of the matter is that many of these legacy print publications are built on a completely different cost structure, one that relies on the income of a different era and business model. These business have massive infrastructures, staff, facilities, costs. As budgets are squeezed the first things to go are niche news areas such as food. Not to mention talented writers.
What do you spend your fabulous riches on?
The costs to run Gastronomic Salt Lake City are not insignificant. I've tried to list a few of the items here so you can get a feel for the real costs of running a site of this size:
Advertising
Typically this boils down to Facebook advertisements. Growing our readership numbers is a virtuous circle. More eyeballs on Facebook means more readers on the site and people signing to our newsletter. The companies we work with love all of these things to be bigger and better. One feeds the other and vice versa.
I'll usually spend around $5-$10 every time I post on Facebook to give it a little oomph. On bigger pieces that resonate exceptionally well, like our new restaurant features, I can go as high as $50-$100. This means I can happily spend $50-$150 or more per month.
Software
I use a number of paid software tools that power the site directly and aid my workflow too. I try to be cost conscious where I can be, but often times I simply need to buy the best in breed tools to provide an exceptional experience for everyone. For example:
Mailchimp powers our newsletter system and costs $30 a month.
OptinMonster runs around $360 a year and allows us to generate popup newsletter nagging events, ad banners and more.
Adobe LR/PS costs $10 a month. These are two essential photo editing tools to process RAW food shots and get them looking dapper for the site.
Equipment
This varies year by year. In 2019 I upgraded to the Sony A7III, I subsequently bolstered that with a G Master 22MM F1.4 lens. These are eye watering pieces of kit. A lot of the time I compete against semi-pros when it comes to the photography side of the site, so I try to keep improving where possible.
Travel
I mainly use Lyft to get around. Fun me fact: I never learned to drive my whole life. I happily take the bus when I can, but that's often impractical. I also hassle everyone I know for a free ride when I can! I try to minimize my travel best I can too.
Boring stuff
I feel like I am sending myself to sleep writing this section: backup software, business licensing both state and city, office supplies, contract services. And on and on, yep it all adds up.
My time
Lastly, but not leastly – I plow an inordinate amount of hours into the site. Most weeks this is easily 20 hours if not much more. This site is also not my full time job, so I'll let you calculate how that all works. Lots of early mornings and late nights.
While you're watching baby yoda, I'm sat in Adobe Lightroom in a dark office poring over 100s of shots from an event to see what's going to work best on the site. While you're posting IG pictures of enjoying a Summer BBQ or concert, I'm still indoors, prattling away at the keyboard. I rarely see the sun. Or my family members.
Sure, I do really enjoy all of this. I get to eat a lot of food, attend events gratis, meet some awesome people and tell their stories; but who doesn't want to get paid for their time, energy and effort?
Anyway, enough prattling on, let's eat!
Hi, I'm Stuart, nice to meet you!  I'm the founder, writer and wrangler at Gastronomic SLC; I'm also a former restaurant critic of more than five years, working for the Salt Lake Tribune.  I've worked extensively with multiple local publications from Visit Salt Lake to Salt Lake Magazine, not least helped to consult on national TV shows.
I'm a multiple-award winning journalist and have covered the Utah dining scene for the better part of fifteen years.   I'm largely fueled by a critical obsession with rice, alliteration and the use of big words I don't understand.   What they're saying about me: "Not inaccurate", "I thought he was older", "I don't share his feelings".  Want to know more? This is why I am the way I am.
This article may contain content provided by one of our paid partners. These are some of the best businesses in Utah. For a list of all our current and past relationships see our
partnership history page
.