DABC News
No major shocks or surprises at the August meeting, which moved along at a fairly brisk and busy pace. A few notable things to keep an eye on:
Cultivate Craft Kitchen is coming to Draper with a full license soon. This restaurant will be a new opening from the owners of the adjacent Cliff Dining pub.
The much loved Slackwater Pub And Pizzeria out of Ogden is coming to the Salt Lake valley, Sandy to be precise, with a limited service license.
Lucky's Iron Door Roadhouse over in West Jordan is the 2nd location for the Lucky 13 guys.
Here's the full list of newly minted licensees as of August's DABC meetup:
Full service licenses (beer, wine liquor)
Blanquitas Mexican Grill Seafood & Bar, Layton
Cultivate Craft Kitchen, Draper, conditional
Pig's Ear American Bistro, Hurricane, conditional
Lucky's Iron Door Roadhouse, West Jordan, conditional
Limited service license (beer and wine)
Club Mecca, Price
Montauk Bistro, Draper, conditional
Ombu Korean BBQ, Orem, conditional
Won Won Kitchen, Salt Lake City, conditional
Tokyo Teriyaki, Salt Lake City, conditional
Slackwater Sandy, Sandy, conditional
Bar licenses
One full bar license and two Summer seasonal (these expire October 31st) licenses where up for grabs this month. With the number of applicants starting to pile up, chairman Nielsen asked applicants to state their projected opening dates one by one. The hopeful bars and their planned opening dates were as follows:
Redemption, Herriman – December
Trolley Wing Company, Salt Lake City – November
Circle Inn Pizzeria, Clearfield – ready to go
Bout Time Pub & Grub, Lehi – December through January 2020
Jackson's Base Camp, Park City – November 1st
Zion Brewing Station, St George – September 10th
Grid City Beer Works, Salt Lake City – December
Pins & Ales Restaurant & Brew Pub, West Valley – mid October
Bout Time Pub & Grub, West Valley City – ready to go
Zion Brewing Station was awarded the singular available bar license; notably this makes the bar St. George's very first full bar, who knew! Bout Time Pub and Grub in WVC eagerly took one of the Summer Seasonals in the hope of opening for the big U/BYU game. More full bar licenses (though a non specific number) are expected to be available in September.
Others
Park City's tupelo updated their licensing to move to a Winter seasonal restaurant license, presumably meaning the restaurant will now shutter (though no formal word on this from the restaurant themselves) in the quieter warmer months. An On-Premise Beer license went conditionally to All Star Bowling & Entertainment (West Valley) and a conditional On-Premise Beer Only Restaurant license was awarded to Grantsville's Prime Pizza.
Closures
Tin Angel Cafe
As part of Kathy Stephenson's SL Trib story, a not much reported fact escaped most people's attention – Tin Angel Cafe is set to close. A stalwart of the dining scene, the restaurant thumbed it's nose at popular wisdom when it opened next to the blighted Pioneer Park years back. Mary Malouf does a good job of reminiscing about the highlights of the restaurant here.
That's not the end of the story though. Owners Kestrel and Jerry Liedtke are putting their lot in with the Eccles Theatre, indeed you'll find their new effort – Tin Angel Eccles – open in the ground floor of the theatre right now. Frankly it's as bold as move as the original restaurant's Pioneer Park gambit; the theatre location is a tough space to operate from both logistically and locationally. These guys certainly like a challenge. The menu gleefully pokes fun at a certain local culture. Best of luck to em.
Zucca
Ogden's Zucca has now closed their doors, as reported by the Standard-Examiner. Elio Scanu started the business if memory serves garnering many popular reviews. Current owner Kirk Dean posted to Facebook starting:
"It is with a heavy heart to say this, we had to make the tough decision this weekend to close the restaurant. Thank you so much for your support over the years!" The Standard-Examiner notes the businesses social profiles have since been deleted and the owners uncontactable.
Marie Calendar's
It held on for dear life for what seemed like an inexplicably long while, but finally time has been called on this business. The last remaining Marie Calendar's in Utah is now shuttered as part of the brands Chapter 11 proceedings. More on the story at KUTV here.
Antica Sicilia
This Millcreek restaurant recently announced they would be "closed for renovations" via email. The notice reads:
"We apologize for an inconvenience but Anticia Sicilia will be closed while we make improvements to our dining experience. It will not be long until we reopen but as with any construction project, an actual reopen date has yet to be determined. We will keep you posted on our Social Media Pages. Just because Antica Sicilia is closed doesn't mean that you can't get your Italian food. Now is your time to try one of our other 4 locations. Visit our website to make reservations and to view their menus."
Long term restaurant-spotters will no doubt speculate, "closed for renovations" usually being a euphemism for "closed for good". Of course, with the Sicilia Mia chain of restaurants doing huge business, I'm personally putting my money on the business coming back rebranded more inline with the rest of the restaurant fold.
Punch Bowl Social grand opening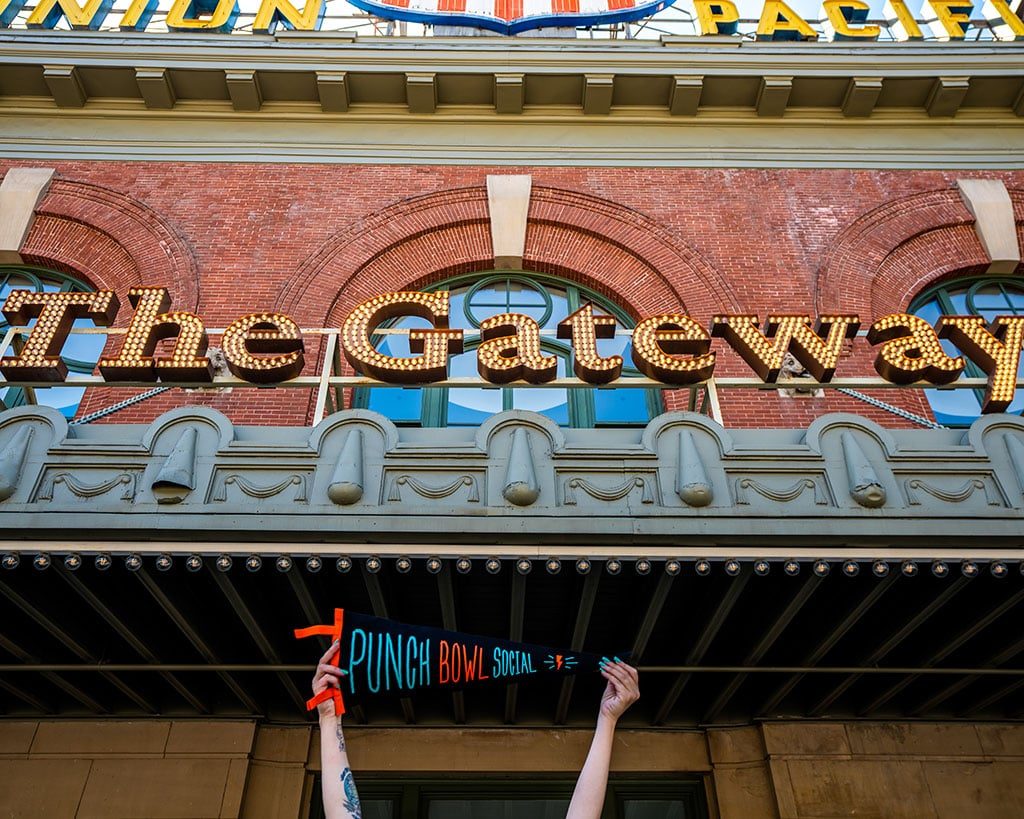 We've been tracking this upcoming Gateway addition with bated breath (thirsty throats in truth) for months. The wait is almost over and the Denver based transplant will be throwing their doors open to the public on September 21st with a major celebration. I suspect this will be one of those don't miss events.
The Saturday, September 21st grand opening party will feature all the components that the fun concept is known for in other states: made-from-scratch food, craft beer and cocktails plus plenty of social games. The opening is a ticketed event (see below) and 100% of the proceeds will benefit Encircle.
If you haven't yet heard about Punch Bowl – here's the full scoop. The business brands itself as an "eatertainment" concept, which to me and you means fun, food and drinks. Licensed as a bar the SLC location is 21+ only.
On the food side of things, think pub grub taken up a notch. Dishes include items like: superfood grain bowl, shrimp burger with old bay mayo, crab cheese rangoon dip, cocoa dusted carnitas tacos. There's a locally leaning craft beer and cocktail program and the kitchen stays open late – something we need a lot more of in SLC.
On the entertainment side of things the SLC Punch Bowl space occupies 15,000 square feet and offers a range of fun activities including:
eight mini bowling lanes
six dartboards
photo booth
classic arcade games
ping-pong
board games
private karaoke room
The new location at The Gateway features multiple private event spaces for groups including the 360-Degree Bar, Holiday Lodge, and an 800-square-foot outdoor patio. I'm told the design aesthetic is called "Gold-Medals, Galaxies, and Greek Mythology" – a melange of mountain lodge, Victorian, mid-century modern and industrial design with a nod to Utah's Winter Olympics in 2002. That alone has me intrigued, I'll see you there on the big night!
Tickets for the grand opening event (September 21st 7-10 p.m.) are just $20 and again all proceeds support Encircle. The ticket price includes admission (21+ only), access to all games, a sampling of the menu via various stations throughout and a special craft beverage menu too. The doors will then open to the public at 10 p.m.
As I say, you won't want to miss this one, buy tickets here:
https://nightout.com/events/punch-bowl-social-slc-grand-opening/tickets
Free samples at The Store
Another unmissable event to stick in your diary is this self styled Meet The Maker event. Held at The Gateway's latest addition, local gourmet grocer The Store. The free (yes you read free) event will showcase many of the local producers that The Store is famous for supporting.
Saturday September 7th (noon – 4 p.m.) is the particular day you'll want to swing by. The public tasting event will feature free demos and tastings from June Pie, Cutler's Cookies, Western Nut, Original Oil Co., Energy Cubes, Canyon Meadows Ranch, Leafy Mama and Petra's with samples from Cache Valley Toffee and Tagge's Famous Fruit.
The Store represents a unique addition to the rapidly changing Gateway. The locally owned independent chain of specialty grocery stores has been doing business in Utah since 1968. Their downtown addition fills a huge void in this area and will be open seven days a week; Monday – Saturday from 7 a.m. until 10 p.m., and Sunday from 8 a.m. until 8 p.m.
Of particular note is the The Store's "Miles to Market" program where they're often the first platform in the state to support a fledgling producer. Examples, and miles include to The Store: Cutler's Cookies (23), Solstice Spices (4), Publik Coffee (13), Abagails Oven (47), Salsa del Diablo (14), Apis Hive & Honey Co . (72), V Chocolates (12.8), Rebecca's Chocolates (4.6), Sir Walter's (11.3), Uncle Hoss (9.3), Cakes de Fleur (6), Leatherbys (7) and the popular June Pie (42).
As well as gourmet grocery options The Store also offers a number of ready-to-eat options with two hot bars, pre-made sandwiches and salads.
Campos and Vans team up
Campos Coffee, one of Australia's leading specialty coffee roasters, has announced an exclusive partnership with Vans Park Series – the world's premier park-terrain skateboarding championship.
As part of the partnership, Campos will be the official coffee partner at the World Championship Finals in Salt Lake City, Utah. During the event, Campos Coffee will offer spectators and competitors its range of specialty coffees from a pop-up coffee cart on site.
To celebrate the event, Campos will release a specially roasted 'Vans Park Series' blend in a limited-edition bag featuring the 2019 Vans Park Series artwork designed by artist Ben Horton. Horton's designs will also be on display at Campos Coffee's US flagship store, Campos Roastery and Kitchen in Salt Lake City, during the championships. The venue will also cater the Vans Park Series official launch party on September 6.
Horton's artwork will also be featured on a limited-edition Campos Coffee x Vans Park Series MiiR Camping Mug which will be available from September 5.
Utah Cheese Awards
The third Utah Cheese Awards were judged Saturday, August 24, 2019. The organization awarded 41 medals to 10 companies over 14 categories. A best of show in both cheese and non-cheese categories were also selected.
The contest was judged at the Red Chair Caffe, a new restaurant owned by Logan's Caffe Ibis coffee roasters, located in the Sorenson Arts and Education Complex on the University of Utah Campus.
Judging the event were Salt Lake morning radio personality, actor and podcaster Bill Allred of X96 FM; Table X, (a Millcreek Utah farm-to-table restaurant) chef and owner Nicholas Fahs and 3-time judge, Tosha Rustad, a pastry chef who is the Cafe Director at the Red Chair Caffe.
With nearly 60 cheese entries to be tasted Bill Allred called the judging "One of the hardest things I have ever done".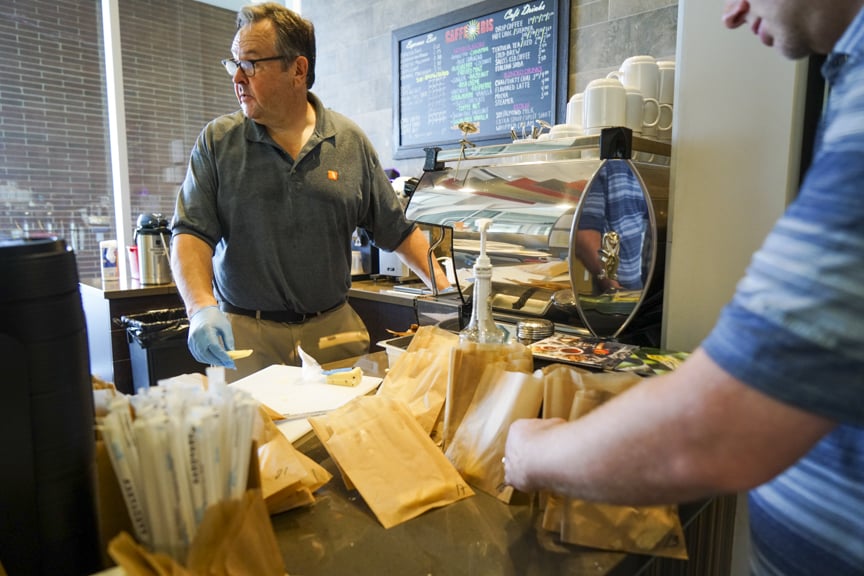 Steven R. Jerman, the founder of the Utah Cheese Awards and the managing director of Cheese Utah LLC, who conducted the contest prepared the samples. Show volunteers Tyler Wright and Kendall Marie delivered samples to the judges. Jayson Ross donated his time to photographing the striking modern room in which Red Chair diners eat.
The largest group of cheeses were those with adjuncts, such as herbs, spices or peppers – either pressed inside or coating the cheeses. They were followed by cheese curd and cheddar categories. Candy, a new classification in the "Rest of the plate" Division 2 saw new entrants.
The awards will be announced and the medal's and trophies presented October 19 at Hopkins Brewing Company, a freshman brewpub in the Salt Lake's Sugar House neighborhood. The public may attend and will be able to meet with the winning producers, some of which will be exhibiting.
Several of the winning cheeses and other Utah-made cheese plates foods will be served buffet style. The reception runs from 4:00 to 8:00 with the awards being presented at 7:30. the venue will stay open after the event.
Tickets are $20 and available at https://www.eventbrite.com/e/utah-cheese-awards-2019-tasting-reception-tickets-65078247791 or through a link on the Utah Cheese Awards website, http://utahcheese.info.
Roadhouse Brewing now in Utah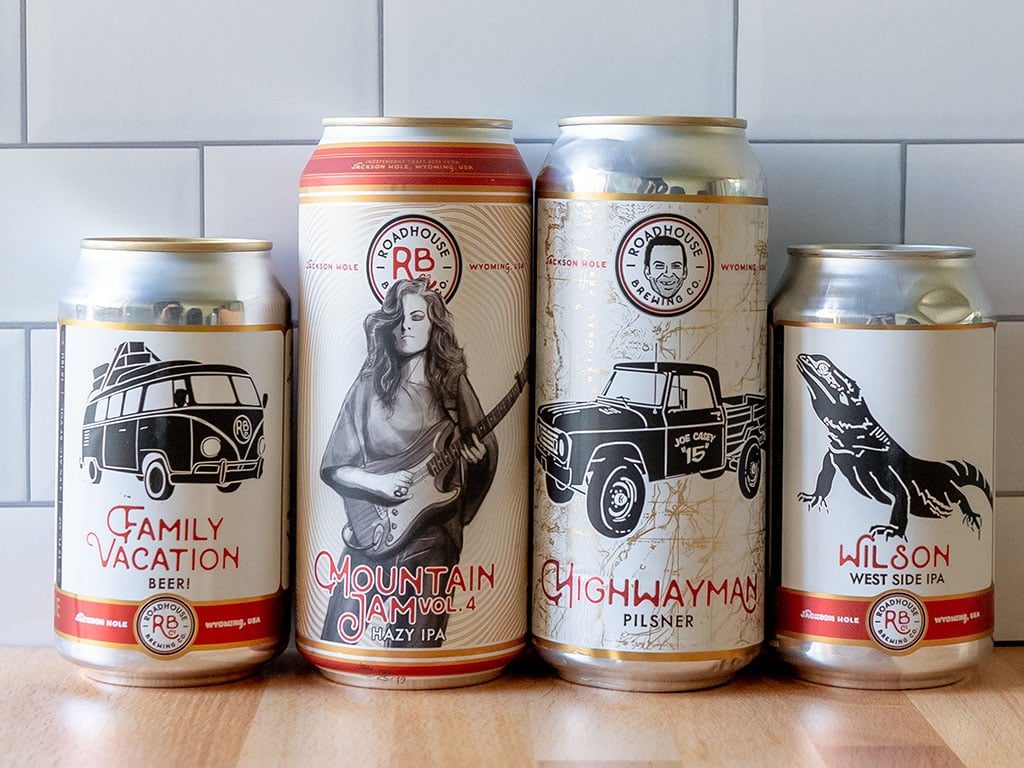 While there's more local beer to sample than you can shake an, um, glass at – here's a newcomer to shelves not from Utah. The Jacklson Hole based craft brewer landed in Utah recently and is now available in stores and bars. I have to admit from the first quartet of brews I tastes, I'm a fan. I always am when brewers remember they can actually use malt and not just extreme hops. You can find them in the current locations:
The initial selection includes:
'Family Vacation' Cream Ale (4.9% abv)
'Wilson' Mountain-Style IPA (7.5% abv)
'Highwayman' Pilsner (4.0% abv)
'Mountain Jam Vol. 4' Hazy IPA (6.8% abv)
Here's the formal PR blurb:
Roadhouse Brewing Company, Jackson Hole's local on-tap favorite, announces the distribution of its beer into Utah this month. Co-founders, award-winning home-brewer and entrepreneur Colby Cox and chef/restaurateur Gavin Fine of Jackson Hole's Fine Dining Restaurant Group, are thrilled to expand their distribution out west—on shelves and on-tap—at some of the following establishments, with more to be announced.
"Our beers were designed to transport you to Jackson Hole—and each beer has its story, whether its fly fishing the Snake River or après ski after a day on the slopes. We're thrilled to offer the great people of Utah the chance to taste Roadhouse in their own backyard," says Fine.
"We're psyched to be a part of Utah's burgeoning craft beer scene, and look forward to sharing the spirit of Roadhouse with the like-minded, adventurous people of this beautiful state," remarks Cox.
Roadhouse will distribute from its production facility at 1225 Gregory Lane in Jackson Hole complete with German tanks and vintage wooden barrels, where the brewery produces year-round, seasonal and collaboration brews. Roadhouse Brewing Company also opened a new brewpub facility, Roadhouse Pub & Eatery, on Jackson Hole's prominent Town Square in December 2018.
For more information on Roadhouse Brewing Company, call 307.264.1900 or visit http://roadhousebrewery.com/ and connect on Instagram @roadhousebeer Twitter @roadhousebeer and Facebook.
Herriman liquor store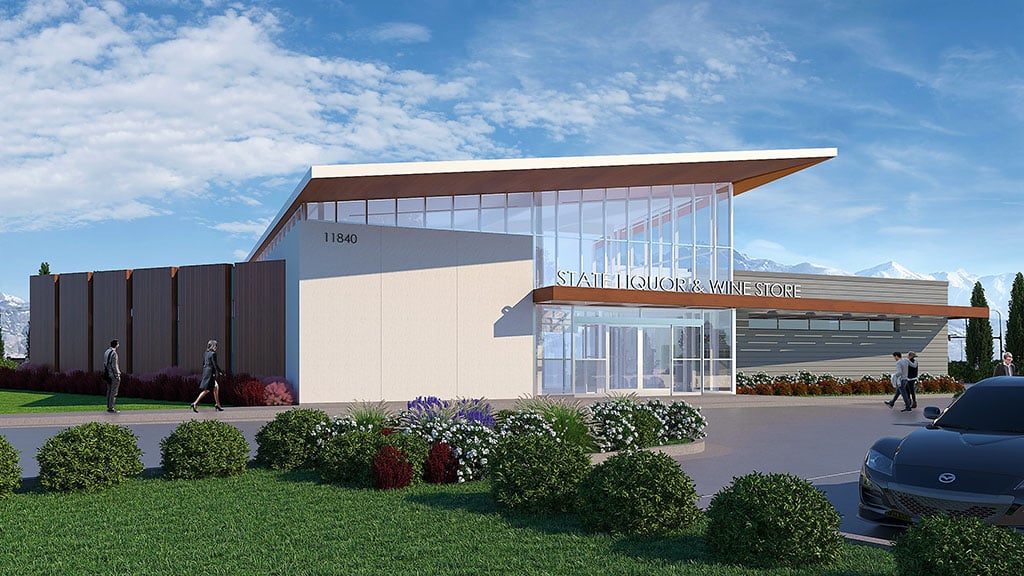 Friday October 30th saw the opening of Utah's latest and greatest liquor store. These brand new builds are something to behold. If only they'd bulldoze some of the older SLC
Here's the full PR from the DABC on the stats:
The 13,300 square feet includes space for retail sales, storage, office, restrooms, break room, communication and security systems, will-call dock and main loading dock. The building design, by Archiplex Group, follows a direction by DABC in recent years to construct architecturally unique and customer welcoming new liquor stores The new Herriman Liquor Store is a state of the art facility that is both distinctive in form and energy efficient in design, meeting the requirements of the State of Utah's High Performance Building Standard.
The building was created with sustainability in mind and incorporates many en- ergy efficient and resource conserving features such as:
Energy efficient mechanical systems.
A building engineered to reduce air infiltration and is well-insulated.
Building placement that takes advantage of the natural contours of the site and minimizes earthwork.
A drought tolerant landscape that utilizes an efficient irrigation system.
Building overhangs which are designed to manage heat gain.
Use of renewable engineered wood products inside and out.
The extensive use of wood is also anticipated to benefit the customer experience. Many of the exposed structural members are laminated wood, lending an attractive texture and soft warm color to the sales floor.
The architecturally prominent tall roof is constructed of cross-laminated timber panels which remain fully exposed to the building's interior. The main sales floor is tall and light filled while deep overhangs intentionally manage direct sunlight and glare.
A feature wall at the end of the tall atrium is used to display a custom art piece by Utah Artist Chad Farnes. Artist selection was the result of a "Call for Artists" program which was directed by the Utah Division of Arts & Museums. The art installation is a large panoramic image uniquely created by the artist through the use of colored tape. Look at it closely! Distressed brick openings reveal locally pastoral and inspired hillside settings. This peaceful, Herriman inspired artwork complements the coloring and tone of the building's interior.
With its tall ceilings, overhead natural light and wide product aisles, the Herriman store provides overall customer experience is one that is inviting, warm and unrushed. It continues DABC efforts to be a community partner that Utah cities can be proud of.
Other
Other stories making the news around town:
The L.A. Times reports on our nascent bar scene:
https://www.latimes.com/travel/story/2019-08-02/salt-lake-utah-city-bars-brewpubs-breweries-beer-cocktails
Travel And Leisure checks out the swanky Blue Sky at Wanship:
https://www.travelandleisure.com/trip-ideas/lodge-at-blue-sky-utah
Court Mann and team compare Shack Shack to Utah's best:
https://www.deseretnews.com/article/900083017/salt-lake-smash-off-how-do-shake-shacks-burgers-compare-to-salt-lakes.html
Ya Burned It interview Amber Billingsley:
https://yaburnedit.net/f/ya-baked-it-meet-slc-dessert-chef-amber-billingsley
Burger diaries:
https://www.thebeehive.com/the-burger-diaries-volume-2
Keep the conversation going
Want to stay on top of the SLC food scene, minute by minute, dish by dish? Here are a few other places you should follow along:
Hi, I'm Stuart, nice to meet you!  I'm the founder, writer and wrangler at Gastronomic SLC.  I'm a multiple-award winning journalist and have written in myopic detail about the Salt Lake City  dining scene for the better part of seventeen years.
I've worked extensively with multiple local publications from Visit Salt Lake to Salt Lake Magazine, not least helped to consult on national TV.   Pause those credits, yep, that's me! I'm also a former restaurant critic of more than five years, working for the Salt Lake Tribune.    I'm largely fueled by a critical obsession with rice, alliteration and the use of big words I don't understand.   What they're saying about me: "Not inaccurate", "I thought he was older", "I don't share his feelings".
Want to know more? This is why I am the way I am.
This article may contain content provided by one of our paid partners. These are some of the best businesses in Utah. For a list of all our current and past relationships see our
partnership history page
.