Park City Cocktail Contest – Votes have been tallied, and drink enthusiasts have carefully chosen Bonnie Ulmer as the winner of this year's Park City Area Restaurant Association (PCARA) Summer Cocktail Contest for the Spicy Watermelon Rosé Spritzer. Bonnie's winning cocktail is offered at Royal Street Café, mid-mountain at Deer Valley Resort.
Craft cocktail fans took the month of July to sip samples and cast their votes online for their favorite summer concoctions from twenty-six participating restaurants. Of the win, Ulmer says:
"It's truly an honor to be named this year's winner among such talented company. The cocktail contest gives us an opportunity to push our creative limits and share our unique creations with our guests, and we're grateful we came out on top!"
Ulmer earned top recognition with the "Spicy Watermelon Rosé Spritzer," a mix of Five Wives Vodka, a splash of rose wine, spicy watermelon mix flavored with Jalapenos, a splash of soda and frozen rose wine ice cubes. The full winning recipe as follows:
* 1.5 oz Five Wives vodka
* splash of rosé wine
* 3 oz spicy watermelon mix, flavored with jalapenos
* splash of soda
* frozen rosé wine ice cube
Directions: Add watermelon simple syrup mix and vodka in a shaker filled with ice. Shake hard and strain into a martini glass. Add frozen Rosé cube and top with soda. Garnish with jalapeno strip.
Ulmer and the Spicy Watermelon Rosé Spritzer will be featured in PCARA's popular Fall "Dine About" event, plus Ulmer was also awarded a $200 cash prize and will enjoy city-wide bragging rights, an impressive feat in a world-class dining destination of more than 50 award-winning restaurants.
All entries and recipes can be found at:
https://parkcityrestaurants.com/contest/park-city-cocktail-contest/
Alamexo Cantina – If you've been eagerly awaiting the completion of this new restaurant, mark your calendars, because Alamexo Cantina opens in the 9th and 9th neighborhood on Tuesday, Sept. 26, 2017 at 5 p.m. Owner and Executive Chef Matt Lake, the man behind the award-winning Alamexo, has long been planning this more casual, family-friendly, Mexican market-style cantina for some time.
He and his staff are excited to introduce a neighborhood gathering place where everything is served family style in a bright casual setting. The food is served up all at once, much like diners would experience in a Mexican market. The Cantina does not take reservations, but can easily accommodate families and groups on a first come, first served basis. For the first week or so of opening, all food items will be half price, until Matt's comfortable that everything is completely fine-tuned. Lake reckons this is an entirely new concept, not just to Utah, but nationally stating:
No one has done it the way we are doing it. I've wanted to create this concept since I was at Rosa Mexicano in New York. What nailed this concept in my head was a themed Oaxaca regional dinner we held which was probably the most fun dinner I've ever hosted. Everyone had a blast. I thought, 'If I can replicate that feeling – even for 25 percent of the people that come in my restaurant every night — I'm so far ahead of the curve. Where's NOT the win?' I just thought 'We GOTTA serve food this way!'
Mirroring colors and décor from the downtown Alamexo, the Cantina has vividly painted walls with a mural of Espolon Blanco greeting diners, a candle wall and a striking photograph of mole ingredients by renown food photographer, Adam Finkle. Walls of glass open to a neon lit patio overlooking the iconic 9th and 9th neighborhood and views of the towering Oquirrh Mountains.
1059 East 900 South in Salt Lake City, Utah 84105
(801) 658-5859
alamexocantina.com
Utah Cheese Awards – The Utah Cheese Awards, the state's first cheese plate food competition, founded in March of this year completed judging August 22 at Caputo's Market in downtown Salt Lake City.
Sixty-nine entries representing 16 companies from Cache to Iron counties entered cheese, charcuterie, breads, sauces and chocolates. The organization awarded 30 medals and a best of show in both cheese and non-cheese categories. Founder and organizer Steve Jerman assembled a panel of judges with a balance of cheese and culinary knowledge as well as age and worldly experience saying:
To be something different, I felt I should break from the 'usual suspects' and big-name food writers to give opinions more in line with the majority of non-industry consumers. I also picked people who I thought were good, pleasant and fun to be around.
The judges were Trent Harris, a Utah-born film maker who Independent Film and Video Magazine called "one of America's premier cult directors", and Tosha Rustad who is the pastry chef at Current Fish & Oyster in Salt Lake City and previously the cafe manager of Caffe Ibis' coffee shop in Logan, Utah. Julie Kelso a former cheesemonger in the greater Chicago area and now a reporter for Utah Public Radio filled in for a judge caught in Idaho eclipse traffic.
The award winners will be announced October 28th at Church & State in Salt Lake City, where the first annual Utah Cheese Awards Expo-fest will be held. The one day event will consist of a market of Utah-based fine food suppliers and related organizations, cheese-based ready-to-eat foods and entertainment. The event is free, and sponsored in part by the Dairy Council of Utah and Nevada. More information can be found on the web at Utahcheese.info.
Step Right Up – Restauranteurs looking to up their digital marketing game should check out this upcoming event at Church & State – also 100% free. Attendees will learn:
* Exactly how people are using mobile devices for dining, and how you should strategize around this
* What factors Google looks at when deciding which restaurants to rank in the top results
* What elements are now critical for restaurants to incorporate on their site, and how to do it easily
* How branding and design factor into your success
* Meet some true restaurant marketing experts who can help you get ahead of the game, if you would like a partner to handle the work and strategy involved. They will be locals only
* Get your free Bar Vs. Restaurant signage custom designed templates, so you can jazz up that terrible ugly sign the state is requiring in all your windows.
* Meet other strategic partners for helping you run your restaurant business… Employee benefits/wages/tips management, catering opportunities, and more.
I'm told this will not be a stuffy marketing meeting or pitch. The vintage-circus themed event will be a fun, short and sweet presentation with useful, revenue-generating takeaways and materials, specifically for the restaurant industry. There's a bar, mixer with industry types – and again – it's free.
The event is held September 11th, 6-7.30 p.m. and tickets can be nabbed at:
http://steprightup.eventbrite.com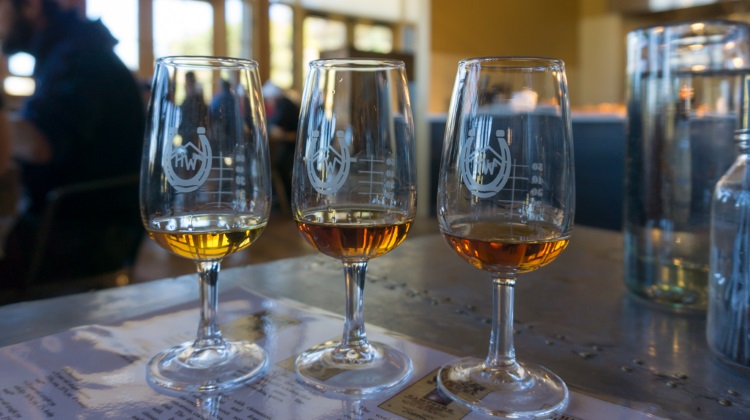 High West Distillery – U.S. Ski & Snowboard, the national governing body of Olympic skiing and snowboarding recently declared High West Distillery, Utah's first legal distillery since 1870, their new spirit sponsor.
The partnership is set for three years, effective now through April 1, 2020, opportunely timed for U.S. Ski Team, U.S. Snowboard Team and U.S. Freeski Team athletes to carry the High West brand to the international stage of the 2018 Olympic Winter Games in PyeongChang, South Korea, in February.
James Beard Foundation – Finally, The James Beard Foundation (JBF) announced 21 recipients of the inaugural class of the Women's Entrepreneurial Leadership (WEL) program, taking place September 10 to 15 – with two Utah businesswomen named.
Developed with and hosted at Babson College, the new initiative aims to help female chefs and owners grow their businesses by cultivating women's leadership in the culinary industry. Susan Ungaro, president of the James Beard Foundation writes:
Our Foundation has made promoting diversity and women in leadership in the food and restaurant business a priority. Although women make up 50 percent of culinary school graduates, only 19 percent of executive chefs are female, and even fewer own their restaurants. Our newest one-week women's entrepreneurial program at Babson College builds on previous successful programs to work toward our ultimate goal of significantly increasing the number of women owned restaurants and food businesses.
The first class of 21 WEL recipients from across the country are:
* Bleu Adams (Black Sheep Cafe, Black Sheep @ Epic Brewing, Provo, UT)
* Kimi Eklund (Kimi's Chop & Oyster House, Salt Lake City, UT)
* Kathleen Blake (The Rusty Spoon, Orlando, FL); Women Chefs and Restaurateur Fellow
* Amy Brandwein (Centrolina/Chef Amy B, LLC, Washington, DC)
* Christine Cikowski (Honey Butter Fried Chicken and Sunday Dinner Club, Chicago, IL)
* Meredith Corey-Disch (Community Loaves, Jacksonville, FL)
* Gina Gruenewald (Wolf Peach/ Supper, Milwaukee, WI)
* Liza Hinman (The Spinster Sisters, Healdsburg, CA)
* Alicia Hinze (The Buttered Tin, St. Paul, MN)
* Tanya Holland (Brown Sugar Kitchen, Oakland, CA)
* Sarah Huck (Kos Kaffe, Brooklyn, NY)
* Carolyn Johnson (80 Thoreau, Cambridge, MA)
* Vivian Joiner (Sweet Potatoes-a restaurant, Winston-Salem, NC)
* Guisell Osorio (Sabores Del Sur, Walnut Creek, CA)
* Nicole Pederson (Found and The Barn, Evanston, IL); Women Chefs and Restaurateur Fellow
* Marian Romano (Nonna's Osteria, catering & Potato Palace, booth State Fair, Wasilla, AK)
* Suzanne Simon (Chaia – Farm to Taco, Washington, DC)
* Lien Ta (Here's Looking At You, Los Angeles, CA)
* Shannan Troncoso (Brookland's Finest Bar & Kitchen, Washington, DC)
* Jan Wichayanuparp (Sweet Republic, Phoenix, AZ)
* Elizabeth Wiley (Meadowlark Restaurant, Wheat Penny Oven and Bar, Dayton, OH)
Hi, I'm Stuart, nice to meet you!  I'm the founder, writer and wrangler at Gastronomic SLC; I'm also a former restaurant critic of more than five years, working for the Salt Lake Tribune.  I've worked extensively with multiple local publications from Visit Salt Lake to Salt Lake Magazine, not least helped to consult on national TV shows.
I'm a multiple-award winning journalist and have covered the Utah dining scene for the better part of fifteen years.   I'm largely fueled by a critical obsession with rice, alliteration and the use of big words I don't understand.   What they're saying about me: "Not inaccurate", "I thought he was older", "I don't share his feelings".  Want to know more? This is why I am the way I am.
This article may contain content provided by one of our paid partners. These are some of the best businesses in Utah. For a list of all our current and past relationships see our
partnership history page
.