One of everyone's favorite summer parties is back in less than four weeks time. The Third Annual Eat Drink SLC returns to Tracy Aviary on July 6th and with it, a bevvy of food and drink providers (full list at end of this article).
The garden party of the summer runs from 6.30 to 9.30pm and guests (21+) can sample cuisine from a who's who of Salt Lake's leading restaurants and purveyors; sip from a selection of 80 wines from an international assortment of family-owned wineries; taste craft cocktails from small-batch distilleries, including several which are locally owned and operated; and enjoy local beers from award-winning Utah craft brewers.
The cool (literally and figuratively in the summer hear) grounds of Tracery Aviary are setup with three unique 'pods', grouped areas with their own culinary mix and musical genre, guests can explore in any fashion they like. "Eat Drink SLC is a delightful way to celebrate our community's coming of age as a culinary hotspot and raise visibility for the vibrant food and drink scene with both locals and tourists," according to Tracey Thompson, President of Vine Lore Wine and Spirits, the event's Presenting Drink Curator. Thompson notes that Eat Drink SLC marries food and drink in a way not found in other Utah events. "Eat Drink fosters an appreciation of the synergy between food and drink," says Thompson "not just one or the other but how the marriage of the two."
Eat Drink SLC is hosted under a nonprofit partnership umbrella consisting of Tracy Aviary and SB Dance. These two organizations represent, respectively, a place and an arts-maker that contribute to the unique character of SLC. A third nonprofit – Race Swami – represents an organization that empowers underserved youth from Salt Lake's west side, many of whom are from families involved in the food and beverage industry. Eat Drink SLC's mission is to honor the entire industry's food chain including customers, business owners, managers, servers, culinary professionals, purveyors and agricultural workers. EDSLC has raised over $28,000 for its causes to date.
Tickets are priced $90 in advance, and there's point quoting the day of prices, the event sells out in advance earlier and earlier each year. They can be purchase online at eatdrinkslc.com. Admission includes all food and drink and a complementary signature wine glass. Guests must be 21 years old and over.
O.k. enough with the words, want to see what happened last year and get a feel for the event? O.k. here goes: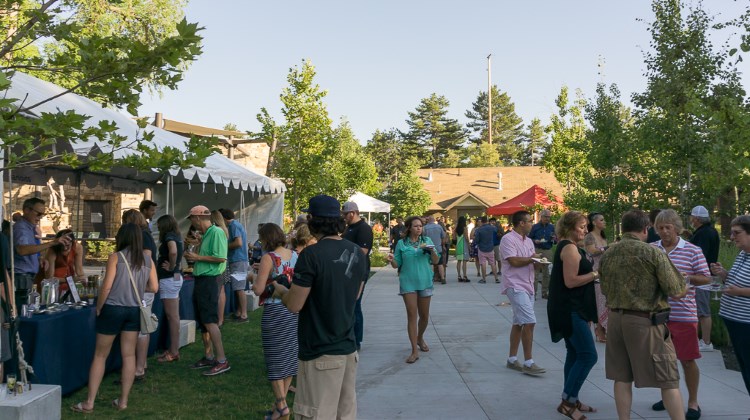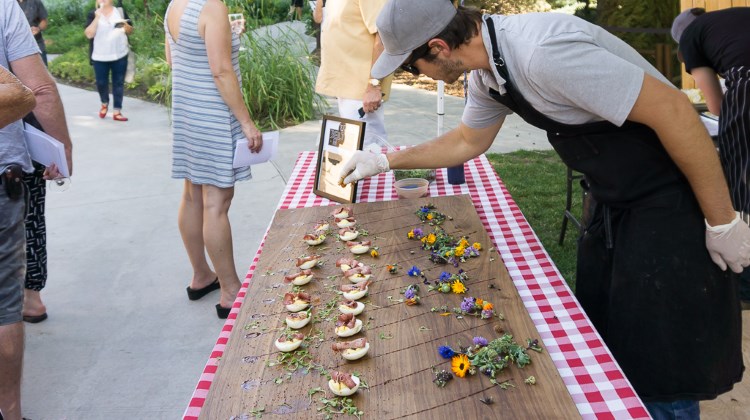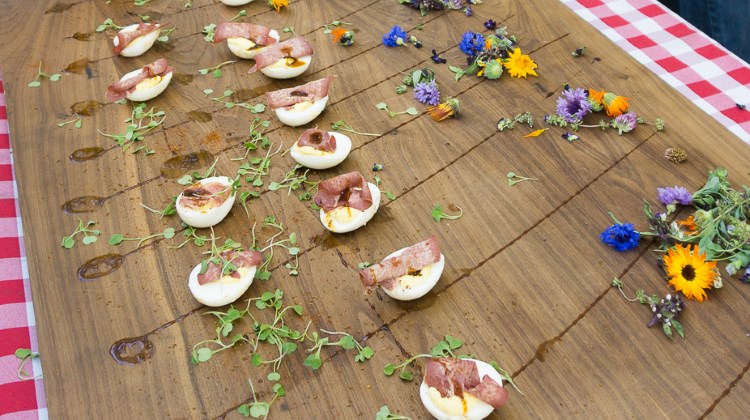 2017 Food partners
3 Cups
Amour Cafe
Bambara
La Barba Coffee
Beehive Cheese
Beltex Meats
The Blended Table
Cannella's
The Copper Onion
Cucina
The Dispensary
Finca
Fire And Slice
Frida Bistro
Garage Grill
Lake Effect
Manoli's
Pallet
Park City Culinary Institute
PJK's Creamery
Provisions
Red Rock
Stanza
Stoneground
Trestle Tavern
Trio
Uinta Brewing
Vive Juicery
Whiskey Street
Zest
2017 Wineries
Adelsheim Vineyard
Appellation Wine Co.
Bronco Wine Company
Canoe Ridge Winery
Communal Brands
Cinder Winery
Duckhorn Vineyards
Elk Cove Vineyards
Garnet Vineyards
Gruet Winery
Heron Wines
Haraszthy Family Cellars
Precept Wine
Rutherford Wine Company
Ruth Lewandowski Wines
Lorenza Winery
Mira Winery
Mundo Vino
Leonardo LoCasio Selections
Piattelli Vineyards
Precept Wine Co
Premium Port Wines
Starmont Winery
3 Badge Enology
Tricycle Wine Partners
Uvaggio
Willamette Valley Vineyards
2017 Ditilleries
Kirk and Sweeney Dominican Rum mixed by Takashi Restaurant
Bozal Mezcal mixed by Copper Common
Walthen's Single Barrel Kentucky Bourbon mixed by Whiskey Street
Beehive Distilling mixed by Nice and Easy Bartending
Kid Curry
2017 Breweries
Red Rock
Uinta
Expect more names to signup closer to the big day too.
See shots from Eat Drink SLC 2015 here too for even more!.
Hi, I'm Stuart, nice to meet you!  I'm the founder, writer and wrangler at Gastronomic SLC and The Utah Review; I'm also a former restaurant critic of more than five years, working for the Salt Lake Tribune.  I've worked extensively with other local publications from Utah Stories through to Salt Lake Magazine and Visit Salt Lake.
I'm a multiple-award winning journalist and have covered the Utah dining scene for more than a decade.   I'm largely fueled by Uinta Cutthroat, alliteration and the use of too many big words I don't understand.  I ate all the pies.
This site is 100% free of intrusive third party ads through the generous headline sponsorship by The Gateway - SLC's premier entertainment destination.
This article may contain content provided by one of our Partners or Sponsors. These are some of the best businesses in Utah. The current businesses we work with include:
Avenues Proper
,
BGR
,
Bourbon House
,
BTG Wine Bar
,
Caffe Molise
,
Cafe Niche
,
Campos Coffee
,
Current Fish & Oyster
,
Kyoto
,
Feldman's Deli
,
Log Haven
,
Oasis Cafe
,
Proper Burger
,
Proper Brewing Co
,
Saffron Valley
,
SLC Eatery
,
Stanza Italian Bistro
,
Taqueria 27
,
Whiskey Street
,
White Horse
.
For a list of all our past relationships and timelines, please see our historical partnerships page.