I often write about dining events in groups, but when a very special one comes along, it deserves to take center stage. Eat Drink SLC is one of those events. Indeed the inaugural event last summer was easily one of my favorite food focused events of 2015. And I'm annoyingly picky about these things.
For a debut event I'll hold my hands up, I didn't expect the level of execution and excellence and was thoroughly blown away – the whole event took me completely by surprise. So much so, I'm on pins for this years sophomore event. I'd implore you to stop reading now and buy tickets. But of course, I am sure you want a little more information first…
As the name suggests, Eat Drink SLC has two main draws: food from some of SLC's finest restaurants with libations galore to match. At the time of writing the following food partners are confirmed to attend: Provisions, Pago, Stoneground, Manoli's, Copper Onion, Frida Bistro, Avenues Bistro, Cucina, Avenues Proper, Cannella's and 3 Cups.
Expect that list to keep growing over the coming weeks and expect a who's who of the Salt Lake culinary scene to be in attendance. Offerings range from small canapes, to more substantial plates, with some restaurants presenting multiple choices. Here are some food shots from the 2015 event:
And that's just a fraction of what was on offer in 2015. I didn't get close to sampling every last dish – which may or may not have been related to me going back for seconds from some restaurants. And of course, saving room for the odd drink or three.
The drink side of the show is just as stellar. Around the grounds of the event, you'll find restaurants paired with a drinks partner. Grab a bite on one side and then a drink handily right next door. Wineries, distillers and brewers are all in attendance meaning there's something for everyone and then some.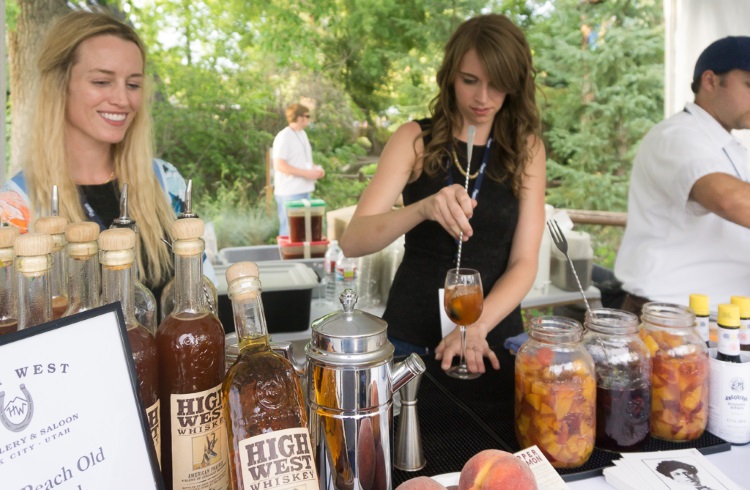 And then of course there's the location. Held on the verdant grounds of Tracy Aviary, the setting couldn't be much more perfect; even on a balmy summer evening, the lush setting helped knock a few degrees off the temperature.
The expansive grounds provided an almost garden party like vibe; and despite a maximum capacity of 500 guests, the whole evening felt intimate and relaxed – even if there was the odd friendly resident interloper…
All proceeds from the event benefit three local non-profits that enhance the SLC community. In 2016, the beneficiaries are Tracy Aviary, SB Dance, and Race Swami.
Eat Drink SLC 2016 takes place on Thursday, July 7th at Tracy Aviary (6-9 p.m.). Tickets are $85 in advance and $95 the day of the event – which includes all food and drink. In 2015, Eat Drink SLC sold out 3 days in advance – I anticipate the 2016 event will sell out much quicker, don't dawdle.
Tickets can be purchased online now. I'll see you all there.
Disclosure: In 2015 I was invited to the event for free as a media partner. Regardless, I'd be there in a heart beat and so should you.
This site is 100% free of annoying ads through the generous headline sponsorship by The Gateway - SLC's premier entertainment destination.
This article may contain content provided by one of our paid partners. These are some of the best businesses in Utah. The current businesses we work with include:
For a list of all our past relationships see our
historical partnerships
.