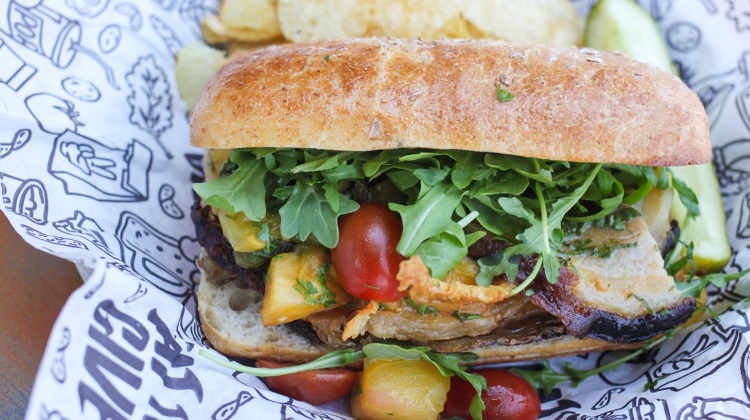 Tomato Days – If you don't like tomatoes – I honestly know folks who don't – turn away now. From August 15th until September 15th, prepare for a fresh-tomato onslaught of nigh biblical proportions. First up, keep an eye on the Tomato Dine-Around. Participating restaurants will be using the best of the Summer crop to produce top notch tomato dishes. Each of the eight restaurants are stellar and include:
3 Cups
Avenues Bistro
Eva
Even Stevens Sandwiches
Les Madeleines
Meditrina
Roots Cafe
Tin Angel Cafe
If you're slightly suspicious of vegetables as I tend to be, rest assured, there will be plenty of creativity on offer. Pictured above for example, Even Steven's Sandwiches PLT (Porchetta, Lettuce, Tomato) with crispy Creminelli Italian pork roast, arugula and heirloom tomato relish, served on ciabatta. Available now through September 15th. During the dine-around order any tomato-themed dish and 30% of the proceeds go to Wasatch Community Garden initiatives; who support 22 community gardens across the state plus run workshops and school youth programs too.
If you've still not had you're fill by mid September, check out the Tomato Sandwich Party (yes that's really a thing) on Saturday September 10th, 11 a.m. – 2 p.m. At the completely free event, you can enjoy delicious heirloom tomato & pesto sandwiches. The event is Wasatch Community Garden's way of saying thanks to the community that has provided support for over 27 years and just so happens to kick off Eat Local Week too.
Grateful Tomato Garden
800 S 600 E, Salt Lake City, UT 84102
(801) 359-2658

Spencer's For Steaks And Chops – The next luxurious wine dinner at Spencer's will be held August 26th from 6.30 p.m.

The evening seeks to showcase the flexibility of the Wagner family of wines – think Caymus, Mer Soleil, Emmolo. With that in mind chef Michael Pleines' menu for the night includes smoked chicken leg, wild boar and even kangaroo. A full menu can be found here. Despite the exotic, safari-like nature of the line up, expect Spencer's private dining room (maximum of 24 guests) and ultra smooth service team to ensure a decadent evening. Wine reps should be on hand too, to talk in detail about the eclectic selection.
Here are a few more shots from the previous dinner, where Spencer's hosted the wonderful Elk Cove Vineyard:
Hilton Salt Lake City Center
255 S W Temple, Salt Lake City, UT 84101
(801) 238-4748
www.spencersforsteaksandchops.com
Hi, I'm Stuart, nice to meet you!  I'm the founder, writer and wrangler at Gastronomic SLC and The Utah Review; I'm also a former restaurant critic of more than five years, working for the Salt Lake Tribune.  I've worked extensively with other local publications from Utah Stories through to Salt Lake Magazine and Visit Salt Lake.
I'm a multiple-award winning journalist and have covered the Utah dining scene for more than a decade.   I'm largely fueled by Uinta Cutthroat, alliteration and the use of too many big words I don't understand.  I ate all the pies.
This site is 100% free of intrusive third party ads through the generous headline sponsorship by The Gateway - SLC's premier entertainment destination.
This article may contain content provided by one of our Partners or Sponsors. These are some of the best businesses in Utah. The current businesses we work with include:
Avenues Proper
,
BGR
,
Bourbon House
,
BTG Wine Bar
,
Caffe Molise
,
Cafe Niche
,
Campos Coffee
,
Current Fish & Oyster
,
Kyoto
,
Feldman's Deli
,
Log Haven
,
Oasis Cafe
,
Proper Burger
,
Proper Brewing Co
,
Saffron Valley
,
SLC Eatery
,
Stanza Italian Bistro
,
Taqueria 27
,
Whiskey Street
,
White Horse
.
For a list of all our past relationships and timelines, please see our historical partnerships page.