Get ready for this summer's biggest dinner party — reservations for the Park City Area Restaurant Association's annual Savor the Summit on Main Street are now open.
Hundreds of residents and visitors will sit together at the summit's "Grande Table" down the center of Main Street on Saturday, June 21. More than a dozen of Park City's renowned restaurants will offer their choices of dinner and drinks, with menu prices ranging from $50 to $150 per person, and wine and beverage pairings either extra or included, depending on the establishment.
"This event pairs Park City's world-renowned restaurants with Utah's world-famous summers and sunsets," PCARA executive director Ginger Ries said. "Everyone in our community is invited to together for a great evening out on the town."
The event will also feature a Spirit Garden serving local wine and beer at the intersection of Heber Avenue and Main Street, and a live musical performance by the Savor-favorite band, Mountain Town Music.
Read on for the list of participating restaurants now accepting reservations. Be sure to keep checking the Savor the Summit website, www.savorthesummit.com, for additions and updates:
350 Main
501 Main
Bandit's Grill & Bar
Bangkok Thai
Bistro 412
The Bridge Café
Buona Vita Restaurant
Butcher's Chophouse
Café Terigo
Cisero's Ristorante
Cuisine Unlimited
Flanagan's on Main
Flying Sumo
Purple Sage
Reef's
Riverhorse on Main
Shabu
Wasatch Brew Pub
The Mustang
Yuki Yama
Zoom
Jack Rabbit Gin
Utah's first legal gin since 1870 (created in state) is now hitting liquor store shelves courtesy of Beehive Distilling. I received the followed press released early this week: "It started with the idea that gin wasn't given the love it deserved. Real gin – a blast of juniper followed by a complex intrigue of all the other botanicals – was being challenged by pretenders. Beehive Distilling, the makers of Jack Rabbit Gin, produce small batches in a small still. Botanicals measured and macerated by hand, distilled, bottled and labeled in their Salt Lake City distillery".
Beehive themselves went further to add "After dozens of recipes, we hit on the gin we call Jack Rabbit. It's made for the gin lover. A complex blending of botanicals that never forgets that Juniper is king. Bold, upfront taste with a crisp floral finish, Incredibly smooth, makes an amazing gin and tonic. (The) strong flavors enhance multi-ingredient cocktails".
This new gin is available at the Utah State Wine Store at 255 South 300 East (DABC Code: 947054) $27.99 a bottle. Let me know if you try it!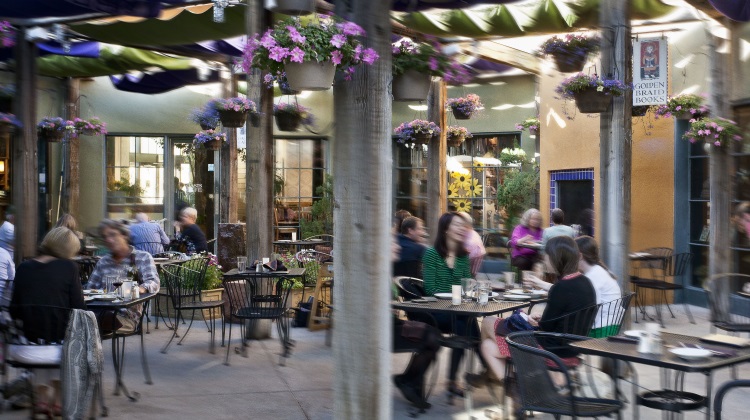 Oasis Cafe
Oasis Cafe has been named Utah's only winner of the OpenTable Diners' Choice Awards for the Top 100 Best Brunch Restaurants in America. The list of winners is derived from more than five million reviews submitted by OpenTable diners for more than 19,000 restaurants in all 50 states and the District of Columbia.
"We are very pleased by this acknowledgment from OpenTable diners! It tells us what our regulars already know," said General Manager Will Keesen. "Our weekend brunch is a crowd favorite, often surpassing dinner under the stars on our beautiful patio. It's a high honor knowing how many great weekend brunch options are available in Salt Lake and we congratulate the other winners nationwide."
"This year's winning restaurants have recognized that brunch has become a national pastime for diners across America," said Caroline Potter, OpenTable Chief Dining Officer. "With delightful, handcrafted cocktails and fresh and flavorful dishes that range from comfortingly familiar to deliciously adventurous, the best brunch restaurants have created the ideal meal at which to celebrate the weekend, as well as special occasions."
Based on feedback collected from OpenTable diners between April 1, 2013 and March 31, 2014, the 100 award-winning restaurants received the highest scores. For more information about all of the restaurants on this list, please visit http://www.opentable.com/m/best-brunch-restaurants-in-america.
151 S 500 E, Salt Lake City, UT 84102
(801) 322-0404
www.oasiscafeslc.com
Hi, I'm Stuart, nice to meet you!  I'm the founder, writer and wrangler at Gastronomic SLC.  I'm a multiple-award winning journalist and have written in myopic detail about the Salt Lake City  dining scene for the better part of seventeen years.
I've worked extensively with multiple local publications from Visit Salt Lake to Salt Lake Magazine, not least helped to consult on national TV.   Pause those credits, yep, that's me! I'm also a former restaurant critic of more than five years, working for the Salt Lake Tribune.    I'm largely fueled by a critical obsession with rice, alliteration and the use of big words I don't understand.   What they're saying about me: "Not inaccurate", "I thought he was older", "I don't share his feelings".
Want to know more? This is why I am the way I am.
This article may contain content provided by one of our paid partners. These are some of the best businesses in Utah. For a list of all our current and past relationships see our
partnership history page
.