Bambara *
It's the traditional time of year to honor our mothers and to pamper them properly. Executive Chef Nathan Powers celebrates Utah moms at Bambara, with a gourmet Mother's Day brunch buffet on Sunday, May 11, 2014 from 10 a.m. to 3 p.m. From delicious bite-size pastries and desserts to chef's delicious lamb hash with poached egg and mint béarnaise sauce or indulgent buttermilk biscuits with elk sausage gravy, Chef Powers created the Mother's Day menu to delight and satisfy. With plenty of options for the whole family to enjoy, brunch is available for $42 for adults, $22 for children ages 6-12 and $36 for senior citizens, 65-years-old and over.
Bambara's Mother's Day Dining buffet includes fresh baked goods, a carving station with mustard glazed ham and organic turkey breast, made-to-order egg dishes and a delicious variety of decadent pastries. Specialties out of Chef Powers' kitchen include mustard glazed ham with roasted pineapple, poached prawns, brioche French toast, roasted spring asparagus and other delicacies.
202 S Main St, Salt Lake City, UT 84101
(801) 363-5454
www.bambara-slc.com
Caffe Niche *
Caffe Niche on 300 South will be featuring Executive Chef Ethan Lappé's all new buffet brunch on Mother's Day, from 9 a.m. – 3 p.m. Highlights of the buffet brunch include hot and cold entree such as bread pudding French toast with wild blue berry and strawberry sauces; Ethan's famous huevos rancheros; and jalapeno cheddar biscuits and local sausage gravy. Brunch also includes a wide range of salads, pastries and desserts.
Brunch costs $30 person for adults and $15 for children under the age of 12 and is free of charge for children under the age of 3.
"We work closely with our local farms and ranches to bring the freshest, healthiest meal possible to our guests," said Executive Chef Ethan Lappé. "We are especially delighted with the new eggs we're getting from the free-range chickens at Tifie Ranch in Morgan, Utah."
"Our bartender Chris Bradshaw is having a blast with his new ice freezer, hand-crafting cubes for his new line up of brunch-focused cocktails. We have such a great new selection…from Bellinis to Bloody Marys to more fun ones like Harvey Wallbangers," said Lappé. "You can always choose one from our classic line up like Cuba Libre, Fernet & Coke or a summery Gin Ricky, too. They all pair very well with our updated brunch menu."
779 E Broadway, Salt Lake City, UT 84102
(801) 433-3380
www.caffeniche.com
Cucina Vanina
After a lot of requests from their customers to be open for brunch instead of dinner, Cucina Vanina have decided to change their special on Mother's day.
The Cottonwood Heights restaurant will be serving a very special Italian style brunch buffet from 10:30am to 2:30pm at a price of $25.99 per person ($12.99 for kids 12yrs and under). The menu includes crêpes, salmon Benedict with roasted polenta, fresh fruits plate, house made brioche, Italian bite panino, caprese salad, arugula-strawberry salad and rawsberry tiramisu.
1844 Fort Union Blvd, Cottonwood Heights, UT 84121
(801) 938-9706
www.cucinavanina.com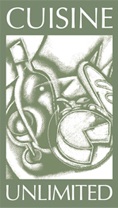 Cuisine Unlimited
If time won't allow for cooking or the family just wants to enjoy the day at home, Cuisine Unlimited can prepare all or any part of a delicious brunch. The entire menu is just $38 per person. Highlights include banana-pecan stuffed brioche, crêpe torte with smoked salmon and herb cream cheese, and a beautiful spinach salad with roasted strawberries.
"A Mother's Day brunch offers the opportunity to honor mothers, grandmothers and the amazing women who shape our lives. And there are all kinds of reasons to love a brunch," says Maxine Turner, President of Cuisine Unlimited. "It is the one meal that most easily mingles family and friends."
Orders can be made by calling Cuisine Unlimited at 801-268-2332. Orders must be made by Friday, May 9, and can be picked up at Cuisine Unlimited catering kitchens at 4641 S. Cherry Street in Salt Lake on Saturday, May 10 or Sunday May 11, at prescheduled times. Delivery can be arranged on Sunday for a small additional fee.
Faustina *
Faustina in downtown Salt Lake will serve up a brunch buffet on Mother's Day, from 9 a.m. to 3 p.m. Chef Kemp's special creations include fresh herb-crusted salmon with a honey-lemon beurre blanc, Italian sausage, a prime rib carving station, specialty omelets to order and a wide selection of salads, pastries and desserts. Brunch costs $30 person for adults and $15 for children under the age of 12 and is free of charge for children under the age of 3.
General Manager Hillary Merrill has created a special $3 Mimosa bar that includes a choice of juices: orange, blood orange, pomegranate, peach, pear, cranberry, grapefruit or pineapple. menu. "We just love this holiday and to see some of our regular customers with their sweet moms," said Hillary Merrill, general manager and chief mixologist. "Dinner is nearly as popular as Joe's fun brunch! We are hoping for weather to show off our new plantings on our gorgeous patio."
454 E 300 S, Salt Lake City, UT 84111
(801) 746-4441
www.faustinaslc.com
Grand America
Enjoy selections of traditional brunch favorites plus fresh seafood, fruits, salads, sushi, roasts, and an extravagant dessert buffet featuring creations from the Grand America pastry team. The children's buffet will feature selections just for kids. The Courtyard will feature a potting station for children to decorate a pot and plant a special flower for their moms.
The Grand American Mother's Day Brunch runs from 10:00 am – 2:30 pm on Sunday, May 11. Brunch is held in the grand ballroom and priced at $59.00 for adults and $29.50 Children (5–12).
Children 4 and under complimentary.
Or instead, sample Grand America's Mother's & Daughter's Afternoon Tea. Traditional English tea service including an assortment of finger sandwiches, scones served with clotted cream and berry jam, selection of tea pastries, and premium loose leaf teas including caffeine-free selections and hot chocolate. Cocktail service is also available.
This special tea service is available Saturday, May 3, Sunday, May 4, Saturday, May 10 with both 12:00 noon & 3:00 p.m. seatings. Cost is $25.00 per person, plus tax and gratuity
Reservations required and available by phone at 801-258-6707.
555 S Main St, Salt Lake City, UT 84111
(801) 258-6000
www.grandamerica.com
Homestead Resort
Mother's Day Brunch at the Homestead Resort on May 11 runs 10am to 2pm. Pricing is $44.95 for adults, $29.95 ages 6-12 and $10 ages 5 and under and includes flowers for mom. Items from the brunch menu include omelets to order, fresh pastries, fruit, a flap jack station, salads tossed to order, a shrimp station, roast beef, Fanny's Famous Fried Chicken, plenty of dessert selections and more.
Or maybe pamper mom just that little bit more with the resort's Mother's Day Spa Package. Treat mom to two treatments in the spa, or join her for some pampering. The package includes:
*Charming overnight accommodations
*Choice of mani, pedi or body polish for each person, or choice of two treatments for one person at the Spa at Zermatt
*Available for purchase as a gift certificate
700 Homestead Dr, Midway, UT 84049
(435) 654-1102
www.homesteadresort.com
La Caille
Celebrate Mother's Day at La Caille with a special buffet brunch especially for Mom. Brunch will be served on both Saturday (10-2pm) and Sunday (10-3pm). Pricing is $59 for adults, $28 for children 4 – 10 years old, $10 3 & under.
9565 S Wasatch Blvd, Sandy, UT 84092
(801) 942-1751
www.lacaille.com
Oasis Cafe *
Oasis Cafe on 500 East will serve a Mother's Day buffet on Sunday, May 11 from 9 a.m. – 3 p.m. Cost for adults is $32, for children 12 and under $18, and is free of charge for children under the age of 3. The buffet is a favorite with locals and will include highlights like the popular prime rib carving station, shrimp filled enchiladas, maple/mustard glazed salmon, cheese blintzes with blueberry sauce, light salads and delicious pastries and a chocolate fountain for dessert. Oasis Cafe will also be open for dinner on Mother's Day offer their regular menu from 5-9pm.
151 S 500 E, Salt Lake City, UT 84102
(801) 322-0404
www.oasiscafeslc.com
Tuscany
Join Tuscany and Franck's for their Mother's Day brunch and also grand dinner in the evening. Brunch runs 10am throgh 4pm and the grand dinner has one seating at 6.30pm. Brunch costs $45 for adults, $19 for children (12 and under). The grand dinner costs $40 per person.
2832 E 6200 S, Salt Lake City, UT 84121
(801) 277-9919
www.tuscanyslc.com
* Gastronomic SLC is a proud local partner of Bambara, Caffe Niche, Faustina and Oasis Cafe.
Hi, I'm Stuart, nice to meet you!  I'm the founder, writer and wrangler at Gastronomic SLC.  I'm a multiple-award winning journalist and have written in myopic detail about the Salt Lake City  dining scene for the better part of seventeen years.
I've worked extensively with multiple local publications from Visit Salt Lake to Salt Lake Magazine, not least helped to consult on national TV.   Pause those credits, yep, that's me! I'm also a former restaurant critic of more than five years, working for the Salt Lake Tribune.    I'm largely fueled by a critical obsession with rice, alliteration and the use of big words I don't understand.   What they're saying about me: "Not inaccurate", "I thought he was older", "I don't share his feelings".
Want to know more? This is why I am the way I am.
This article may contain content provided by one of our paid partners. These are some of the best businesses in Utah. For a list of all our current and past relationships see our
partnership history page
.