Truth be told, its been some time since my last visit to Frida Bistro. Perhaps too long. On that last visit, an evening affair with friends, the meal presented something of a mixed bag. A few dishes hit their marks while others fizzled.
Despite that lacklustre memory, I've always been an admirer of Frida Bistro, even if only from afar for the past couple of years. I love their boundlessly enthusiastic attitude, found in both their approach to their cuisine and their wildly fun decor. I wish more restaurants had a similar unrelenting commitment to showcasing refined takes on regional cuisine. Asking for a smothered burrito at Frida would be akin to cracking open a can of PBR while enjoying supper with Queen Liz. Don't do either kids.
An invite to come check out their new brunch service was the perfect opportunity to find out what had been happening of late. The space was every bit as memorable as I recalled. Of course its hard not to leave Frida Bistro with the restaurant not seared into your minds eye. The space is tremendously vibrant and engaging without ever over-stepping into the territory of cheesy and cliched.
Any restaurant offering brunch better have at least acceptable coffee, which is right where my brunch began. I was delighted with Frida's house blend – an unexpected cinnamon and chocolate spiked preparation. Our waitress explained how those two items were roasted with the beans, the result was a smooth brew with hints of subtle sweetness. Whats's brunch without bubbles as well right? Which is why I ordered up a perfectly serviceable Pineapple mimosa too ($5). I'll leave the beet and carrot varieties to folks more at peace with their vegetables though: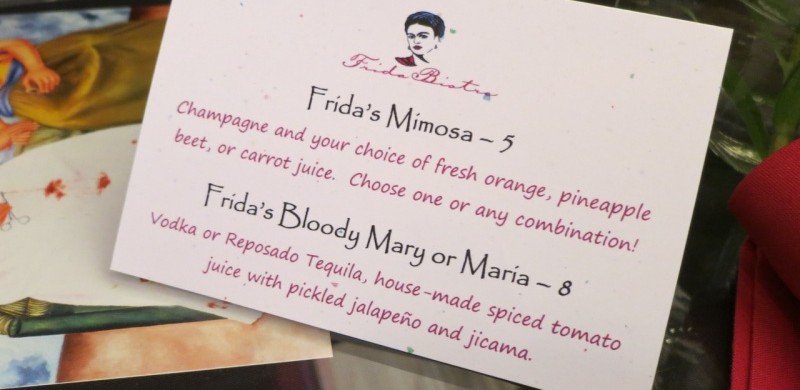 Frida's Brunch menu follows the same unflinching full throttle approach as their evening menu. Do you want goat with your potatoes and eggs? You got it. Just like dinner, brunch begins with a small amuse bouche of sorts, which on this particular visit was a honey lacquered, buttery as you like scone:
A seemingly mundane order of steak and eggs plus eggs benedict was given a new lease of life through Frida's interpretive lens, what we actually ordered up was Chilaquiles Verdes O Rojo ($8) and Benedictos ($12).
The Chilaquiles comes as a heaping plate of fried, fresh corn tortillas, topped in either a tomato or jalapeno/tomatillo sauce. Two eggs top the chips, as does a drizzle of sour cream, queso fresco and strands of pickled white onions. An extra $4 also adds either roasted goat, shredded chicken or carne asada. I selected the latter and was more than pleased with the generous heaping of cooked to order, sliced beef. Beautifully cooked and quivering eggs just took a brief nudge to flood rich yolk over the crunchy chips and juicy steak. I didn't expect to find pickled onion with egg quite so appealing, but what do you know, I'm a fan. I can categorically state, the dish as a whole was the most singularly enjoyable brunch plate I've enjoyed in as long as I can remember. And no, that's not the mimosa talking.
Eggs Benedict also received Frida's gourmet makeover. The dish is prepared with a choice of ham, house-smoked salmon, home-mad chorizo or veggies. Again, two perfectly prepared eggs, sit atop two dense blue corn biscuits. An olive green cilantro cream tops and circles the dish and is finished off with fried breakfast spuds and black beans. Again, delicious.
The value of the meal is also worthy of note. Both dishes were on the 'slightly too much to finish' end of the portion spectrum and pricing was keen. Coffee for two, amuse bouche, cocktail, two large dishes served up by a really friendly and knowledge crew, was less than $40.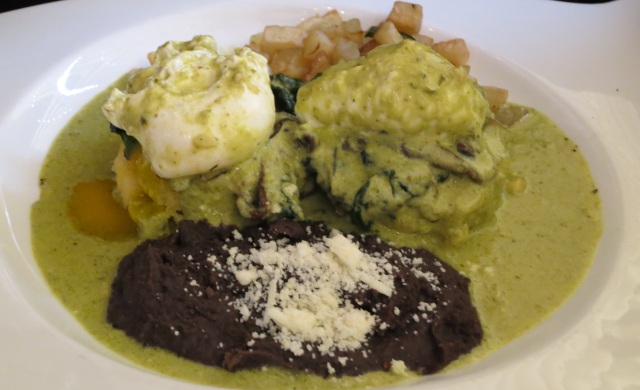 After my meal, I spoke briefly with Frida Bistro manager Josh Marans; a foodie transplant from the DC area. It was clear we both shared a similar obsession with attention to detail. From the flourishes of decor through the restaurant space through to the specially roasted coffee and amuse bouche, its the amalgamation of all those finer pointers that add up to a greater, grander picture. And Frida's brunch was a very pretty picture at that.
Frida Bistro's brunch is currently being offered Saturday's 10.30am through 3.00pm.
Disclosure: I was invited by Frida Bistro as their guest to check out the new menu. Food was provided free of charge and I did not dine anonymously.
Frida Bistro
545 West 700 South, Salt Lake City, Utah 84101
(801) 983-6692
www.fridabistro.com
Hi, I'm Stuart, nice to meet you!  I'm the founder, writer and wrangler at Gastronomic SLC.  I'm a multiple-award winning journalist and have written in myopic detail about the Salt Lake City  dining scene for the better part of seventeen years.
I've worked extensively with multiple local publications from Visit Salt Lake to Salt Lake Magazine, not least helped to consult on national TV.   Pause those credits, yep, that's me! I'm also a former restaurant critic of more than five years, working for the Salt Lake Tribune.    I'm largely fueled by a critical obsession with rice, alliteration and the use of big words I don't understand.   What they're saying about me: "Not inaccurate", "I thought he was older", "I don't share his feelings".
Want to know more? This is why I am the way I am.
This article may contain content provided by one of our paid partners. These are some of the best businesses in Utah. For a list of all our current and past relationships see our
partnership history page
.